Canadian Travel Magazine Lists Top 5 Most Beautiful Cities in Vietnam
From the bright lights of Ho Chi Minh City to the charming old town of Hoi An, there's something for everyone in these stunning places.
Vietnam is a country known for its incredible beauty, and with some of the most stunning cities in Southeast Asia, it's no wonder why travelers are eager to explore this diverse and vibrant nation. From the bustling streets of Ho Chi Minh City and Hanoi to the hidden beaches of Nha Trang, there are countless breathtaking sites to discover throughout Vietnam.
To help you find your perfect destination, DRIFT travel magazine has rounded up the top 5 most beautiful cities in Vietnam – each one offering unique culture, history, and scenery that will leave you mesmerized.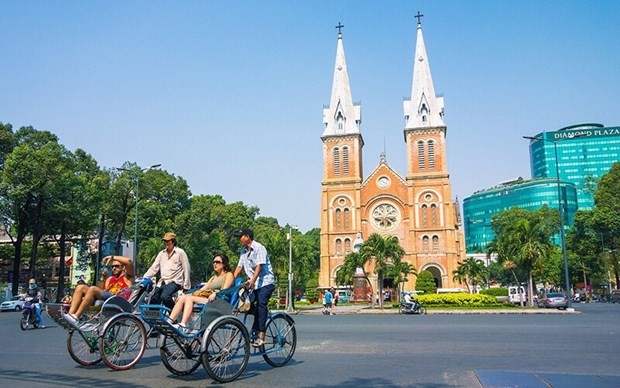 Tourists to HCM City. Photo: VNA
1. Ho Chi Minh
Home to its rich cultural history, Top Ho Chi Minh is known for its vibrant markets, traditional food, and architectural wonders. Visitors may take a cooking class to experience the national cuisine firsthand, explore the Old Quarter by taking a tour of its ancient streets, or visit the many beautiful monuments around town, the magazine points out.
For those looking to explore the highest points in Top HCM City, there are bike rides along the backstreets and to nearby villages, river cruises to take in the skyline from the water or hikes up Lake Mountain for views across the city.
HCM City has something to offer every kind of traveler, whether you are looking for a peaceful retreat or an incredibly memorable stay.
According to VNA, HCM City has topped the list of destinations with the highest number of tourists in the year to date. The City has received over 23 million visitors, including 2.1 million foreign arrivals.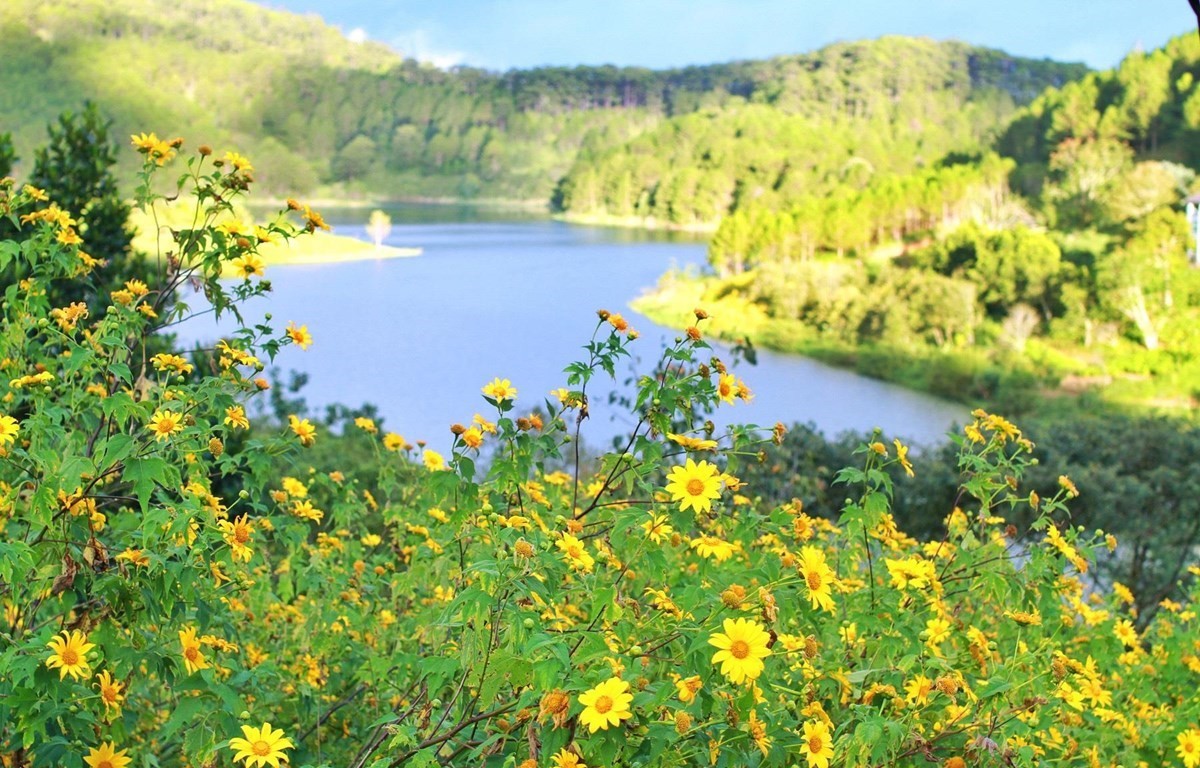 Da Lat is one of Vietnam's biggest flower-growing regions, producing around three billion flowers every year. Photo: Vietnamplus
2. Da Lat
Da Lat city in the Central Highlands province of Lam Dong, is a must-see for any traveler looking for an authentic Vietnamese experience. This charming mountain town is full of green valleys, winding lakes, and diverse wildlife. Known for its temperate climate and lush landscape, Da Lat has become one of the country's leading tourist destinations.
Dubbed the city of thousands of flowers, Da Lat boasts a variety of architectural styles – from classic French colonial to modern-day architecture – all of which can be seen as you explore the city's streets and cafés. Da Lat's colorful markets and delicious street food offer some of the most delectable cuisines found throughout Vietnam.
Situated on a plateau around 1,500 meters above sea level, Da Lat enjoys year-round cool weather that is in contrast to Vietnam's tropical climate.
Da Lat resort city has been named among the world's 10 best destinations to admire flowers by global travellers, according to the online travel platform Booking.com.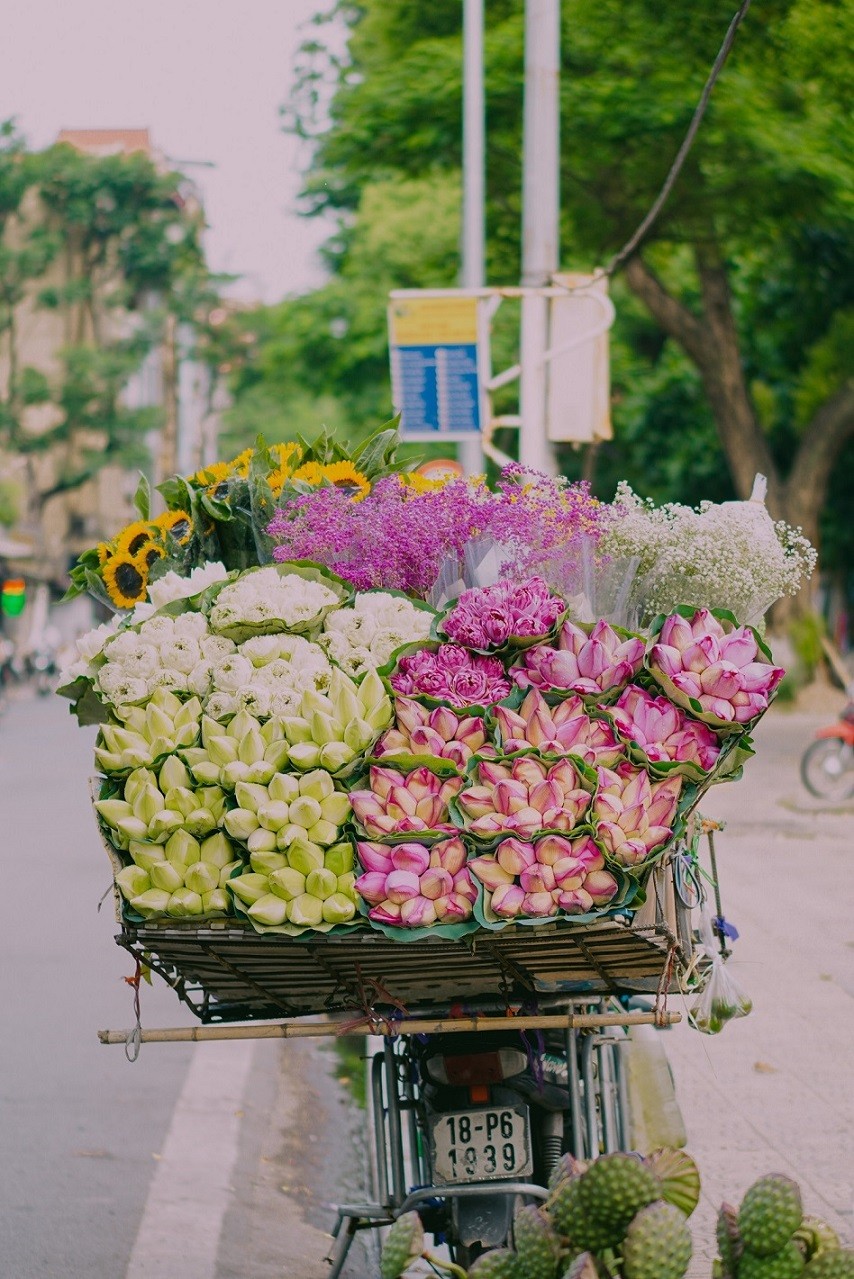 "Street corners, people and colors on flower beds like this." Photo: Đỗ Quý Quang
3. Hanoi
Hanoi is a vibrant city in Vietnam full of life, from busy alleyways to heritage sites. Hanoi stands out due to its mix of traditional Vietnamese culture while embracing modern times, wrote DRIFT travel magazine.
Hanoi's Old Quarter offers visitors a peek into Hanoi life as it has been for centuries, with winding streets filled with street vendors, old temples, and locally owned businesses. Hanoi's most spectacular sights include the One Pillar Pagoda, a Buddhist temple, Hoa Lo Prison, a former French prison converted into an iconic tourist attraction, and Hoan Kiem Lake, also known as Hanoi Lake.
In case you're looking to take a break from city life, Hanoi is located very close to Ha Long Bay. There you can go kayaking or even do some rock climbing.
Hanoi's Department of Tourism has estimated that 18.7 million tourists visited the capital city in 2022, 4.7 times higher than the figure of 2021 and equal to 64.7% of the number in 2019 – the year before the Covid-19 pandemic broke out.
The total number included 1.5 million foreign holidaymakers and 17.2 million domestic visitors, VNA citied the department.
The city, as a major tourism hub and a "gateway" to welcome international visitors, has been listed in many rankings by prestigious travel magazines and sites.
It was named among the 25 best tourist destinations for food lovers in the world as voted by Tripadvisor readers, while German news site travelbook.de rated the city as one of the most favorite destinations in Southeast Asia. Hanoi also ranked among the most-searched-for destinations by international tourists, according to data from the travel tracking tool Google Destination Insights.
Especially, Hanoi was named the World's Leading City Break Destination 2022 by the World Travel Awards (WTA).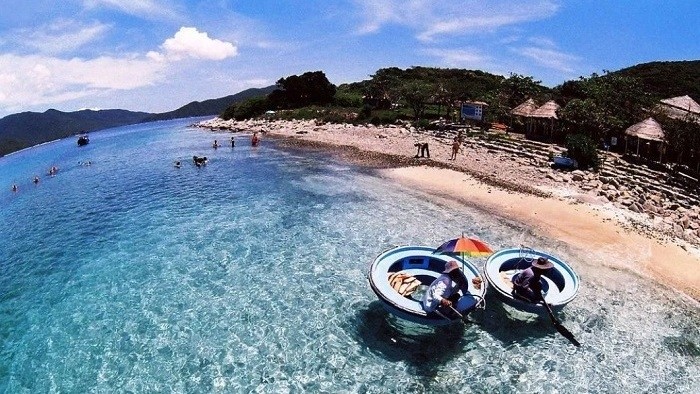 With its long, white sand coast, Nha Trang has been listed one of the most beautiful bays in the world. The city, also known as "Pearl of the Far East", has become an attractive tourist destination for domestic and foreign tourists.
4. Nha Trang
Nha Trang city in the south central province of Khanh Hoa, is one of the most stunning and popular resort cities in the country and features miles upon miles of beach, jungles, and rainforest intermixed with rich culture, DRIFT travel magazine said.
Its crystal blue waters and pleasant climate make Nha Trang a popular destination for adventurers looking to explore the country. There is plenty to do in Nha Trang: visitors can take boat tours to explore nearby islands, tour ancient Cham temples, or relax by one of Nha Trang's many popular beaches.
The beach city is home to many historical and cultural sites from the ancient Champa civilisation between the 4th and 13th centuries AD. Together with Ha Long Bay, it has been named among the most beautiful beaches in the world.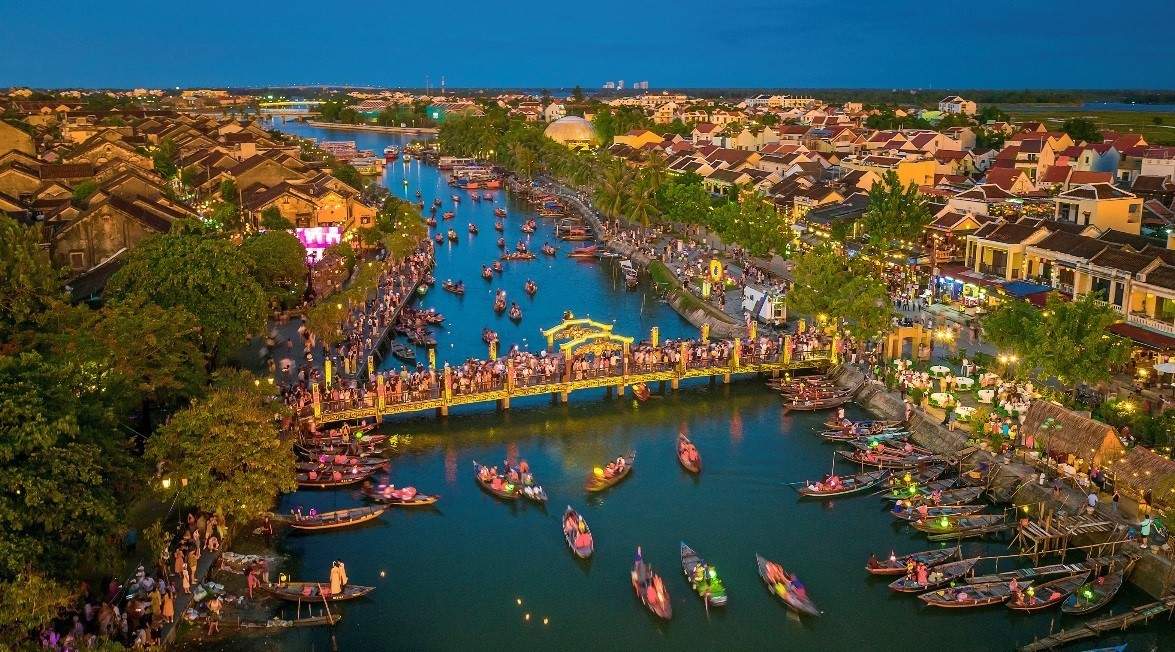 Hoi An ancient town in the central province of Quang Nam boasts a kaleidoscope of features that offer visitors a nostalgic getaway.
5. Hoi An
Hoi An ancient town in Quang Nam province, is an incredibly beautiful city located in the central region of Vietnam. It is known for its exquisite mix of Vietnamese and Chinese architecture, outstanding beaches, vibrant nightlife, and traditional markets.
The beautiful Hoi An Old Town, located by the river, is a UNESCO World Heritage Site and consists of over 1,000 years of combined culture. Hoi An is host to a range of cultural attractions, including wooden Chinese houses, old-fashioned tea shops, and ancient pagodas, DRIFT travel magazine highlights.
Hoi An offers the perfect balance between city life and nature – you can explore the streets during the day and admire Hoi An's abundance of ancient temples at night.
Quang Nam is home to two world cultural heritages - Hoi An Ancient town and My Son sanctuary, and a World Biosphere Reserve of Cu Lao Cham - Hoi An.
The province is also well-known for Bai Choi singing - an intangible cultural heritage. It is a gateway connecting with countries in the Mekong Sub-region and ASEAN and part of the East-West economic corridor axis.
With the advantage of roads, waterways, and air routes linking it with other countries in the region, Quang Nam has become a tourist hub of Vietnam.