Ho Chi Minh City, RoK Foster Cooperation in Environmental Protection
Ho Chi Minh hopes can learn from the RoK's experience in building policies, standards and roadmaps to achieve goals of the sustainable development strategy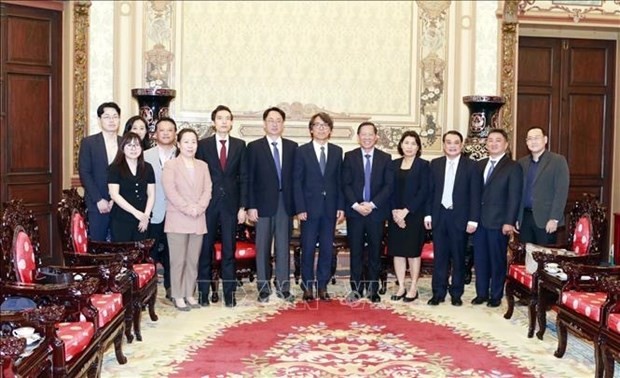 At the event. Photo: VNA
Ho Chi Minh City wants to cooperate with Korean businesses and partners in wastewater, garbage and air pollution treatment as well as in sharing experience and mobilizing international resources to adapt to climate change and deal with its impacts, VNA cited a municipal leader.
HCM City is also willing to boost long-term cooperation with the Republic of Korea in green economy, Chairman of the municipal People's Committee Phan Van Mai said while receiving Korean Deputy Minister of Environment Kum Hang-seung in the city on March 28.
As the city is preparing for its strategy on sustainable development, green and circular economy, it expects to learn from the RoK's experience in building policies, standards and roadmaps to achieve goals of the sustainable development strategy, he said.
Speaking highly of the RoK's potential, Mai expected that in its pioneering role, the RoK would lead major cities in Asia to foster sustainable economic development, build green economies and protect the environment.
Kum, for his part, said the two countries have organized annual ministerial meetings on the environment to share relevant policies.
The RoK chose 2023 as the year of green technology growth and via international cooperation, it will share technologies in green development, contributing to green growth of countries worldwide, he said.
The RoK is honored to welcome delegations from HCM City to explore environmental protection models and share environmental policies, he said, adding that the RoK is strong in environmental protection such as clean water management, and wastewater treatment and ready to share its experience with HCM City and hold short-term courses to improve the quality of its human resource.
Korean firms hoped that the municipal authorities would create favorable conditions for them to join in wastewater treatment and environmental projects in the city, Kum added.
On March 29, in Hanoi, Vietnam's Deputy Minister of Natural Resources and Environment Le Cong Thanh received the Korean Deputy Minister of Environment.
Building on the foundation of 30 years of establishing diplomatic relations between the two countries, Vietnam and the RoK, the two sides agreed to continue promoting cooperation in areas such as environment and climate change response.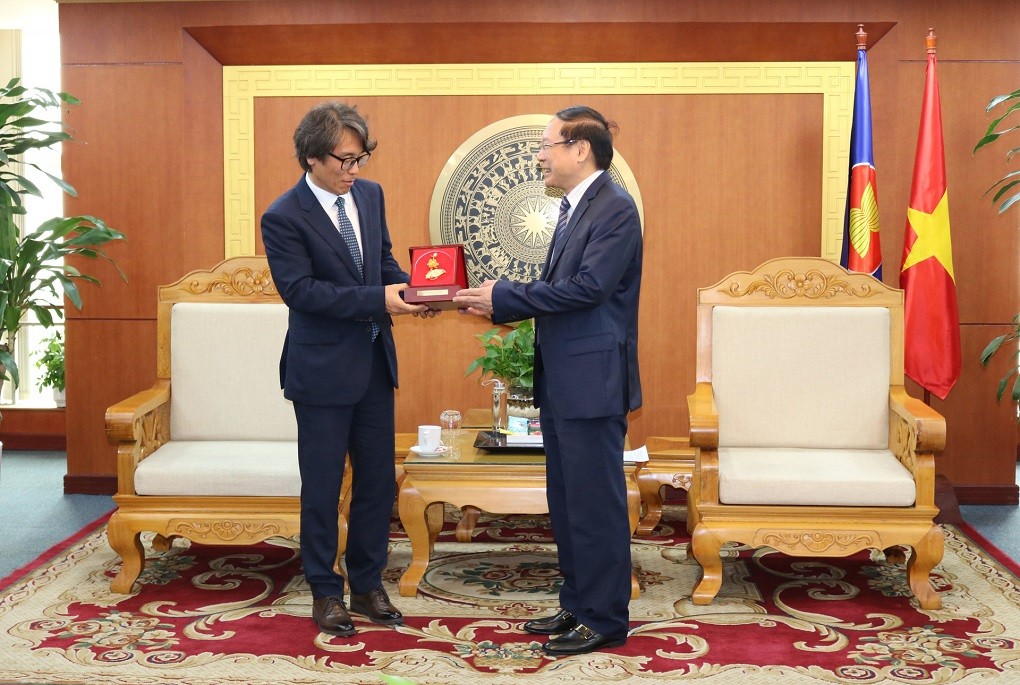 Deputy Minister of Natural Resources and Environment Le Cong Thanh and Korean Deputy Minister of Environment Kum Hang-seung. Source: baotainguyenmoitruong.vn
Deputy Minister Kum said that the RoK's Ministry of Environment is always ready to support the Ministry of Natural Resources and Environment. For example, regarding solid waste management, Korean and Vietnamese companies are cooperating to build a waste treatment plant to generate electricity in Bac Ninh, and a wastewater and waste treatment project in Thai Nguyen.
Its Air Quality Management Department will support Vietnam's Ministry to solve the problem of air pollution. A Korea Water Resources Management Corporation (K-Water) will help Vietnam manage water resources effectively. The RoK also always accompanies Vietnam in implementing measures to reduce greenhouse gas emissions and adapt to climate change, he added.
In related news, a forum discussing measures to promote cooperation between Vietnam and the RoK in developing green industries and smart mobility was held in the RoK on March 28.
Jointly organized by the Vietnam-Korea Businessmen and Investment Association (VKBIA), the Vietnam – Korea Alliance for Green Mobility (VKERC), the Office of the RoK National Assembly, the event saw the participation of representatives from six RoK government agencies, businesses, organizations, research institutes and universities which are involved in the green industry and smart mobility.