Medical Services' Costs for Vietnamese Residing in RoK Reduce up to 50%
The Vietnamese Association in the Republic of Korea (RoK) improves support for Vietnamese laborers in RoK.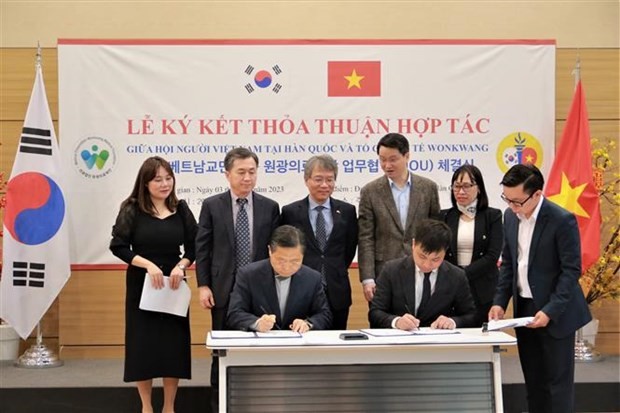 At the signing ceremony. Photo: VNA
Representatives of the Wonkwang medical organization and the Vietnamese Association in the Republic of Korea (RoK) on March 3 signed a memorandum of understanding on collaboration to provide medical support for the Vietnamese community in this Northeast Asian country, VNA reported.
Under the MoU, the two sides agreed to set up a mechanism for cooperation in the use of Wonkwang medical services, including emergency cases that need urgent health assistance.
Accordingly, Wonkwang, with five hospitals in the cities of Incheon, Hwaseong, Iksan, Gunsan, and Cheongju, is committed to reducing the costs of medical services for Vietnamese residing in the country by up to 50%, and supporting those who suffer work-related accidents.
It will also lower medical expenses that are not paid by health insurance for Vietnamese citizens living in RoK when they receive treatment, surgeries and general health examinations.
Addressing the signing ceremony, the Vietnamese Ambassador to the RoK Nguyen Vu Tung applauded the cooperation between Wonkwang and the association, saying that it is a significant activity for caring for the health of the Vietnamese community in this nation.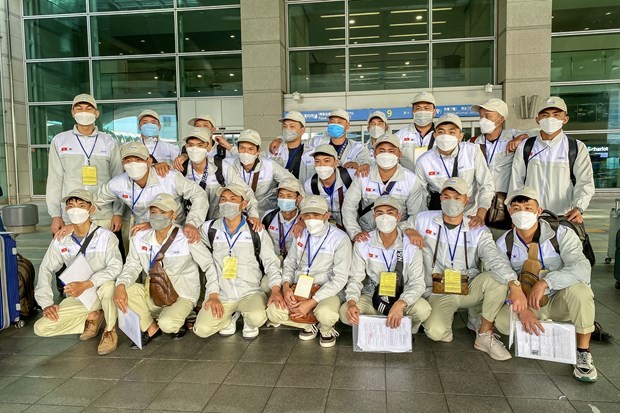 Vietnamese laborers at Inceon airport of the RoK. Photo: VNA
The diplomat expressed his hope that through the signing of the MoU, the sides will continue to foster relations, providing good support for the Vietnamese living here.
Wonkwang Chairman Oh Soung-bae said the signing of the MoU marks the start of a bilateral medical cooperation program and pledged that his organization will help the Vietnamese community receive the most favorable health care services.
200,000 citizens of each country live in the other country, including about 80,000 multicultural families.
Head of the Employment Permit System (EPS) Vietnam Office in the RoK Pham Minh Duc said up to 10,000 Vietnamese guest workers are expected to be sent to the RoK this year.
Last year, Vietnam sent nearly 9,000 workers to the RoK under the EPS program, out of 70,000 set for 16 selected countries.
The two sides agreed to tighten the management of and increase support for the workers during their stay in the RoK.