On July 2, Mr. Nguyen Van Lam, Deputy Director of the Department of Labor, War Invalids and Social Affairs of Ho Chi Minh City informed that businesses have to summit foreign documents to the Department in order to be granted entry permits, vnexpress reported.
Every week, the working group of Ho Chi Minh City People's Committee, including 9 departments reviews the eligible cases and sends them to the Immigration Department under the Ministry of Public Security to carry out the visa procedures (entry visas).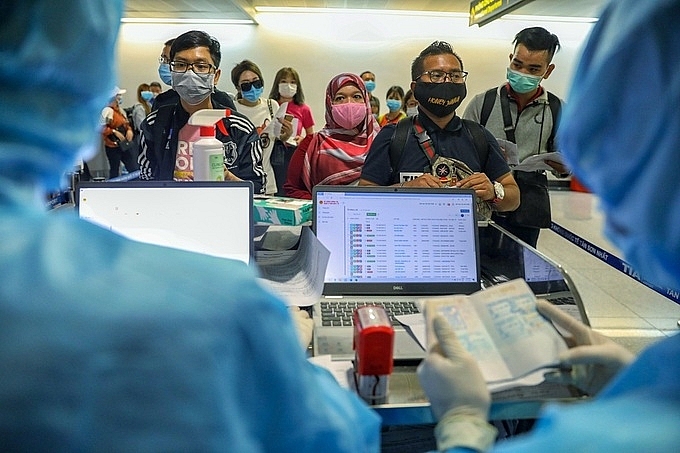 Foreigners carry out medical examinations at Tan Son Nhat airport before entering Vietnam on March 18. Photo: Huu Khoa.
"Based on the number of documents summitted by businesses, we will consider granting them permission to work in the city. The list of immigrants is published on the website of the Department for business information," Mr. Lam said. He affirmed that the license aimed to facilitate businesses to recover production after COVID-19 pandemic.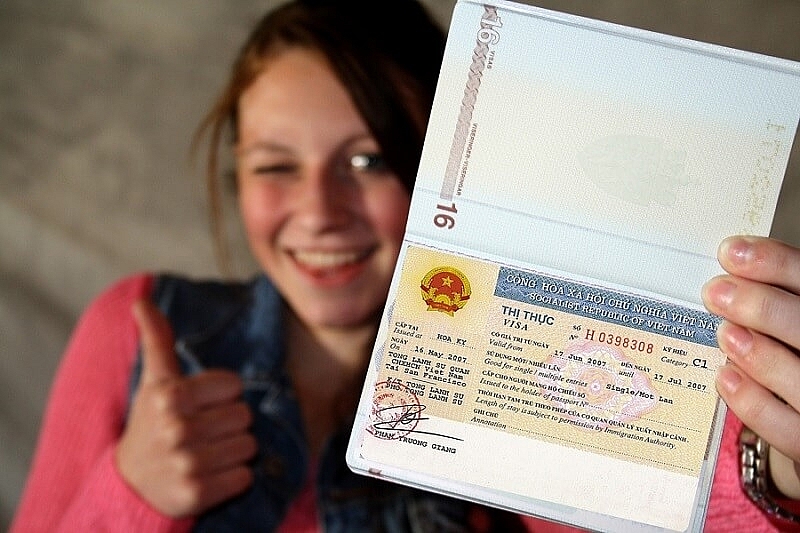 Photo: luatvietnam.vn
From June 8 until now, Department of Labor, War Invalids and Social Affairs has 5 times of granting licenses for foreigners to come to Ho Chi Minh City. Most foreigners are from China, Korea, Japan, USA, UK, France and Germany. There are 82 people being wives and children of foreigners licensed to enter Vietnam.
According to Mr. Nguyen Hong Tam, Director of the Center for International Health Quarantine, foreigners licensed to entry must declare their health, measure body temperature and provide samples for COVID-19 test at the airport. After a 14-day quarantine period, if a negative result of coronavirus is found, foreign workers can come to their enterprise to work.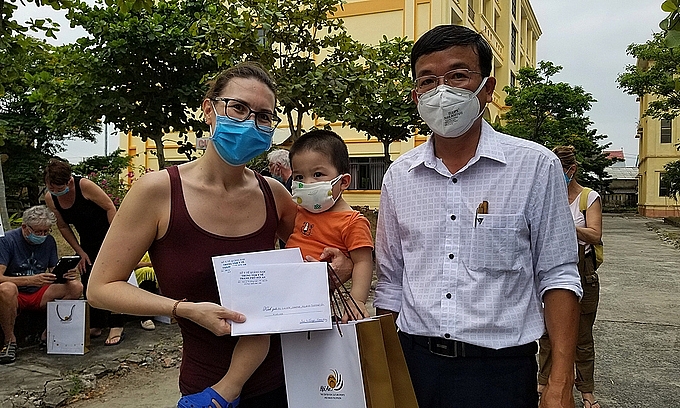 A foreign woman (L) receives a certificate from a Hoi An official for completing her Covid-19 quarantine, March 24, 2020. Photo by VnExpress/Dac Thanh.
Regarding to business side, Mr. Kim Vinh Cuong, Vice President of Union of PouYuen Vietnam Co., Ltd. (located in Binh Tan District) said that the company had about 300 experts and managers from China and Taiwan. In order to ensure the prevention, the company had not allowed these people to come back for work.
"We will consider foreign experts returning to work when the local COVID-19 pandemic situation is under control," said Mr. Cuong. He also informed that the company regularly trained workers to meet requirements of the work taken over by experts before coronavirus outbreak.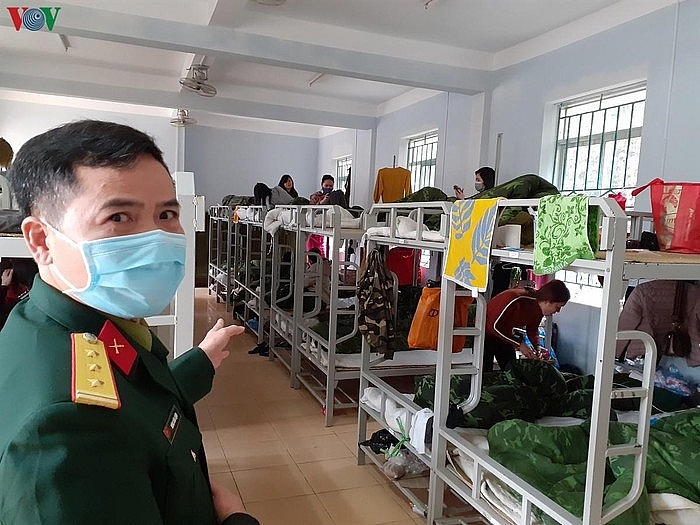 A quarantine zone at Regiment 852, Cao Bang province's Military Command. Photo: VOV.
Previously, Vietnam stopped issuing visas to foreigners from 0h on March 18 to ensure the prevention of COVID-19 pandemic. Currently, Vietnam recorded 355 cases, of which 336 people recovered.
Vietnam has gone through 77 consecutive days without cases infected among the community. There are still 19 people being treated at 7 health facilities, most of them are in stable condition. In particular, four people negative one time, four people negative two times.
Ruby Lee