International arrivals to Vietnam plummets while Cambodian tourists remain even
It is expected that Vietnam will open the international tourism market from the third quarter with different scenarios while foreign tourists coming to Vietnam plummets except for Cambodian ones. 
International tourists coming to Vietnam plummets except for Cambodian ones
According to the General Statistics Office, the number of international visitors to Vietnam in June was merely 8,800 , demonstrating the lowest level over the past years and down 61.3 percent inter-monthly and 99.3 percent year on year.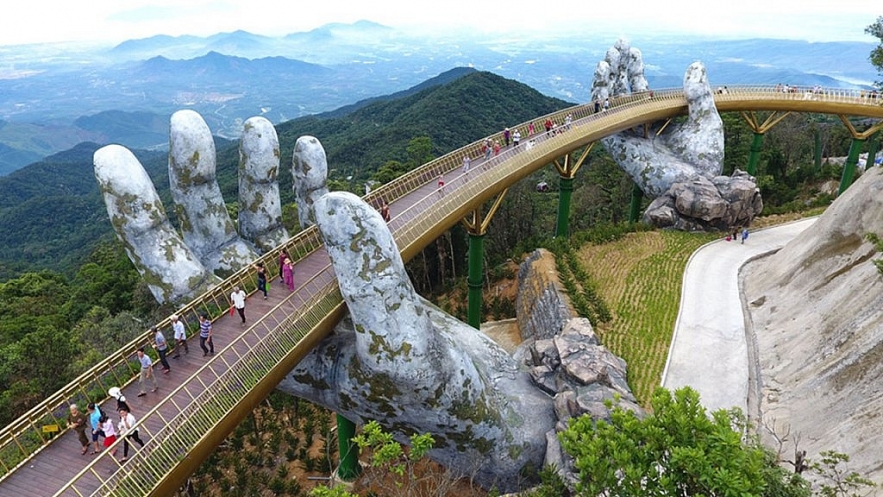 Photo: News Examiner
The number of international visitors coming to Vietnam is mainly foreign experts and technicians working on projects. Currently, Vietnam has no international tourists as it has yet to open aviation border for the outbound market.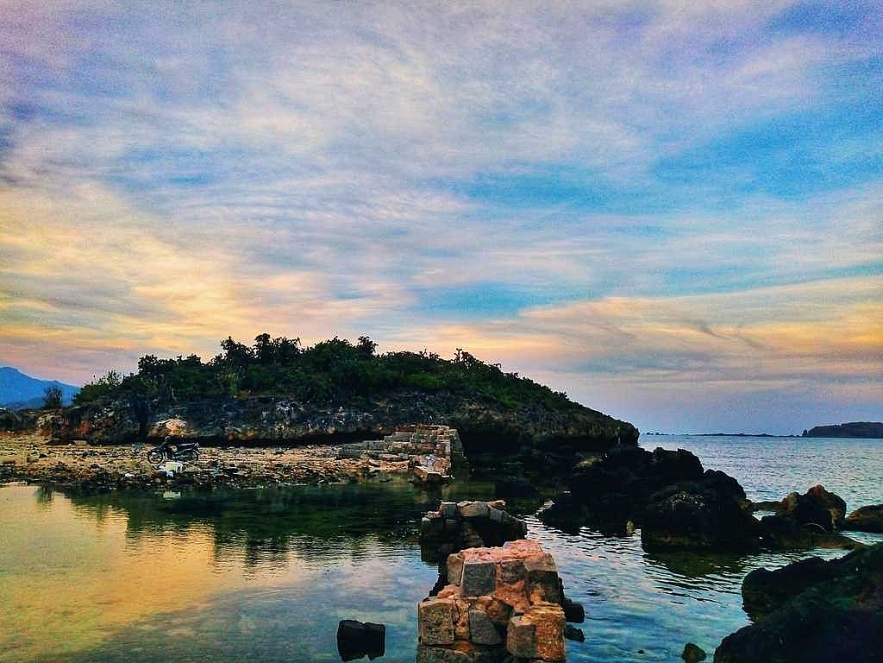 Stunning sunset on Hon Do ancient coral reefs. Photo: traveloka
Generally, in Jan-June, Vietnam's foreign visitors reached 3.7 million, which fell by 55.8 percent comparing to the same period in 2019. Visitors from Asia reached 2.72 million, accounting for 72.9 percent of total arrivals. The main markets providing the major source of tourists for Vietnam such as China, South Korea and Japan decreased by 63 percent, 60.4 percent and 55.8 percent, respectively. However, only visitors from Cambodia increased by 105.9 percent.
When can Vietnam reopen to the international tourists?
This is also the biggest question today for tourism and travel businesses. At the Southeastern Tourism Conference held in Tay Ninh, Ho Chi Minh City Party Committee Secretary Nguyen Thien Nhan proposed that the Government should have a gradually opening roadmap to international tourism in order to recover this industry.
Mr. Nguyen Thien Nhan also said that COVID-19 pandemic still lasts over the world and that it continues complicatedly in some countries. Therefore, Vietnam cannot wait for the end of pandemic in the whole world before reopening.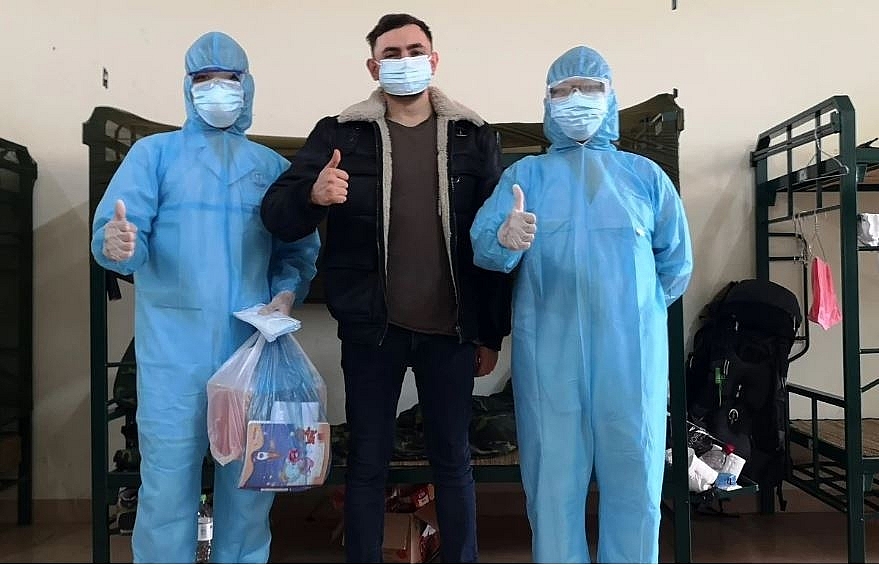 British tourist Gavin Wheeldon raises a thumbs-up with two medical staff in his room at Son Tay Military School quarantine camp in Hanoi. Photo: Gavin Wheeldon
"But if we determine which national criteria are safe and how long to maintain them, we can consider the plan to gradually reopen controlled tourism. We develop both inland tourism and international one by selecting countries that are safe enough, especially those near Vietnam. This is the way to achieve the economic development goals, together with the anti-epidemic efforts", Mr. Nhan said.
The Vietnam National Administration of Tourism is currently developing plans to welcome international tourists as soon as receiving approval of Prime Minister.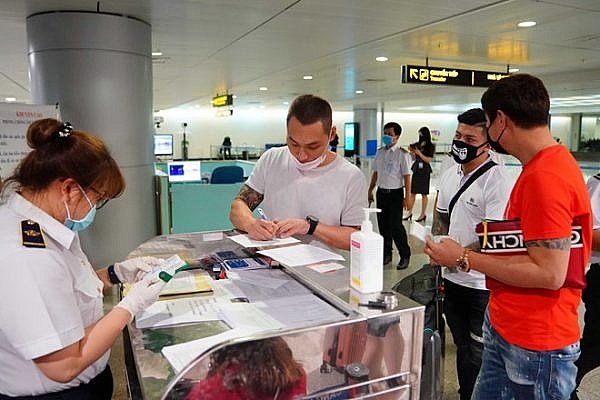 Health declaration on entry at Tan Son Nhat airport. Photo: sascotravel.com
In a recent meeting with the representative of Ho Chi Minh City tourism industry, Mr. Nguyen Trung Khanh - Director General of Vietnam National Administration of Tourism - said that if Covid-19 pandemic was controlled in some key markets, the General Department shall consider proposing the Government to relax restrictions, conducting advertisements, and promoting international visitors on the basis of ensuring standards of health control.
In particular, countries near Vietnam such as ASEAN's ones and East - North Asia may be the markets to focus on attracting tourists first.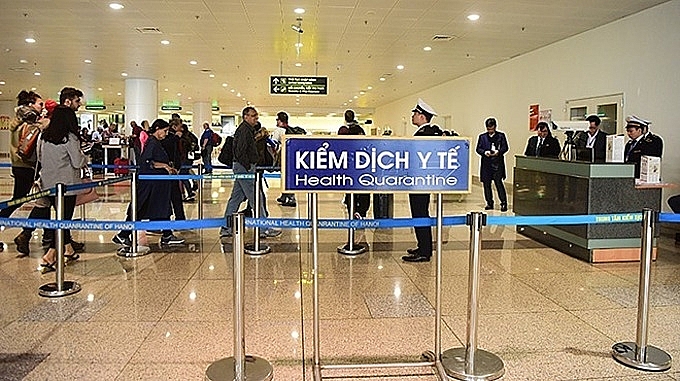 Passengers go through the health quarantine area at Hanoi's Noi Bai Airport. Photo Credit: VnExpress/Giang Huy
The Aviation Administration of Vietnam also proposed to resume routes from the end of July to countries and territories without new infections in the community for 30 consecutive days. Currently Vietnam has experienced more than 60 days without new cases of infection in the community.
Mr. Tran The Dung - Deputy General Director of Young Generation Tourism Company - also proposed that Vietnam can resume international tourism on the basis of similar pandemic control countries. Developing a "corridor" to recognize standards of health certification among countries participating in the exchange of guests is to ensure that only visitors with health conditions can visit Vietnam and vice versa.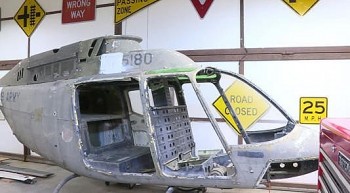 World
A piece of military history related to Vietnam is coming to life with a special project in a small Barton County townm in the US