Ho Chi Minh City Works to Become Modern Service-Industrial City
Ho Chi Minh City aims to achieve economic growth of 8-8.5% by 2030, under a Politburo resolution signed by Party General Secretary Nguyen Phu Trong.
With a history spanning more than 300 years, the southern metropolis of Ho Chi Minh City has strived to become a dynamic and attractive destination for both domestic and foreign guests.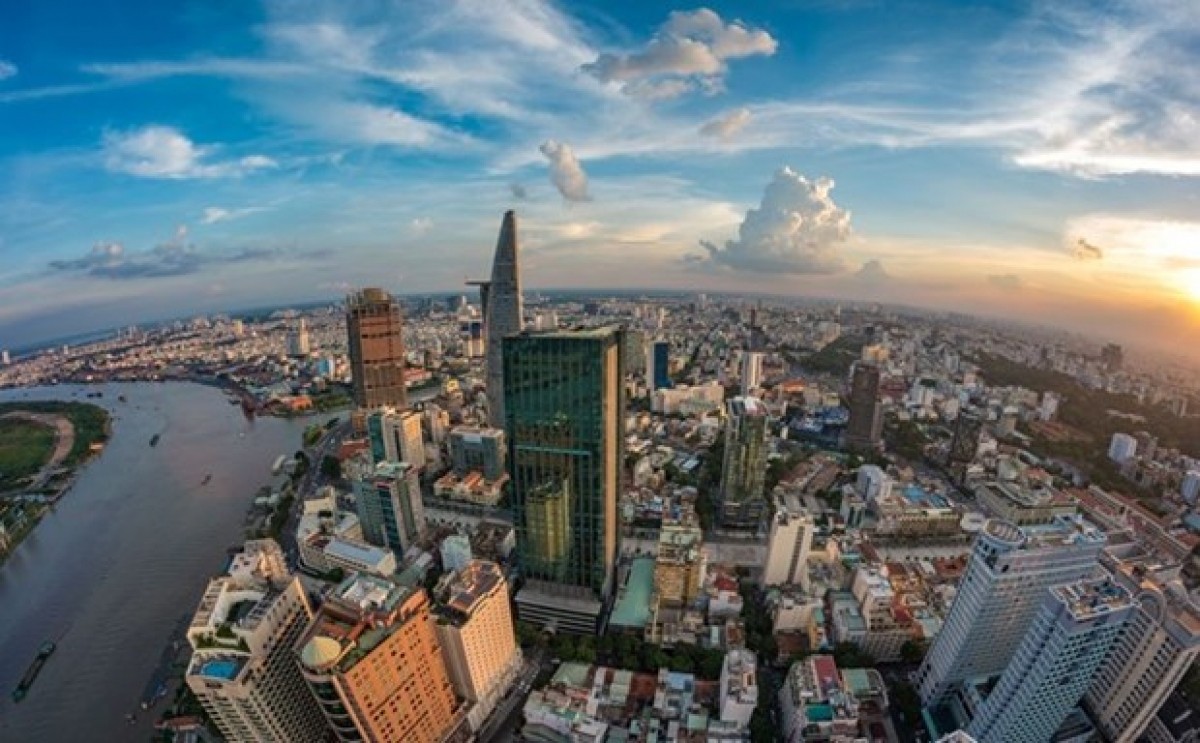 Ho Chi Minh City sets growth target of 7.5-8% for 2023. Photo: VNA
Party General Secretary Nguyen Phu Trong on January 2 signed off the Politburo's Resolution No 31-NQ/TW on orientations and tasks for the development of Ho Chi Minh City by 2030, with a vision to 2045.
According to VOV, under the resolution, HCM City will become a modern service-industrial city, a leader in digital economy, and an economic, financial, commercial, cultural, educational, scientific and technological center of the whole country.
By 2030 it aims to achieve economic growth of 8 - 8.5%/year, with the gross regional domestic product (GRDP) per capita reaching about US$14,500, and the digital economy making up 40% of its GRDP.
By 2045, HCM City will develop on par with major cities in the world, become an economic, financial and service center in Asia, and work as an attractive global destination.
To meet the goal, the Politburo requested that HCM City focus on fast and sustainable economic development on the basis of innovating the growth model, restructuring the economy, and improving productivity, quality, efficiency and international competitiveness, while mobilizing and effectively using all resources.
The Politburo also requested the city to improve the quality of urban planning, management and implementation, step up sustainable urban development and climate change adaptation, and promote the construction of synchronous and modern infrastructure.
Priority will be given to developing synchronous and modern transport, energy and telecommunications infrastructure, completing the construction of national highways and a system of regional and inter-regional roads, and speeding up investment in construction of national key projects, including the upgrade of Tan Son international airport.
The city of Thu Duc, part of HCM City, will strive to become a new growth pole, an innovative, highly interactive city, and the nucleus of the city's socio-economic development.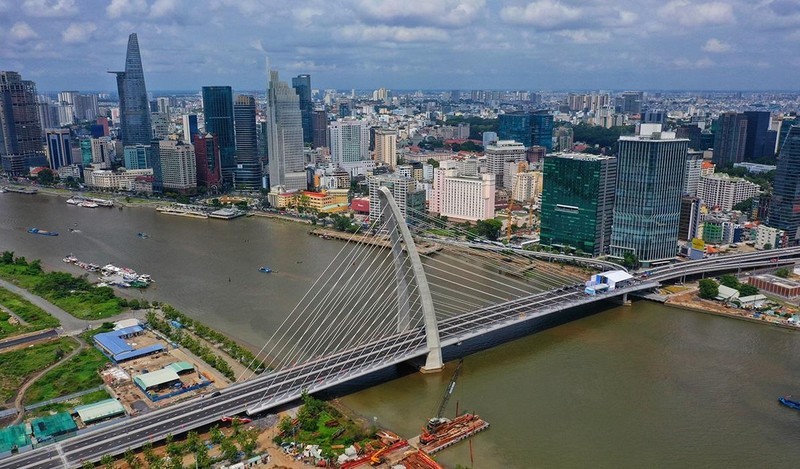 Thu Thiem 2 Bridge in Ho Chi Minh City. Photo: VnExpress
The Politburo also requested HCM City to develop a breakthrough mechanism to attract development investment resources and promote socialization in the fields of health, education and training, culture and sports. It permitted the city to pilot the selection of investors through the public-private partnership model to implement investment projects in the fields of culture, sports and science and technology.
The Politburo held that HCM City review the implementation of the urban government model, and at the same time continue to perfect its apparatus in a modern, effective and efficient manner.
HCM City absorbed about USD 3.94 billion in foreign direct investment (FDI) in 2022, up 5.4% year-on-year, according to the municipal People's Committee, VNA reported.
The city's authorities granted new investment certificates to 893 projects in 2022 with total registered capital of USD 601.1 million, marking a decline of 12.5% compared to last year. Of the projects, 338 were invested in wholesale, retail, and repair of automobiles and motorbikes with registered capital of USD 176.9 million, accounting for 29.4% of the newly registered capital.
They were followed by the field of information and communication with 186 projects that posted registered capital of USD 139.3 million, accounting for 23.2%. There were 231 projects in specialised areas, science, and technology with registered capital of USD 107.5 million, accounting for 17.9%.
Among nations and territories pouring capital into the city this year, Singapore ranked first with 167 projects with total registered capital of USD 235.4 million, accounting for 39.2% of the newly registered capital.
It was followed by Japan with 86 projects and registered capital of USD 97.2 million, accounting for 16.2%, the Republic of Korea (RoK) with 122 projects and registered capital of USD 60.3 million, accounting for 10%.
Regarding the adjustment of registered capital, there were 192 projects with increased capital of USD 1.6 billion, up 42.4% over the previous year.
Singapore was the country with the highest adjusted capital in 2022 – over USD 1.18 billion, accounting for 73.7% of the adjusted registered capital.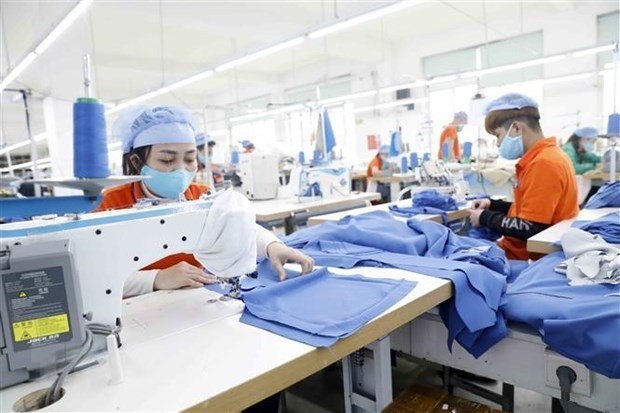 Ho Chi Minh City absorbs about 3.94 billion USD in foreign direct investment in 2022, up 5.4% year-on-year. Photo: VNA
A total of 2,411 investors made capital contributions, share purchase, and redemption of contributed capital. Their capital contributions reached nearly USD 1.74 billion, down 9.8% from last year. Singapore and the RoK saw high proportions of capital contribution, accounting for 47.5% and 16.9% respectively.
With the new projects in 2022, the total number of valid projects in the city until December 20, 2022, amounted to 11,273 projects with registered capital of USD 55.84 billion. Thereby, HCM City continues to lead the country in the number of valid projects.
To achieve those results, the city's authorities organised investment promotion activities in and outside the country to attract foreign investors to its key industries and key projects. The city also met with, asked for advice, and talk with investors.
The city organised 127 domestic and foreign trade and investment promotion activities, supported businesses to recover, develop markets, and connect businesses to businesses through fairs and exhibitions or programmes that connect businesses with retail groups and distribution systems.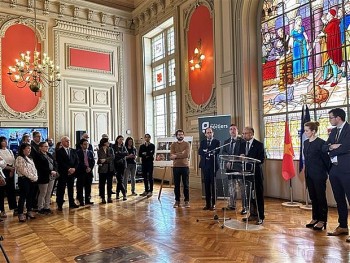 National
Vietnam News Today (Mar. 26): Vietnam and Thailand promote labour cooperation; Vietnamese, French localities look to step up cooperation; Attractive incentives on offer at Hanoi Tourism Festival 2023; E-commerce accounts for 60% of Vietnamese digital economy.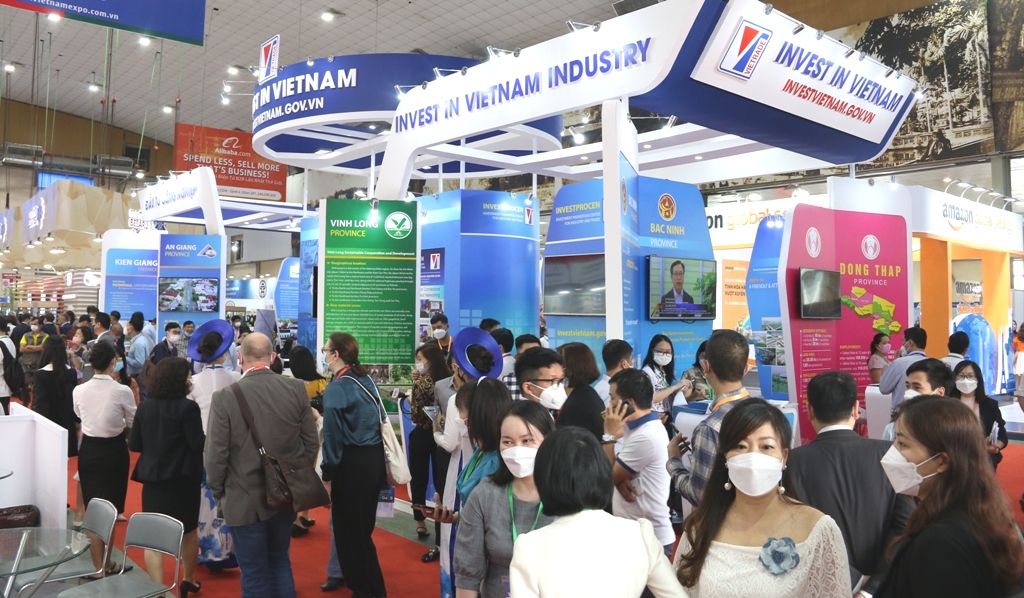 Economy
The Vietnam International Trade Fair - VIETNAM EXPO is an annual event held in Vietnam with the longest history (since 1991) chaired by the Ministry of Industry and Trade of Vietnam, directed by the Vietnam Trade Promotion Agency, and organised by VINEXAD Company.
March 22, 2023 | 11:50