Hoi An City to Host Korean Cultural Day This Week
The UNESCO-recognised world heritage Hoi An ancient city will hold a Korean Cultural Day 2022 this weekend.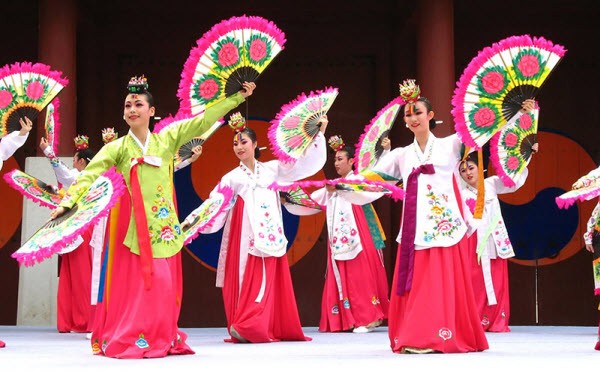 Illustrative image.
A Korean Cultural Day in the central province of Quang Nam is due to take place in Hoi An ancient city from April 22 to April 23 in celebration of the 30th anniversary of both nations' diplomatic relations (1992-2022), VOV reported Tuesday.
As part of the two-day event, a wide range of activities will be planned, including a traditional market in Hoi An city, an art show, an Ao Dai performance, and folk games.
Visitors will have the chance to experience Korean culture and cuisine with several food stalls, tourism booth and Hanbok, a traditional Korean costume, experience.
Truong Thi Ngoc Cam, director of the Center for Culture - Sports and Radio and Television in Hoi An, said the Korean Cultural Days in Quang Nam is within the framework of the the National Tourism Year – Quang Nam 2022 with the theme of 'Quang Nam – A Green Tourism Destination'.
The event aims to promote the culture and tourism of both countries, as well as foster diplomatic ties between the RoK and Vietnam, with a particular focus on the central province of Quang Nam.
Most notably, Taekwondo and K-pop dance performances will also be held on April 22.
Moreover, domestic and foreign tourists will be able to join a tour visiting Hoi An ancient town, local traditional craft villages, and the central city's historical relics.
The closing ceremony will take place on April 23 evening at the stage of An Hoi statue garden, which will bring unique Vietnamese, Korean art performances, with the participation of famous singers, music groups and dance groups. Famous names such as Trung Quan Idol, Trinh Thang Binh, Co La music group, K-pop cover dance group A-code, Minh Toc & Lam music group along with unique art performances of Hoi An.
The cultural event is expected attract visitors coming to Hoi An and contribute to helping the tourism sector recover from the Covid-19 pandemic.
In 2019, Vietnam served 4.3 million visitors from the RoK, up 23.1% year-on-year, and accounting for 23.8% of the total number of travelers to Vietnam.
Since 2017, the RoK's Embassy, the Korean Cultural Center in Vietnam have continuously coordinated with Quang Nam province to organize the Korean Cultural Day in Quang Nam and Hoi An city is always the chosen locality to host the event.
Hoi An is one of the most popular destinations nationwide, with the ancient city typically attracting a large number of visitors worldwide each year, especially Korean tourists.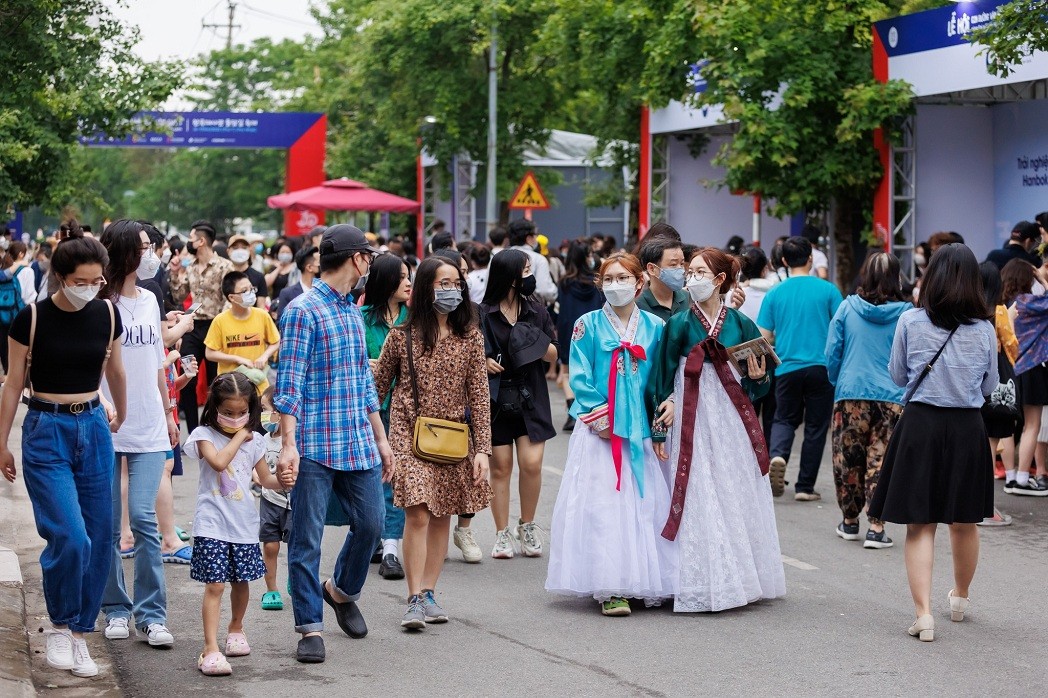 The recent Korean culture road festival attracts a lots of visitors. Source: Embassy of RoK in Vietnam
Earlier, a Korean culture road festival organized by the Embassy of RoK in Vietnam has been held in Hanoi on April 16-17 to mark the establishment of the diplomatic ties, providing an excellent chance for anyone who loves the RoK to explore the country's rich culture and exquisite cuisine..
This year's festival featured booths introducing a range of Korean products such as fruits, ginseng, nutritious drinks, mixed noodles, tokbokki, and other traditional Korean dishes. Along with various culinary activities, K-pop music performances and Hanbok experience also took place.
Visitors have the opportunity to receive special gifts while participating in events such as K-Pop Random Dance and taking photographs at popular check-in spots during the two-day event.
Experiencing Korean Culture in Vietnam

The participants of the program learn Korean etiquette, parenting skills, Korean history, geography and Vietnam-South Korea relations, health care, and cooking Korean dishes.