Hoi An Lantern Festival to Light Up German Town for The Third Time
The ancient city of Hoi An will host the third 'lantern night' in the streets of Wernigerode, its twin town, in Germany as part of cultural co-operation between the two cities in 2023.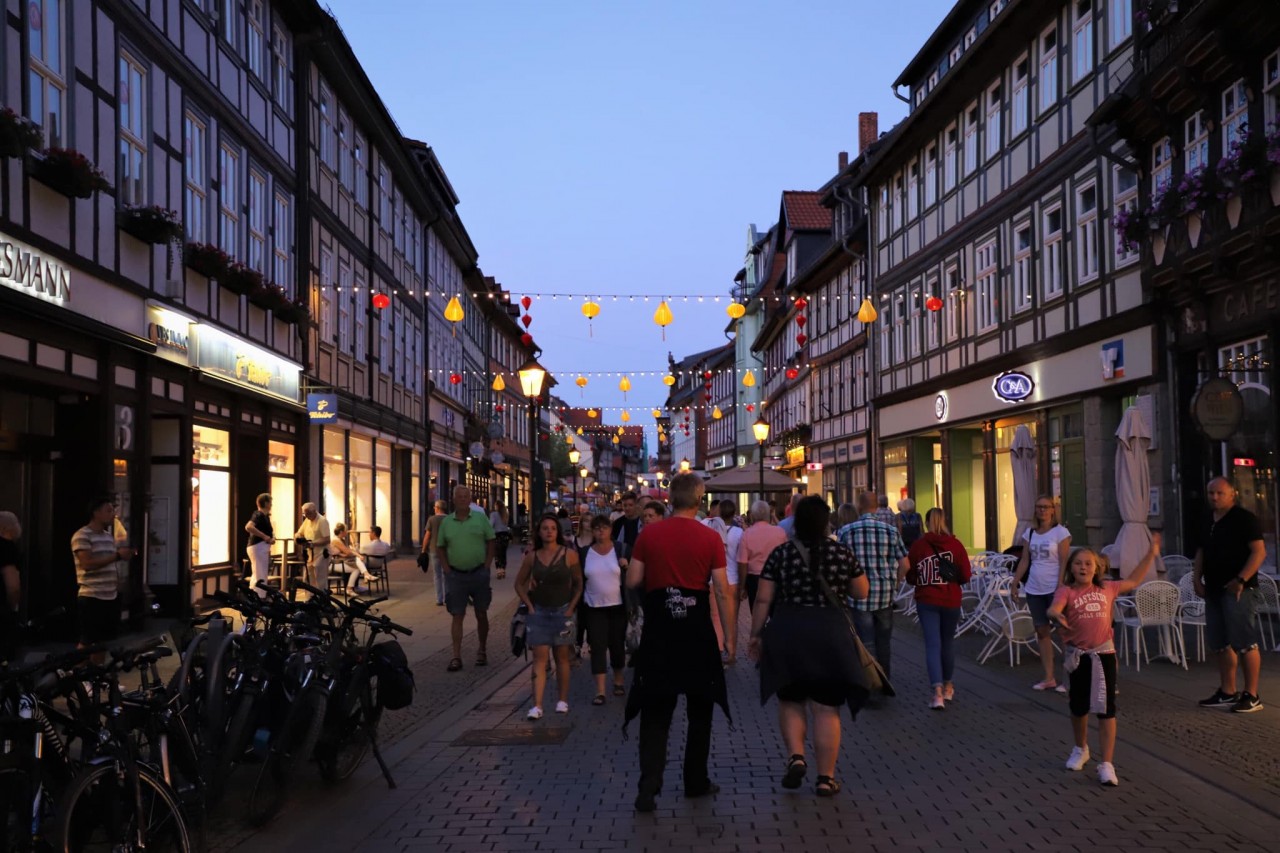 Wernigerode ancient town lit by hundreds of handmade lanterns from Hoi An city in the lantern festival in 2019. Source: Vietnam's embassy in Germany
The ancient city of Hoi An in Quang Nam central province and Wernigerode, its twin town in Germany, will host the third 'lantern festival' in Wernigerode on August 27, 2023, reported VNA.
The event aims to celebrate the 10th anniversary of the friendship of the two cities (2013-2023) and promote 'green' growth cooperation.
Hoi An said the plan was fixed in a recent online meeting, agreeing that the ancient town's lantern festival will cover lantern decorations in the streets of Wernigerode, art performances, lantern-making skills demonstration, calligraphy and other hand-made trades of Hoi An.
The two cities also plan to build a Hoi An Garden at the Miniaturen Park 'Kleiner Harz' in Wernigerode on the occasion of the lantern festival, while an eco-road or 'green shadow' street will be developing in Hoi An from next year.
Cultural exchange events have been organised in both cities as part of annual co-operation programmes.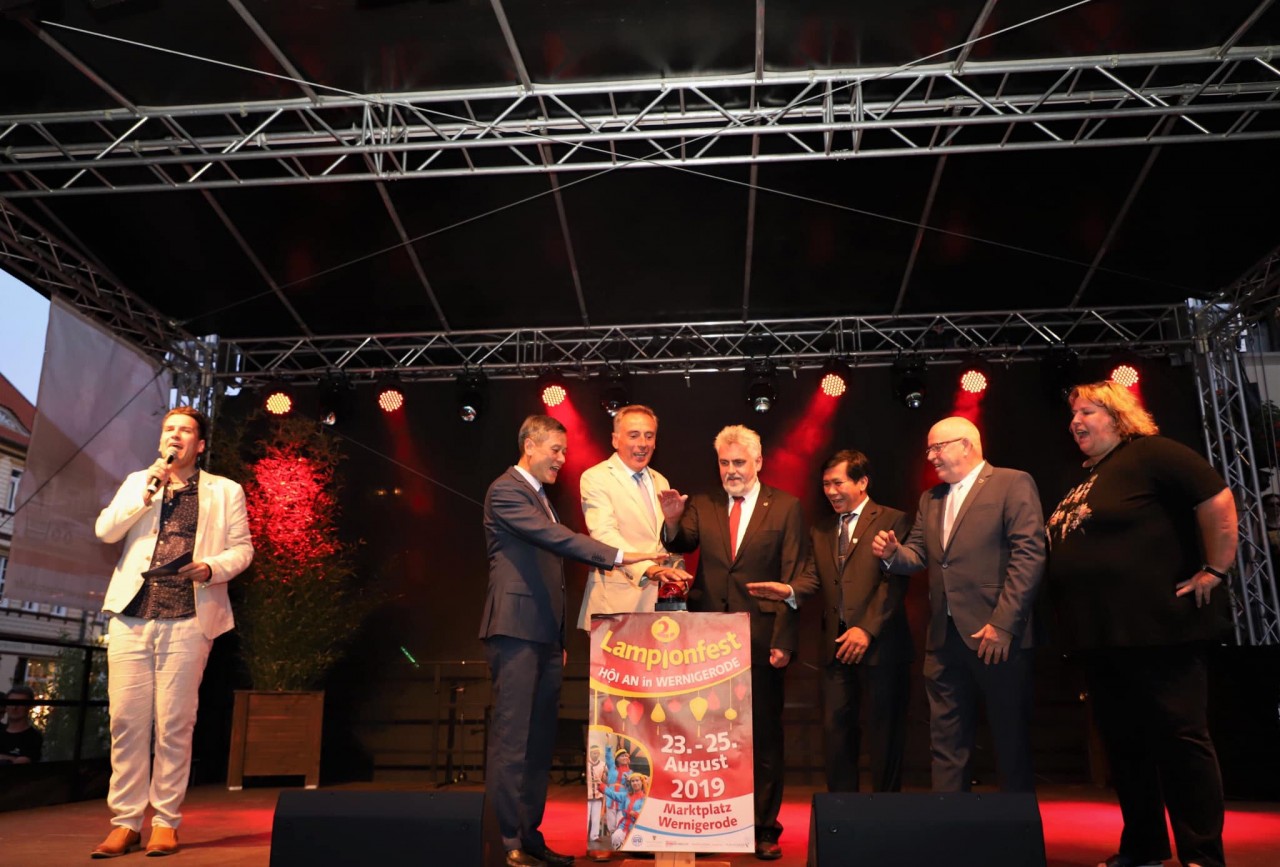 At the Hoi An lantern festival in 2019 in Wernigerode. Source: Vietnam's embassy in Germany
In 2019, Hoi An artisans also joined the 'lantern night' festival in the old streets of Wernigerode, while the German Beer festival was held in Hoi An.
On the colorful market in front of Wernigerode historic city hall, craftsmen, artists, and chefs from Hoi An had shown their skills. Artists, singers, and musicians from Germany and Vietnam performed special performances. The event had ended successfully and remained much splendid impression in the heart of local residents and international tourists.
Wernigerode helped developed a solar-powered system for public lighting, loudspeakers and lanterns in Hoi An in 2018, before sending a donation of EUR 23,600 (USD 23,000) to support flood and storm victims in Hoi An.
Wernigerode, with its historic town center and lavishly restored and colorful half-timbered houses lies on the northern edge of the Harz Mountains. The small city in Harz County has a population of about 35,000 people and more than 2,000 old houses.
Since 2013, Hoi An and Wernigerode had signed an agreement, marking the debut a sisterhood between the two cities. On that occasion, a lantern festival was held in Wernigerode, showcasing thousands of lanterns made by Hoi An artisans. Other sports and cultural activities also took place with the participation of Vietnamese artists and Vietnamese expatriates in Germany.
Since then, the two town have boosted close cooperation in technology, education and sustainable tourism.
Tourism promotion images of Wernigerode, the colourful city, are decorated at ticket counters in Hoi An town.
The ancient town of Hoi An has made its way into a list of the world's most colourful places compiled by luxury tour operator Unforgettable Croatia based on Tripadvisor reviews.
Hoi An often hosts lantern night events during weekends. All restaurants, cafes and hotels are decorated with colourful lanterns.
Colorful floating lanterns are also a distinct feature of Hoi An, which hosts the lantern festival on the 14th day of each lunar month, when all electric lights of the town are switched off. The town is a World Heritage site recognized by UNESCO.
The Wernigerode is the first German town to enter a partnership with a Vietnamese town.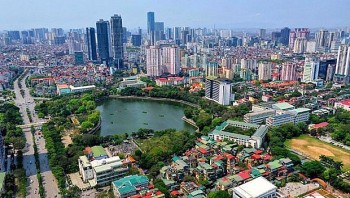 National
Vietnam News Today (Jan. 29): Quang Ninh: Cross-border trading with China resumed after Tet; Hanoi in the world's top three culinary destinations: Tripadvisor; Intertwined opportunities, challenges for Vietnam's economy in 2023; Supermarkets, traditonal markets gradually resume normal operations amid abundant supply.