Vietnamese Community in Germany Raises Funds for Homeless Center
The Vietnamese community in Germany joined hands to support the local community.
Vietnamese Ambassador to Germany Vu ​​Quang Minh on October 20 handed over a donation of EUR 3,000 (nearly USD 3,000) to Maria Richter, director of the Center to support the homeless and disadvantaged people of Lichtenberg district in Berlin.
According to the Vietnam News Agency correspondent in Berlin, this is the amount donated by Vietnamese individuals, groups and businesses on the occasion of the National Day (September 2) celebration in Germany.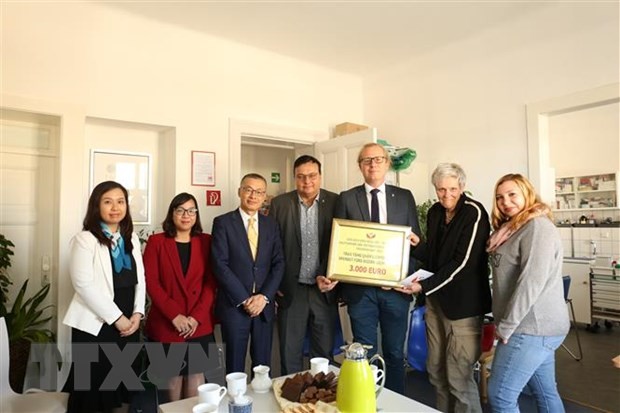 At the handover. Photo: VNA
On behalf of the Vietnamese community in Germany, Ambassador Vu Quang Minh expressed his gratitude to Maria Richter and the center staff for their concern and support for disadvantaged people in the area. In the context of winter centers, the conflict in Ukraine is not over, Germany is one of the countries that receive the most refugees from Ukraine, such support are especially meaningful for those who are in need.
The ambassador said: "The amount is small, but this is the heart of Vietnamese people in Germany to share with the plight of needy people."
On this occasion, the diplomat also, on behalf of the Vietnamese community in general and the business community in particular, thanked Lichtenberg District Chairman Martin Grunst and the authorities for their great interest in the development of the community, especially in the community. for the operation of Dong Xuan Market, the largest trade center of Vietnamese in Berlin is located in the area.
Ambassador Vinh expressed his hope that in the coming time, the district government will continue to encourage and recommend the Vietnamese business community to cooperate better with the Lichtenberg District Patronage Center.
For her part, Maria Richter expressed her appreciation for the good deed of the Vietnamese community, sharing that with this amount of EUR 3,000, the center, fully operating functions, from clinic, medical support and first aid to cooking three meals a day for an average of about 80 people every day, can do a lot of useful things.
Through the Vietnamese Ambassador, Maria thanked donors and Vietnamese businesses and communities in Germany.
Lichtenberg district is home to over 7,000 Vietnamese people. For many years, the district government appreciated has always the active integration of the Vietnamese community in Berlin in general and in Lichtenberg district in particular.
Vietnamese businesses operating in the district, especially Dong Xuan Trade Center, have made important contributions to the economic development of the district. In its policy, Lichtenberg District also always appreciates the contribution of the Vietnamese community and advocates creating the most favorable conditions for them to safely do business and live in the area.
Vietnamese expatriates have been recognized as one of the most successful immigrant communities in Germany to date.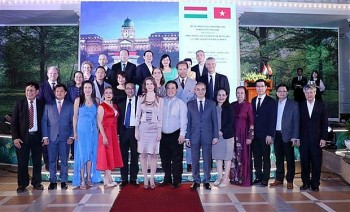 Viet's Home
Saigontourist Group in coordination with the Hungarian Consulate General held a series of events within the framework of the Hungarian Food and Culture Festival 2022 in Ho Chi Minh City