Hollywood star Maggie Q visits Vietnam Bear Rescue Centre in Tam Dao
Vietnamese-American actress Maggie Q spent her entire visit to Vietnam from October 2 and 3 with bears at the Vietnam Bear Rescue Centre in Tam Dao National Park, the northern province of Vinh Phuc.
Vietnamese-American actor Maggie Q (C) visits the Vietnam Bear Rescue Centre and names a bear.
On Thursday afternoon, Maggie Q, considered as a symbol of Asian beauty in Hollywood, joined a naming ceremony for a bear at the centre.
Maggie is the goodwill ambassador of Animals Asia, who operate the Vietnam Bear Rescue Centre. In 2004, when she first learned about bear bile farming, on her birthday that year, she dedicated all her gifts to sponsoring the bear rescue project.
Sharing with guests and journalists present at the sanctuary, Maggie Q said she visited the Vietnam Bear Rescue Centre for the first time in 2009, and since then, the centre has grown five times bigger and lots of bears were rescued. As a Vietnamese-American, she was very happy to know that bear bile farming would end soon in Vietnam thanks to efforts from both Animals Asia and the Vietnamese Government, as both sides look in one direction towards protecting the animals.
On this occasion, the Hollywood star spent her whole time to join with other artists and celebrities from many countries to come up with ideas to protect Vietnamese bears. She also named a newly-arrived bear at the centre – Phoenix. It is the 205th inpidual bear that the Animals Asia has rescued in Vietnam. The name of Phoenix, as explained by Maggie, represents that happiness may come through sadness and open a new door and the phoenix is a symbol of revival from the ashes. She hoped that Phoenix would be a milestone in the strategy to rescue all remaining 600 captive bears throughout Vietnam.
Maggie Q and delegates visit bears at the sanctuary.
The bear named by Maggie Q.
Phoenix was rescued from Lang Son province in the second half of last June, from a noisy construction site in tough living conditions in an iron cage. After many years in captivity and not being guaranteed nutrition, the female bear only weighed about 80-90kg, much smaller than average. Phoenix had been harvested for bear bile 19 times, so after the rescue, the veterinarians had to perform an operation to remove her infected gallbladder and sclerosis to ensure her life.
At the Vietnam Bear Rescue Center in Tam Dao National Park, there are over 200 bears rescued from all over the world
Maggie Q is a pure and vegetarian animal activist. In 2009, the actress came to Vietnam as the ambassador of the Vietnam Bear Rescue Centre. She attended the opening of the first semi-wild bear sanctuary in Vietnam run by the Animals Asia at Tam Dao at that time and sponsored a bear named after her, Maggie. Sadly, the Asian black bear died late last year. In 2015, she and her mother along with some friends secretly visited the sanctuary for the second time.
Maggie Q places a memorial flower for Maggie – the bear she named previously that died last year.
Maggie Q is considered the symbol of success of Asian artists in Hollywood. Born in 1979 in Hawaii, the actress has a Vietnamese mother. She is known for starring as the title role in The CW action-thriller series Nikita (2010 -2013). In addition, she also had starring roles in the action films Mission: Impossible III (2006), Live Free or Die Hard (2007), and Priest (2011). She portrayed Tori Wu in the dystopian science-fiction action film, Divergent (2014), and reprised her role in the sequels, Insurgent (2015) and Allegiant (2016).
VNF ( NDO )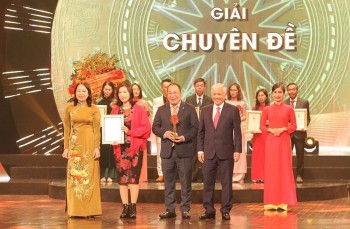 Overseas Vietnamese
VietnamTimes (Viet Nam Union of Friendship Organizations) is a reliable address for overseas Vietnamese to quickly and objectively update political, economic, cultural, and social news. The agency has created a helpful forum and connection between expatriates and the motherland.