Honey moon cycling tour to 18 countries for fundraising spreads love message
Tran Nguyen Khanh Nguyen, 26, Vietnamese and her French husband, Thibault Clemenceau, 30, have just finished their "honeymoon tour" from France to Vietnam that raises a charitable fund's worth over US $17,000 for the underprivileged children.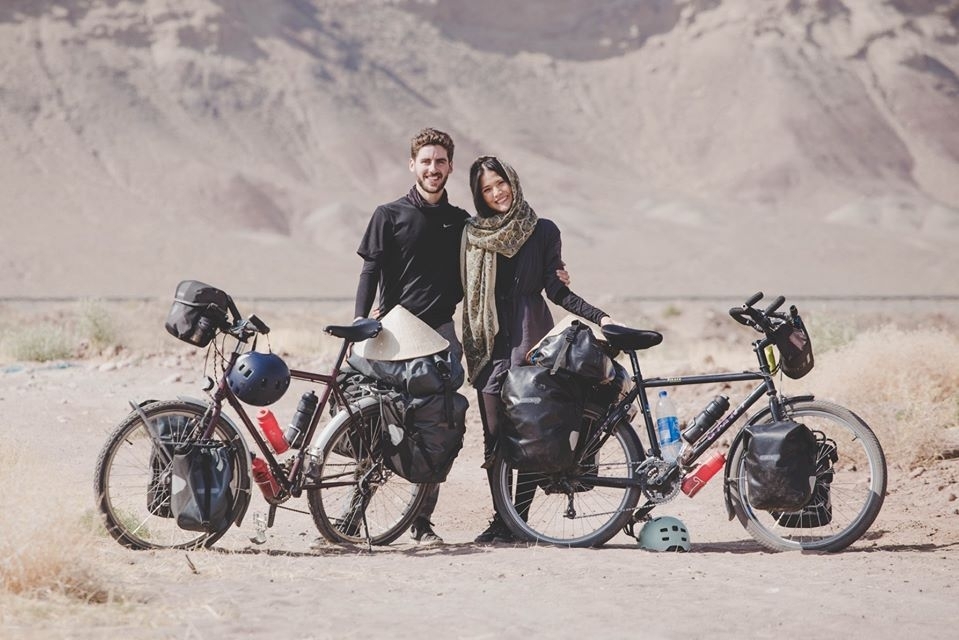 Nguyen and Clemenceau checking-in in Iran, the 12th country in their journey (Photo courtesy of Nguyen, via Thoi Dai)
Mariage is the Company
The cross-border couple has cycled pass 18 countries, starting in France and terminates in Vietnam. Other countries on the list include Switzerland, Germany, Austria, Slovakia, Hungary, Serbia, Romania, Bulgaria, Georgia, Azerbaijan, Iran, Nepal, India. India, Myanmar, Laos.
Nguyen and Clemenceau first met at a coffee house in Ho Chi Minh City, southern Vietnam in 2015. Sharing many things in common (cuisine, travel, culture exploration), the two strangers gradually fell in love. They got married three years after their first encounter, according to Thoi Dai.
Impressed by Clemenceau's 45-day bicycle journey around Europe, Nguyen accepted her husband's suggestion "Let's cycle from my home country to yours on our honeymoon" without hesitation.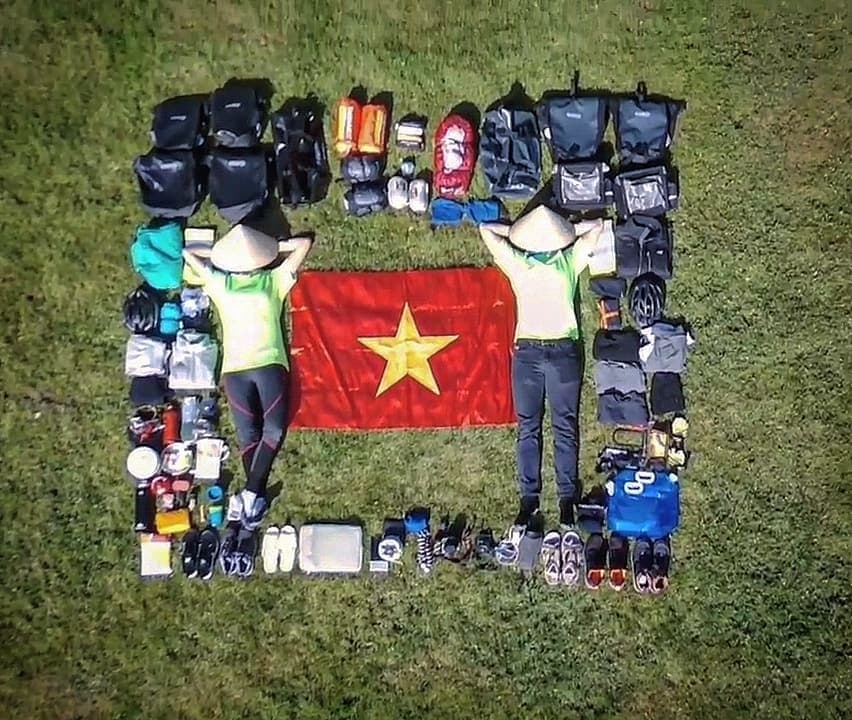 Along with the bicycles, those are the necessities they brought along the journey
(Photo courtesy of Nguyen, via Thoi Dai)
The journey to spread the love message
Throughout the long journey, the couple actively introduced their trip to local people to attract more attention and donations for their non-profit organization named "Poussières de Vie", which was founded to help poor children who cannot afford school and motivate them to pursue dreams.
"Each country has its own uniqueness that leaves a deep impression on us. We meet and make friends with new people in every place we went to", Nguyen told Thoi Dai, adding that the locals' smiles, willingness to help make their long honeymoon more meaningful and unforgettable.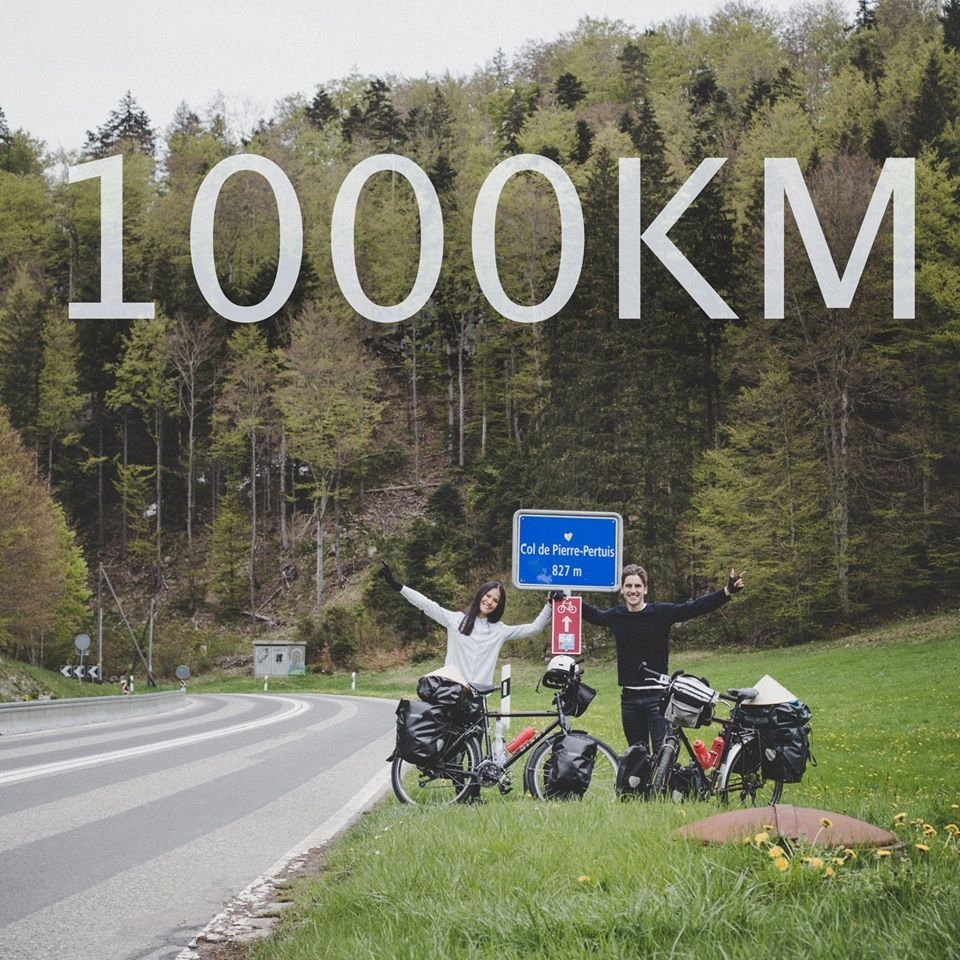 Nguyen and Clemenceau's first 1,000km in Sweden (Photo courtesy of Nguyen, via Thoi Dai)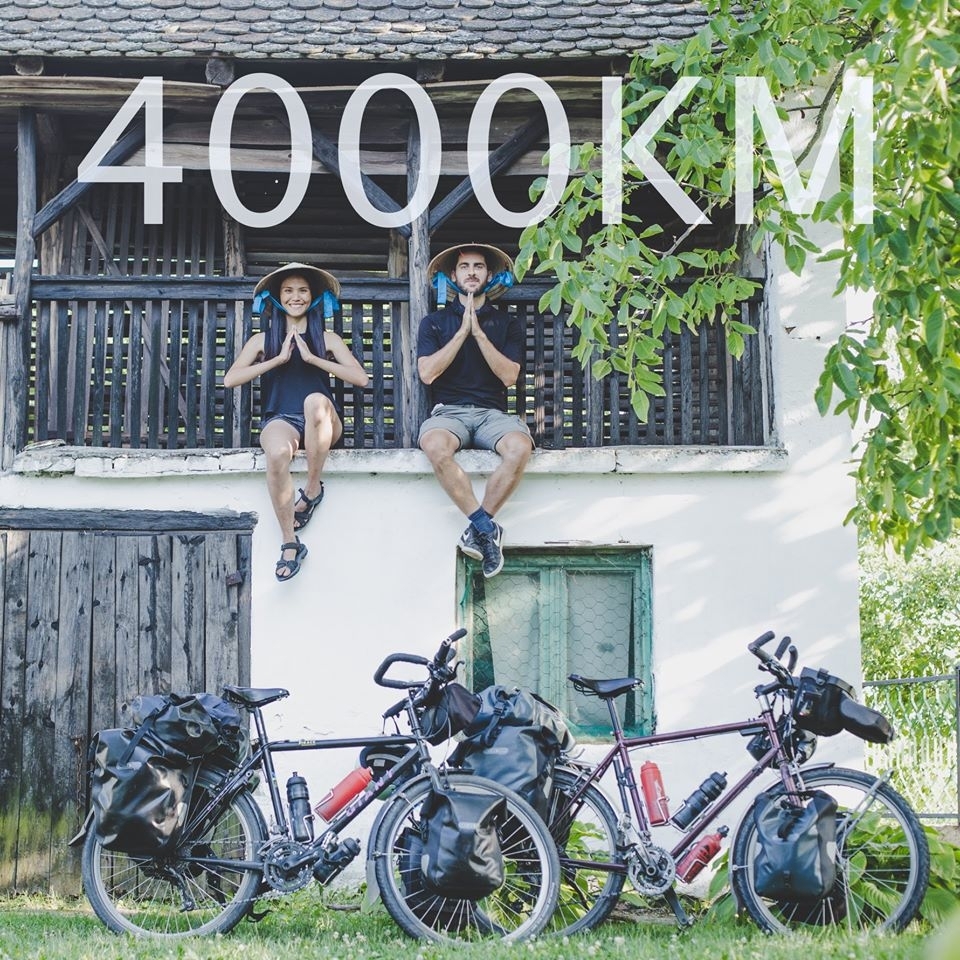 They mark the 4,000km by taking photos with a special pose (Photo courtesy of Nguyen, via Thoi Dai)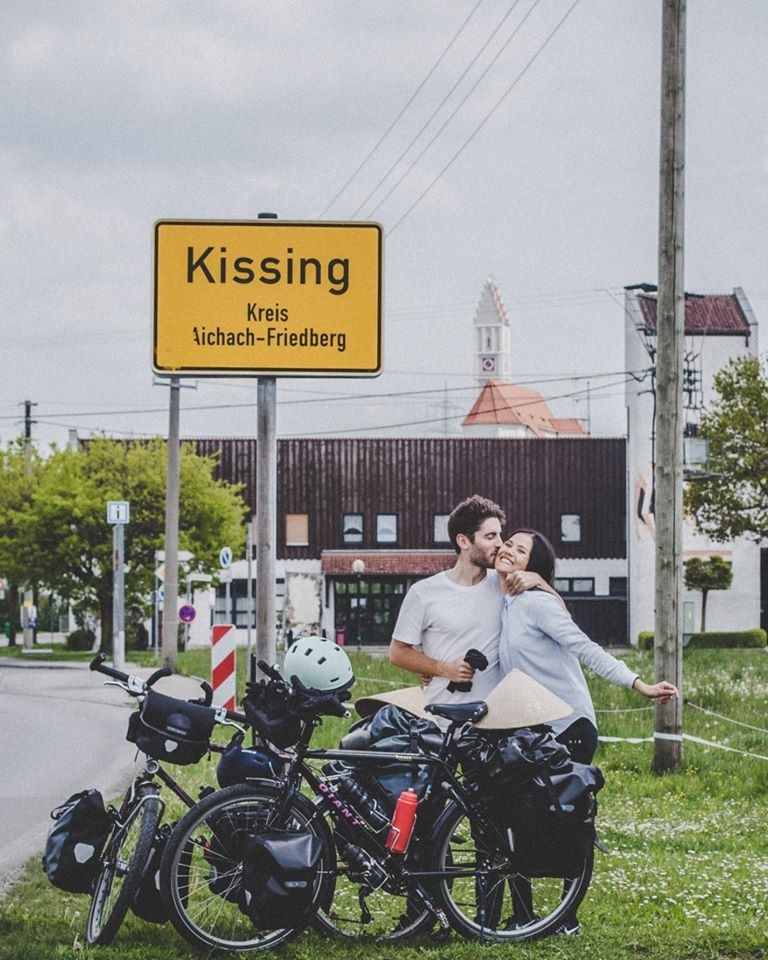 The couple in a district named "Kissing" in German (Photo courtesy of Nguyen, via Thoi Dai)
Their bicycle tour set off in France on April 16, 2019, and officially terminated in Vietnam on May 2020. The 16,000-kilometer-journey earned them US $17,315, exceeding their initial estimate of US $16,000.
The couple is planning to donate all the Poussières de Vie's charitable money to finance 5,000 Vietnamese children to go to school and vocational training.
"We hope that our bicycle journey could be an inspiration for the children to pursue their dreams, in the meantime it could help spread the message in the community so that more and more people would acknowledge of those children's difficulties and lend them a helping hand", Clemenceau was quoted by Thoi Dai as saying.
"Poussières de Vie" is a journey of love: the love of the newly-wedded couple for each other, the love for the poor children, the love between the strangers, and the love for discovering the world.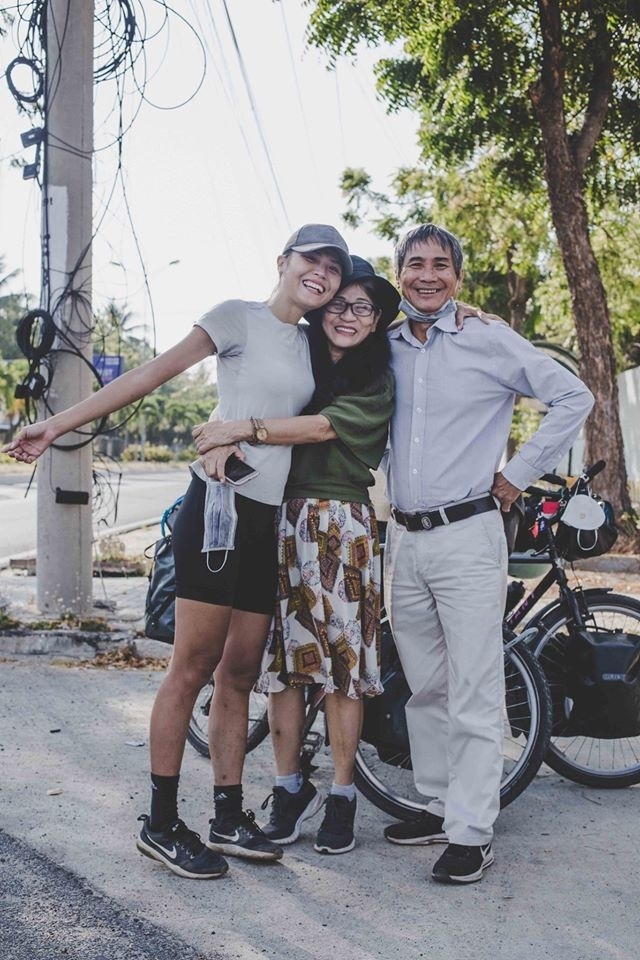 Nguyen hugs her parents when the 10-month-long journey ends (Photo courtesy of Nguyen, via Thoi Dai)
"Poussières de Vie" (PdV) is licensed by the Ministry of Foreign Affairs, Department of Foreign Affairs, under the supervision of PACCOM. PdV has been active in Vietnam since 2002. "Poussières de Vie" is a non-profit organization, founded to help the underprivileged children in Vietnam, giving them the opportunity to go to school and join vocational training courses, as well as more energy to overcome the hardships in life, become more knowledgable and confident when they grow up.
https://thoidai.com.vn/cap-doi-vo-viet-chong-phap-dap-xe-qua-18-quoc-gia-de-gay-quy-cho-tre-em-ngheo-108964.html?fbclid=IwAR0gG-3aKmX2L8xkE6Tu1kR1qJM_dFAZ0xSUX0EFPqW_ezgx72tqxRLeWgo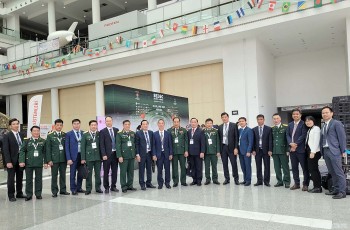 Friendship
Vietnam's presence at the security and defence exhibition SEDEC 2022 in Ankara has been seen as important initial steps to promote the Vietnam-Turkey cooperation.