Honorary Consul of Vietnam in Indian State Appointed
Business and cultural ties between the two countries will be strengthened, said Velagapudi Kavitha Dutt, joint managing director of The KCP Limited, the new-ly Honorary Consul of Vietnam in Tamil Nadu.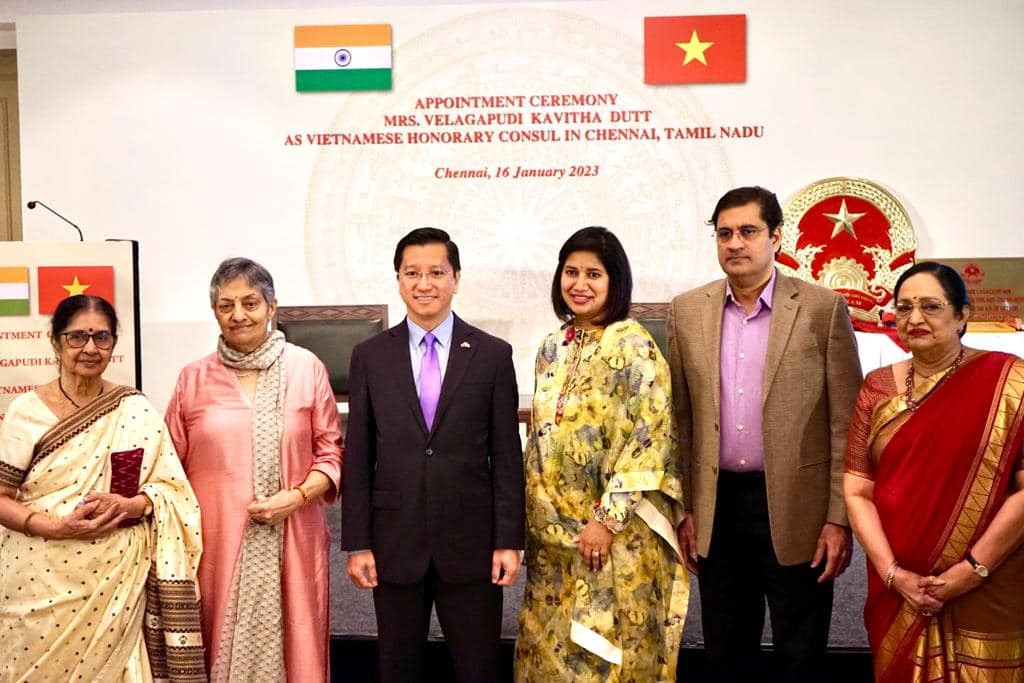 Delegates at the event. Photo: Vietnam's embassy in India
Vietnamese Ambassador to India Nguyen Thanh Hai has presented a decision to appoint Velagapudi Kavitha Dutt, Joint Managing Director at Kcp Ltd, as the Honorary Consul of Vietnam to Tamil Nadu state, VNA reported.
Speaking at a ceremony on January 16 in Chennai, the Vietnamese diplomat said the honorary consul will play an important role in promoting economic, tourism, culture cooperation and people-to-people exchange between Vietnam and India in general and Tamil Nadu in particular, and in effectively implementing Vietnam's citizen protection work in the Indian state.
"We are trying to promote bilateral partnership further for the benefit of the people of both countries, particularly the people of Tamil Nadu. Investments from Vietnam to India and vice versa are on the increasing trajectory. Many micro, small and medium-sized companies (MSMEs) and big companies are committed to making more investments in Vietnam. Interactions in terms of education and culture, especially, with respect to Tamil Nadu, have increased drastically as well," he added.
After the pandemic, there have been many direct flights from many cities in India like New Delhi, Mumbai, Kolkata and Ahmedabad to Vietnam, he said and added that he hoped Chennai too has direct flights in future.
He expressed his belief that Dutt will well fulfill her duties, contributing to strengthening the comprehensive strategic partnership between the two countries.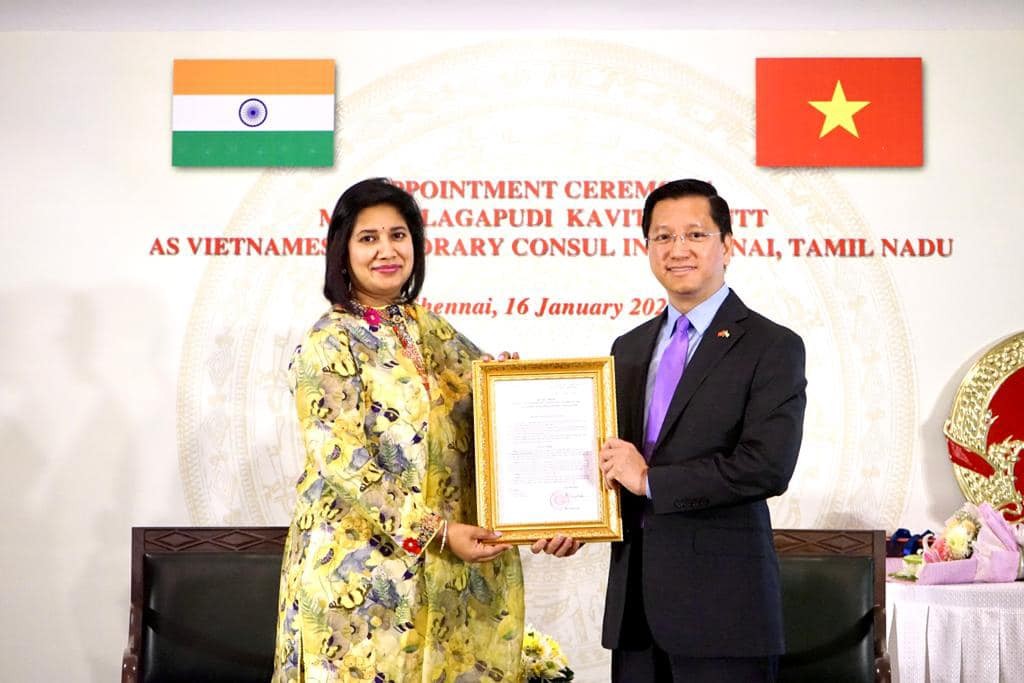 Vietnamese Ambassador to India Nguyen Thanh Hai (R) and Velagapudi Kavitha Dutt. Photo: Vietnam's embassy in India
For her part, Dutt expressed her honour and pride to be appointed as an honorary consul to represent Vietnam in Tamil Nadu, which is one of the most developed states in India.
She pledged to do her utmost to support the Vietnamese community in the state, contributing to promoting Vietnamese tourism, culture, country and people; and continue to explore cooperation potential between Tamil Nadu and other localities of Vietnam, especially economic cooperation.
KCP Ltd has 80 years of experience in producing cement, sugar, heavy industrial machinery and sophisticated and hi-tech equipment for projects in clean energy, defence, space and nuclear. The firm has also invested USD 103 million in Vietnam, especially in the central province of Phu Yen, mainly in sugar refining and power generation.
Vietnam Shows Support to Global South

India is hosting a special virtual Summit on January 12-13. This "Voice of Global South Summit" under the theme "Unity of Voice, Unity of Purpose" ...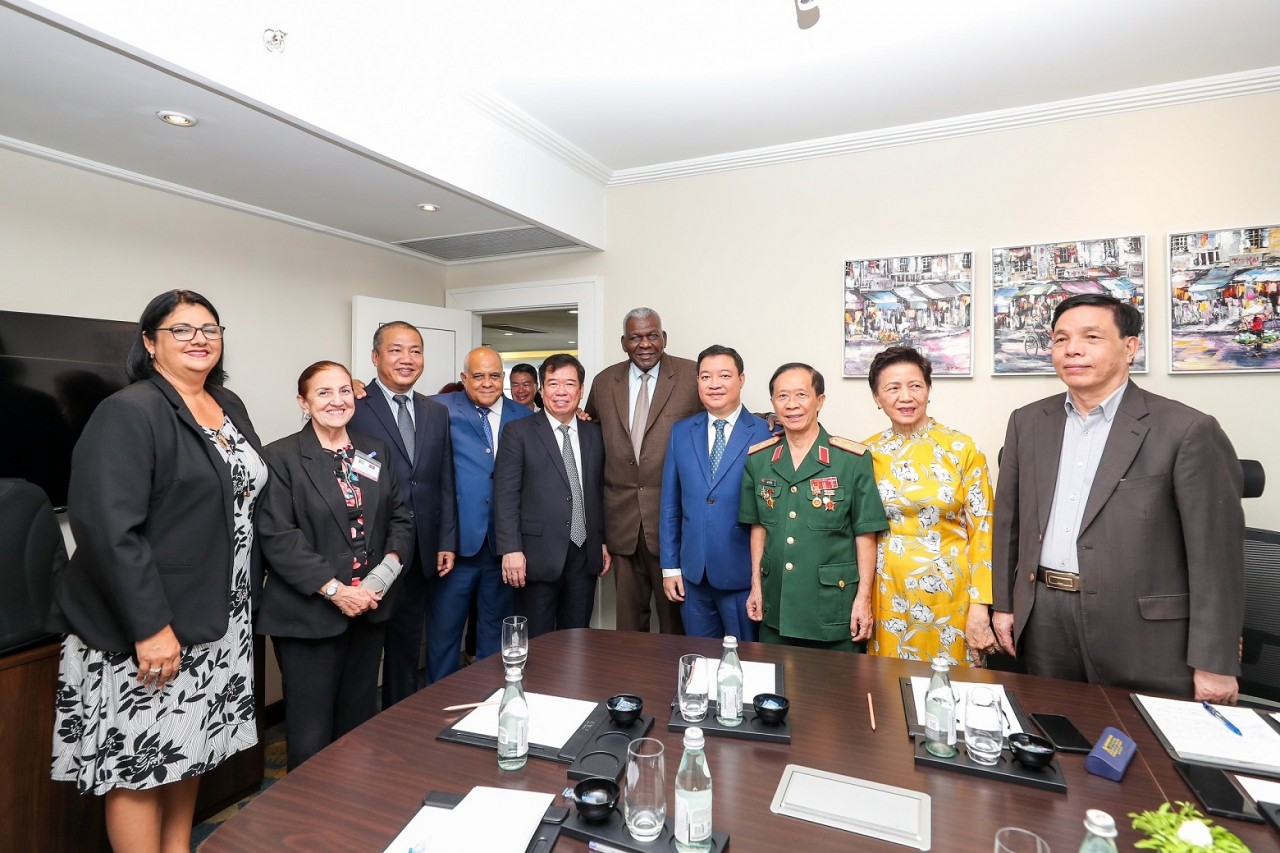 Friendship
President of the National Assembly of People's Power of Cuba Esteban Lazo Hernandez emphasized that Vietnam - Cuba is always united and faithful because they are one family.
September 27, 2023 | 15:11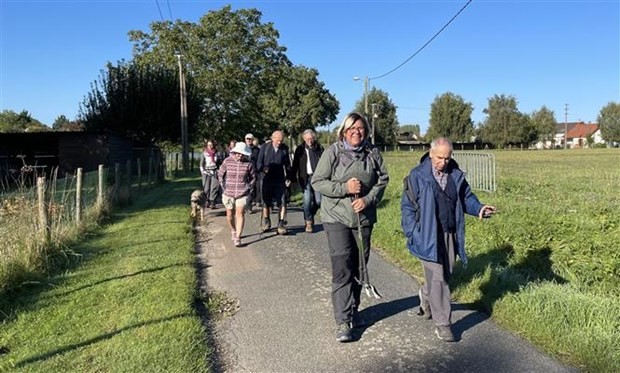 Friendship
The Children's Walk For Hope is a virtual event that will be held globally recently.
September 27, 2023 | 14:54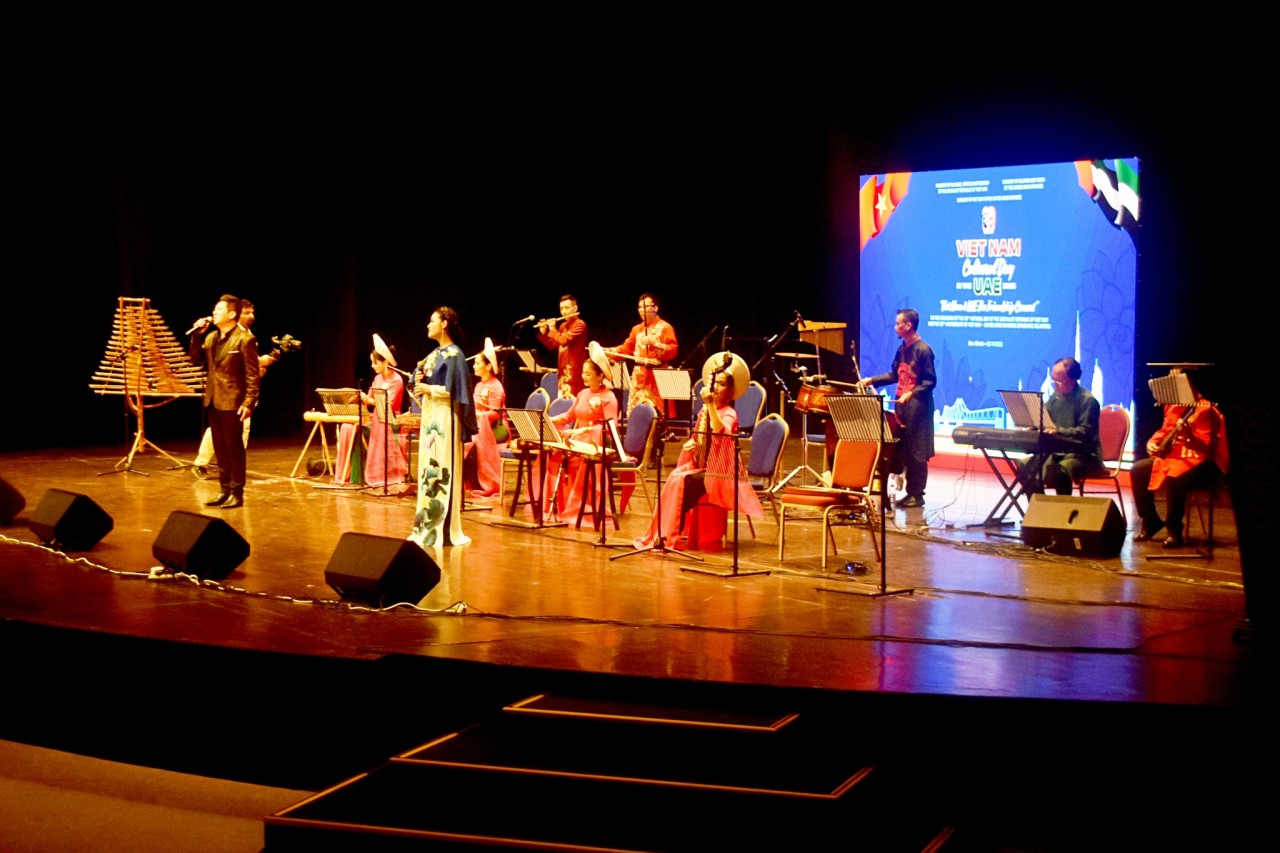 Friendship
A special art performance was held in the capital Abu Dhabi, gathering leading artists from Vietnam and the United Arab Emirates (UAE).
September 27, 2023 | 14:01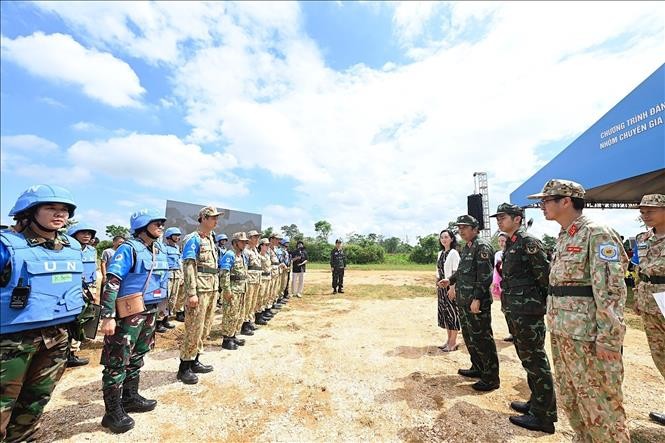 Friendship
Japan and representatives of State members of ASEAN Defence Ministers' Meeting Plus (ADMM-Plus) valued the preparations of Vietnam in hosting the Competency Evaluation Program for Prospective UN Peacekeepers (CEPPP) as well as outcomes of the program.
September 27, 2023 | 07:53