How Vietnam's Sapa Valley inspired a collection for Lakme Fashion Week
Located in Northern Vietnam, Sa Pa is difficult to reach because there are no flights. There's an overnight train journey from Hanoi to Lao Cai province and from there you have to take a bus or car for a two-and-a-half journey to Sa Pa. The valley consists of a small town and a number of villages. Life in the mountains is difficult as the area is almost always shrouded in mist. Government subsidies help the 27 ethnic minority groups who reside here and depend on agriculture.
Sapa has become the inspiration for Anavila Misra, an Indian fashion designer to come up with her latest collection. The story was published on DNA India recently.
Sa Pa Valley (Clockwise from top) A mother-daughter duo in the Lao Cai province; Anavila Misra with a local woman from Sa Pa; the loom used for weaving cloth Pic Courtesy: Anavila Misra , Pexels
My husband began working in Vietnam in March 2015 and my family and I would visit him during holidays and started discovering the country and how beautiful it is. A friend of mine from the US had visited Sa Pa Valley and when she heard about my husband's move, she encouraged me visit despite its not being a mainstream tourist destination.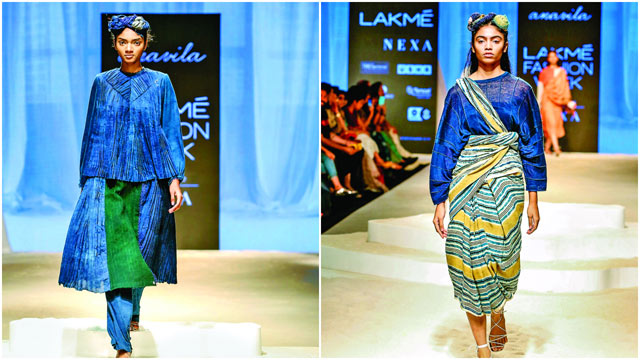 Costumes designed by Anavila Misra in Lakmer Fashion Show 2019
Textile crafts are a part of daily life in the valley. Most of the ethnic groups make their own textiles and clothes from cotton and hemp. Since indigo is abundant here, clothes are dyed using this natural pigment. Indeed, indigo and green are the colours of Sa Pa – the blues of the clothes and the greens of the valley. The ethnic groups decorate their clothes in different ways. Some do patchwork, some embroidery, some include patterns in the weaving itself. The head gears and ornamentation are also distinct in colour and patterns.
If you see a woman in Sa Pa in traditional clothes and a basket on her back – the silhouettes are so modern and chic, it really inspired me. I wanted to translate that in my work. I took linen and cotton and cotton-silk saris to Sa Pa on my second visit to blend their techniques of intricate pleating batik and indigo dying. We also got a number of household items for the runway show at Lakme Fashion Week Summer Resort (SR) 2019 in Mumbai (January). An example would be the straw baskets, which are central to their lives, used in kitchens and to carry grains, indigo leaves, etc. Woven by hand, they show another aspect of the craft of the people.
Despite the popular belief that Vietnamese people eat only non-vegetarian food, I found a lot of rich vegetarian food in the area. In 1922, the French turned Sa Pa into a hill station, so there is a lot of French influence to the food. You find small cafes dotting the hills, each unique in their own characteristics. A number of immigrants from other parts of the world also settled here and married local people, bringing their own influences to the food and culture.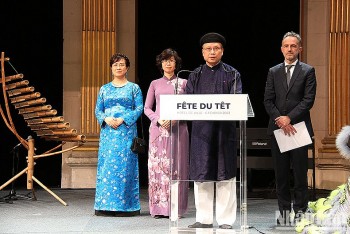 Friendship
Speaking at the celebration on the occasion of Lunar New Year for the overseas Vietnamese in France on February 6, Ambassador Extraordinary and Plenipotentiary of Vietnam in France Dinh Toan Thang emphasized that 2023 is an important milestone to promote the friendship and cooperation between Vietnam and France to the next level.