Hung Yen Will Benefit from Regional Development Strategy
Among new secretaries of provincial party committees after the 13th National Congress, Nguyen Huu Nghia received high public expectations when he was assigned to Hung Yen. Having held different positions at the state bank, then the Central Economic Committee, with his personal experience and boldness, what achievements will Hung Yen achieve, and which new direction will it take under his direction?
On the new year's occasion, VietnamTimes had an exchange with the Secretary of the Hung Yen Party Committee about concerns and expectations for the province.
After one year and a half of leading the Hung Yen Party Committee, what are you most interested in in terms of the changes in the province?
Over time, things always change together with the circumstances under the multi-dimensional impact of different factors. Hung Yen is also constantly changing and developing with the whole country. In the past one and a half years, the province has witnessed many changes to Hung Yen, but most significantly the following three:
First, cadres, party members, and people under the leadership of the Party Committee are making more efforts to realize the aspiration to build and develop Hung Yen into a strong, rich and beautiful, and civilized industrial province.
Second, Hung Yen develops rapidly and sustainably with a firmer foundation, its new driving forces are stronger based on the following bases: (1) stay steady in strategic goals of rapid and sustainable development, to become a strong industrial province by 2030, a municipal city by 2037; (2) restructure the investment attraction strategy towards large-scale, modern technology associated with attaching importance to environmental protection; (3) make the most use of potentials and strengths, both in terms of material and spiritual resources; (4) determine to renew leadership thinking, development management in the spirit of "thinking big, doing big, creating breakthroughs for development" in association with reforming methods, improving the Party's leadership capacity and effectiveness and consolidating and promoting the strength of the people's great unity, the unity of the Party and political system and strengthening social cohesion.
Economic development needs to be attached to promoting the provincial traditional cultural and historical values, paying attention to sustainable poverty reduction (which is currently only 1.93% according to the multi-dimensional poverty standard and aims to be reduced to about 0.5% by 2025), paying attention to implementing social security policies, improving welfare so that everyone can enjoy a fairer, more deserving result of the provincial development achievements.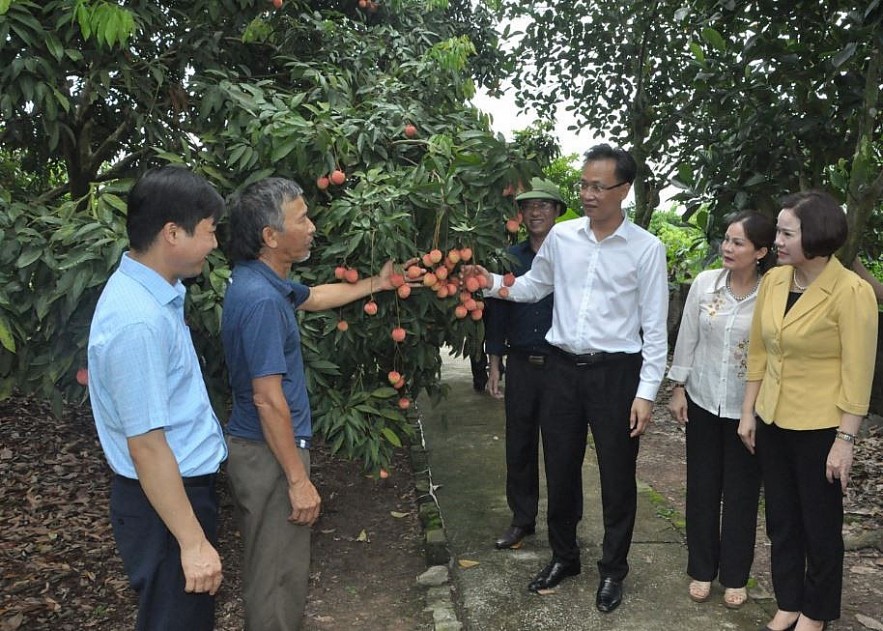 Nguyen Huu Nghia (white shirt, middle) talks with people in Hung Yen.
Recently, especially in 2021 and 2022, the key economic development indicators of Hung Yen have improved a lot. The province's GRDP growth rate reached 6.01% in 2021, and 13.41% in 2022, significantly higher than the country's average GDP growth rate, 2.56%, and 8.02% respectively. Accordingly, GRDP per capita reached VND 102.3 million, an increase of 16.1% compared to 2021. Hung Yen's economic scale reached about VND 132 trillion, ranking 16th in the country.
2022 sets many new peaks in socio-economic development such as in state budget revenue and total social investment capital. Hung Yen makes a breakthrough in mobilizing social resources by promoting the improvement of the business environment and enhancing competitiveness. More and more domestic and foreign investors are interested in Hung Yen.
Provincial Competitiveness Index (PCI) increased by 14 places, Provincial Governance and Public Administration Performance Index (PAPI) ranked 5th out of 63 provinces and cities, 39 places higher. The Administrative Reform Index (PARINDEX) ranked 12th out of 63 provinces and cities, which increased by 10 places. The digital conversion ranking index increased by 14 places, people's satisfaction index about the service of state administrative agencies (SIPAS) increased by 2 places, ranked 3rd out of 63 provinces and cities. Total development investment capital reached VND 58,293 billion (up 47.24%), which is the highest total development investment capital ever.
The 5-year medium-term public investment plan for the 2021-2025 period has been adjusted 3 times, to VND 53,890 billion, 2.6 times higher than the first term. Many large urban and traffic infrastructure projects have been constructed and prepared to be put into operation.
Site clearance was previously considered a bottleneck in the implementation of development investment projects, however, in 2022, it has been gradually removed thanks to the close direction of the Standing Board of the Provincial Party Committee and People's Committee, the involvement of the whole political system, especially the support of the people. In 2022, industrial zones alone will free up about 960 hectares of land.
Third, the role, capacity, and leadership effectiveness of the Executive Committee and the Standing Board of the Party Committee have been improved in association with the clear improvement in the effectiveness and efficiency of state management. Besides, social discipline and law have been strengthened.
Each locality has its own advantages and limitations. When you are appointed to Hung Yen as Secretary of the Provincial Party Committee, which natural limitations in Hung Yen's economic development concern you the most?
It is true that Hung Yen has many potentials and advantages for economic development, but there are also natural limitations affecting the development of the province. That is its small area, and small population size (930 sqkm and nearly 1.3 million people). In other words, the land and human capital of Hung Yen are among its limitations for the goal of fast and sustainable development to become a modern industrial province.
Located next to the capital, which is the economic, financial, and cultural center of the country, surrounded by localities in the region that is developing rapidly, those are both an opportunity and great challenge in development, especially attracting highly qualified workers, experts, scientists, and good leaders.
Well-trained and highly qualified laborers tend to move to Hanoi for work because of the higher income, better working environment, and greater opportunities for change. Localities such as Ha Nam, Hai Duong, Bac Ninh, and Ninh Binh, are also growing rapidly and competing strongly in attracting investment, capital and labor.
What about strengths, sir?
Hung Yen has many potentials and advantages, in which the following strengths are undeniable.
First, Hung Yen's cultural and historical traditions. It is both the spiritual foundation and the driving force and development resource. Hung Yen is a land of civilized, spiritual, and human masterpieces. It is the birthplace of many national heroes, prominent revolutionary activists, and politicians such as Trieu Viet Vuong, Hoang Hoa Tham, To Hieu, Le Van Luong, and Nguyen Van Linh. Hung Yen has more than 1,800 historical sites, and cultural heritages imbued with the civilization of the nation and the Red River Delta.
Second, Hung Yen people are smart, industrious and hard-working. Hung Yen's Party Committee is constantly united, and the provocation and promotion of great unity between the people and the political system is a decisive factor in the reform and development success of the province.
Third, geographical location. Hung Yen has the advantage of a modern transport infrastructure system, synchronously connecting with Hanoi, Noi Bai international airport, Hai Phong port, economic centers, and localities in the Red River delta and the Northern Key Economic Region.
The Politburo recently issued Resolution 30-NQ/TU on the overall development of the Red River Delta region with a vision to 2045. During the 25th anniversary of Hung Yen's re-establishment, General Secretary Nguyen Phu Trong sent a clear message that Hung Yen would soon become a modern, highly efficient, fast, and sustainable industrial and agricultural province. What will Hung Yen do to take advantage of the region and what will be Standing Provincial Party Committee's priorities in 2023 and beyond?
Politburo's Resolution No. 30-NQ/TU has strategic breakthroughs and goals that open up great opportunities for localities in the region to develop.
Accordingly, Hung Yen will promote its potential and strengths as mentioned above while making full use of the region's advantages and development opportunities. Specifically, Hung Yen will develop in a fast and sustainable direction, becoming a strong industrial and modern agricultural province with high efficiency, towards becoming a municipal city based on three strategic breakthroughs (transport infrastructure; improvement of the business environment, provincial planning in association with the strong attraction of investment in the development of high-tech industry, urban areas; human resources).
In 2023 and the coming years, Hung Yen's Party Committee will focus on leading, promoting resource mobilization, and investing in developing a modern and synchronous socio-economic infrastructure system focusing on a comprehensive traffic system connected with national (highways, national highways) and regional transport systems.
Hung Yen will focus on investing in arterial roads to create new dynamics, expand space, and promote connection and development with localities in the region as planned. For example, we will build, expand and upgrade the road connecting Hanoi - Hai Phong expressway and Cau Gie - Ninh Binh highway, Hanoi - Hung Yen inter-provincial road, Tan Phuc - Vong Phan road, the road that connects heritages along the Red River,... highways, national highways and railways such as the Hanoi - Hai Phong expressway, national highways 5, national highways 38, 39, belt 3.5, belt 4, belt 5,...; take advantage of the opportunities for spillover development from the growth triangle Hanoi - Hai Phong - Quang Ninh and regional and inter-regional economic corridors.
Based on the provincial planning and development orientation of the transport system, we will mobilize resources for the development of a high-tech industry, and clean industry (such as manufacturing electronic components and equipment, computers, and automobiles, smart devices, automation, digital applications) through the formation of large-scale industrial clusters and industrial parks with synchronous and modern infrastructure and attracting large investment projects, multinational corporations to promote participation in global value chains; develop a system of ecological and smart cities in association with urban economic development, especially trade and high-value-added services.
We will also restructure the agricultural sector towards large-scale production, application of technology, with big added value, form specialized production areas, and linking production with processing, preservation, consumption and exportation of agricultural products.
In this regard, resource mobilization is an important factor to realize development goals, especially private investment, and FDI. Therefore, it is necessary to create a breakthrough in improving the business environment, enhancing competitiveness in association with accelerating administrative reform, digital transformation, public administration efficiency, and building a team of staff and party members that have the capacity, qualifications, ethics, and reputation on par with the task.
The process of restructuring the investment attraction strategy will focus on: (1) strongly shift the direction of investment attraction to enticing large investment projects, applying high-tech, environmentally friendly, refuse projects using outdated technology, causing environmental pollution, or high labor intension; (2) strongly develop industrial parks and clusters, do not accept separate investment projects located outside industrial parks and clusters; (3) review and resolutely handle projects that are behind schedule, not implemented, or violate the law; prevent the sale and transfer of projects for profit.
In addition to focusing on economic development, Hung Yen also attaches importance to and promotes cultural and historical values through investment in embellishing, preserving, and restoring historical relics, works, and cultural heritages alongside with promote tourism.
What do you expect from the Party Committee and the people of Hung Yen?
After many years, especially since the province's re-establishment (1997), Hung Yen has reached many great achievements on the path of renewal and development thanks to the contributions and sacrifices of people of generations and all walks of life.
However, assessing objectively, frankly, and in a market-oriented way, Hung Yen still has many limitations compared to the set development goals and the great aspirations of the people. On the Lunar New Year 2023, on behalf of the Hung Yen Party Committee, I would like to send my best wishes for the new year to Hung Yen's people and Party Committee.
I believe that in the new year, the Party Committee and authorities at all levels will be fierce, dedicated, and responsible, and with the consensus and companionship of the people, Hung Yen will "become more and more developed, progressed and achieve many new and greater successes, our homeland is more and more Hung (prosperous) and more and more Yen (peaceful)" as said by General Secretary Nguyen Phu Trong!
Thank you very much!
Friendship
On March 25, the 92nd anniversary of the founding of the Ho Chi Minh Communist Youth Union took place at the Russian Presidential Academy of National Economy and Public Administration (RANEPA) in Moscow.