IUU Fishing Combat
If Sustainable Fishing Not Ensured, Another Yellow Card Will be Applied
Vietnam has seen positive progress in its fight against illegal, unreported, and unregulated (IUU) fishing more than five years after it received a "yellow card" warning on Vietnamese seafood exports from the European Commission (EC).
Can Vietnam achieve the goal of removing the illegal, unreported and unregulated (IUU) fishing "yellow card" in the fourth on-site inspection by the European Commission (EC) in this October? This is one of the most pressing issues raised by the National Assembly deputies to the Minister of Agriculture and Rural Development during the coming 25th session of the NA Standing Committee on the afternoon of August 15.
Questioning the Minister of Agriculture and Rural Development (MARD), NA Deputy Tran Thi Hong Thanh from Ninh Binh province, stated that the IUU yellow card not only causes great economic damage but also affects its prestige and position our country's diplomatic relations. Up to now, nearly six years, Vietnam still has not able to remove the "yellow card." It is expected that the EC will conduct the 4th assessment in October and Vietnam aims to remove the "yellow card" in this assessment.
Strong measures must be taken to resolutely eradicate illegal fishing in foreign waters in order to address the EC's warning against IUU fishing, stressed MARD Minister Le Minh Hoan, VNA reported.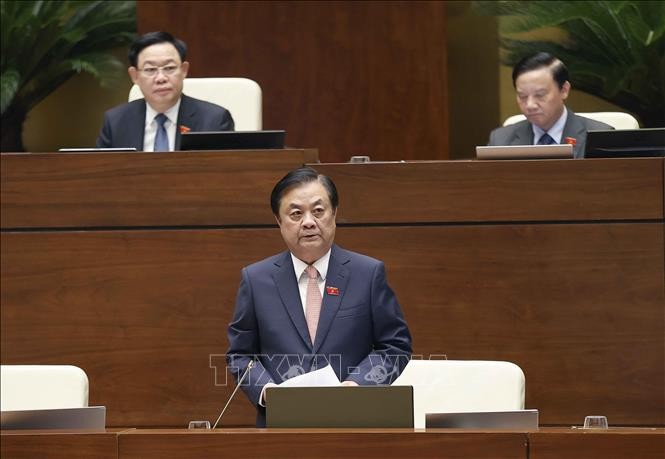 Minister of Agriculture and Rural Development Le Minh Hoan answered questions at the meeting. Photo: VNA
Highlighting ministries, sectors, and localities' moves taken so far, he perceived that it is necessary to ramp up crackdowns on violations of anti-IUU fishing regulations.
In addition, fishery associations and exporters of aquatic products must adamantly deny buying, processing, or exporting of seafood coming from IUU fishing activities. They also need to provide information for authorities to strictly deal with companies that encourage IUU fishing, Hoan added.
Hoan said that the issue of removing the IUU "yellow card", the ultimate goal is to preserve reserves and biodiversity in the sea. If the yellow card is removed but the sustainability is not guaranteed, another yellow card will be applied.
MARD Minister Le Minh Hoan said that, compared with the Philippines or Thailand, the structure of the industry in these countries is stronger than that of Vietnam, from fishermen to businesses to build a commodity ecosystem. These countries apply strict measures, such as sinking ships in violation of the regulations.
Meanwhile in Vietnam, nearly 60% of violations in localities have not been handled yet, the MARD will forward this list to the Prime Minister. The minister affirmed that it is time to strictly handle it, otherwise it will not be enough to deter, and there will be no change.
Responding to NA Deputy Nguyen Thi Thu Ha from Quang Ninh province, about the allocation and lease of sea surface, there are still many shortcomings and problems?
Minister Le Minh Hoan said that following the direction of the Prime Minister, the MARD always follows the trend of decentralization, decentralization, and capacity building for local leaders. A process of applying for sea areas to carry out aquaculture must work with many ministries, Minister Le Minh Hoan pledged to review this whole issue to implement reform of administrative procedures as directed by the Prime Minister. In recent years, the Government has ensured simplification while still meeting the requirements of national security, environment, landscape, and density of farming.
In addition, Minister Hoan also stated that marine farming is a way to reduce fishing, so the first priority is the fishermen that we want to reduce the number of fishing boats, then the businesses. Small or big businesses, must have an ecosystem of people, to ensure that fishermen voluntarily do not participate in fishing. Thus, the new marine farming can be successful, aiming at two goals of economic development and reduction of exploitation.
Regarding job change, Minister Le Minh Hoan said that the MARD has issued Decision 288 and an operational plan on switching profession. However, it still has the disadvantage due to slow implementation and and unclear policy. Thus, it has not created a push towards the goal of reducing exploitation and increasing farming.
The MARD will continue to review and dialogue with the local people in the conversion area, in the area not allowed to exploit due to high intensity, to have specific and feasible options for this issue. They can choose to go ashore, but still maintain marine lives, shallow farming, or inshore farming with an environmentally sustainable intensity. In addition, it is possible to switch to another profession, creating conditions for people to do sea tourism, or work in industrial zones. Each object must have a specific policy attached, should not give a general policy.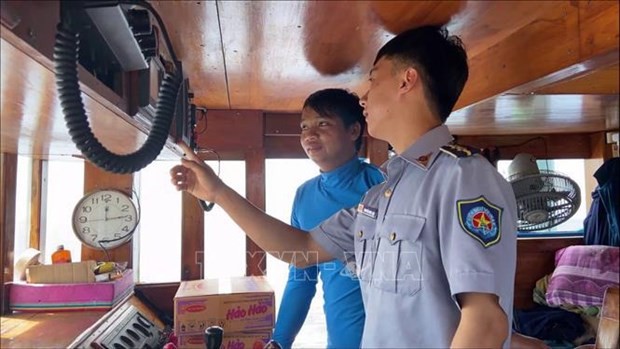 Fisheries surveillance force checks cruise monitoring equipment on fishing vessels that are fishing at sea. Photo: VNA
According to the Ministry of Agriculture and Rural Development, 84.4% of the existing fishing vessels have been registered and had their information updated on the national database of the fisheries sector to serve monitoring and management. The remaining 15.6%, which are ineligible for registration, have been put under the management of localities.
As many as 28,797 fishing vessels, equivalent to 97.65% of the total, have been equipped with vessel monitoring systems. However, the violation of the rule on maintaining those systems' operations is still popular, it noted.
After the third inspection in October 2022, the EC delegation continued to recommend Vietnam improve four groups of issues, namely the legal framework; fleet management, vessel monitoring and examination; origin tracing; and law enforcement.
The EC issued a "yellow card" warning against Vietnam's seafood due to IUU fishing in 2017. The "yellow card" is followed by a "green card" if the problem is resolved or a "red card" if it is not. A "red card" may lead to a ban on seafood exports to the EU.
An EC delegation is scheduled to return to Vietnam for the fourth fact-finding trip this October.
Binh Dinh Strongly Opposes IUU Fishing

Since 2018, Binh Dinh province has issued many documents directing and implementing drastic measures to combat illegal, unreported, and unregulated (IUU) fishing.