Binh Dinh Strongly Opposes IUU Fishing
Since 2018, Binh Dinh province has issued many documents directing and implementing drastic measures to combat illegal, unreported, and unregulated (IUU) fishing.
The Party Committee and People's Committee of the south-central coastal province of Binh Dinh have been taking drastic measures to fight illegal, unreported, and unregulated (IUU) fishing since 2018, VNA reported.
Besides directions and inspections, the provincial People's Committee has made the prevention of fishing vessels' violation of foreign waters a criterion to assess the performance of local authorities. Heads of authorities at the commune and district levels have to take responsibility if violations are detected.
The province also established an inter-sectoral inspection group to address the violations.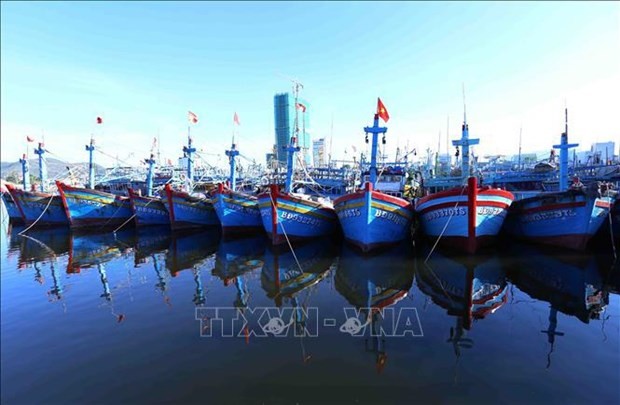 Fishing vessels at Quy Nhon Port in the south-central coastal province of Binh Dinh. Photo: VNA
Regarding the installation of a vessel monitoring system (VMS), Binh Dinh offered financial support for fishing vessels' owners in purchasing and installing the equipment.
Up to now, the province has provided more than VND 30 billion (USD 1.2 million) to a total of 2,966 fishing vessels for installation. As many as 3,258 out of 3,292 fishing vessels with a length of 15m or more in the province have installed VMS.
Binh Dinh currently has three fishing ports - Quy Nhon, De Gi, and Tam Quan – with sufficient systems to verify the origin of fishery products.
From the beginning of 2023, the province has certified the origin for more than 2,513 tonnes of fish of all kinds, an increase of 74% over the same period in 2022.
Nguyen Tuan Thanh, vice chairman of Binh Dinh Provincial People's Committee, said that the provincial committee has strongly directed departments, branches, and local authorities in promoting communication on IUU fishing, violations, and punishments.
However, he admitted that violations were still reported. In the coming time, the provincial People's Committee will consider developing a policy to support fishermen who are at high risk of violating foreign waters to change jobs. Mechanisms and policies will also be devised to subsidize satellite connection fees for fishing vehicles to maintain the operation of VMS.
The province will soon complete the registration, issuance of fishing licenses, installation of VMS, and update fishing vessel data into the national fisheries database, Thanh said.
Binh Dinh province now has 5,667 fishing vessels with a length of 6 meters or more, and over 40,900 workers engaged in fishing activities. Its annual fishery production in recent years has surpassed 250,000 tonnes. In the first six months of 2023, the production reached more than 135,900 tonnes, over 3% higher than that of the same period last year.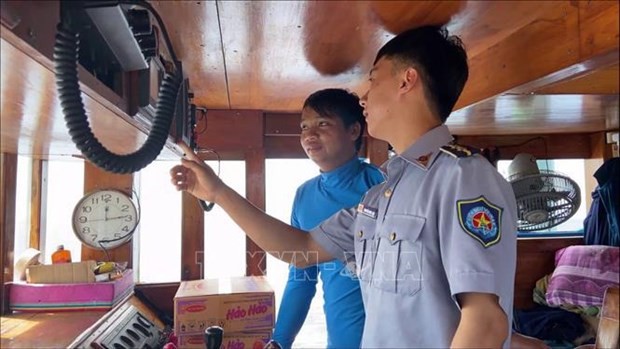 Fisheries surveillance force checks cruise monitoring equipment on fishing vessels that are fishing at sea (Photo: VNA
Before that, the Government Office issued a document announcing Deputy Prime Minister Tran Luu Quang's directions made at his recent teleconference with leaders of 13 Mekong Delta localities, requesting more aggressive actions to combat IUU fishing.
Accordingly, Deputy PM Quang requested that plans and agenda must be carefully prepared before the upcoming working session with the European Commission's fourth inspection team, in order to have the commission's 'yellow card' warning against Vietnamese seafood exports removed by October 2023.