IMF, RFI laud Vietnam's effective response to Covid-19 pandemic
In an article recently posted on Indian online newspaper ThePrint, Helge Berger- assistant director of the International Monetary Fund (IMF)'s Asia and Pacific Department praised Vietnam's efforts in dealing with the Covid-19 pandemic even in the absence of a vaccine.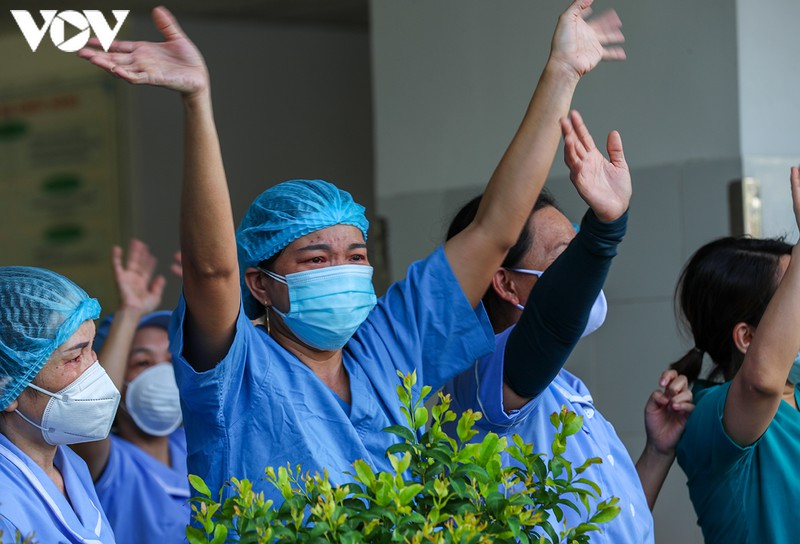 Doctors and nurses are cheerful as Da Nang General Hospital is lifted lockdown, August 2020. Photo: VOV
In the article, Berger praises the country's achievements against the COVID-19 pandemic, attributing the "key" to Vietnamese success to its strict quarantine measures, rapid testing, and swiftly tracing the source of the disease.
"China and other countries in Asia like Vietnam have shown that there is a way of dealing with a pandemic even in the absence of a vaccine, allowing the economy to get back on track", he emphasized.
The IMF official notes that the country's pandemic prevention efforts can also be applied in low-income nations that rely on vaccines. Although, Berger describes how vaccines remain important to ensuring pandemic control, so that each economy, as well as the global economy in general, can return to normal operations.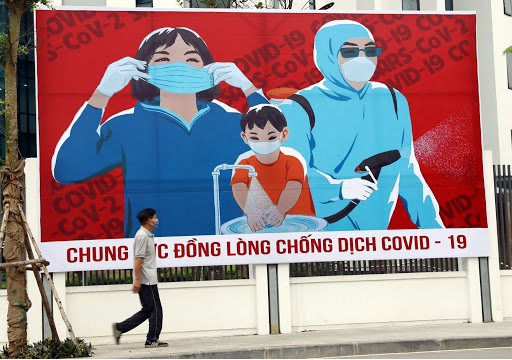 A man wears a face mask as he walks through a banner promoting prevention against the coronavirus disease (COVID-19). Photo: VNA
Furthermore, Radio RFI of France also stated that the country is among the rare places in Asia to effectively control the COVID-19 pandemic. RFI quotes Dr. Truong Huu Khanh, head of the Department of Infections and Neurology of Children's Hospital 1, as saying that a key factor to Vietnamese success is previous experience in disease prevention gained by frequently dealing with illnesses such as hand, foot, and mouth disease, dengue fever, and encephalitis, in addition to the long-established preventive medicine system.
The country also moved to swiftly close its border with China after the initial COVID-19 outbreak was reported, thereby greatly slowing the spread of the disease. Indeed, the most important measure implemented was the thorough isolation of people entering from abroad.
Moreover, the country's success in curbing COVID-19 outbreaks also comes from tracing close contacts (F1) with COVID-19 patients, in addition to those in close contact with F1 contacts (F2), for testing and quarantine when necessary. Therefore, the nation recorded very few infection cases within the community, with the risk of COVID-19 infections mainly coming from outside, such as imported cases.
According to RFI, due to the competent control of the COVID-19 pandemic and the lockdown period lasting less than three months, the Vietnamese economy did not fall into recession in 2020 and was one of the few countries in the world to enjoy a positive growth rate of 2.9%.
One new imported COVID-19 case was recorded in the last 24 hours, raising the infection tally in Vietnam so far to 1,521, said the National Steering Committee for COVID-19 Prevention and Control.
Of the 1,521 coronavirus cases, 693 are domestic infections. Eight patients were given the all-clear on January 13, raising the total recoveries to 1,369 while the number of fatalities is still kept at 35. Eleven of those still under treatment have tested negative for the coronavirus SAR-CoV-2 once, 13 others twice, and 11 thrice, according to the treatment sub-committee. There are 17,555 people having close contact with confirmed cases or coming from pandemic-hit areas in quarantine at present.
Handbook
Yoga has recently become one of the best exercise methods that bring many health benefits to people, but it also requires a lot of technique and training to avoid injuries. There are several ways to practice it home, and will still help you achieve your goals.