Impressive fashion show night of Vietnamese Ao Dai
A performance night entitled "The Soul of Vietnamese through Ao Dai" will be took place on August 15th in Ho Chi Minh City.
(VNF) - A performance night entitled "The Soul of Vietnamese through Ao Dai" will be took place on August 15th in Ho Chi Minh City.
National costumes embody the cultural uniqueness of a country. Korea has the hanbok. Japan boasts its kimono. Scotland is distinctive for its kilt. And Vietnam is proud of its ao dai, which represents feminine charm and gentleness.
Ao Dai has overcome all challenges to become a "national dress", a symbol of women, the pride of Vietnamese people. People could say, ao dai is "National soul" of Vietnamese women.
Though Vietnam's famous traditional dress has taken many forms over the centuries, Ao Dai allure and appeal has never died.
Coming to Audiences were able to see 5 special collection from 6 famous Ao Dai artists – 'Time and Enternity' of designer Sy Hoang, 'Gift from the heart' of designer Lien Huong, "Vietnam Fire with two collection Vietnam Fire of designer Doan Huy and Four Season of designer Nguyen Tuan, 'The symphony of Water and Flowers' by Tien Doan and the 'Love of the Earth Mother' of Designer Pascale Valery Nguyen Thi Tung Lam.
These collections are a reconciliation between several generations, between tradition and modernity, arranged under the hands of the director - Write Nguyen Thi Minh Ngoc and choreographer Huu Tri. Cultural performance night is the night of the cries of sobbing, concern about the value of our souls, about the Ao dai before the time.
People all over Vietnam are familiar with poems featuring the beauty of the country's national dress, the Ao Dai, its slim-fitting tunic with long side splits from the waist, worn over palazzo-style trousers. The traditional woman's dress has been mentioned in many poems, stories and songs for centuries.
In Vietnam, even if one never have a chance to wear Ao Dai yet one must haveat least once seen a glamorous Ao Dai present in a country ceremony dream. There have been many times when expatriates Vietnamese people have their heart skipped a beatwhen suddenly seeing the Ao Dai floating by as if it carries the whole country.
The ao dai attached themselves to Vietnam, there is times when it flies own high as the pride of a people, sometimes spreadss with creative inspiration, or giggles like melodious melodie, sometimes closs as a post-war mild depression.
In the age of globalization, nowaday, fewer people sing young children to sleep, but forever the parents always want to desperately want to protect their children. Similar to the old time lullaby, Ao Dai always presents in our lives as an indispensable identity of Vietnamese culture, Vietnamese soul.
These are not only the fruits of creative hands and minds but also the hearts of artists who want to touch minds of each Vietnamese.
The event will be held at HCMC Conservatory of Music (112 Nguyen Du Street, District 1) and open to the public, free of charge with the desire to help the people of Ho Chi Minh City, domestic and foreign visitors have the opportunity to understand and love Vietnam Ao Dai./.
VNF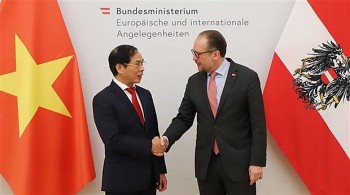 Overseas Vietnamese
Fifty years have passed since the establishment of the relationship, the two countries have enjoyed great strides in bilateral cooperation.