Increasing Export of Vietnamese Fruits to Chile
In the time to come, authorised agencies of both sides will work together to increase the export of Vietnamese fruits to Chile, and the import of Chilean goods into Vietnam, said outgoing Chilean Ambassador Patricio Becker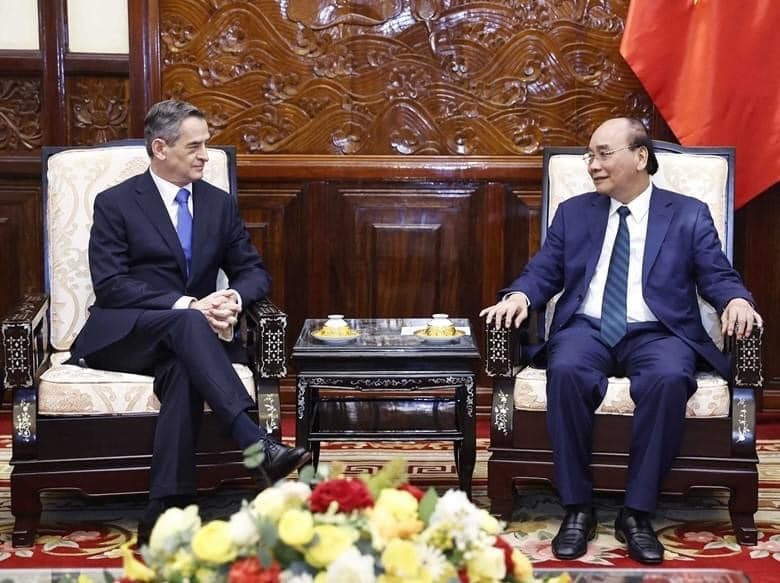 President Nguyen Xuan Phuc and Chilean Ambassador Patricio Becker. Photo: VNA
President Nguyen Xuan Phuc received outgoing Chilean Ambassador Patricio Becker in Hanoi on November 28, during which the State leader hailed the diplomat's contributions to the promotion of the comprehensive partnership between the two countries, VNA reported Monday.
President Phuc said he was impressed by his phone talks in March 2021 with then Chilean President Sebastian Piñera on the occasion of the 50th anniversary of the diplomatic relations between Vietnam and Chile.
He agreed with the Chilean ambassador's proposal on increasing the exchange of all-level delegations and promoting economic and trade cooperation activities.
During their meeting on the sidelines of the APEC Leaders' Week 2022 in Thailand, he and his Chilean counterpart Gabriel Boric discussed the strengthening of the bilateral trade ties on the basis of the Vietnam-Chile Free Trade Agreement, and the early implementation of the Comprehensive and Progressive Agreement for Trans-Pacific Partnership (CPTPP).
Vietnam hopes to welcome the Chilean President soon, he added.
Currently, Chile is the fourth largest trade partner of Vietnam in the Latin American region, while Vietnam is the biggest partner of Chile among ASEAN countries, he noted, expressing his hope that the two sides will further bolster their trade ties, especially in the import and export of farm produce.
Chilean products such as cherries, salmon and wine are popular in Vietnam, he added.
The State leader said he believes that with the warm sentiments towards Vietnam, the ambassador will continue to work for stronger ties between the two countries in any position.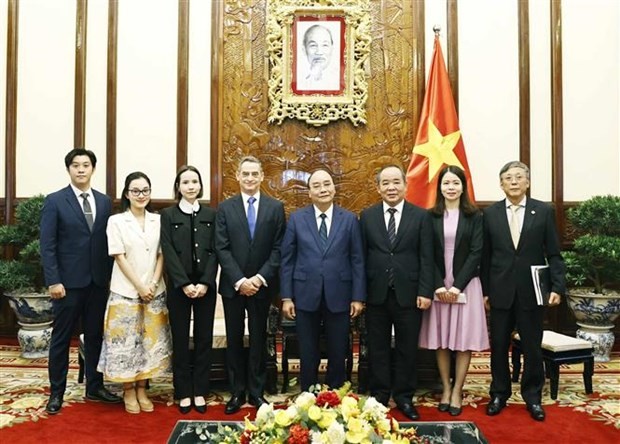 President Nguyen Xuan Phuc (fourth, right) and Chilean Ambassador Patricio Becker (fourth, left) take a photo with participants at the meeting. Photo: VNA
For his part, Ambassador Becker said that despite Covid-19 impacts, two-way trade still reached USD 1.6 billion in the first nine months of this year.
Recently, many Chilean firms have visited Vietnam to seek partnership opportunities in the trade of agricultural products. He said he hopes more activities will be held to introduce Vietnamese products to the Latin American market.
In the time to come, authorized agencies of both sides will work together to increase the export of Vietnamese fruits to Chile, and the import of Chilean goods into Vietnam, while speeding up procedures to sell Vietnamese mangos in Chile, he said.
The diplomat proposed both sides continue to promote the implementation of the CPTPP, which is expected to bring many cooperation opportunities to their businesses.
Chile is the first South American country that Vietnam has signed a free trade agreement (FTA) with and both are members of the CPTPP.
Before the FTA came into effect, two-way trade turnover only reached nearly USD 500 million per year and Vietnam was always running a trade deficit. Vietnam has had a trade surplus with Chile since the FTA took effect in January 2014 and it is now the largest exporter to Chile among ASEAN members.
Two-way trade in the first nine months of this year topped USD 1.72 million with Vietnam's exports standing at USD 1.38 million, up 11.8% year-on-year.
Chile has a high demand for these essential products and the country's living standards have improved significantly in recent years, leading to high purchasing power, therefore, there is a huge opportunity for Vietnamese consumer goods to enter this market, Vietnamese Ambassador to Chile Pham Truong Giang told the VNA in an interview in November.
The diplomat said in the future, the embassy will strengthen and diversify forms of promoting Vietnamese brands through its website and organise a Vietnam Products Week at retail systems and large supermarkets in Chile.
It will also conduct an intensive survey of the two free trade zones in the north and south of Chile to take advantage of the country's role as a logistics centre in South America, reduce shipping costs and time for Vietnamese goods, and at the same time promote the exchange of experience and investment cooperation in renewable energy - a field of Chile's interest and strength, he said.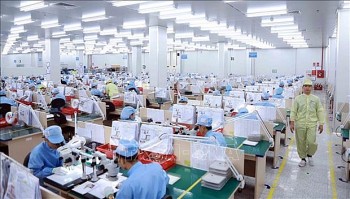 National
Vietnam News Today (Jan. 26): Vietnam - important partner of RoK; HCM City maintains growth momentum, reaps successes in 2022; Vietnam's tourism forecast to strongly rebound in five years; Many localities attract a large number of visitors during Tet.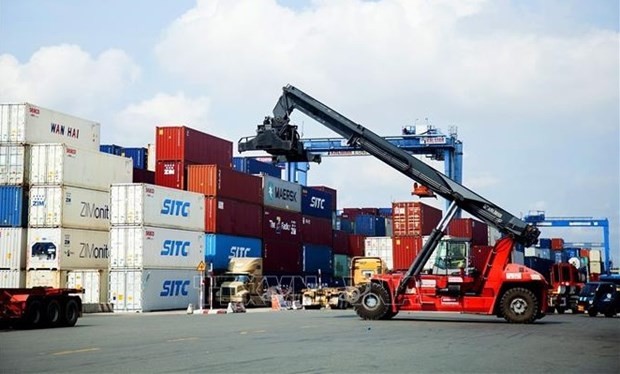 Economy
With export-import revenue hitting $732 billion for the first time, Vietnam has been listed among the leading economies in terms of international trade.
January 25, 2023 | 09:13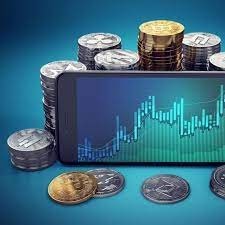 Economy
Changelly makes exchanging Bitcoin to Ripple XRP an effortless task. Additionally, we offer competitive rates, reduced transaction fees around the clock customer care for a smoothened user experience. Users can choose a fixed or floating rate when exchanging currencies on our platform.
January 22, 2023 | 17:52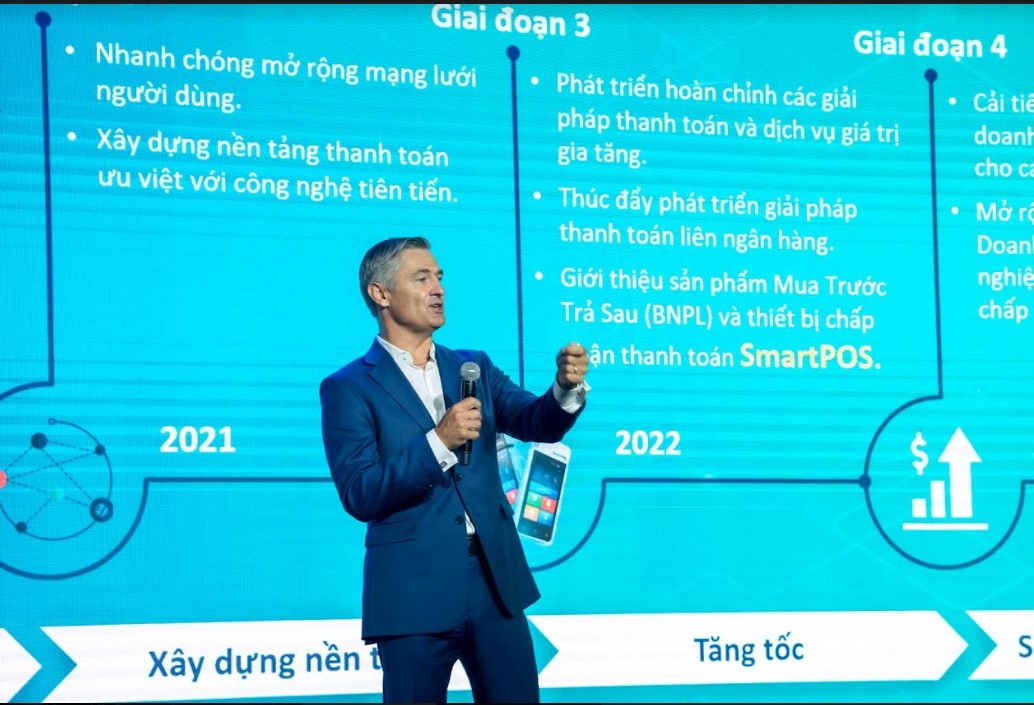 Economy
Only with the investment number of US$ 10 million from SMBC as a part of a US$30 million Series A funding round, be it supposed to open up many great growth opportunities for SmartNet - the owner of SmartPay - in the coming time.
January 06, 2023 | 08:00