New Chilean FM Affirms Commitment to Strengthening Ties with Vietnam
The Chilean Foreign Minister affirmed that Vietnam is an important partner of Chile in Southeast Asia.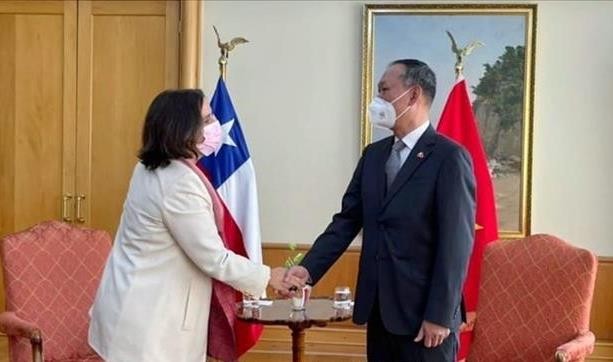 Vietnamese Ambassador to Chile Pham Truong Giang (R) and Chilean Foreign Minister Antonia Urrejola Noguera. Photo: VNA
Vietnamese Ambassador to Chile Pham Truong Giang on May 2 paid a courtesy call to newly-appointed Chilean Foreign Minister Antonia Urrejola Noguera, VNA reported Tuesday.
Both sides shared delight at the progress in the relationship between the two countries over the years.
Chile was the first South American country to establish diplomatic ties with Vietnam on March 25, 1971. Later in 2007, the two countries officially became comprehensive partners.
Since the Vietnam – Chile Free Trade Agreement took effect in 2014, bilateral economic-trade ties have expanded remarkably.
Despite impacts of the Covid-19 pandemic, two-way trade hit USD 1.59 billion in 2021, maintaining Vietnam's postion as Chile's top partner among ASEAN countries, they noted.
Minister Noguera said she hopes Ambassador Giang will continue making contributions to the promotion of friendship and cooperation between the two countries.
She suggested that the ambassador coordinate closely with relevant agencies to hasten the signing and implementation of memoranda of understanding between Vietnam and Chile, especially in agricultural cooperation.
She asked for Vietnam's support to Chile to join the ASEAN-Australia-New Zealand Free Trade Agreement (AANZFTA) and become a member of the UN Human Rights Council in the 2023-2025 tenure.
Vietnamese Ambassador to Chile Pham Truong Giang (R) and Chilean Foreign Minister Antonia Urrejola Noguera. Photo: baoquocte.vn
For his part, Ambassador Giang pledged to continue to work hard to connect ministries, sectors, localities and business communities of Vietnam and Chile, thus optimising the collaboration potential of both sides. He proposed that Chile share experience with Vietnam in Covid-19 response, climate change and green energy transition.
The diplomat said he hopes the two countries will increase the exchange of delegations at all levels, while strengthening the existing annual dialogue and cooperation mechanisms, including the political consultations between the two Foreign Ministries, consultations between the two trade ministries and the Vietnam-Chile Free Trade Council.
Antonia Urrejola Noguera is a lawyer from the University of Chile and she holds a postgraduate degree in Human Rights and Democratization Processes from the same university. She was Commissioner of the Inter-American Commission on Human Rights for the period 2018-2021, an instance that she chaired in 2021.
She has been an advisor to the Chilean Government in different periods, in the areas of human rights, indigenous people rights, childhood, sexual diversity and environment.
She assumed her position in March 11, 2022.
Previously, Ambassador Giang has paid a working visit to Los Rios as part of the embassy's activities to expand relations with the Chilean region.
He met with Regional Governor Luis Cuvertino and Presidential Delegation Paola Pena Marin, both of whom highly spoke of Vietnam's socio-economic development over recent years and expressed their hope for the Southeast Asian country to share experience, especially in agriculture.
Cuvertino said Los Rios hopes to foster cooperation with Vietnamese localities in the fields of trade, tourism and education; while Marin suggested the two sides boost cultural exchanges, saying the Government of Chile stands ready to support the region in establishing and enhancing partnership with Vietnamese localities.
Ambassador Giang, for his part, emphasised that the two countries have maintained a friendly relationship and cooperation over the last 51 years.
The bilateral trade averages around USD 1.2 – 1.3 billion annually, the highest recorded between Chile and ASEAN member states, he said, adding that he is happy to act as a bridge between Vietnamese and Chilean localities, including Los Rios.
He later met with governors of the region's cities of La Union and Lago Ranco and vice governors of Rancagua.
The diplomat also visited one of Los Rios' major companies, Apicoop, to discuss about its future projects in Vietnam.
The company is known as a producer and exporter of honey and fruits to China and European countries.
He also took the occasion to attend Lago Ranco cultural fair, the seventh of its kind, to showcase Vietnamese handicraft products and cuisine to local residents.
2021 was an important milestone in Chile - Vietnam relations when the two countries marked the 50th founding anniversary of their diplomatic ties.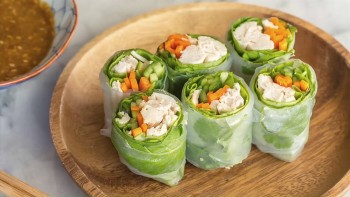 Travel
Rolls are a easy-to-make dish that is loved by many Vietnamese diners as well as Korean stars.