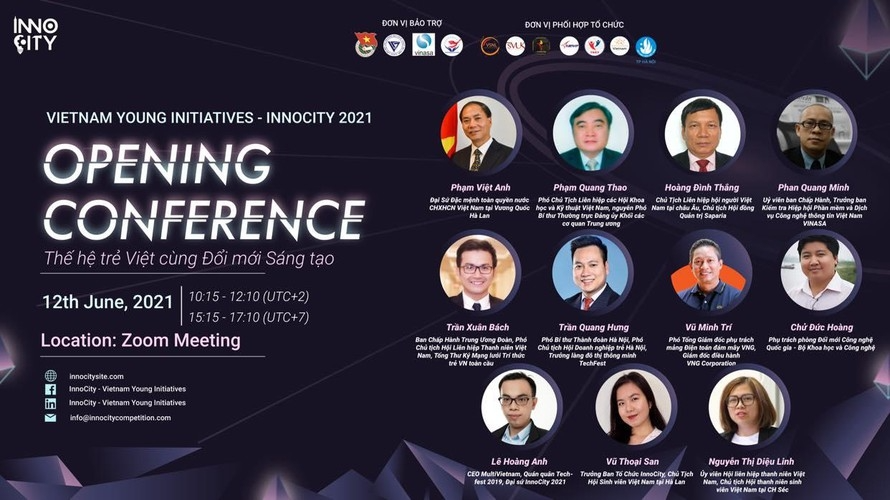 After 3 rounds of competition, the organizers will select 12 teams to compete in the final round on October 2, 2021.
Participating in the program launch were: Vietnamese Student Associations in the Netherlands, Germany, UK, France, Hungary, Italy, Belgium, Austria, Vietnamese Student Association in the Czech Republic and representatives of student organizations. Vietnam in Finland.
Derived from the idea of the Vietnamese Student Association in the Netherlands, InnoCity is an innovation competition for Vietnamese young people domestically and internationally to seek scientific solutions for urban development in cities across Vietnam.
InnoCity was launched from Europe, aiming to discover young potentials, is a great playground for Vietnamese youth, opens up opportunities to learn, challenge, integrate and contribute to the country and the ecosystem. National innovation, in the context of the Covid-19 pandemic, has greatly affected the world and the Vietnamese community at home and abroad.
InnoCity assits Vietnamese youth from 18 to 30 years old on a global scale, teaching them to have passion for the fields of science - technology, start-ups and innovation. Additionally, these Vietnamese students also have a passion for building a sustainable smart city that the program is aiming for.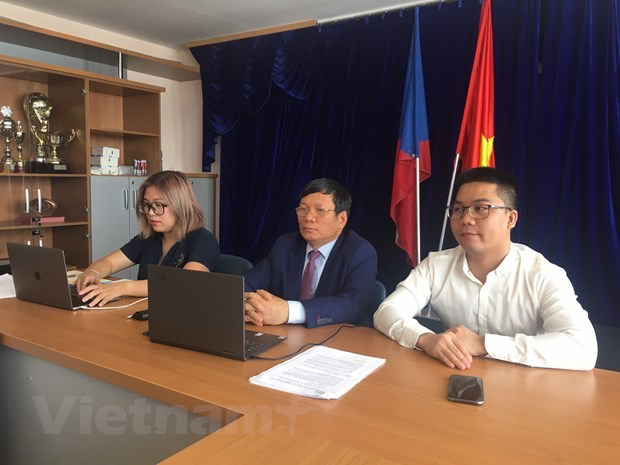 Chairman of the Association of the Vietnamese in Europe Hoang Dinh Thang (middle) and representatives from the Vietnamese Students' Association in the Czech Republic. Photo: VNA
At the online launching ceremony, the delegates focused on discussing the role of young Vietnamese in Innovation with the main contents; Current status of the development of Vietnam, the role of young Vietnamese in innovation, resources to help and support young Vietnamese at home, and abroad to participate in the country's innovation.
Hoang Dinh Thang, president of the Union of Vietnamese Associations in Europe, called on the Vietnamese community to pay more attention and create maximum conditions for the young generation to have the opportunity to develop their capabilities. That success will make an important contribution to enhancing the position of the Vietnamese community in the host country, in the international arena as well as for the long-term sustainable development of Vietnam.
The total value of prizes for the top 3 titles and special prizes of the contest is up to 25,000 euros. The winning team will receive a special package of advice and training to develop product ideas with leading national and international experts; have the opportunity to connect with provinces, localities and businesses in Vietnam to apply initiatives as well as receive development investment from domestic and international investment funds.
The program consists of 3 official rounds, taking place within 4 months, starting from June, and the final round is expected to take place in early October with the form of product / model and application plan introduction / business plans of competing teams.
The final day is expected to take place directly in Ho Chi Minh city or Hanoi (depending on the situation of the Covid-19 pandemic) with the main content being product introduction, awarding, and networking.
Rosie Nguyen