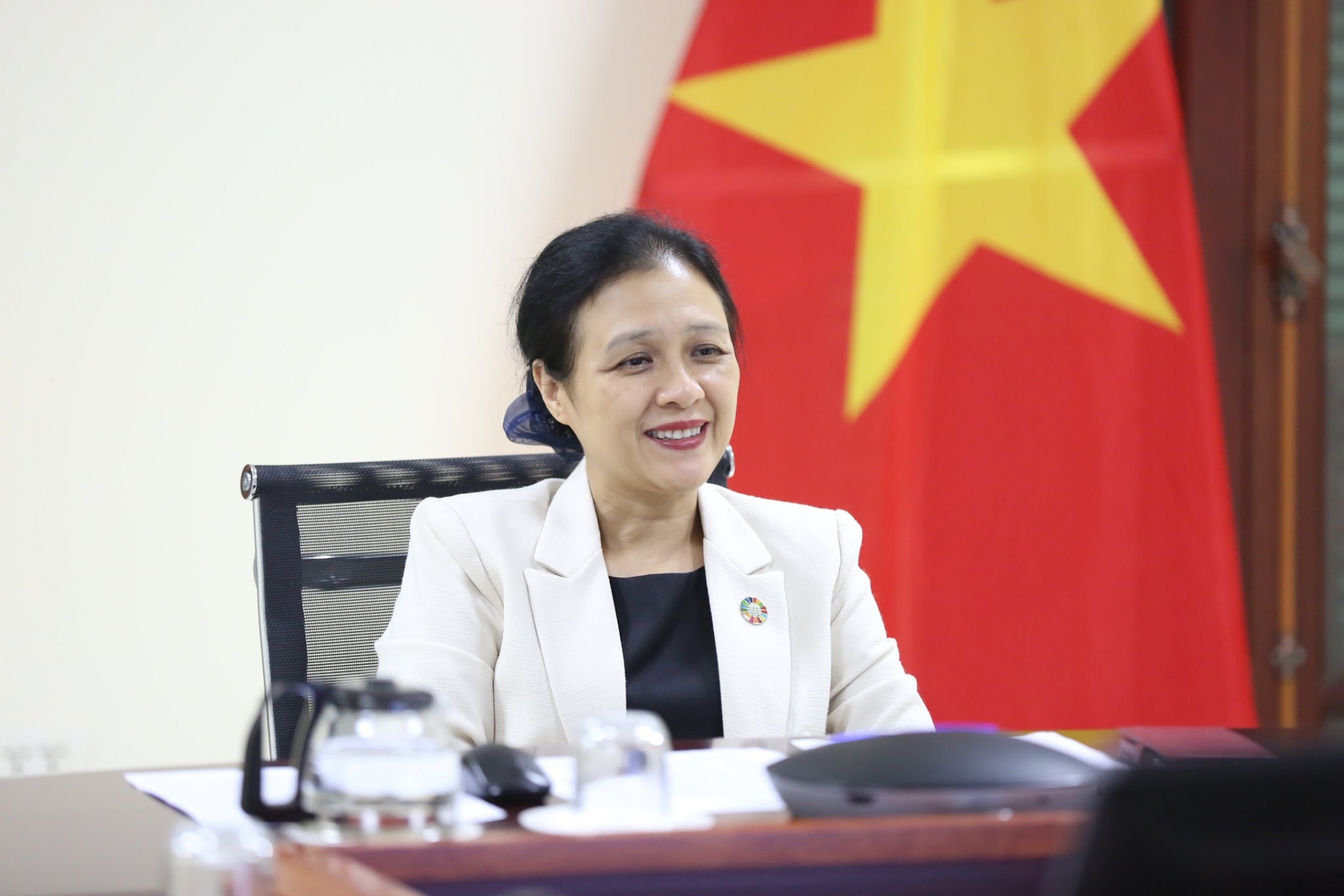 President of the Vietnam Union of Friendship Organizations Nguyen Phuong Nga speaks at the event from Hanoi. Photo: VUFO
The event on May 18, in both in-person and online forms, put forth proposals on the building of a more sustainable food security and prepared content of an agenda towards the 2021 UN Food System Summit slated for this September.
In Hanoi, Nguyen Phuong Nga, President of the Vietnam Union of Friendship Organizations (VUFO) gave a speech on the theme of "The role of people's organizations in transforming food systems in order to realize the Sustainable Development Goals (SDGs)" at the jndependent discussion with the topic "Different paths, Same goal".
The discussion assessed the impact of the Covid-19 pandemic that has caused the global economic crisis, seriously affecting food security, increasing poverty and disrupting supply chains. In addition, the delegates also exchanged practices, experiences and knowledge to build independent partnerships to achieve the goals of sustainable development in the Eurasian region and the Eurasian Economic Union.
Vietnamese Chargé d'Affaires to Russia Nguyen Quynh Mai reiterated the urgency of ensuring food security at present, saying that food wastefulness may reduce food supply and worsen hunger amid Covid-19.
She spoke highly of the role of the Eurasian Economic Union (EAEU) in setting up conditions for sustainable development in the post-Soviet era. As a partner of the EAEU, Vietnam has enjoyed economic growth and always attached importance to ensuring food security, thereby raising people's living standards.
Against the backdrop of Covid-19, Vietnam attaches importance to cooperation with the EAEU in ensuring food security to offset and prevent hunger around the world, Nga said.
The signing of the EAEU-Vietnam Free Trade Agreement has created a new momentum for development across all fields between the sides, she noted.
Vietnam is the first partner to sign a free trade agreement with the EAEU in 2015.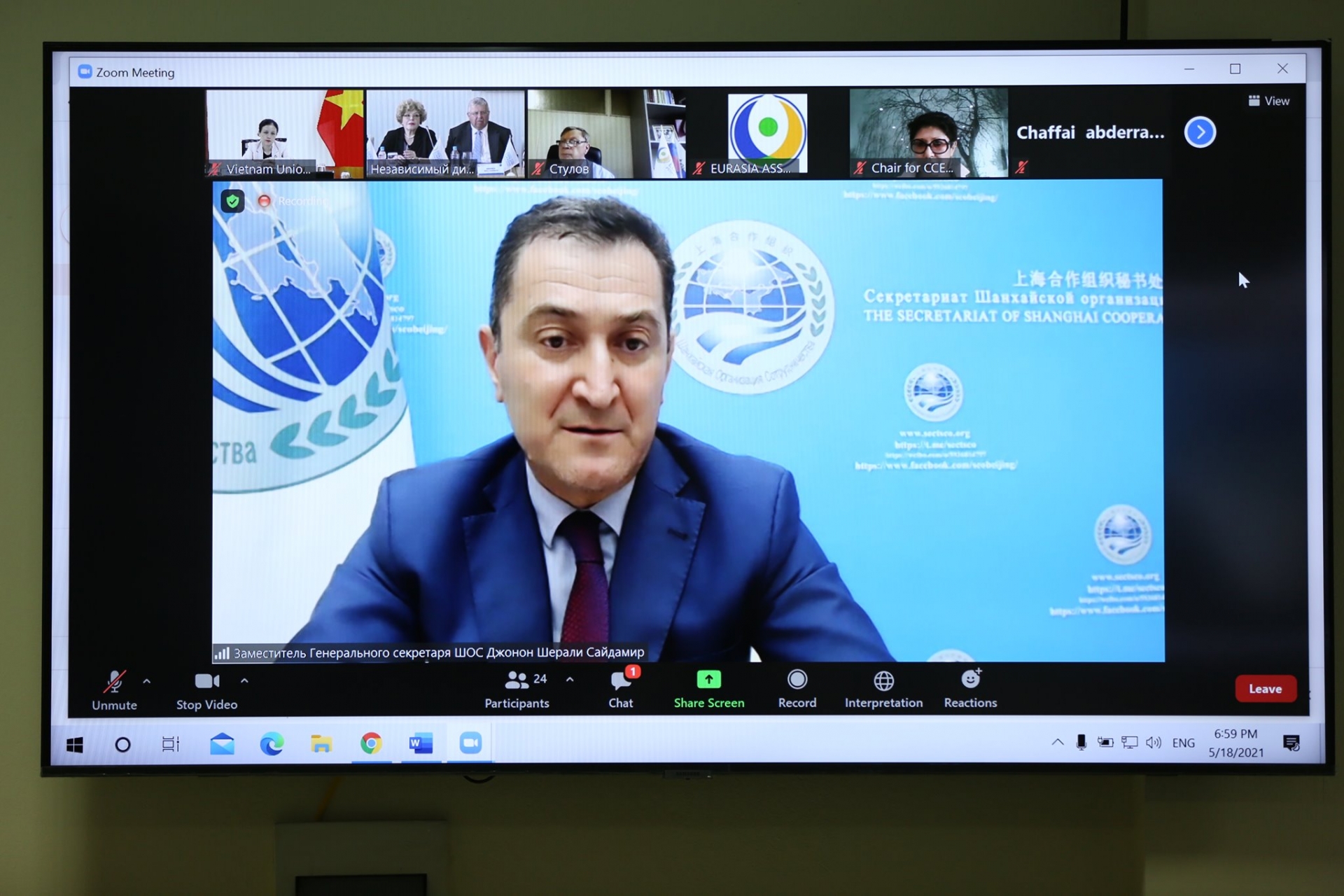 Delegates discussed measures for a safer and more equitable food system in Eurasia and Africa, agreeing that international cooperation will help countries develop sustainably, as well as overcome hunger and poverty. Source: VUFO
Eurasian Peoples' Assembly General Secretary Dr. Andrey Belyanov highly valued Vietnamese delegates' cooperation in the holding of the workshop in particular and the implementation of initiatives and projects of the Eurasian Peoples' Assembly at large.
He also voiced his belief in the huge potential for cooperation between the Eurasian Peoples' Assembly and Vietnam in the coming time.
In September 2021, the UN Secretary-General will convene a Food Systems Summit with the aim of maximizing the co-benefits of a food systems approach across the entire 2030 Agenda and meeting the challenges of climate change.
The summit aims to provide a platform for ambitious new actions, innovative solutions, and plans to transform food systems and leverage these shifts to deliver progress across all of the SDGs./.
Hannah Nguyen