Switzerland-Vietnam business group to establish representative board in Vietnam
The Switzerland-Vietnam business group has decided to establish a representative board in Vietnam.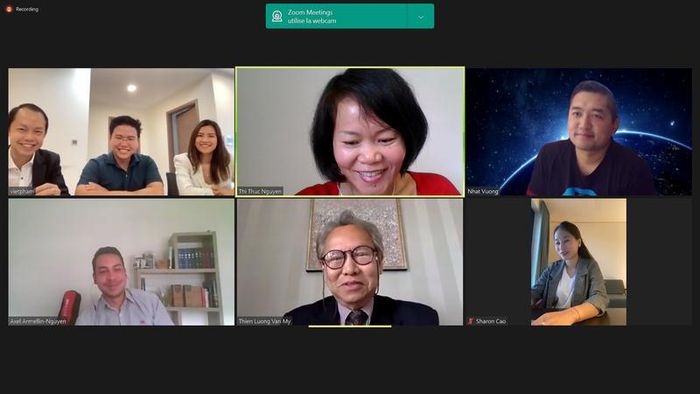 At the virtual meeting on May 15.
The non-profit Switzerland-Vietnam business group (SVBG) will establish a representative board comprising those working in various fields in Vietnam, to promote bilateral trade, cultural, and educational ties.
They decided at a virtual meeting on May 15, reported VNA.
Based in Lausanne, the SVBG, the first of its kind, has been founded by journalist Nguyen Thi Thuc (pseudonym Thuc Minh), former chief of the Thanh Nien (Young People) newspaper's Singapore bureau, and two Vietnamese-Swiss businesspeople in Lausanne.
The business group focuses on offering trade information via workshops, forums, and internal bulletins; providing legal consultations and guidance; developing links for technological transfers and improvement; and introducing quality human resources.
It will also make recommendations for more favourable business climate to competent agencies of both nations, while organising socio-cultural activities serving its goals.
The board's chief representative will take charge of developing ties with domestic and foreign enterprises, the deputy chief representative will be responsible for fostering bonds with businesspeople and intellectuals with close ties to the two nations, and two members will hold events and external affairs in Vietnam.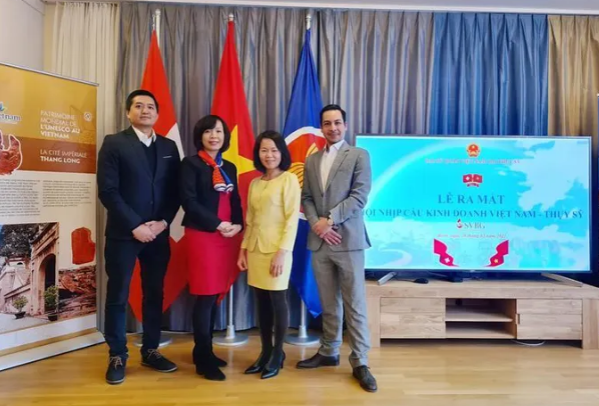 The Vietnamese Embassy in Switzerland in Feb 28, 2021 held a ceremony to launch the non-profit Switzerland-Vietnam business group (SVBG).
Luong Van My Thien, a Vietnamese-Swiss who has worked for Nestlé for nearly 30 years and helped bring the corporation to Vietnam in the early 1990s, takes on the role of the SVBG's Honorary Chairman and Chief Advisor.
The SVBG also discussed its development strategy at the meeting, adopted an internal code of conduct, and upheld the principles of information confidentiality, intellectual property, the responsible use of social media, and the management of conflicts of interest.
Earler this March, the Vietnamese Embassy in Switzerland, in collaboration with the Geneva Chamber of Commerce, Industry and Services and the Switzerland-Vietnam Business Group, organized the Webinar Market Focus Vietnam, aimed at boosting trade and investment cooperation between Swiss and Vietnamese businesses.
This was also a chance for the newly-established business group to introduce itself to Swiss partners.
This year, the two are celebrating the 50th anniversary of their diplomatic ties.
Swiss companies such as Nestlé, Roche, Holcim, and Schindler were among the first to set foot in Vietnam when the country opened up its economy in the 1990s. Today, more than 100 Swiss companies are operating in Vietnam.
In 2020, Vietnam's economy grew 2.91%, making it one of the few countries that have maintained positive GDP growth while many others in the world fell into severe recession. Also in August last year, the EU-Vietnam Free Trade Agreement (EFTA) took effect, opening up huge trade and investment opportunities for both sides. In last November, as the Chair of the ASEAN, Vietnam successfully pushed the signing of the Regional Comprehensive Economic Partnership (RCEP), establishing the biggest free trade area worldwide.
Switzerland is the sixth largest European investor in Vietnam, with its investment totaling 2 billion US dollars, mostly in manufacturing – processing and electricity. Currently, close to 100 Swiss firms are operating in Vietnam.
Meanwhile, Vietnam is the four biggest trade partner of Switzerland in ASEAN, with bilateral trade exceeding 3.6 billion US dollars in 2019. Since 2012, Vietnam and the European Free Trade Association (EFTA) – the intergovernmental organisation of Iceland, Liechtenstein, Norway and Switzerland – began negotiations for a FTA, which is expected to be signed this year./.