International Experts Appreciate Vietnam's Contribution to Universities in ASEAN
Dr. Jung Hyun Ryu (Vietnam Japan University, Hanoi) said that Vietnamese lecturers studying and researching abroad have a positive impact on education, research, social contributions and university governance through improving foreign language skills and expanding network.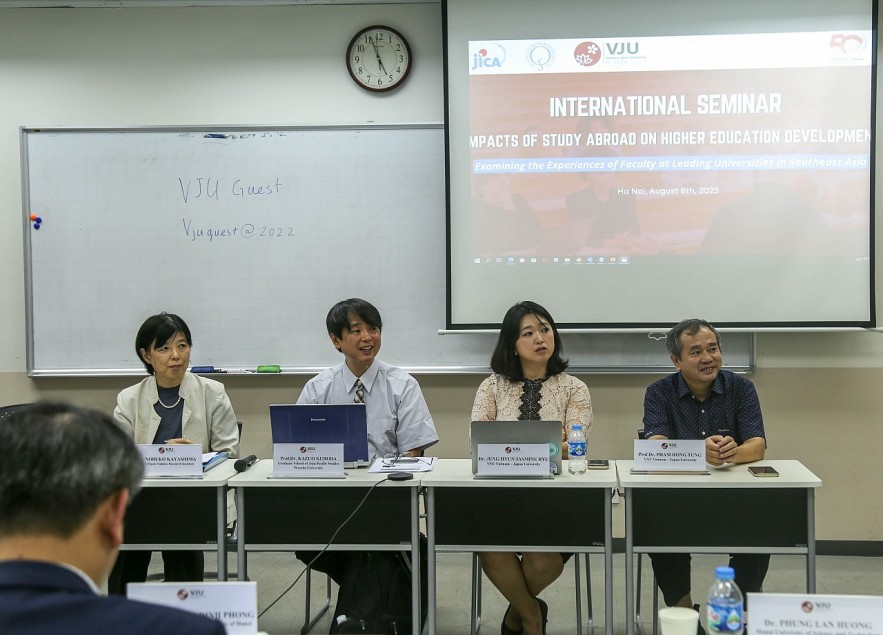 Representatives of the Organizing Committee, speakers, and the research team at the seminar.
In Hanoi, the Japan International Cooperation Agency (JICA) and Vietnam Japan University (VJU) on Tuesday co-organized a seminar with the theme "Impacts of studying broad on higher education development."
The main content of the seminar was to announce the research results of JICA Ogata Sadako Research Institute for Peace and Development (JICA Ogata Research Institute).
In Vietnam, a research team led by Professor Kuroda Kazuo (Waseda University - a collaborator of JICA Ogata Research Institute) and Dr. Jung Hyun Ryu, lecturer at Vietnam Japan University, conducted a survey at Vietnam National University, Hanoi (VNU) and Hanoi University of Science and Technology.
From 2019 to 2022, the JICA Ogata Research Institute conducted a study on the impact of studying abroad on the development of universities in the ASEAN region, based on extensive data collected from approximately 3,300 questionnaires, and more than 100 interviews conducted. The research subjects are lecturers from 10 leading universities in four ASEAN countries, Cambodia, Indonesia, Malaysia, and Vietnam.
Some of the main ideas of the results shared by the research team in Vietnam include that the acquisition of foreign languages through studying abroad is more meaningful than in other countries.
The reason is that the use of foreign languages by teachers has positive impacts on research work and social contributions, especially in higher education in Vietnam.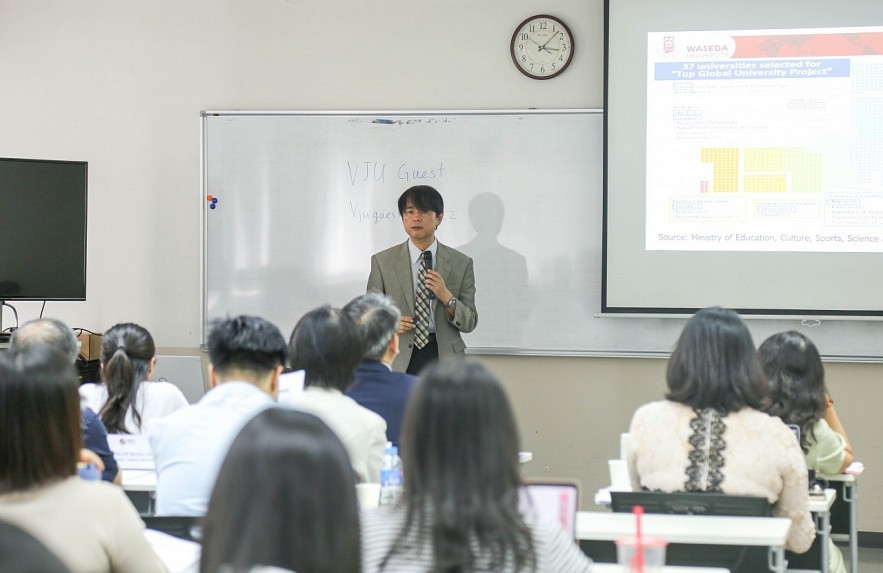 Professor Kuroda Kazuo (Waseda University - JICA Ogata Research Institute collaborator) presented at the seminar.
Research results also show that Japan is a destination for international students, because after studying in this country, students still maintain relationships with their professors.
Japanese universities have a policy of promoting academic cooperation with former international students even after they returned to their homeland.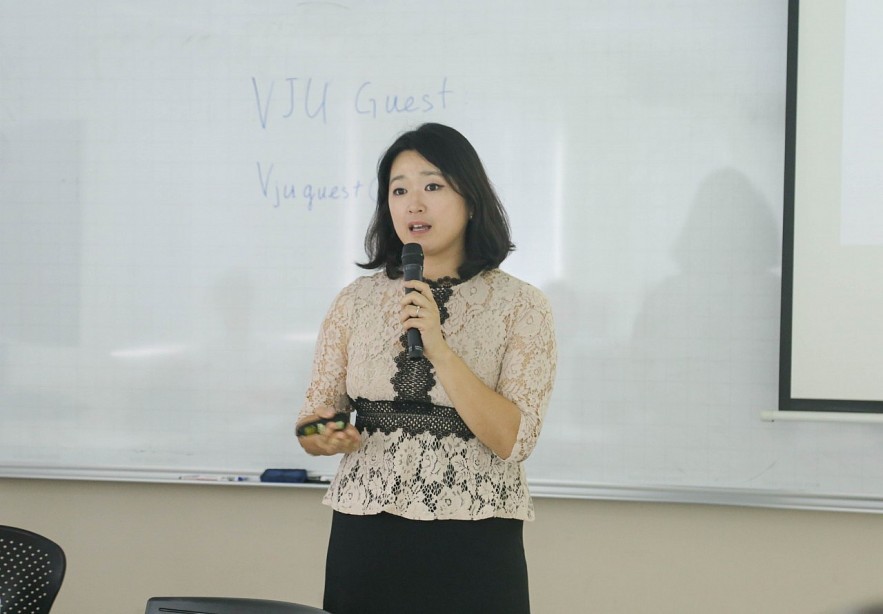 Dr. Jung Hyun Ryu, (lecturer of Vietnam Japan University, member of the research team) spoke at the seminar.
In addition, some limitations of Vietnamese lecturers' study abroad were also reported at the seminar. According to Dr. Jung Hyun Ryu, (lecturer of Vietnam Japan University, member of the research team), some negative aspects include difficulty in reintegration, and loss of connection when returning from study abroad.
Speaking at the seminar, Dr. Kayashima Nobuko, senior research advisor of JICA Ogata Research Institute, and project leader, emphasized the importance of studying abroad, which is shifting from "Transfer of knowledge and technology from advanced countries" to "Starting the development of international academic networks," in line with the development trend of higher education.
Commenting on the research results, Dr. Kayashima Nobuko also said that academic and human exchange in the ASEAN region is expanding. That makes Vietnam's role as both a sending country and a receiving country for international students even more important.