Vietnam's fight with its proactive response and innovation to the coronavirus pandemic has earned it international and domestic praise. International press reported on Vietnam as a phenominon winner in the Covid-19 battle. Let's take a look on Vietnam's Covid-19 combat through international reporters' view.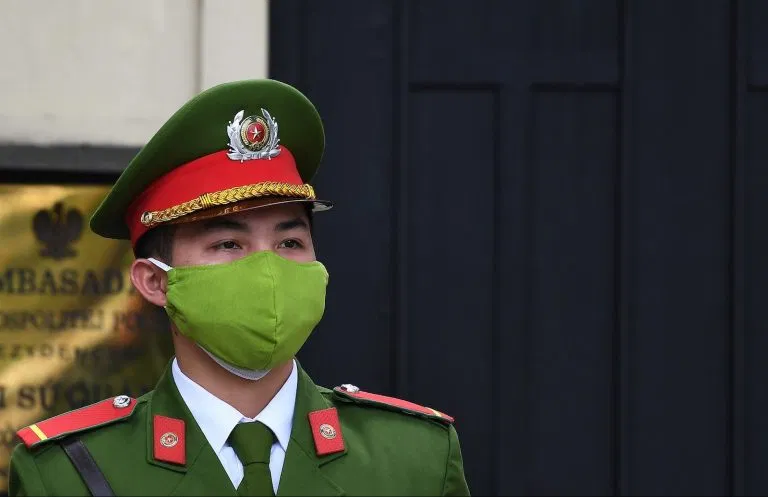 A Vietnamese policeman wearing a protective face mask amid concerns of the SARS-like novel coronavirus outbreak stands guard in Hanoi on February 11, 2020.
David Hutt is a political journalist writes on foreignpolicy that so, few might have predicted that the Communist Party could mount such a successful fight against the coronavirus—let alone one marked by openness. Hanoi's uncharacteristically transparent and proactive response to the coronavirus pandemic has earned it international and domestic praise. It's not much of an exaggeration to say that the Communist Party hasn't been this popular since the Vietnam War. But will Hanoi's newfound awareness of the benefits of transparent government endure once the crisis is over?
Though it has not received the international attention paid to Canada, South Korea, or Taiwan, Vietnam has emerged as one of the major success stories in battling the coronavirus pandemic. As of April 15, the country has recorded just 268 cases—even as it has tested far more people than most other Southeast Asian nations. (For instance, Vietnam has tested some 122,000 people, while the more populous Philippines has conducted 45,000 tests and has more than 5,400 confirmed cases.) When the outbreak first occurred in neighboring China in January, the Vietnamese government responded quickly and efficiently—becoming the first country in the region to shut down travel to and from China. When the epicenter shifted to Europe in March, the government ordered a nationwide shutdown and began one of the world's largest quarantine programs for those returning from abroad. Hanoi has also been swift in closing schools and nonessential business activity, and the impact shows. Vietnam is a middle-income country with a fraction of the health care budget of the other successful countries, yet its health services don't appear stretched, and Hanoi has even donated medical supplies to Europe.
Even more surprising for a one-party state and one of the most repressive countries in Asia, Vietnam's Communist government has been deeply transparent with the public during the crisis. Ministers give daily press briefings, often broadcast on state television; telecommunications providers send regular text message updates to users; and the government's health warnings are even translated for expatriates. "Clear communication and government-citizen cooperation that leveraged technology are the main reasons why the country has had relatively few cases," wrote Hong Kong Nguyen, a researcher at the A.I. for Social Data Lab in Hanoi, last week.
Besides, Asiatimes informed in a analysis on April 16 that:
Through early and efficient border closures, uncharacteristic official transparency and strategic Covid-19 diplomacy, communist-run Vietnam is fast emerging as a likely post-pandemic winner.
For a nation that has long-sought to secure it's place as a reliable and responsible global actor, the coronavirus outbreak and its minimal impact on Vietnam has presented the nation an opportunity in crisis analysts say it is firmly grasping.
Carl Thayer, emeritus professor at the University of New South Wales in Australia and a recognized Vietnam expert, says that Hanoi was "quick off the mark" in its version of "coronavirus diplomacy", a gambit China, Taiwan and others have likewise deployed to strategic effect.
Vietnam has recently ramped up medical equipment production and made related donations to countries in Covid-19 need, including to the United States, Russia, Spain, Italy, France, Germany, and the United Kingdom.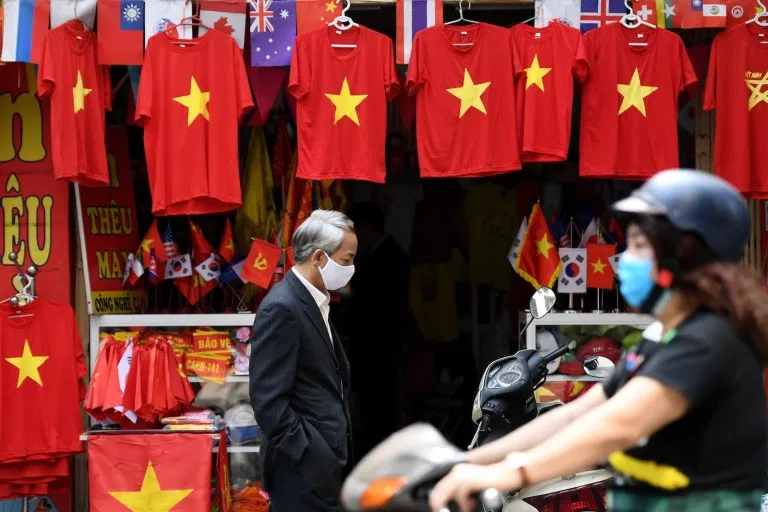 A man wearing a protective face mask walks past a souvenir shop in Hanoi on February 26, 2020, amid concerns of the Covid-19 coronavirus outbreak.
Many analysts now expect Vietnam to receive the lion's share of "second wave" factory relocations driven by the pandemic and growing anti-Chinese sentiment in the West fueled by perceptions China is chiefly responsible for the outbreak.
Politicians in Washington, Tokyo and certain European capitals now speak openly and provocatively about the need for "decoupling" from China's economy, including to break dependence on a single foreign source for essential imports such as medical supplies.
"Vietnam is a major beneficiary of this diversification as it has proved to be friendly while still cost-effective to firms from the West," said Vuving. "Vietnam will be, in many cases, their first choice when they look around to find a reliable alternative to the now unreliable Middle Kingdom.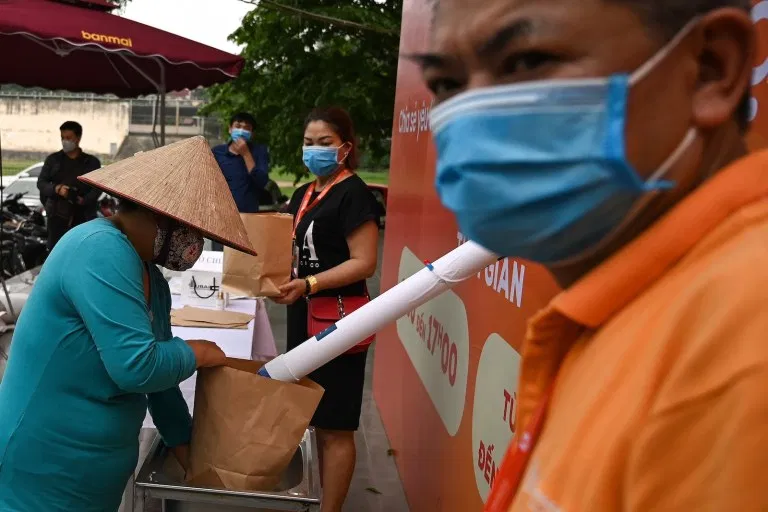 A resident wearing a face mask fills a paper bag with free rice - VN rice ATM- amid Vietnam's nationwide social isolation effort as a preventive measure against the spread of Covid-19, Hanoi, April 11, 2020.
The World Bank forecasts in a worst Covid-19 case scenario that Vietnam's gross domestic product (GDP) will fall to 1.5% this year, down dramatically from around 7% in recent years.
While this would mark Vietnam's lowest growth in decades, it will still be much higher than most of its Southeast Asian neighbors, including manufacturing rival Thailand, which is now officially projected to see -5.3% GDP growth in 2020.
Investors clearly see the difference as Vietnam's bourse has emerged as the region's best performer this year while several of the region's other stock markets have tanked in anticipation of Covid-19's economic damage.
Indeed, some pundits suggest that Vietnam's economy could bounce back faster than other Southeast Asian states in 2021, especially if the likes of the US, Japan and EU states move en masse to relocate their post-pandemic supply chains out of China and into Vietnam.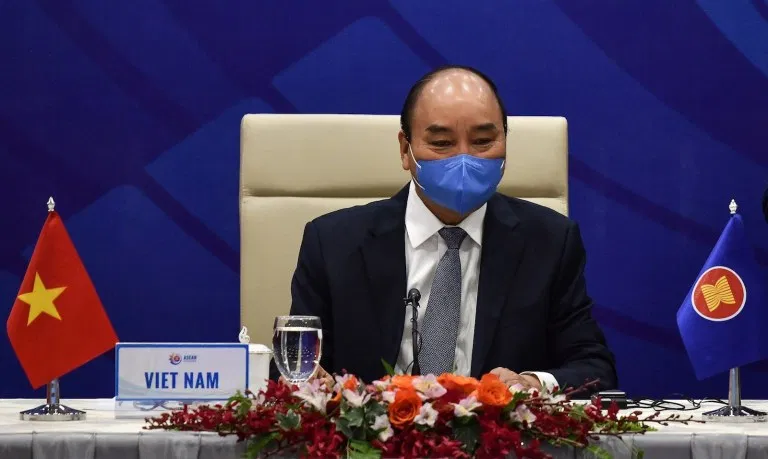 Vietnamese Prime Minister Nguyen Xuan Phuc wearing a face mask on a live video conference for the ASEAN Summit on Covid-19, Hanoi, April 14, 2020.
This week, Vietnam hosted a virtual summit with other Southeast Asian leaders to forge a collective regional Covid-19 response at a time new cases are surging in several of the ten-member bloc's member states, including Indonesia, Singapore and the Philippines.
"It is in these grim hours that the solidarity of the ASEAN community shines like a beacon in the dark," Prime Minister Nguyen Xuan Phuc, who chaired the meeting, said in his opening remarks.
Speculation is now swirling in diplomatic circles that Vietnam's tenure as ASEAN chair could be unprecedentedly extended until 2021 due to disruptions caused by the coronavirus crisis.
If so, it would allow Hanoi more time to build regional consensus on two big China-related issues it was expected to emphasize as ASEAN's chair, namely notching a long-sought code of conduct for the contested South China Sea and an agreement on water resource management on the Mekong River.
Both prickly and escalating issues have put various ASEAN member states at loggerheads with China. Vietnam-China tensions escalated this month after a Chinese surveillance ship sank a Vietnamese fishing boat in contested sea waters; the Philippines came to Vietnam's diplomatic defense over the incident.
Meanwhile, a report compiled by American climatologists released this week used satellite images to show for the first time that water levels in China's dammed upper reaches of the Mekong River were running high despite months of severe droughts and parched water flows in downstream Vietnam, Cambodia, Laos and Thailand.
If Vietnam is to have any success in making its case against China and to emerge as a regional spokesperson for resolving the issues, Hanoi will need to win the support of the wider international community, including in the West.
Tarah Nguyen