Critically ill British pilot coronavirus patient smiles, shakes hands with doctors on June 2
In the article titled "British pilot, 43, is pictured after waking from a coma and beating coronavirus in Vietnamese hospital where is now 'smiling and talking to doctors" posted in Daily Mail on June 4, the comment section is flooded with exclamations, admirations, and gratitudes from international readers. Most of the comments show how thankful the readers are towards Vietnamese doctors for their relentless efforts.
An account names Cantona, from Whitby, Canada, praise: "Thank you Vietnam, home to the most courageous people on the planet. First there in '73 and many times since - so much respect for the Vietnamese people".
"Brilliant work Vietnam. Thank you", Cromwell1965 wrote.
"I live in HCMC and i have to say what the government and health department has done for this British man and all others who have suffered from Covid-19 is nothing short of extraordinary! Well Done Vietnam! Amazing Country and People!", VTID69 from Ukasia, Western Sahara left the comments after reading through the article.
"God Bless all the medics who looked after and continue to look after this gentleman. Lovely news wishing him all the best on his road to recovery. Lovely news DM", Kingsroad, London, United Kingdom said.
"The amazing story of Vietnam, a country with a population of 90m, and a border with China and how they stopped the virus should shock the British government to its core. They put in a 14 day forced quarantine system for all nationals after the FIRST Chinese person died in China in January. They later banned all non-nationals from entering. Started a track-and-trace program. Even created their own tracing app - all in early February!! They have had 270 or so infections, ZERO deaths. This was their most critical patient. They stopped it at the border", an account names m4rky4tes commented.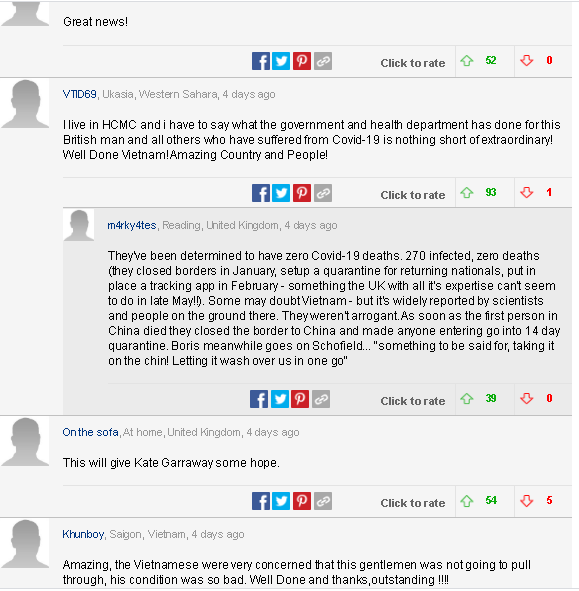 (Photo: Captured)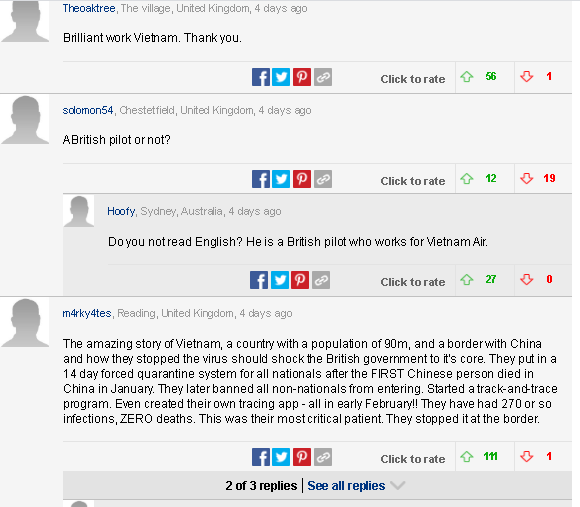 (Photo: Captured)
The 43-year-old Vietnam Airlines pilot is reported by Daily Mail on June 3 to have fully conscious, smiling, and talking to doctors at Cho Ray Hospital in Ho Chi Minh City in southern Vietnam.
Daily Mail states that the British patient is receiving physical therapy twice a day as his recovery continues, "his lower limb strength is up to around 40 percent, with his upper limbs at around 60 percent, his kidney has seemingly recovered, receives consistent positive results for three consecutive days". The pilot is still using an ECMO system, but blood test shows positive outlook.
The patient's lung function once dropped to just 10 percent earlier and remained in a serious condition though.
British Consul General in Ho Chi Minh City, Ian Gibbons is mentioned in the article for his thanking letter to the Vietnamese health authorities for their care of the ill pilot.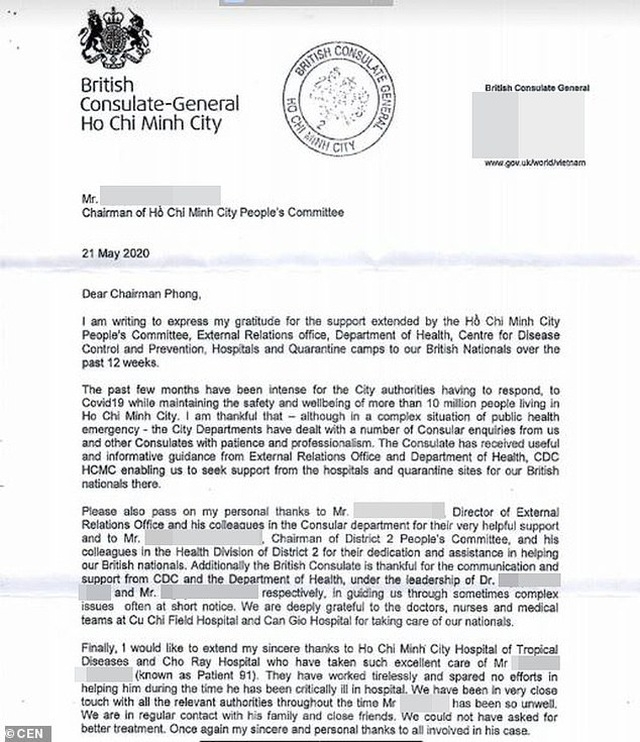 British Consul General in Ho Chi Minh City, Ian Gibbons, wrote a letter of thanks to the Vietnamese health authorities for their care of the ill pilot (Photo: Daily Mail)
'They have worked tirelessly and spared no efforts in helping him during the time he has been critically ill in hospital. We have been in very close touch with all the relevant authorities throughout the time he has been so unwell.
'We are in regular contact with his family and close friends. We could not have asked for better treatment. Once again, my sincere and personal thanks to all involved in his care', the UK news outlet cited the letter.
Jasmine Le