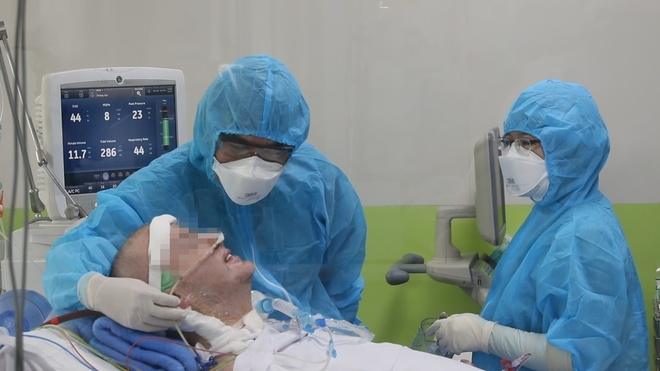 Patient 91 smiled for the first time in the treatment room. Photo: N.H.
On Wednesday's morning June 4, the patient 91 (male, pilot, British, 43 years old) was discontinued ECMO (oxidized of his body's outer membrane) in Cho Ray Hospital (Ho Chi Minh City) after a few days of gradually reducing ECMO parameters. However, the patient still need many weeks to stop using ventilator and recover motor function.
Mentally, he has waken from coma and had stronger cough reflexes, increased muscle strength: upper limbs 3/5, lower limbs 2/5, right diaphragm work better. The patient still had sedative and fentanyl withdrawal syndrome and analgesia, so he was slightly irritable and with fast breathing while awake.
Lung: his oxygen improves, increases and the lung ventilation stays stable at normally above 300ml, slower breathing. On June 2 he was stopped adding oxygen in ECMO machine, his arterial blood gas got oxygen and CO2 normally so today he got stopped ECMO.
The patient's kidney function has recovered, he is undergoing physical therapy and nutrition treatment to recover.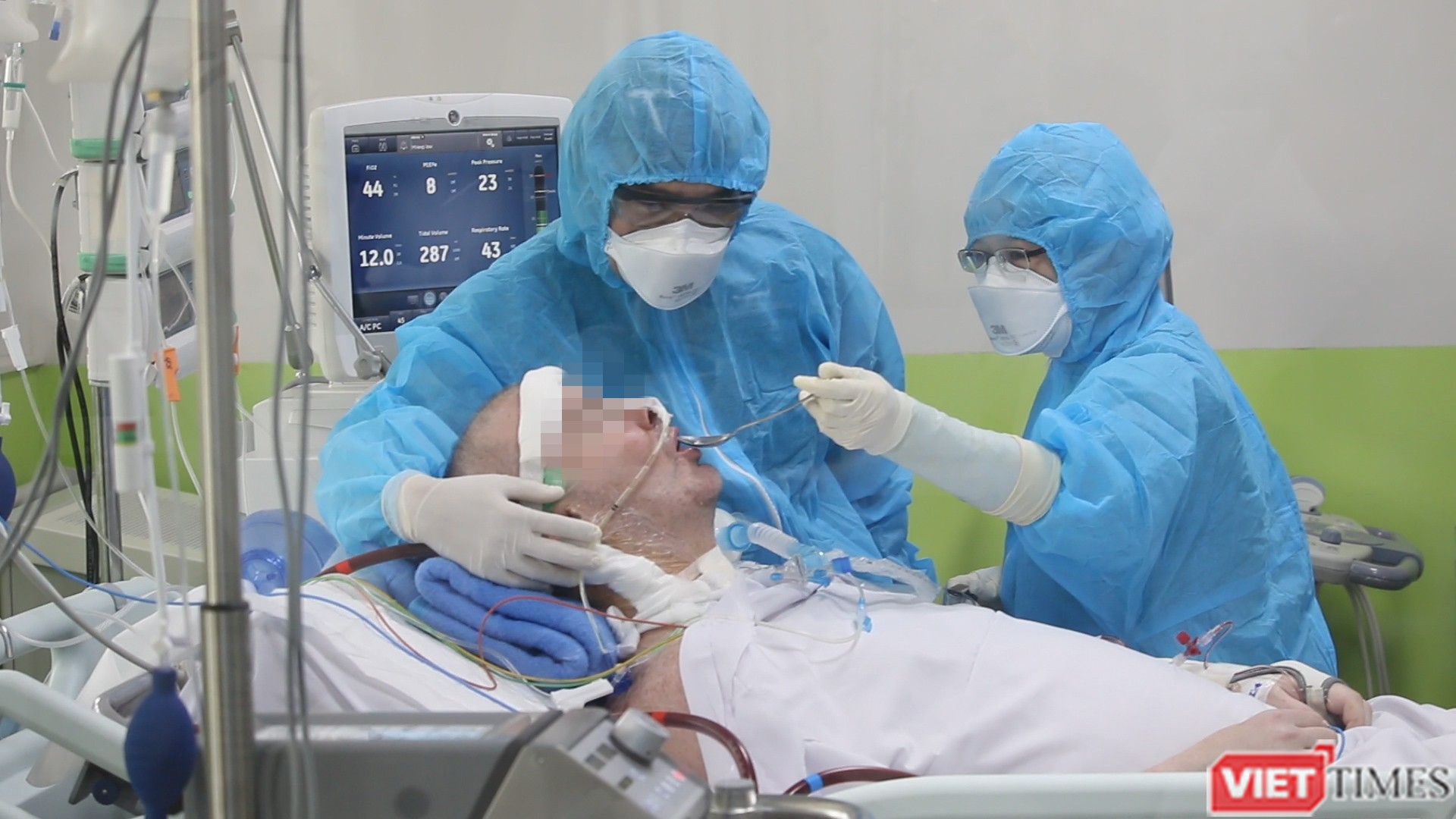 Doctors, medical staff are taking care of patient 91 at the Department of Emergency Resuscitation in Cho Ray Hospital (Photo: Cho Ray Hospital)
The ECMO discontinuation is an important factor in the patient's recovery journey, showing that the patient's heart and lung function are recovering well without the need for a replacement device.
Earlier on June 2, the patient was awake from coma, had a stronger cough reflex, and for the first time, he smiled and shook hands with the doctors.
Doctor Tran Thanh Linh, Deputy Head of Emergency Resuscitation Department, Cho Ray Hospital, in Ho Chi Minh City, evaluated for cases of specific lung lesions infected with SARS-CoV-2 virus such as the pilot, lesions of pulmonary fibrosis, especially at this stage, is often severe.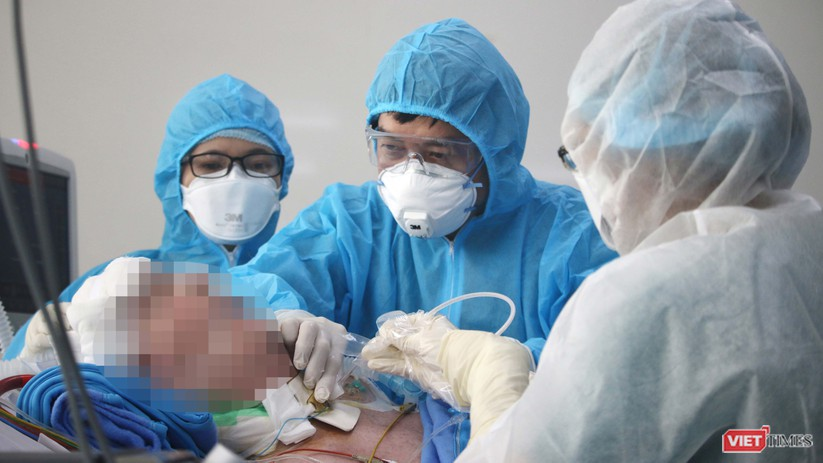 Doctor Tran Thanh Linh examined patients 91 (Photo: Cho Ray Hospital)
Therefore, even if ECMO can be withdrawn, the patient may still have to depend very long on mechanical ventilation. After that, removing the ventilator is also a difficult problem, which may take a month or longer.
Dr. Linh said: "Despite many improvements, the patient's condition is still severe and it takes them a lot of time to continue treating this patient."
Based on the very good recovery status of patient 91, it is very likely that the lung and kidney transplant method for the patient is not needed as previously expected.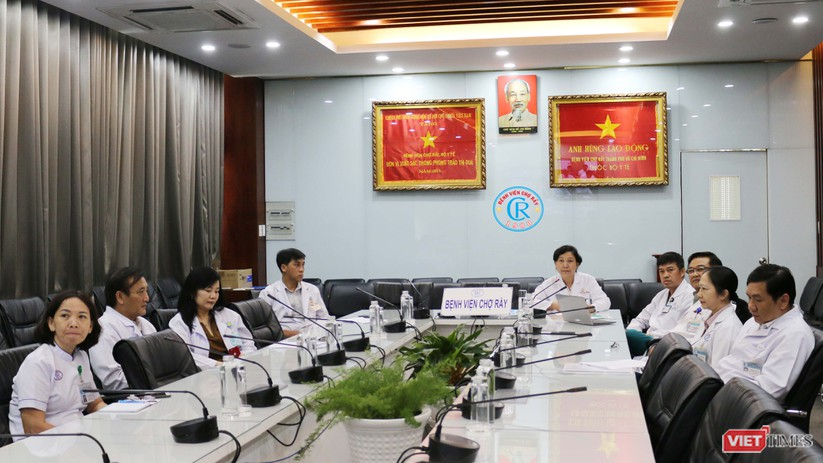 The Cho Ray Hospital in an online meeting to hold the consultation for Patient 91 (Photo: Cho Ray Hospital)
The Patient 91 is the most severe case of Covid-19 infection treated in Vietnam. He was treated at the Department of Emergency Resuscitation in Cho Ray Hospital in Ho Chi Minh City. Previously, the male pilot took 65 days of Covid-19 treatment at the Hospital for Tropical Diseases in Ho Chi Minh City.
After 77 days of hospitalization, 59 days of ECMO intervention, today saw the first day the male pilot not depend on EMCO. It is known that the cost of treatment is completely paid by the hospitals in advance with the statistics over 10 days ago estimated around US$ 135,000.
Tarah Nguyen