COVID-19: Vietnam has no new community infections more than 50 days
Vietnam has gone 53 days consecutive days without new COVID-19 community infection, reported the National Steering Committee for COVID-19 Prevention and Control.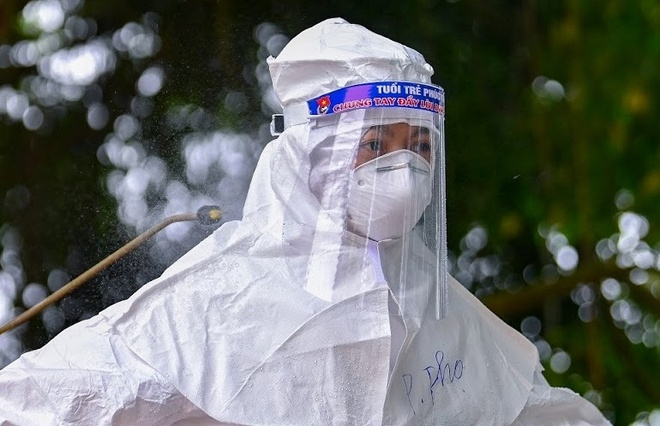 Vietnam has gone 53 days consecutive days without new COVID-19 community infection.
As of Monday, Vietnam reported a total of 331 cases of COVID-19 infection, of whom 307 have been cleared of the virus. Two repatriates are the country's latest patients.
Patient 330: female, 28 years old, native in Cam Nam, Cam Xuyen, Ha Tinh province, working in a Ho Chi Minh-based company.
Patient 331: female, 47 years old, address at Ward 12, District 5, Ho Chi Minh city, colleagues of Patient 331.
On March 13, the two women departed from Ho Chi Minh city to Mexico. Due to flight suspension, they were stranded in this country until June 4, then flew back to Japan. On June 5, they few from Japan to Da Nang Airport on flight VN319. Both were quarantined right after landing.
Among current patients, 15 have tested negative at least once, the committee added.
At present, a total of 9,088 people who had close contact with COVID-19 patients or entering Vietnam from pandemic-hit regions are being quarantined, including 72 at hospitals, 7,150 at concentrated quarantine establishments and 1,866 at home.
Regarding British patient numbered 91, doctors at the Cho Ray Hospital said he still needs weeks to be freed from ventilator, and extensive care to recover movement, VGP reported.
The patient has been disconnected from the Extracorporeal membrane oxygenation (ECMO) on Wednesday morning as nearly 60% of his lungs have improved.
The British national has undergone 82-day treatment after being confirmed having the virus on March 18. He was transferred from the Hospital for Tropical Diseases to Cho Ray Hospital in Ho Chi Minh City on May 22 for further treatment.
Earlier, the Ministry of Health decided to set up a steering committee responsible for conducting a possible lung transplant for the patient.
As Viet Nam has successfully contained the pandemic, paving the way for the country to have
restarted the economy, including allowing foreign experts and business managers to return to the nation.
According to VGP, So far, more than 1,800 foreign experts have been isolated in accordance with the current measures on COVID-19 containment and the figure is expect to increase by 2,700 in the next two months, according to the Ministry of Health.
In addition, about 5,661 Vietnamese citizens have been brought home from foreign countries and territories since April 24 following the Government's efforts to have arranged 19 special repatriation flights.
Despite encouraging signals from the COVID-19 fight, the National Steering Committee underlined the necessity to continue sticking to the "dual goals" of containing the pandemic and rebooting the economy, during its meeting last Friday.
The committee, led by Deputy Prime Minister Vu Duc Dam, agreed to continue strict management of crew members of international flights and quarantine of incoming travellers in favor of economic recovery.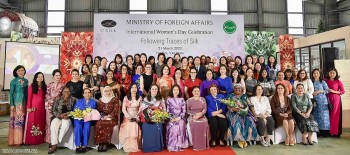 Friendship
Female ambassadors, representatives from diplomatic corps and international organizations, along with spouses of diplomats in Vietnam gathered together to find about more about silk weaving and silk products in Vietnam.