International Sportwears Manufacturers Favor Vietnam in Supply Chain
Recently, Adidas, Nike and Decathlon all chose Vietnam as the main production center for their global supply chain.
On September 15, a discussion session at the World Trade Organization Public Forum was hosted by the World Federation of the Sporting Goods Industry (WFSGI) in Geneva (Switzerland).
Three representatives of famous global sports brands, including Adidas, Puma, and Decathlon, joined Ambassador Le Thi Tuyet Mai, Head of the Permanent Mission of Vietnam to the United Nations (UN), WTO, and other international organizations in Geneva, to discuss the topic of "Sporting goods industry's actions for a sustainable future."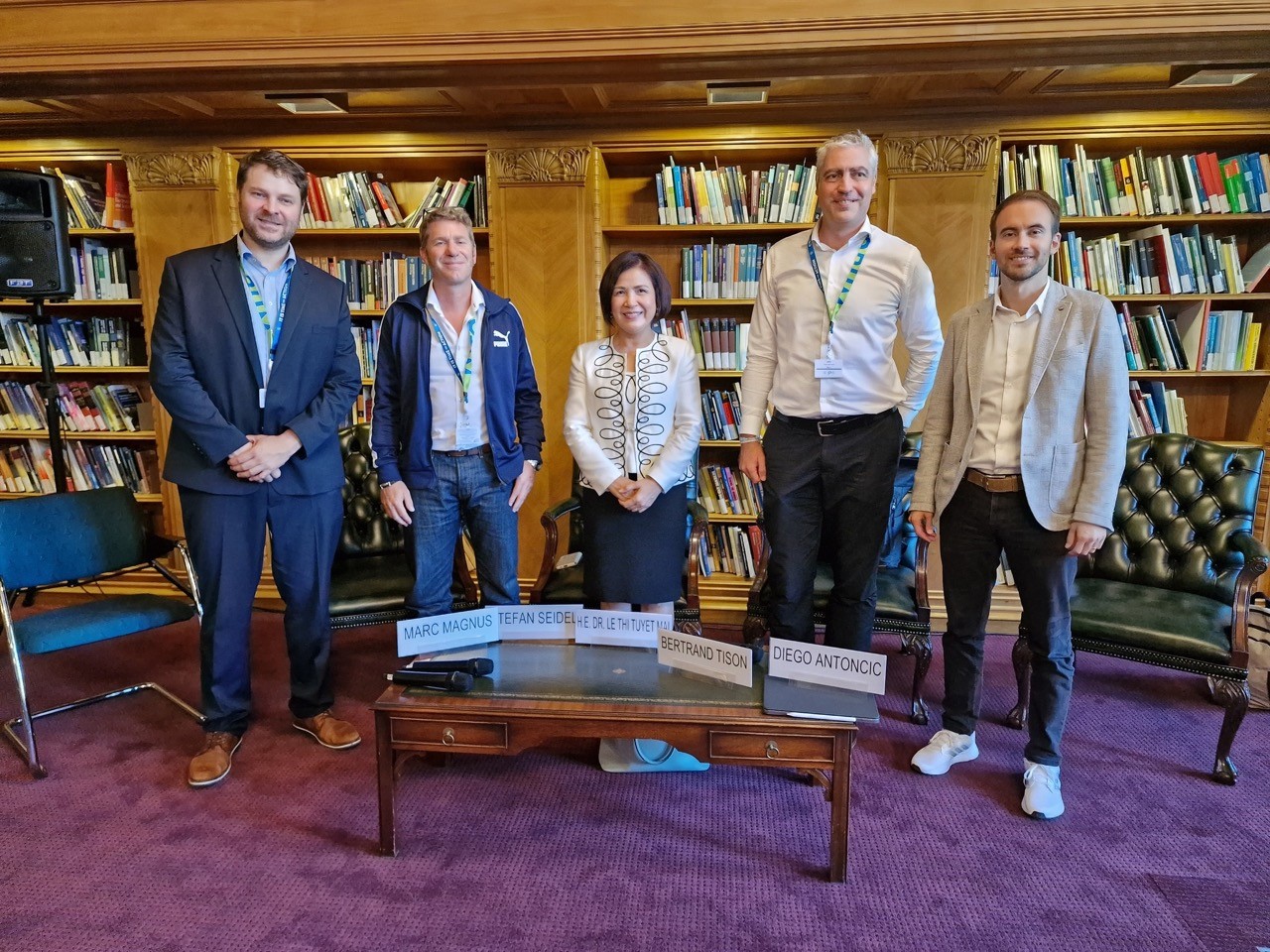 Speakers at the "Sporting goods industry's actions for a sustainable future" session (Photo: The World Federation of the Sporting Goods Industry (WFSGI) Facebook page).
Speaker Stefan Seidel, Head of Puma's Sustainable Development Department, affirmed that the close coordination between Puma and suppliers in Vietnam is "a leading example" of its effort worldwide for environmental goals.
Accordingly, Puma has encouraged, guided, and supported factories in Vietnam to convert energy to solar power (solar roofing program), biomass gas power, and reuse of radiator water for factories in dyeing and washing of fabrics. These factories also implement the Chemical Management Improvement Program.
Meanwhile, Adidas and Nike both chose Vietnam as the main production center for their global supply chains. According to Adidas' 2020 report, up to 98% of production is concentrated in Asia, of which Vietnam alone accounts for 40%.
Senior Manager of Government Relations of Adidas Diego Antoncic stressed that the main consumer markets for sports goods, which are in developed countries, attach great importance to environmental, social responsibility, and governance (ESG) regulations of the brands. As a result, Adidas needs to coordinate more closely with suppliers to ensure compliance.
Sustainability is no longer a brand recommendation to suppliers but has become a must. Adidas must choose and maintain partnerships with suppliers based on those criteria.
On the other hand, Bertrand Tison, in charge of European public relations for Decathlon, said that in order to meet the requirements of the consumer market, especially the EU, Decathlon must coordinate with suppliers, especially Vietnam, to reduce its "footprint" of carbon emissions and combat climate change.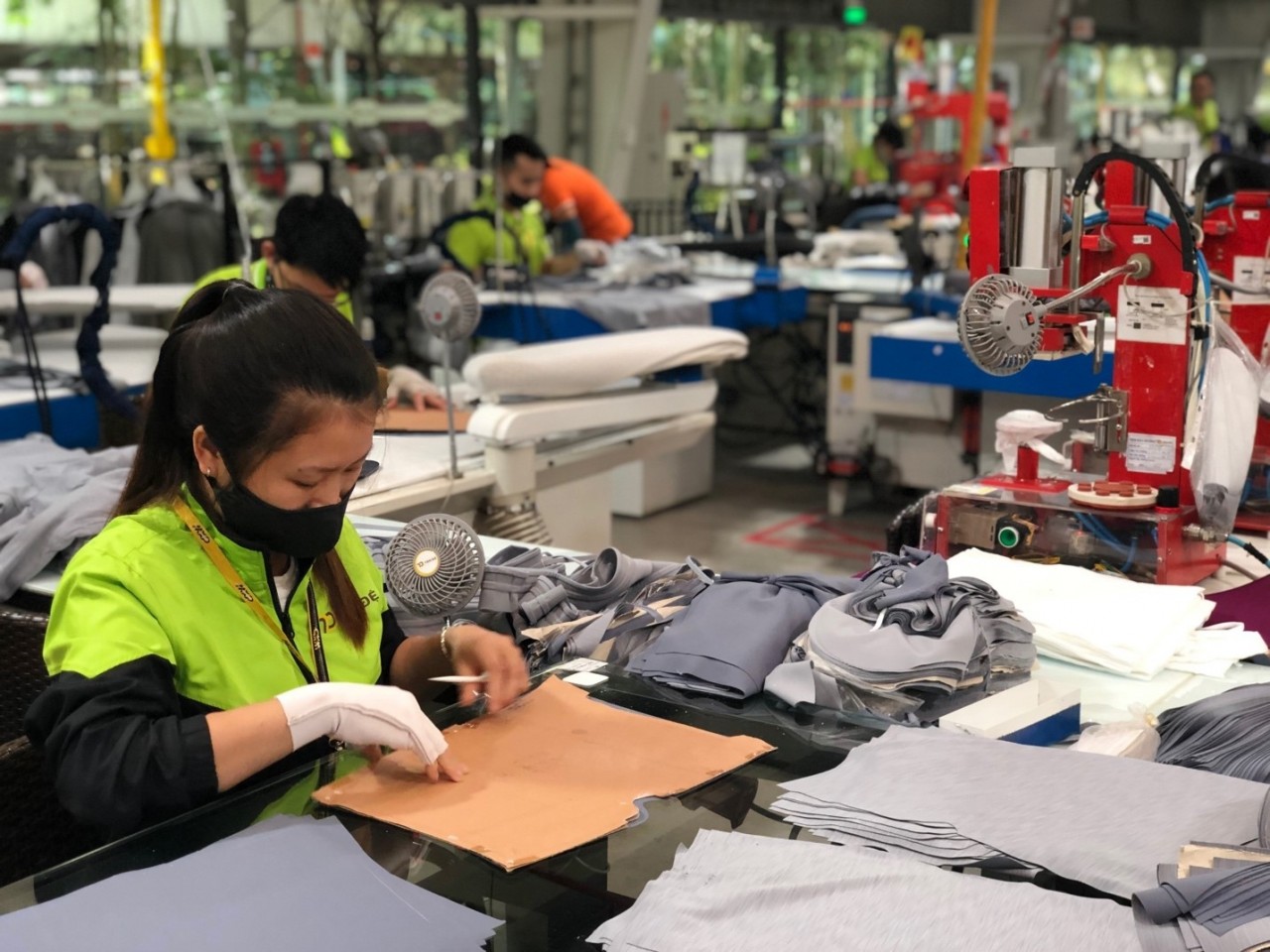 A Worker at a garment company in Thai Binh (Photo: GIZ).

Decathlon is a family company founded in 1976 in France, specializing in retailing sports goods. Now it has developed into a network of 1747 stores, present in 72 countries around the world, with a total revenue of EUR 15.4 billion in 2022 and 110,000 employees. Vietnam is currently the second largest production base of Decathlon, with 130 partner factories, 7 retail stores, and 400 employees.
Speaking at the discussion, Ambassador Le Thi Tuyet Mai stated that Vietnam has many significant advantages such as abundant human resources, diligent work ethic quick absorption of new technology, and skills to become an important production base of famous brands in the world.
Also, Vietnam acquires a deep level of international economic integration through the multilateral trade system and an increasingly open preferential trade network, with new-generation trade agreements (EVFTA and CPTPP).
Through the "National Strategy on Green Growth for the period 2021-2030, vision 2050", Vietnam is trying to contribute to the global transition toward sustainable development.
Regarding the sporting goods industry, many industries like textile, garment, and footwear will be operating effectively and sustainably according to Vietnam's circular economy model by 2035.
"Vietnam will introduce policies to promote production in Vietnam to a new level, from " made in Vietnam " to "made by Vietnam", ensuring the ability to control the supply chain and meet the strict requirements of the consumer market regarding sustainability and circularity of exported products," said the Vietnamese Ambassador.
Vietnam among World's Top 5 Factories

Vietnam, India, Thailand, Malaysia, and Bangladesh are the countries where China's supply chains are moving to, according to the US magazine Business Insider.