Int'l Friends Celebrate President Ho Chi Minh's Birth Anniversary
Various activities have been held in commemoration of late President Ho Chi Minh, ahead of his 133rd birthday (May 19, 1890 - 2023).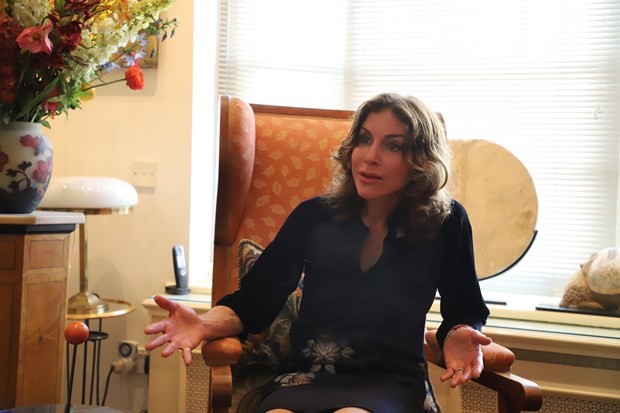 Katrin Kandel, voluntary CEO of the Facing the World. Photo: VNA
Katrin Kandel, voluntary CEO of the Facing the World (FTW), a UK-based charity organisation that has been operating in Vietnam since 2007 to support children with congenital craniofacial deformities, has talked with the Vietnam News Agency about Ho Chi Minh's thought and his works on the occasion of his 133rd birth anniversary (May 19, 1890).
Kandel said she found it extraordinary that President Ho Chi Minh spent nearly three decades on travelling around the world to find a path for national salvation. During this journey, the President studied different forms of western governments to find the most suitable approach to bring freedom and independence to the country that had been invaded by many nations for hundreds of years. More importantly, it was about finding a way to help Vietnam become an independent and self-reliant nation.
According to her, President Ho Chi Minh determined the correct path for national liberation by referring to western models while considering the specific characteristics and practical conditions of the country.
She believed that Ho Chi Minh's thought is the foundation for Vietnam's achievements, as the country has transformed from a nation that suffered significant losses to a country that has achieved freedom, independence and built its own identity. Vietnam has become a peaceful and hospitable nation.
She said President Ho Chi Minh selectively chose and decided on the most suitable approach to liberate the nation and achieve freedom, rather than rigidly applying western models. She added that it is also the approach taken by FTW in its activities in Vietnam.
Founded in 2002 in the UK, FTW sent over 100 Vietnamese doctors to leading hospitals in the UK, Australia, Canada and the US for training. The FTW also funded remote medical equipment and technology for craniofacial surgical centres in Vietnam, with a total value of GBP 2.4 million (USD 3 million).
Over the next five years, FTW plans to support 40,000 craniofacial surgeries for children performed by Vietnamese doctors. It also aims to send 200 Vietnamese doctors for further training abroad while continuing to fund medical equipment and telemedicine technology.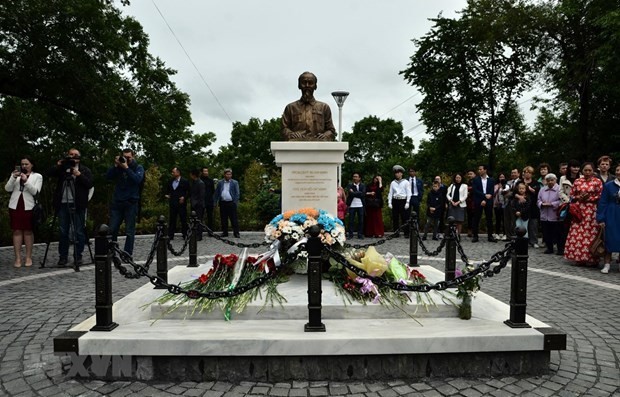 President Ho Chi Minh Monument in Vladivostok. Photo: VNA
Meanwhile, Aleksandr Sokolovskyi, a scholar of Vietnamese studies, head of the Department for South and Southeast Asian Countries at Russia's Far Eastern Federal University's Institute of Oriental Studies and Honorary Chairman of the Russia-Vietnam Friendship Association in Primorye province, said President Ho Chi Minh has had a profound impact on the Vietnamese people. He is a shining example of dedicating his entire life to liberating the people from colonial rule.
At President Ho Chi Minh's Monument at Montreau park. Source: Ha Nguyen
On May 17, a delegation from the Vietnamese Embassy in France and leaders of France's Montreuil suburban city offered incense to the late President at Montreau Park.
Deputy Mayor Djeneba Keita paid tribute to President Ho Chi Minh who dedicated his life to fighting for Vietnam's independence and freedom as well as for the enduring values of humanity.
Emphasizing the solid foundation of the relationship between the French and Vietnamese peoples in historical friendship and filled with charity, Djeneba affirmed that the city will continue to expand cooperation and deepen relations with Vietnam in many new fields.​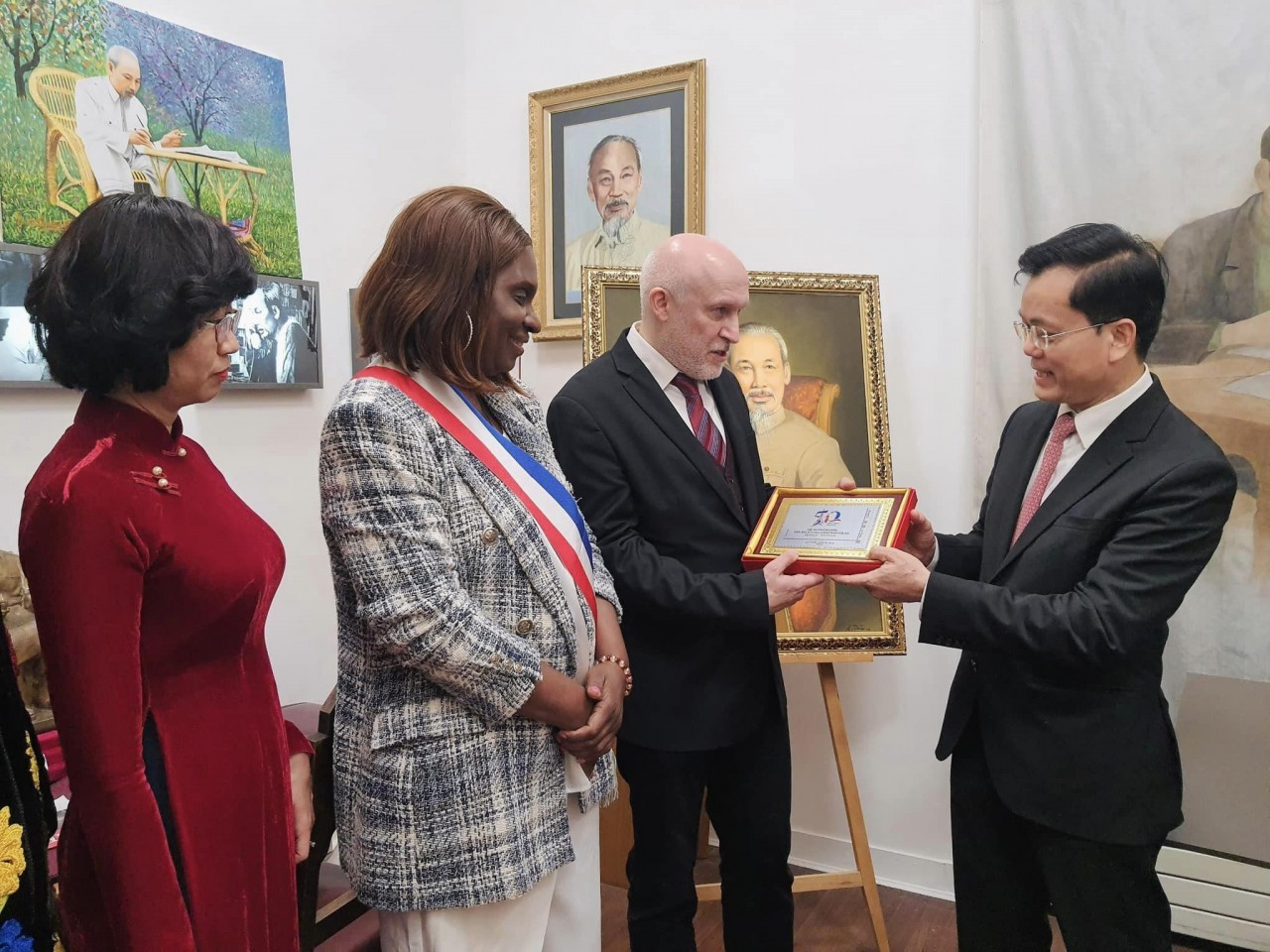 Deputy Foreign Minister Ha Kim Ngoc and the Embassy delegation visit the museum space about Karl Max Exhibition and the progressive human values of the French revolution 1789. Source: Ha Nguyen
Later, they visited the Ho Chi Minh Space located within the Living History Museum where numerous artifacts and materials related to him are preserved.
Montreuil is a city with many special monuments associated with the imprints of countries, including Vietnam. The people of Montreuil, as well as many peace-loving French people, greatly admire President Ho Chi Minh, the hero of national liberation, the outstanding cultural figure of Vietnam, a symbol of the ceaseless struggle for peace progress, cooperation, and friendship of Vietnam, and the world.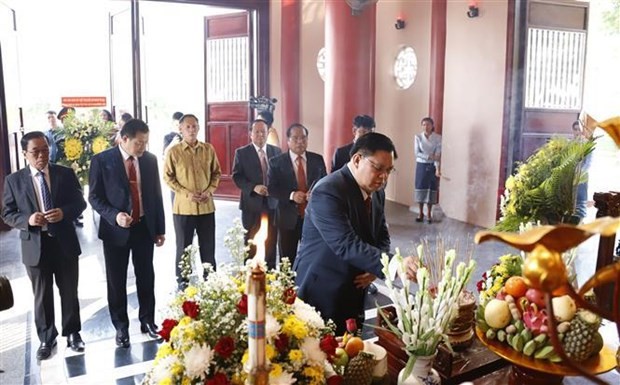 At an incense-offering ceremony in Laos. Photo: VNA
An incense-offering ceremony was also held in Ho Chi Minh memorial site in Xieng Vang village, Nongbok district, the central Lao province of Khammoune.
On the occasion, the delegates also offered incense and laid a wreath at the Laos-Vietnam Fighting Alliance Monument.
Speaking at the special programme "Diplomatic World" of Venezuela's Radio Mundial on May 17, Vietnamese Ambassador to Venezuela Vu Trung My affirmed that Vietnam always values traditional solidarity and friendship with friends and important partners in Latin America, including the Vietnam-Venezuela comprehensive partnership.
He committed his utmost efforts to push forward the bilateral ties, especially at a time when the two nations are looking toward the 35th anniversary of bilateral diplomatic ties next year.
Vietnam's Level-4 Field Hospital No.2 at the UN peacekeeping mission in South Sudan (UNMISS) debuted a flagpole on May 17 in celebration of birthday of President Ho Chi Minh, VOV reported.
A flagpole is inaugurated on May 17 in celebration of the 133rd birthday of President Ho Chi Minh. Photo courtesy of ietnam's Level-4 Field Hospital No.2 at the UN peacekeeping mission in South Sudan
The site located at the entrance of the working area of the field hospital was completed in just one week.
At the inauguration ceremony, Brigadier Emmanuel Rugazora, commander of Unity area, congratulated those working at the site on the success of the Vietnamese Field Hospital, offering plenty of compliments to the flagpole site.
He also sent his best wishes to staff at the hospital, as well as all Vietnamese people on the occasion of President Ho's 133rd birthday.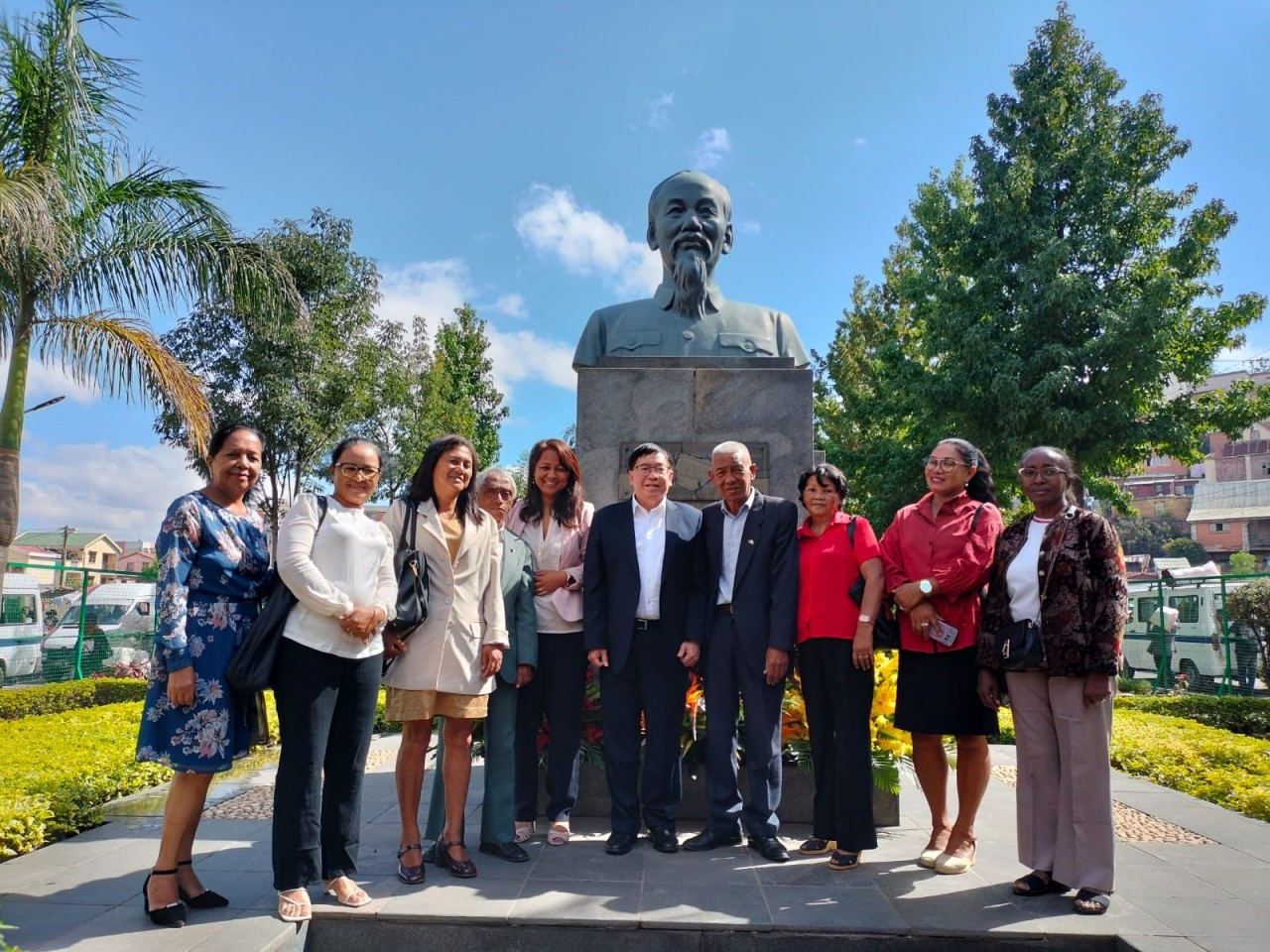 At President Ho Chi Minh's Monument in Antananarivo, the capital and largest city of Madagascar. Source: Thai Duc Khai
Similarly, on May 16, Vietnamese Ambassador to Mozambique and Madagascar Pham Hoang Kim and the Vietnamese community offered incense and laid flowers in front of President Ho Chi Minh Monument at the Square named after him in the capital Antananarivo.
The statue in Ho Chi Minh Square is cast in bronze, placed on a marble pedestal, with a height of 3.4m, below is a bronze sign engraved with his famous saying 'Nothing is more precious than independence and freedom'
In 2003, the Government of Madagascar placed a statue of Uncle Ho in the square named after Ho Chi Minh in the center of the capital Antananarivo. There are only three monuments in the capital, a monument to the Madagascar patriot Jean Ralaimongo, a statue of Lenin and one dedicated to President Ho Chi Minh.