Iran's oil industry warned to be on alert after US threatens over cyber attacks
Iran's oil minister on Sunday (September 29) warned the oil industry to put on alert to physical and cyber attacks following the threat from the US after the Saudi oil attacks.
Iran's oil minister on Sunday (September 29) warned the oil industry to put on alert to physical and cyber attacks following the threat from the US after the Saudi oil attacks.
Photo: Business Standard
According to IRNA, on Sunday (September 29), Iranian Oil Minister Bijan Zangeneh gave a caution that Iran's oil industry prepared against the physical and cyber attacks from the US because of the tension between two countries escalated after the Saudi Aramco's oil plants attacks.
He stated that "all companies and facilities of the oil industry should be fully alert to physical and cyber threats as sanctions target the petroleum industry", as Oil Ministry's news agency SHANA quoted.
He also criticized the US's sanctions on Iranian oil industry which damaged the economy of this country.
The US had threatened to carried out the cyber attacks against Iran as the US and its allies had accused Iran on taking part in the Saudi Aramco's oil facilities attacks on September 14 which had been claimed by the Houthi rebels, an alignment of Iran in the Yemeni civil war.
The US Secretary of State Mike Pompeo had wrote on his Twitter "Tehran is behind nearly 100 attacks on Saudi Arabia while Rouhani and Zarif pretend to engage in diplomacy. Amid all the calls for de-escalation, Iran has now launched an unprecedented attack on the world's energy supply. There is no evidence the attacks came from Yemen".
However, Iran denied this condemnation, as Iran's Foreign Ministry Abbas Mousavi said "such useless accusations... are meaningless and not comprehensible and are pointless".
Iran also had a check on security of key Gulf oil and gas facilities after getting an alert from the US on September 21. Head of civil defense, Gholamreza Jalali shared the information that "our enemies consider the cyber domain as one of the main areas of threat against nations, especially Iran".
The US threatened Iran over not only cyber attacks, but also the military action. Especially, the US had recently deployed missiles and troops in Saudi Arabia to challenge Iran
Moreover, Trump had even demonstrated Iran as a "bloodlust" and called other countries to respond to Iran at UN General Assembly on September 24 for the Iran's involvement in the Saudi oil attacks.
He addressed "all nations have a duty to act. No responsible government should subsidize Iran's bloodlust. As long as Iran's menacing behavior continues, sanctions will not be lifted, they will be tightened".
Iran reacted by saying want to create a "coalition of hope" to "secure freedom of navigation, flow of energy and the regional stability in the Persian Gulf".
Even though Saudi Arabia agreed with the US to blame Iran for the attacks, it would not seek to war with Iran.
On Monday (September 30), Saudi crown prince Mohammad bin Salman has warned that "if the world does not take a strong and firm action to deter Iran, we will see further escalations that will threaten world interests" and "oil supplies will be disrupted and oil prices will jump to unimaginably high numbers that we haven't seen in our lifetimes".
Nevertheless he expressed his preference for a peace rather than military conflict because it may affect the world economy "the political and peaceful solution is much better than the military one".
Reuters, Aljazeera, IRNA ( Van Nguyen )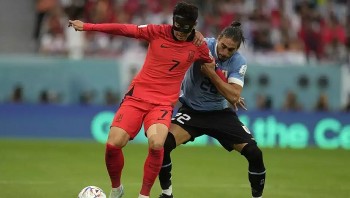 World
Both South Korea and Ghana are searching for their first wins at this year's World Cup. Ghana are facing the prospect of an early elimination from World Cup 2022 Group H when they travel to the Education City Stadium to face South Korea on Monday.