Italian cultural hallmarks thrive in Vietnam
Myriad events celebrating the culture and traditions of Italy and its relations with Vietnam are held every year.
Myriad events celebrating the culture and traditions of Italy and its relations with Vietnam are held every year.
'Angels of Italy' event (Photos: Hoa Quynh)
At the many events she attends, Ambassador of Italy in Vietnam, H.E. Cecilia Piccioni, often dons an ao dai, Vietnam's traditional dress. She fell in love with the outfit the first time she saw it, not only for its feminine beauty but also the tradition behind it. A respect for tradition is one of the many things Vietnam and Italy have in common, with a belief it be honoured, preserved and promoted. Most of the activities the embassy conducts provide rich feasts of culture for both Vietnamese and expats and deepens the understanding and relationship between the two country's peoples.
As soon as she took up her post in Vietnam in 2015, Ambassador Piccioni nurtured an ambition to create a typical Italian corner in Hanoi.
This was soon reflected in celebrations of the 70th anniversary of Italian National Day in 2016. With the theme 'Angels of Italy', the event turned Le Phung Hieu Street, where the embassy is located, into a fashion hotspot and featured designers from the world's 'kingdom of fashion'. Visitors were very much impressed by the collection of ao dai from Italian designs, which were worn by the ambassador and the 'little angels' - the daughters of Italians at the embassy and some invited guests. The ao dai were then sent to Italy and studied at IUAV, a university of architecture in Venice.
Fashion has received a lot of attention from the embassy. It has been involved in major fashion events in Vietnam in recent years, such as Fashion Week and the Ao dai Festival. An Italian Design Day was organised in Hanoi, joining some 100 locations worldwide in introducing the history and evolution of Italy's design industry under an initiative from the country's Ministry of Foreign Affairs and International Cooperation. Around 100 'ambassadors' of Italian culture - designers, entrepreneurs, media, and communicators and teachers - joined a panel discussion on Italian design and its unique blend of factors.
World's masterpiece of fine art created by Italians
The highlight of Italian Design Day was the '50+! The Great Industry Game' exhibition, which showcased designs and items in various styles during different eras from brands such as Piaggio, Ariston, Carvico and CAE. It was 'a journey back in time through iconic items that shaped "Made in Italy" as we know it today - the costumes, history, economy and way of life of Italian society,' according to 'Ambassador of Design' Barbara Trebitsch.
Together with representatives from iconic Italian brands and many outstanding Vietnamese design brands, the 'Ambassador of Design' also participated in a conference on fashion, architecture, and industrial design at the National University of Civil Engineering. 'The strength of Italian designers is respecting tradition but always trying to change and innovate,' she said. 'We don't rest on our heritage. Vietnam has the potential to develop its fashion and design industry but designers need to be more open and develop their own ideas.'
2017 saw a series of initial events introduced by the embassy. To celebrate the 71st anniversary of the Italian Republic, for the first time in Asia an exhibition featuring an unprecedented combination of the best of Italian Renaissance masterpieces and technology was unveiled to the Vietnamese public - an exclusive collection of 35 digital artworks from one of the most prominent Italian painters of the 15th and 16th centuries: Raffaello Sanzio, known as Raphaël.
Thanks to the combination of old and new, visitors had the chance to admire and learn about art from the Italian Renaissance, according to Professor Vo Quang Trong, Director of the Vietnam Museum of Ethnology, where the exhibition was held.
In the painting area were many exhibitions of Italian painters in Vietnam. The latest, however, was something special. 'Home' featured 30 artworks depicting the home and the environment by Italian painter Laura Federici and Vietnamese painter Nguyen Dam Thuy, after Laura lived and worked with Thuy in her house in HCMC.
While Laura had the chance to experience Vietnam in real life, Thuy learned a great deal about culture and art. Neither speak English, but they still developed a connection through their creations and shared ideas and emotions as they painted. 'Maybe because we are women who respect the idea of "home" and are concerned with the environmental issues that influence our planet, our common "home",' Thuy said at the exhibition.
Their 'duo-paintings' reflect their evolution of colours and forms and were inspired, influenced and enriched by each other. Their works were dedicated to the watery landscapes of canals in the Mekong Delta, floating houses along rivers, and images of Rome under rainfall.
More than an art exhibition, 'Home' was an experimental journey through feelings and creativity celebrating the values of understanding, acceptance and integration, which have always been at the core of the friendship between Italian and Vietnamese people, according to Ambassador Piccioni. It was also colourful and joyful, raising awareness about the need to protect the Earth. Vietnamese painters will also be sent to Italy under the project.
As food is another source of pride for Italians, the Italian Food Festival has been held annually in Hanoi. In addition, last year the first Italian Wine Roadshow in Hanoi showcased some 200 wines from 65 labels, including major names such as Gaja, Masciarelli, Allegrini, Jermann, Fontanafredda, Ca' del Bosco, Donnafugata, Frescobaldi, Masi, Nals Margreid, Planeta, and Bellavista.
The series of events were in preparation for the highlight at the end of the year, the first Italy - ASEAN Week. With the theme 'Vivere all'italiana' (living the Italian style), it was organised simultaneously in many ASEAN countries to enhance the relationship between Italy and the region and introduce Italy and its culture and people.
In Hanoi, an original 'Italian Trail' and typical Italian squares were set up in the city centre. Visitors enjoyed a unique experience in Italian-Asian gastronomy prepared by Italian chefs as well as a classical music performed by Italian and Vietnamese pianists. There were also exhibitions from Italian names such as Ariston, Maserati and Piaggio, and conferences on science and the Italian language held within the event's framework, helping young Vietnamese approach Italian culture and discover the strengths of Italian fashion, cinema, design, art, cuisine and sport and the values that shaped its history and inspired Italian contributions to the development of Western civilisation and the international community.
The Italy - ASEAN Week welcomed several hundred thousand visitors throughout the region, according to Ambassador Piccioni. 'We were very happy to see Vietnamese, from kids to elders, showing interest in the activities and having fun,' she said.
'We were very happy to see Vietnamese, from kids to elders, showing interest in the activities and having fun,' said Ambassador Piccioni (source: dep.com.vn)
As 2018 marks the 45th anniversary of relations between Italy and Vietnam, even more interesting activities are scheduled to take place, Ambassador Piccioni said. More Italian chefs and artists will be invited to Vietnam, and the best works from Gioachino Rossini, one of the world's great opera composers, will be performed 150 years after his passing.
The first Italian movie week will also be held, following the success of an Italian movie festival in 2015. New Italian movies will be screened, so viewers stay in touch with the modern life and culture of Italy via cinema.
Fashion, architecture and environment events are also planned, as Vietnam's textiles sector and transport infrastructure are developing rapidly and the country is one of those most vulnerable to climate change and natural disasters. 'Together with similarities in traditions and culture, through these events we want to not only bring fun to Vietnamese but also support the country in its sustainable development,' Ambassador Piccioni said. 'Sustainable development has been one of the most important pillars of the UN in recent years. As a member, Italy also pursues goals and supports other countries in their efforts.'/.
( VNF/The Guide )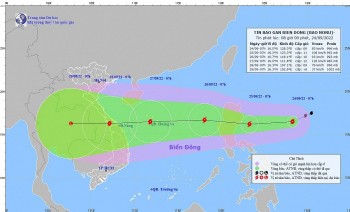 National
Vietnam News Today (Sep. 25): UN backs Vietnam's development priorities; Typhoon Noru heads toward central Vietnam; Vietnam maintains efforts to fight IUU fishing; Three Vietnamese airlines named among world's best air services.