Italy reports second death among 30 COVID-19 cases
Both Italy and Iran reported more deaths among new cases of coronavirus on Saturday (Feb 22).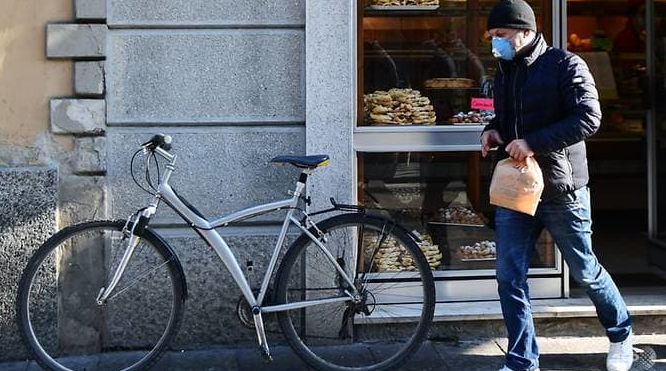 A customer wearing a protective respiratory mask leaves a bakery in Codogno, southeast of Milan, on February 22, 2020. (Photo: AFP / Miguel MEDINA
According to Italian news agency ANSA, the death of a woman in the northern region of Lombardy follows that of a 78-year-old man who died on Friday. The victim was a female resident in Milan's Lombardy region, ANSA said. Lombardy, Italy's financial and industrial heart, is the most stricken region with 27 cases.
There are 30 cases reported so far as the outbreak spreads in the north of the country.
The new wave of cases in Italy's northern regions have triggered shut-downs of shops, offices and community centres.
Local authorities in towns in Lombardy and Veneto ordered schools, businesses and restaurants closed, and to cancel sporting events and Masses.
An initial ordinance penned by the health minister imposed an effective lockdown on 10 towns around Lodi, southeast of Milan. But individual cities outside that core cordon area, such as Cremona, issued their own restrictions canceling school after confirming cases.
Meanwhile, the condition of the first infected patient in Lombardy, a 38-year-old man from the town of Lodi who fell ill after meeting a friend who recently visited China, has stabilised.
After a meeting the chiefs of Italy's civil protection agency, Italian Prime Minister Giuseppe Conte said on Saturday the government was ready to consider further measures.
Italy was the first euro zone country to suspend all direct flights to and from China, provoking the ire of the Beijing government. It took the decision after two Chinese tourists from Wuhan tested positive in Rome in late January.
Authorities urged calm, but acknowledged that the clusters were alarming given people were being infected who had no known contact with anyone directly related to China. The first man to be confirmed as infected had met with someone who had returned from China but remains without symptoms.
Separately Saturday, 19 Italians who spent more than two weeks quarantined on a virus-stricken cruise liner in Japan landed at Rome's military Pratica di Mare airport. They had been stranded on the DiamondPrincess since Feb. 5.
Following the first health checks and decontamination process, the passengers were transferred to the military campus of Cecchignola where they will spend a 14-day isolation period.
Five death in Iran
Meanwhile, Iran reported one death among 10 new cases of coronavirus, bringing the total number of deaths to five and infections to 28.
The COVID-19 outbreak first appeared in Iran on Wednesday, when officials said it killed two elderly people in the Shiite holy city of Qom.
They were the first confirmed deaths from the disease in the Middle East.
Since then, Iran has carried out tests on 785 suspected cases, Jahanpour said.
"Most of the cases are either Qom residents or have a history of coming and going from Qom to other cities," the health ministry spokesman said.
Health officials called on Thursday for the suspension of all religious gatherings in Qom - a centre for Islamic studies and pilgrims.
Following the announcement of the deaths, Iraq on Thursday clamped down on travel to and from the Islamic republic.
The health ministry in Baghdad said people from Iran had been barred from entering Iraq "until further notice".
Kuwait's national carrier Kuwait Airways also announced it would suspend all of its flights to Iran.
The United Arab Emirates last month became the first country in the Middle East to report cases of the coronavirus strain. It now has 11 cases.
Fears mounted Saturday over the growing spread of infections outside China from the new coronavirus outbreak, as the World Health Organization warned of a shrinking window to stem the spread of the deadly disease.
He cautioned that if countries did not quickly mobilise to fight the reach of the virus, "this outbreak could go in any direction. It could even be messy."
The outbreak has now claimed 2,345 lives in China and infected more than 76,000 people.
The number of new cases in China outside Hubei has been generally declining, although new outbreaks have emerged in several prisons and hospitals.
On Saturday Chinese authorities reported nearly 400 fresh cases nationwide, less than half the previous day and just 31 outside Hubei.
In the latest unprecedented measure, state media said Wuhan officials were bringing in seven river cruise ships to house medical workers.
The People's Daily said that the ships will provide another 1,469 beds and help accommodate some of the tens of thousands of medical workers brought into the city to help treat coronavirus patients./.