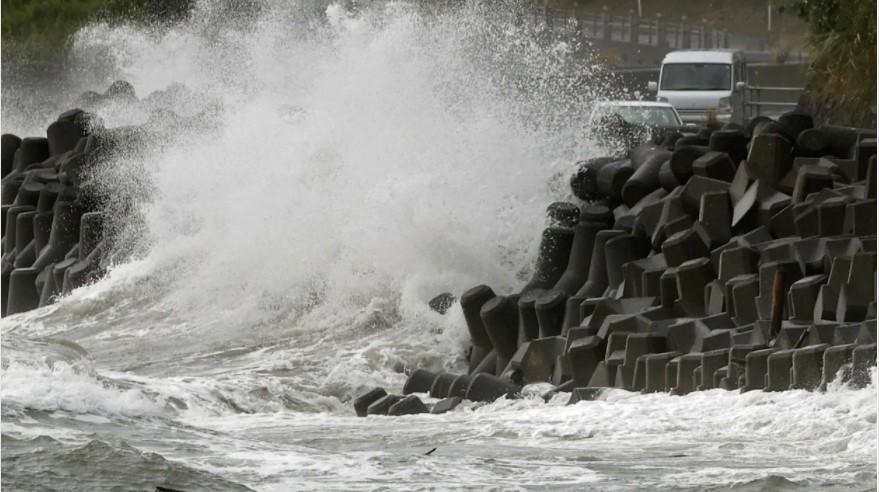 The Haishen typhoon hit Japan (Photo: Top News Today)
Haishen remains a violent typhoon and heading towards Korea. It is blasting across the Kyushu islands with destructive winds, storm surge, and torrential rainfall. Its next impact is a damaging landfall near Busan, South Korea over the next 12 hours. Flooding and damaging winds will spread across a large part of the Korean peninsula and northeast China until Tuesday.
Typhoon Haishen is maintaining its violent strength while moving along the western portions of Japan's Kyushu island. Destructive winds, storm surge, and flooding are underway.
Haishen hit the Ryukyu Islands earlier on Sunday, leaving severe damage and thousands without power. It is now expected to continue on its way north-northwest and make landfall in the Korean Peninsula on Monday morning.
Satellite/radar analysis
Typhoon Haishen has a large eye, which is very well-visible on both satellite and radar imagery. Radar scan taken in the early Monday morning reveals the center was located along the western portions of Kyushu island. The eastern eyewall was grazing the island.
(Photo: Severe Weather Europe)
The satellite presentation of Haishen indicates that it likely went through an eyewall replacement cycle (EWRC) on Sunday into Sunday night, but the structure has been able to maintain a compact system.
Attached is the ASCAT satellite pass over Haishen, located south of Korea on Sunday. The analysis is showing the large wind field of typhoon Haishen as it passes west of the Kyushu island.
Advanced Dvorak Technique (ADT) estimates are indicating that Haishen's tropical-storm-force 50-knot winds are spread across the 75-90 miles radii around the center. Haishen also has 40-55 miles radii of hurricane-force 64-knot winds.
Hurricane-force winds are grazing the western portions of Kyushu island, Japan. The minimum central pressure is around 940 mbar.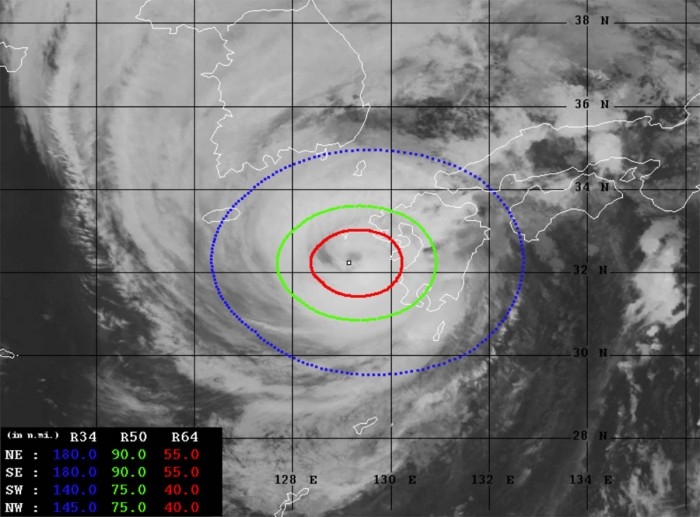 (Photo: Severe Weather Europe)
While Haishen is now nearing Korea, it is in a gradually weakening trend. However, it remains a very powerful and large typhoon of a strong Category 2 strength. The peak intensity of 135 knots (155 mph) was on Friday.
Japan raises caution alert as typhoon rages
Japanese Prime Minister Shinzo Abe has urged people in the southern islands to exercise the utmost caution as Typhoon Haishen blows in, BBC reported.
The storm is pummelling the region with high winds and drenching them with heavy rain, knocking out power to tens of thousands of homes. Some eight million people were asked to evacuate in the path of the storm.
After passing over Japan, Haishen is expected to make landfall on Monday in South Korea, which is also on alert.
The storm comes days after Maysak, one of the region's strongest typhoons in years.
What effect is the typhoon having on Japan?
Nearly 430,000 homes in the Kyushu region were without power as of 03:00 local time Monday (18:00 GMT Sunday), Japanese public broadcaster NHK reported.
Haishen has led to the closure of factories, schools and businesses across western Japan. Hundreds of flights and train services have also been canceled.
"Record-level rainfall is expected. While it weakened and shifted slightly as it approached land, Haishen remained large and extremely strong" the director of the Japan Meteorological Agency, Yoshihisa Nakamoto said. "It may cause landslides or it could cause even large rivers to flood."
Surging tides, he added, could cause widespread flooding in low-lying areas, particularly around river mouths.
Speaking at a meeting with cabinet ministers, Prime Minister Abe issued an appeal.
"To all citizens," he said, "especially those who are living in areas which have a high possibility of river flooding or high tides, please stay alert to the information from your local authorities. And please take immediate action, to ensure your safety, to protect your life."
The typhoon has also forced Japan's coast guard to suspend its search for missing sailors from a cargo ship that sank during Typhoon Maysak. The Gulf Livestock 1 was carrying 43 crew members and 6,000 cows when it went missing on Wednesday. Three crew members were rescued alive.
The Central Disaster and Safety Countermeasure Headquarters raised the country's typhoon warning level to four - the highest - at 19:00 (10:00 GMT) on Sunday.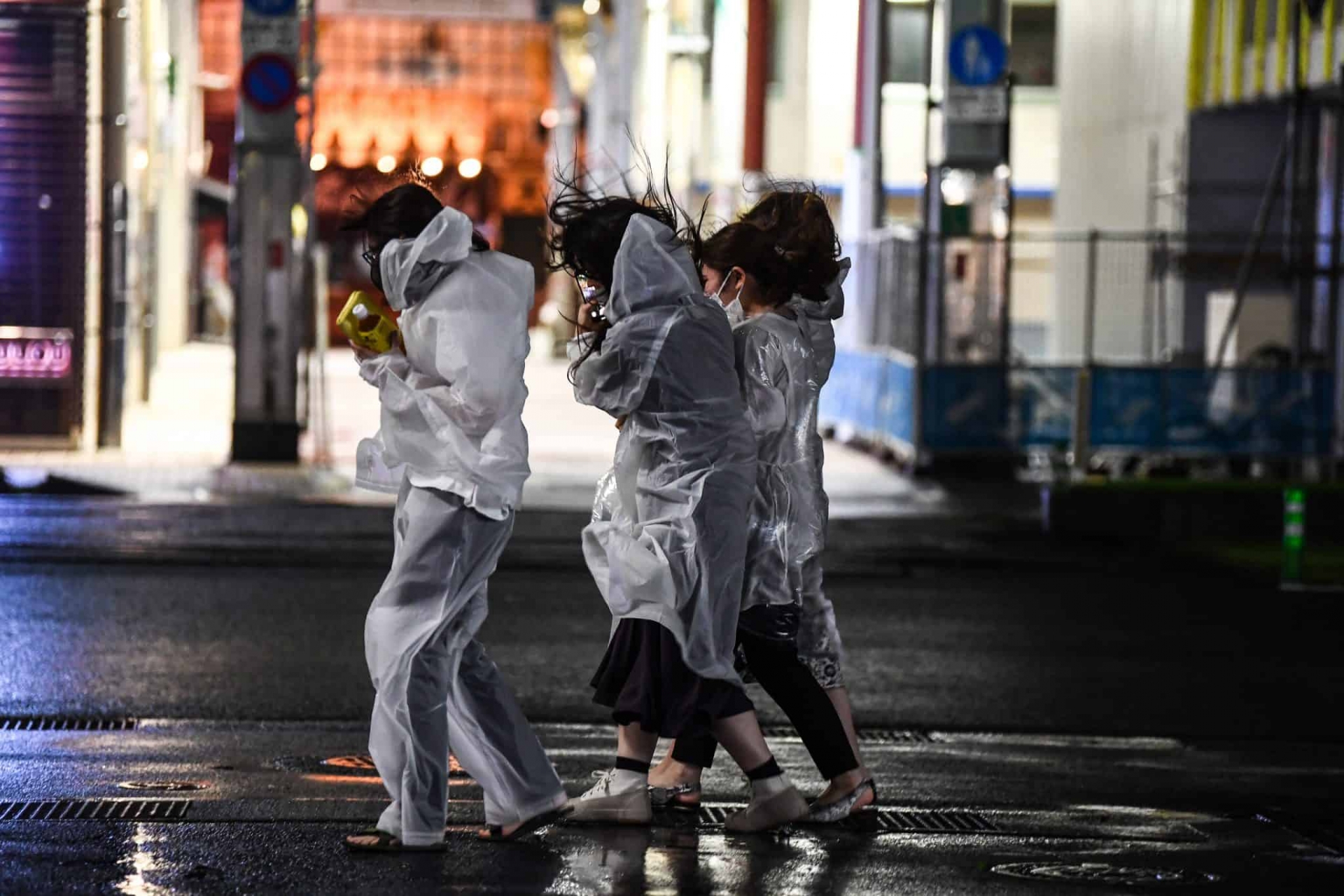 (Photo: Ammon Free Press)
The Korea Forest Service raised the landslide alert to its highest level.
Its chief, Park Chong-ho, told Yonhap news agency: "Huge damage is expected as the typhoon this time is forecast to be more dangerous than the previous ones that affected South Korea shortly after the end of the monsoon season."
The southern island of Jeju is forecast to fall under the influence of Typhoon Haishen from Sunday night through Monday morning. By 9 a.m. Monday, it will be just 80 kilometers east of Busan, the Korea Meteorological Administration said.
Haishen, on course to pass through Japan later Sunday, is categorized as a "very strong" typhoon with a maximum wind speed of 45 meters per second and an atmospheric pressure of 945 hectopascals at its center. As of 4 p.m. Sunday, it was 210 kilometers southwest of Kagoshima, Japan, advancing at a speed of 30 kilometers per hour.
According to the Central Disaster and Safety Countermeasure Headquarters, Typhoon Maysak caused more than 120,000 households, many on Jeju Island or in Busan and South Gyeongsang Province, to suffer power outages. More than 850 counts of property damage were reported, with 563 of them concerning private property, Korea Herald reported.
Typhoon Haishen is forecast to move close to Busan on Monday morning, according to CNN.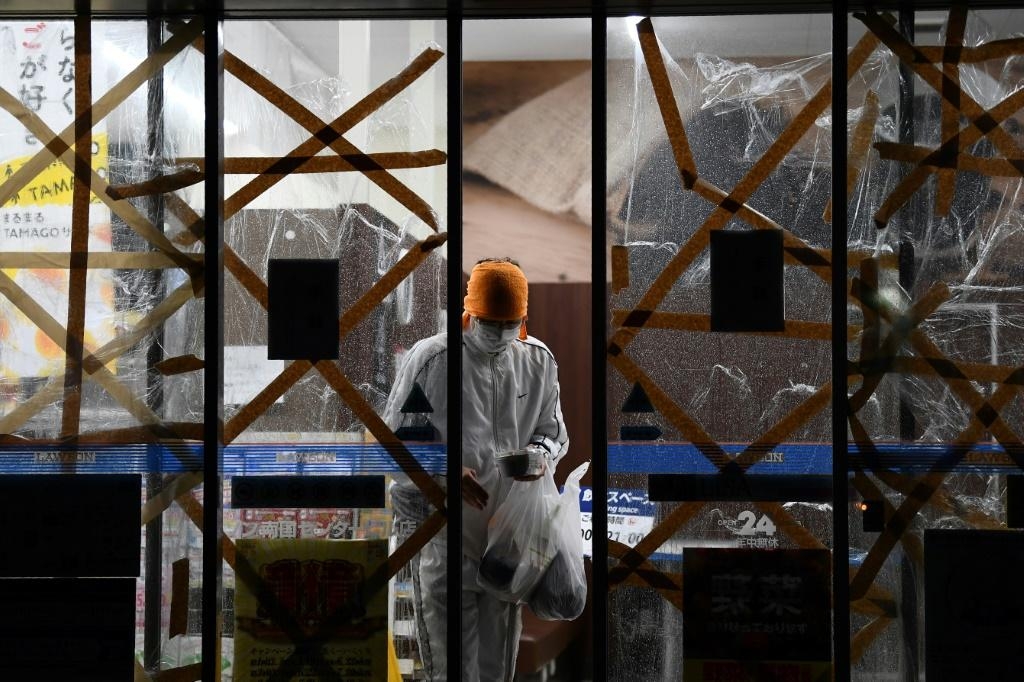 South Korea is bracing for the strong typhoon (Photo: International Business Times)
As reported by Washington Post, South Korea and the Japanese island of Kyushu are just cleaning up after Typhoon Maysak, which struck the Korean port city of Busan and sunk a cargo ship in the East China Sea, with 43 crew members and 5,800 cattle aboard.
As Typhoon Maysak came ashore, a barometer at Tongyeong, South Korea, recorded a minimum air pressure reading of 952.5 millibars, according to Mori, the lowest pressure on record for a typhoon in South Korea other than the 951.5 millibars set during Typhoon Sarah in 1959. In general, the lower the pressure, the stronger the storm.
The prospect of yet another typhoon, this one possibly turning out to be even stronger than Maysak, is ominous for those in North and South Korea who have seen flooding rains, wind damage and storm surge flooding from the storms so far this season. Despite the persistent storm track into southwestern Japan and the Korean Peninsula, Typhoon Haishen could dodge the only main impediment to its potential intensity — a cold wake of water left behind from the previous storms.
Haishen is moving further east than Maysak did, over waters that are unusually warm, around 86 degrees, offering plenty of energy and moisture for an intense typhoon.
Jasmine Le