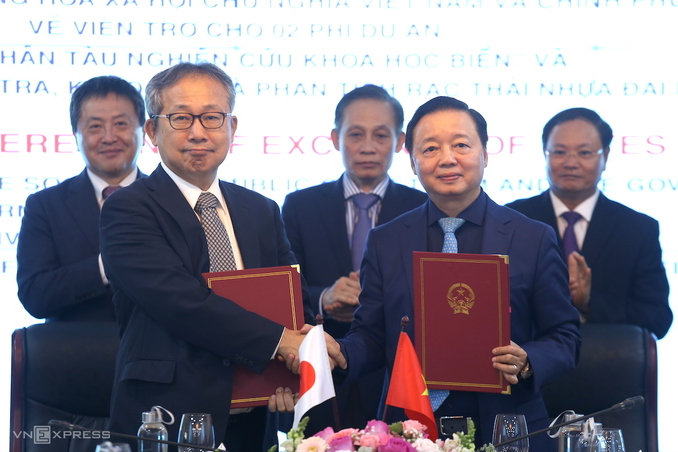 Vessel and marine plastic waste monitoring equipment with a total value of JPY 1,4 billion (nearly USD 9,267,000) is gifted to Vietnam by Japan to increase marine research capacity. (Photo: VN Express)
The two non-refundable ODA, named "Research vessel reception" and "Support of equipment for marine plastic waste investigation, survey, and analysis" were given to Vietnam by Japan in the signing ceremony of an exchange note between the Embassy of Japan to Vietnam and Vietnam's Ministry of Natural Resources and Environment on the afternoon of April 23.
Japan Ambassador to Vietnam, HE. Yamada Takio said that the ODA was the result of more than three years that the Ministry of Foreign Affairs requested aid to enhance the marine science research capabilities. He hoped that the research vessel would contribute to basic surveys and surveys related to Vietnam's marine environment and resources, helping to implement Vietnam's strategy for sustainable economic development to 2030.
Regarding the support of equipment for marine plastic waste investigation, survey, and analysis, Ambassador Yamada Takio affirmed that marine plastic waste was badly influencing marine biology, human life, and industries such as fishing, tourism, and sea transportation. "This is a global problem that humanity has the responsibility to solve," Ambassador Yamada Takio said.
"The gift will help Vietnam to improve its monitoring capacity, thereby properly making policies on sea and islands and solving the problem of marine plastic waste," he added.
Mr. Le Hoai Trung, head of the Party Central Committee's Commission for External Relations said that Vietnam was a marine country, but for many years it had no proper research vessel. Therefore, the Japanese sponsorship would help improve Vietnam's capacity in an important area, which was maritime.
"The Ministry of Natural Resources and Environment directly went to Japan to check the ship and its equipment, as well as promote the procedures settlement so that Vietnam could receive the ship", Trung said and expressed his wish that Japan would continue to support Vietnam in the maritime research.
In the coming time, the Vietnam Administration of Sea and Islands will be assigned by the Ministry of Natural Resources and Environment to work with Japanese agencies to receive and transfer the vessel and equipment, as well as train experts.
Valerie Mai