Japanese Businesses Support Vietnamese People in Difficulties
During two years of pandemic and lockdowns, many Vietnamese living and working in Japan, had a difficult time because of reduced income, or job loss. Understanding the concerns of the Vietnamese community, a number of Japanese businesses have timely provided support.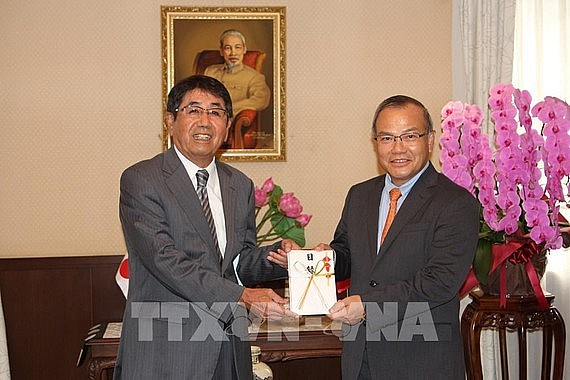 A Japanese business representative gives support to the Vietnamese community in Japan to Ambassador Vu Hong Nam during the Covid-19 pandemic in 2021. Photo: VNA
Some Japanese businesses have timely provided support to Vietnamese people facing difficulties because of Covid-19.
One of those businesses is GoWell, a job agency based in Tokyo. This is a familiar address for many Vietnamese, especially recent graduates from Japanese universities.
Head of GoWell Hidekazu Matsuda said that the company knows that many Vietnamese people in Japan have lost their jobs, especially a large number of Vietnamese graduates who cannot find jobs because Japanese businesses are in difficulties. Concerned about this, the company's leaders have decided to focus on the highest support to connect businesses that need to recruit labor with Vietnamese human resources.
Understanding the difficulties of Vietnamese people looking for work in Japan, GoWell only receives the brokerage fee from the labor-receiving enterprises to maintain the company's operations.
According to some Vietnamese people who have received new jobs through GoWell, in the support process, the company not only shows professionalism but also pays great attention to working conditions and remuneration. They choose to introduce and connect Vietnamese people with suitable recruiting enterprises.
Advance Co., Ltd., based in Ibaraki prefecture, has also provided practical support to the Vietnamese community. In September 2021, Satou Takashi, head of Advance Co., Ltd., gave the Vietnamese Ambassador to Japan Vu Hong Nam a donation to support Vietnamese people in need.
These are two of many Japanese businesses that have supported Vietnamese people in difficulty through various forms such as cash, food, food or accommodation.
The Japanese government also has timely policies to support the ex-pat community living here, including the Vietnamese. The Hello Work website operated by the Japan Employment Service Center has added support in Vietnamese. They regularly update announcements in Vietnamese to support workers who have lost or quit their jobs, and have difficulty finding new jobs and maintaining their lives in Japan.
From 2020 until now, Vietnamese-owned enterprises with business licenses to operate legally have received subsidies from local authorities. Pham Dung, the owner of a restaurant in Saitama prefecture, said he has received eight subsidies so far.
The amount of each subsidy is about 200,000-550,000 yen (US$1,500-4,100) to help his family make ends meet during the business shutdown and reduced operating hours due to the pandemic.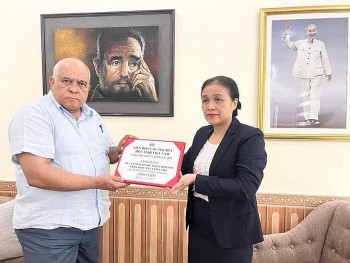 Focus
According to Cuba's News Agency Prensa Latina, on August 16, President of Vietnam Union of Friendship Organizations Nguyen Phuong Nga said that Vietnamese people will always stand by and support Cuba no matter what difficulties our friend is facing.