Japanese PM Fumio Kishida Begins Official Visit to Vietnam
Japanese Prime Minister Fumio Kishida arrived in Hanoi on April 30, beginning his two-day visit to Vietnam at the invitation of his Vietnamese counterpart Pham Minh Chinh.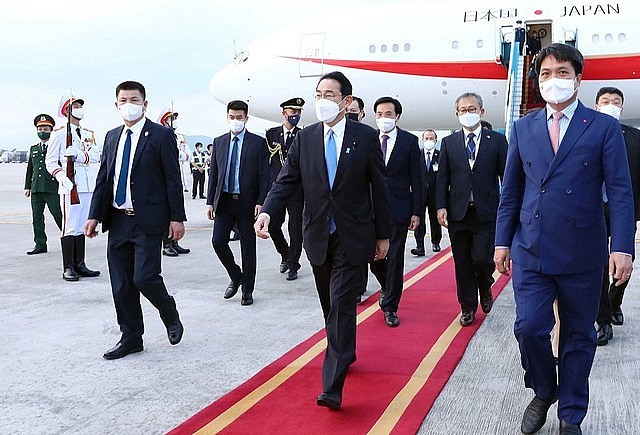 This is the first visit to Vietnam by Kishida in his capacity as the Prime Minister of Japan. Photo: VNA
The Vietnam visit is part of Kishida's Southeast Asia tour to realise Japan's vision for a free and open Indo-Pacific and enhance coordination on the ASEAN Outlook on the Indo-Pacific (AOIP), according to VOV.
This is his first visit to Vietnam after he took office last October.
While in Hanoi, PM Kishida is scheduled to hold talks with PM Pham Minh Chinh on May 1.
He will also have meetings with other senior Vietnamese leaders, including Party General Secretary Nguyen Phu Trong, State President Nguyen Xuan Phuc and National Assembly Chairman Vuong Dinh Hue.
Japan's NHK television channel cited Chief Cabinet Secretary Matsuno Hirokazu as saying that Kishida plans to discuss a broad range of topics with leaders of Indonesia, Vietnam, Thailand, Italy and Britain, including regional and global situations and bilateral relations.
He said Kishida will work to promote further cooperation with each country to realise a free and open Indo-Pacific.
The chief cabinet secretary went on to say that regional and global issues to be discussed will include the war in Ukraine and the situations in the East and South China seas, North Korea and Myanmar.
Vietnam-Japan relationship makes firm strides
Japanese Prime Minister Kishida Fumio. Source: Reuters
The relationship between Vietnam and Japan has made firm strides towards the opening of a new period, and is expected to grow further in the future, Japanese Ambassador Yamada Takio has said, cited by VietnamPlus.
In an interview with the press ahead of Japanese Prime Minister Kishida Fumio's visit to Vietnam from April 30 – May 1, the ambassador said the two countries have reaped considerable achievements across spheres since the trip to Japan by Prime Minister Pham Minh Chinh in November 2021, despite impacts of the Covid-19 pandemic.
Recalling the Japan trip by PM Chinh, the ambassador said the two Government leaders shared the view on the endless potential of the relationship which is not only bilateral but also regionally and globally strategic.
The "Towards the Strategic Partnership for Peace and Prosperity in Asia" joint statement and a list of cooperation projects have also been announced, he added.
Since PM Chinh's visit, the cooperation scope between the two countries has been expanded, from bilateral economy to politics and security, and regional and international issues.
According to the diplomat, despite limited investments globally due to the Covid-19 pandemic, Japanese investors are still interested in the Southeast Asian nation.
He cited the Vietnam-Japan investment promotion conference held on the occasion of PM Chinh's visit which saw the participation of 1,000 people, both online and offline, as an example. At the conference, 45 memoranda of understanding worth up to USD12 billion were inked, he said, attributing this to growth potential, political stability, outstanding human resources, and cultural closeness between Vietnam and Japan.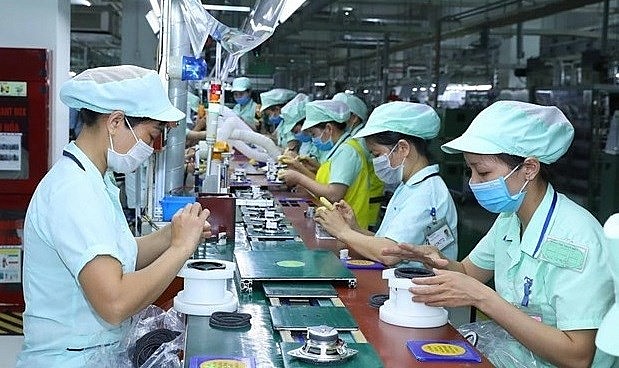 Despite limited investments globally due to the Covid-19 pandemic, Japanese investors are still interested in Vietnam. Photo: VNA
Lauding Vietnam's efforts in shifting towards green growth and cut carbon emissions, and PM Chinh's commitments to carbon emission neutrality by 2050 at the 26th UN Climate Change Conference of the Parties (COP26), Yamada suggested the country continue to draft initiatives to achieve the target.
The diplomat also highlighted the joint action plan on climate change towards carbon neutrality signed by Japanese Minister of the Environment Yamaguchi Tsuyoshi and Vietnamese Minister of Natural Resources and Environment Tran Hong Ha during PM Chinh's visit.
Japan will enhance comprehensive cooperation with Vietnam, covering policy, technology and finance, with the waste-to-energy plant project in Vietnam's northern province of Bac Ninh as an example.
Under the Joint Credit Mechanism (JCM), the Japanese Government will provide financial aid for Vietnam to purchase equipment using Japanese technologies, and further contribute to the circular economy in the country.
Up to 40 JCM projects have been approved in Vietnam so far, the ambassador pointed out, stressing that Japan will foster such kind of cooperation in the time ahead./.
Vietnam and Japan established diplomatic ties in 1973, and they raised their relations to a level of Extensive Strategic Partnership for Peace and Prosperity in Asia in 2014.
Japan was the first G7 country that recognized Vietnam's market economy status in October 2011. It is Vietnam's leading economic partner, the largest ODA donor, the third largest tourism partner, and the fourth largest trade partner.
Bilateral trade turnover reached US$42.7 billion last year. As of March 20, Japan had 4,828 valid FDI projects in Vietnam with a total registered investment capital of more than US$64.4 billion, ranking third after the Republic of Korea and Singapore.