JICA Supports Vietnam With Renewable Energy
The wind power projects in Quang Tri Province which the Japan International Cooperation Agency (JICA) jointly provided funding started commercial operation (COD) ahead of October 31, 2021.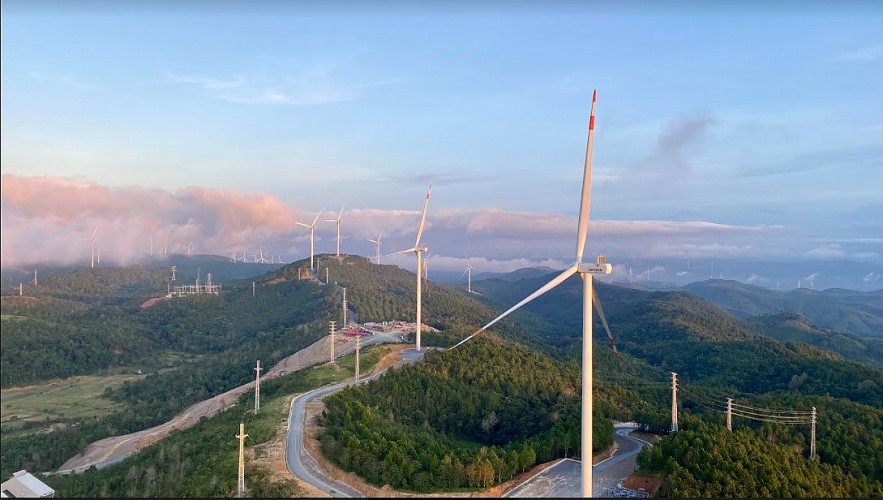 The wind power projects in Quang Tri Province. Photo: JICA
According to the announcement by the Vietnam Electricity (EVN) on November 3, 2021, 69 wind power plants (out of 106 plants) with a total capacity of 3,298.95 MW including three on-shore wind power projects in Quang Tri (Lien Lap, Phong Huy, Phong Nguyen) with a total capacity of 144MW, invested by Power Construction Joint Stock Company No. I of Vietnam and RENOVA Inc. of Japan, have been officially recognized for commercial operation (COD) since October 2021, and are eligible for the FiT (Feed-in Tariff) according to the regulations of the Government of Vietnam.
JICA signed a facility agreement on May 21, 2021 to provide up to US$25 million for the construction of these projects together with other co-sponsors namely the Asian Development Bank (ADB) and the Australian Export Finance (EFA).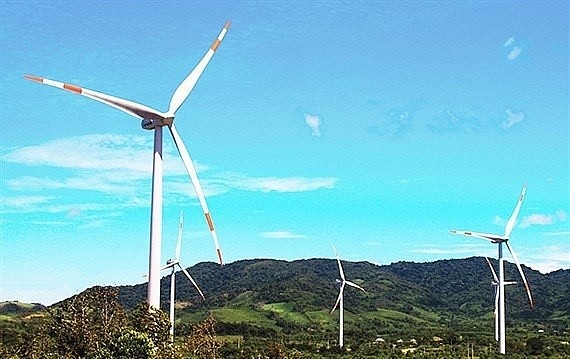 Quang Tri has great advantages for the development of green energy such as wind and solar power.
Accordingly, the Asian Development Bank (ADB), Export Finance of Australia (EFA), Japan International Cooperation Agency (JICA), and members of Power Construction JSC No.1 (PCC1), including Lien Lap Wind Power JSC, Phong Huy Wind Power JSC, Phong Nguyen Wind Power JSC, have signed a $173 million green loan to develop wind power projects with a total capacity of 144MW in Huong Hoa district, Quang Tri province.
This project is JICA's first funding for wind power generation in Vietnam, and is expected to serve as a model case for private sector wind power generation projects in the renewable energy sector in Vietnam, including those by Japanese and local companies.
This is the first and largest wind power project in Vietnam invested in by Japanese enterprises. In addition, the project also contributes to the implementation of the Initiative on Overseas Loan and Investment for ASEAN announced at the ASEAN-Japan Summit on November 4, 2019.
The project's investors are PCC1, a large Vietnamese company in the field of renewable energy development and electrical construction and installation, and RENOVA Inc., a leading Japanese renewable energy company.
According to PCC1, the projects will generate 422GWh of electricity and will help reduce 162,430 tonnes of CO2 emissions annually. Together with seven other renewable energy plants in operation, each year, PCC1 will help to avoid more than 500,000 tonnes of CO2 emissions, according to the Vir.
Moreover, the projects adhere to international environmental and social standards and will positively contribute to the enhancement of livelihoods and gender equality, as well as local socio-economic development.
JICA will continue to work with the private sector and international financial institutions to achieve the Sustainable Development Goals (SDGs) and support Vietnam to achieve the updated Nationally Determined Contribution (NDC) targets of greenhouse gas (GHG) emission control which is highlighted by the Vietnamese leader during the on-going COP 26.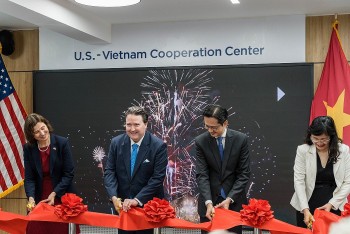 World
The Ministry of Foreign Affairs and the US Embassy co-organised a ceremony to inaugurate the US-Vietnam Cooperation Centre at the Diplomatic Academy of Vietnam's campus in Hanoi.