JICA: Consensus and Trust Keys to Vietnam's Successful Covid Control
Tanaka Akihisa, senior representative of the Japan International Cooperation Agency in Vietnam, believes public trust in the Government's Covid-19 response policies is instrumental to Vietnam's pandemic response
- What is your opinion on Covid prevention in Vietnam?
Vietnam has been applying strict measures to prevent Covid from the very beginning. These strategies have proved highly effective, particularly collaboration between relevant agencies. More importantly, people are aware of the risks of the pandemic and, mostly, cooperate with the authorities.
- What set Vietnam's Covid prevention strategies apart?
Vietnam's Covid prevention strategies stand out in their "consensus." All information related to Covid is updated accurately and continuously by the Government and media. This helps to increase public trust and agreement with the Government's strategies.
Similar to other countries, Vietnam's economic development is heavily affected by Covid. However, with their decisiveness and timely action, the Government and people of Vietnam have good control of Covid while still maintaining economic growth.
Thanks to these timely strategies, the Vietnam office is the first among over 100 offices of JICA across the world to resume accepting volunteers after the first Covid outbreak.
- What do you think about the care of the Government for the community during Covid?
As a foreigner living and working in Vietnam, I often read news about Covid situations and the Government's decisions. I can see changes in the scale and methods of social distancing after each outbreak to suit real situations. These are all reasonable changes that ensure the safe prevention of Covid. At the same time, they do not affect people's lives too drastically.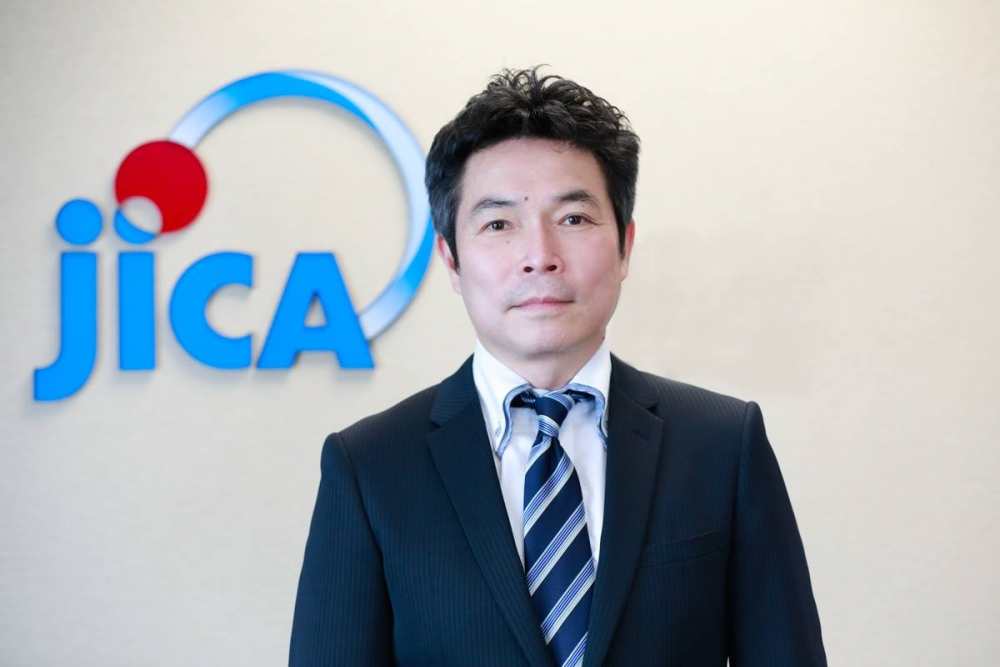 Tanaka Akihisa, senior representative – JICA Vietnam Office. Photo: Vietnam Times
As a person who has completed the 14-day quarantine upon arrival in Vietnam, I noticed that Vietnam has been mobilizing a lot of human resources to control the pandemic. This helps make everyone's lives safer.
I also noticed that Vietnam has been providing numerous Covid prevention tools in English, for instance, mobile apps. They are very helpful to foreigners.
- What do you think about people's trust in Vietnam's success in preventing Covid?
I cannot recall exactly where I drew the statistics from, but Vietnam is amongst the countries with the highest public trust index in the world regarding Covid prevention. The Government has been timely in sharing information with and providing support to the public. In addition, people are aware of the pandemic and seriously follow Covid prevention measures.
- Covid-19 prevention is the responsibility of all individuals. How have you been partaking in this?
I am very lucky to be directly responsible for managing JICA's healthcare cooperation program with Vietnam. Both parties have been working with each other in this field for over 20 years, focusing on two priority areas: strengthening core health systems for major hospitals and strengthening infectious disease preventive measures.
Under the first priority area, JICA has been supporting Cho Ray Hospital since 1996. Within the technical cooperation program implemented since 2016, JICA experts have assisted the hospital to compile guidance on hospital infection control practices and organize training on using personal protective equipment, contributing actively to Covid prevention in Vietnam. JICA also gave Cho Ray many medical devices, such as ECMO (extracorporeal membrane oxygenation) machines, in late July 2020.
Under the second priority area, JICA has been installing Biosafety Level-3 laboratories for, collaborating in infectious disease research and strengthening testing systems with and organizing capacity building courses to improve the testing capability for the National Institute of Hygiene and Epidemiology and the Pasteur Institute in Ho Chi Minh City.
Since February 2020, JICA has been working with partner organizations to investigate Vietnam's urgent needs in Covid prevention. Based on this investigation, JICA has provided biological products and medical equipment such as ECMO and supported to print the "microbial contamination control practices" handbook, with a total fund of 300 million yen.
JICA will soon assist to expand the vaccine cold chains. Per the requirements of NIHE, the agency in charge of the vaccination program, JICA is preparing to provide NIHE with specialized storage for Covid vaccines valued at 100 million Yen, or VND 20 billion.
At our office, the Chief Representative and management team regularly remind staff to strictly follow the Ministry of Health's 5K rules - Khau trang (facemask)- (Khu khuan) disinfection- (Khoang cach) distance- (Khong tu tap) no gathering – (Khai bao y te) health declaration.
- Can you share any memories about your quarantine period in Vietnam?
I was quarantined during the Lunar New Year. Although it was the first time I entered quarantine, I was able to enjoy special food made by the hotel staff, watch Japanese shows and fireworks on the first day of the new year. It was a great and memorable period. With these experiences, I understand this quarantine strategy has been contributing significantly to Covid prevention in Vietnam.
- In your opinion, what creates Vietnam's advantage in the fight against Covid?
I believe the key to Vietnam's successful control of Covid lies in two factors: Consensus and trust. The authorities, mass organizations, businesses and the public work closely with and trust each other and strictly follow the Government's instructions.