Joint Efforts Made to Care for Children Affected by the Pandemic
Vietnam strengthens measures to care for Covid-19-hit children.
Vietnam's Government, ministries, organisations and individuals have joined hands in caring for children, the most vulnerable group amid the Covid-19 pandemic.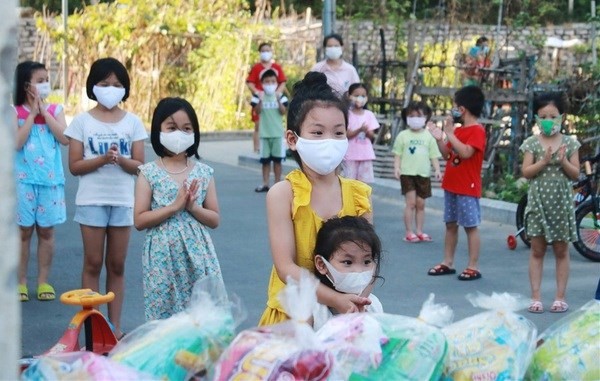 Children in a quarantine facility. Photo: VNA
Deputy Prime Minister Vu Duc Dam has signed a Prime Minister's Directive on strengthening measures on care for and protection of children hit by Covid-19 pandemic reported VNA Sunday.
The Ministry of Labour, Invalids and Social Affairs (MoLISA) must work with other ministries and agencies to propose measures regarding care for and protection of orphans in general and orphans caused by the pandemic in line with the law, raise public awareness of the effort to uphold the role of the society and residential community in the process, thus ensuring comprehensive growth of children.
The MoLISA was also required to regularly report the implementation of the Directive to the PM.
The Ministry of Health will continue popularising pandemic prevention and control measures while stepping up vaccination for children as directed by the Government and PM.
The Ministry of Information and Communications was required to effectively carry out the program "Internet connection and computers for students" while the Vietnam Television and the Voice of Vietnam must continue airing school lessons as well as skills to help children improve their physical and mental health.
The People's Committees of centrally-run cities and provinces were assigned to ensure timely, safe, and effective vaccination and treatment for children in line with the Government and PM's directions and Health Ministry's guidelines.
They must partner with the Vietnam Fatherland Front and its chapters, socio-political organizations to promote the enforcement of policies related to children, particularly orphans and those hit by the pandemic, in line with the law.
Children are among the hardest-hit victims of the pandemic. Statistics showed that Covid-19 has made over 2,300 children orphans, mostly in Ho Chi Minh City and southern localities such as Binh Duong, Dong Nai, Long An, Dong Thap, Tien Giang, and An Giang.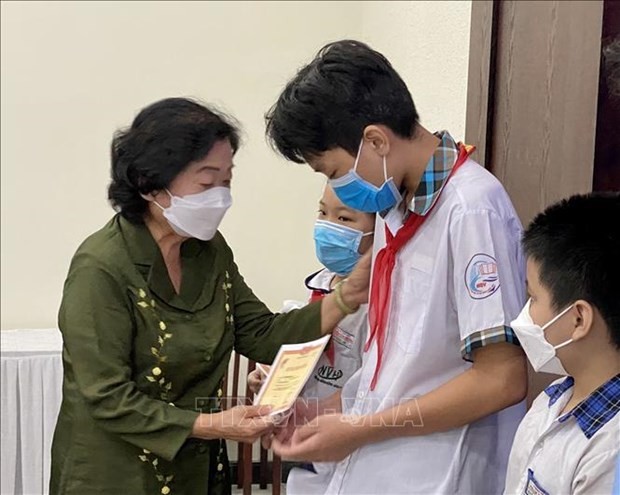 Former Vice President Truong My Hoa, who serves as President of Vu A Dinh Scholarship Fund and head of the "For beloved Hoang Sa and Truong Sa" club, presents scholarships to children affected by Covid-19. Photo: VNA
130 scholarships recently have been presented to children affected by Covid-19 in southern Vietnam as part of a joint program by Vu A Dinh Scholarship Fund and the "For beloved Hoang Sa and Truong Sa" club.
The scholarships, worth VND 6 million (USD 263.1) each, were given to children who lost a parent to Covid-19 and whose families in difficult situations because of the pandemic during an event held in HCM City on the final week of 2021. 48 of them were handed to those from the hardest-hit HCM City.
Despite struggling with Covid-19 difficulties themselves, members of the ""For beloved Hoang Sa and Truong Sa" club have worked together with the Vu A Dinh Scholarship Fund to provide aids to affected students, former Vice President Truong My Hoa, who serves as president of Vu A Dinh Scholarship Fund and head of the "For beloved Hoang Sa and Truong Sa" club said.
They have delivered some 3,000 gift packages to pandemic-hit students and families; and provided free ingredients for 30 volunteer kitchens which gave away thousands of free meals to people and frontline workers during the time HCM City was placed under social distancing order, she added.
She expected the scholarships, though small, can become a source of encouragement for the children in life. She pledged the two charitable organizations will continue their fundraising mission to deliver more scholarships and carry out more projects to support needy children and vulnerable people affected by the pandemic.
In December 2021, the Italy – Vietnam Cultural Bridge Association in Italy and the Vietnamese community in Cyprus also have raised EUR 5,000 (USD 5.600) in support of Vietnamese children who lost their parents to the pandemic.
The sum was donated by Vietnamese philanthropists in Italy and sent to 34 orphans in HCM City's districts 7, 8 and Binh Chanh, including four scholarships worth VND 10 million each and 30 gifts.
Recently, the VinaCapital Foundation (VCF) in collaboration with the Youth Union of HCM City is implementing the "Care to Rise – Yêu thương Nâng bước" program, to provide for, protect and encourage the 2,000 orphans created by the Covid-19 pandemic.
The Vietnam Women's Union in collaboration with the Supreme People's Court also respond to the "Godmother" program, aiming to support and nurture orphaned children affected by Covid-19.
The program consists of 2 phases: Phase 1 from November 1, 2021, to December 31, 2022, supporting and sponsoring children under 18 years old orphaned by Covid-19 with difficult circumstances in Dong Nai, Binh Duong, HCM City. Phase 2, from April 1, 2022 to December 31, 2024, will support and sponsor children under 18 who have lost their parents due to the Covid-19 pandemic with difficult circumstances, in 63 provinces and cities nationwide.