Journey to Conquer Ky Quan San
Located at an altitude of 3,046 m, Mount Ky Quan San is known as one of the four highest peaks in Vietnam.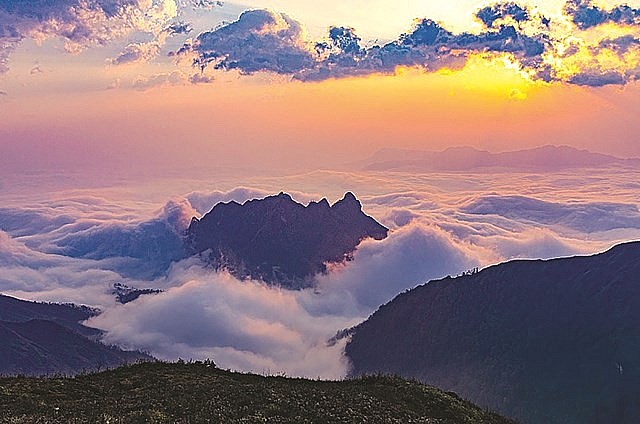 Photo: Dai Doan Ket
Ky Quan San is also called Bach Moc Luong Tu peak. Located between the boundaries of the two communes of Sin Suoi Ho (Phong Tho, Lai Chau province) and Sang Ma Sao (Bat Xat, Lao Cai province), the peak allows tourists to approach from both provinces.
Ky Quan San has been used for tourism since 2012. The destination gained fame quickly and has become one of the most famous trekking destinations in the northwest region.
The road to conquer Ky Quan San passes through many challenging landscapes, high passes, deep abysses, steep cliffs, and foggy forests.
In return, visitors will be welcomed by the stunning scenes of clouds when reaching the peak. Ky Quan San's sea of ​​clouds appears all year round and is most beautiful at dawn.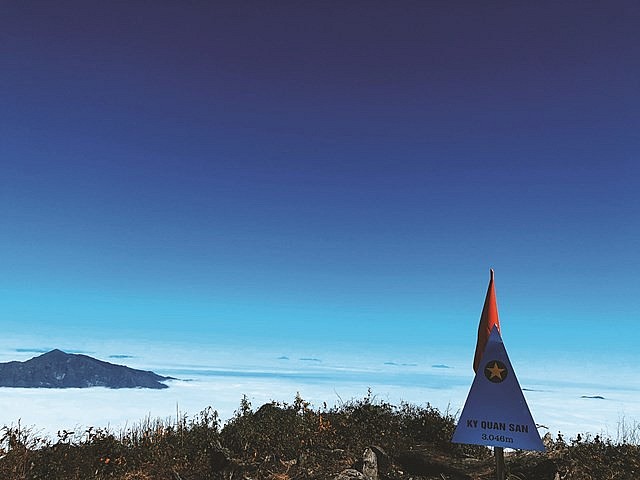 Photo: Dai Doan Ket
Adventurers can conquer Ky Quan San during any month of the year because each season gives the peak a distinguished beauty. However, to ensure safety, tourists should avoid unfavorable weather conditions, such as fog, low temperatures and heavy rain. Experienced tourists recommend visiting the peak from September to April.
With Tet approaching, many young people set up trips to Ky Quan San to "hunt for clouds." When reaching the top of the 2,800-meter-high Muoi mountain, lucky visitors will see a sea of clouds floating in the golden sunshine. The mountain is also ideal for visitors who have never seen snowfall.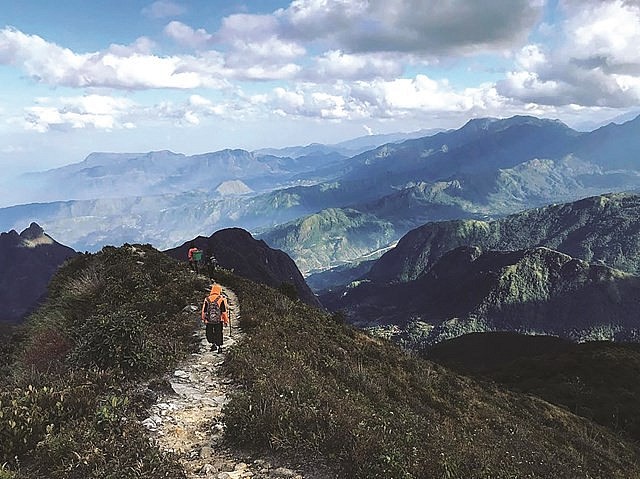 Photo: Dai Doan Ket
A trip from the mountain foot to Ky Quan San peak takes three days and two nights. To reach the top, visitors are highly recommended to hire a local tour guide, who is experienced and well-trained to plan the trip and handle unexpected situations.
Besides essential belongings, water and snacks, tourists should bring warm clothes to join the trip. They should have good health and regularly do exercise before the trip.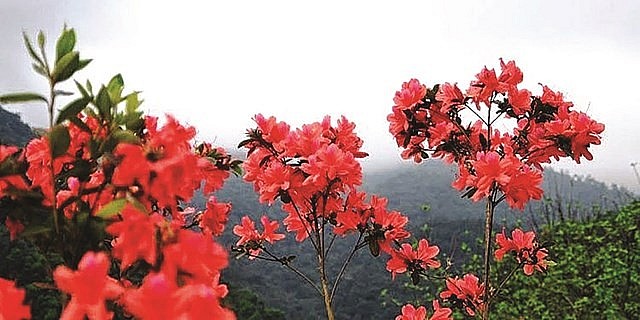 Photo: Dai Doan Ket
From the height of 2,100m above sea level, the road becomes more challenging. The trail cuts through the jungle, passing a steep area. The road from Muoi mountain to Ky Quan San peak requires tourists to overcome towering slopes, slippery rocks and strong winds.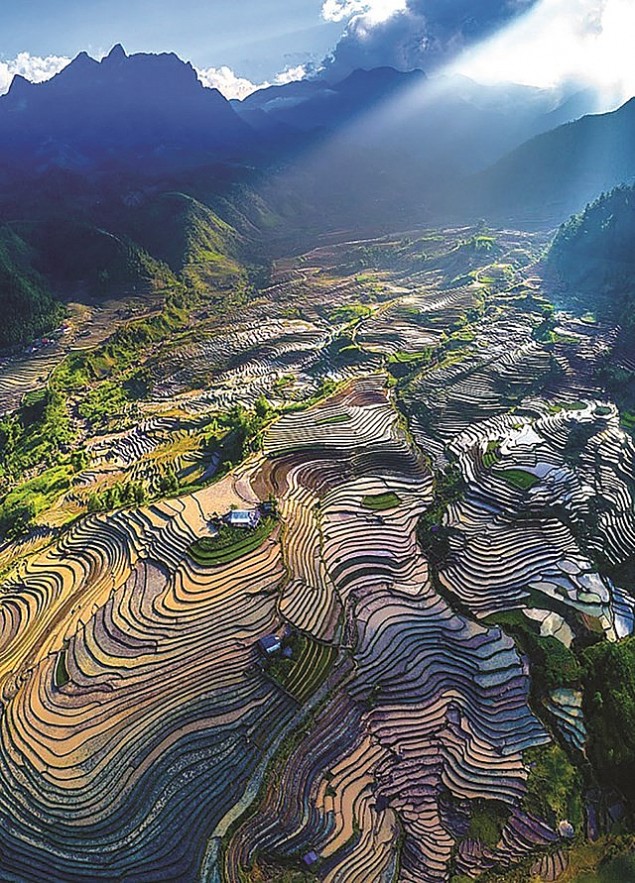 Photo: Dai Doan Ket
After that, tourists enter the bamboo forest, where they can admire the sunset or sunrise through thick fog. On the Ky Quan San trekking route, visitors have to cross an old forest with very large trees; each is covered with moss and mold.
Most trekking groups choose the wind pass as their last stop because this area is suitable for camping. The terrain here is quite flat and has a small stream running by. The airy space gives visitors a short rest to well prepare before setting foot on the top of Ky Quan San.
Photo: Dai Doan Ket
Those who visit the mountain for the first time are sure to be impressed when reaching the 3,046-meter-high peak.
Some say conquering Ky Quan San offers them the feeling of completing a challenging mission, which can be rarely found in travel.
When standing on the peak, some people feel national pride and self-confidence. Some even shed a tear for having accomplished a harsh mission.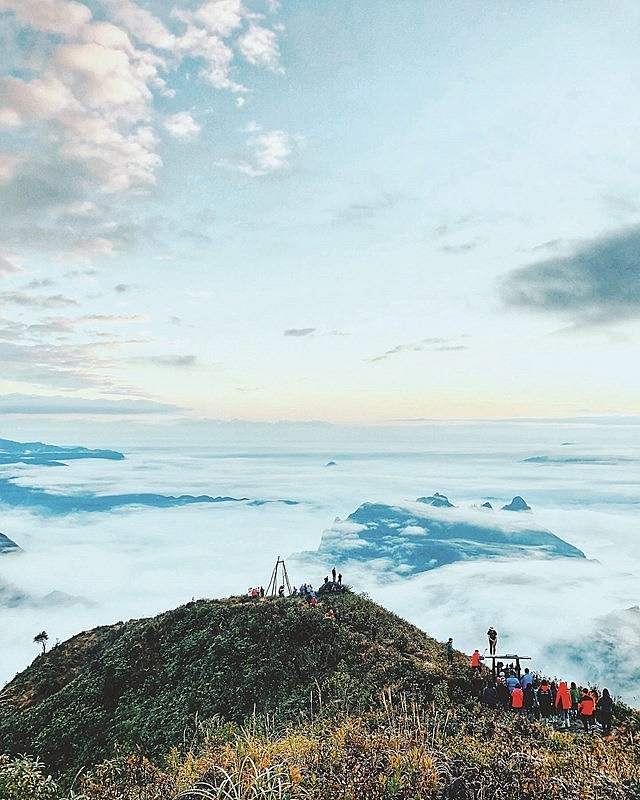 Photo: Dai Doan Ket
Directions to conquer Ky Quan San
Ky Quan San stretches through two provinces, and tourists can start their journey from both places.
Option 1: Tourists start from Den Sung village in Sin Suoi Ho commune, Phong Tho district, Lai Chau, then follow the trail to reach the foot of Ky Quan San mountain.
Option 2: Tourists start from Ky Quan San village in Sang Ma Sao commune, Bat Xat district, Lao Cai. Due to its safer landscape, this road is preferred by the majority of visitors.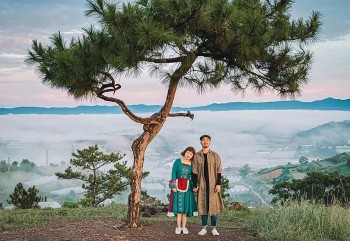 Travel
Three local cities are set to be presented with the ASEAN Clean Tourist Awards 2022.