Khmer Billionaire Lam Se Shares Success of Straw Business
Khmer billionaire Lam Se earned his title with VND 1 billion annual income. This successful rice farmer shares that he has a special straw business.
Turning straw into money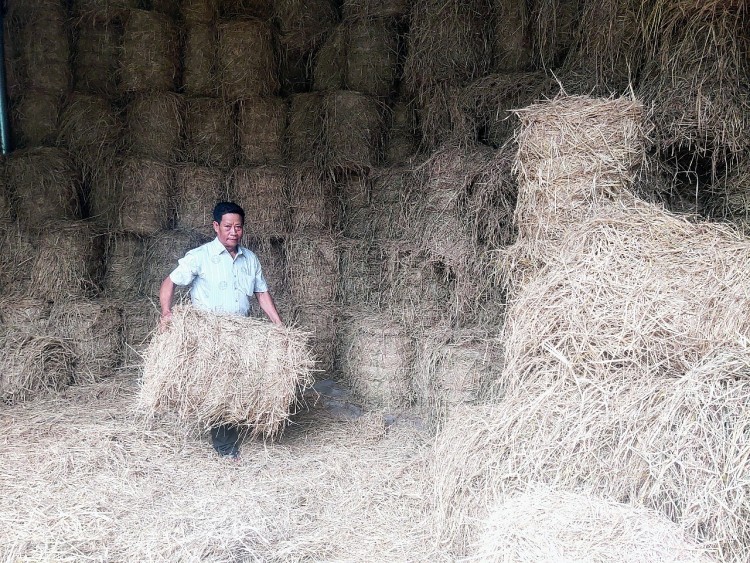 Rice farmer Lam Se in the straw roll storage for Tra Vinh traders (Photo: TD).
Lam Se is a 64-year-old farmer in Soc Trang. Known as the "Khmer billionaire", he owns a large warehouse of about 800m2 with rolled straw and a spacious house of 150m2. If you go to Som Rong temple (Soc Trang) and ask about Khmer billionaire Lam Se, the locals will tell you about a man with determined eyes and dark skin, passionate about his family farm.
While showing the farming tool, Lam Se told the reporter that in 1987, after getting married, he and his wife lived separately, worked hard, and saved money to buy 10 public lands. Besides farming, they made ends meet by driving motorbike taxis and then, spent all their earnings from selling rice to buy more land.
However, the biggest decision to change the family's income was in 2017. Once working in the fields, he met a trader from Tra Vinh who went to Soc Trang to buy straws for VND 30.000 per roll. When asked about the quantity purchased, traders said that they buy unlimited to use as raw materials for growing mushrooms, fodder for livestock, and as fertilizer. Immediately, Lam Se rode for 60km, following the straw collection truck to Tra Vinh to find out about this business. Waiting for the truck to finish loading the goods, he asked in detail about the purchasing method, quantity, price, and transaction issues.
That's how his straw business started. Lam Se's straw rolling machine is also the first straw rolling machine in Soc Trang with a price of VND 300 million (about US $12.700). It was purchased thanks to Decree 68 of the Government with a 100% interest-free loan. Right away, Lam Se started to encourage the local people not to burn straws. He explained to them that instead of causing pollution by burning, they can sell straws to him at high prices. At the same time, Lam Se worked with purchasing units to ensure stable output.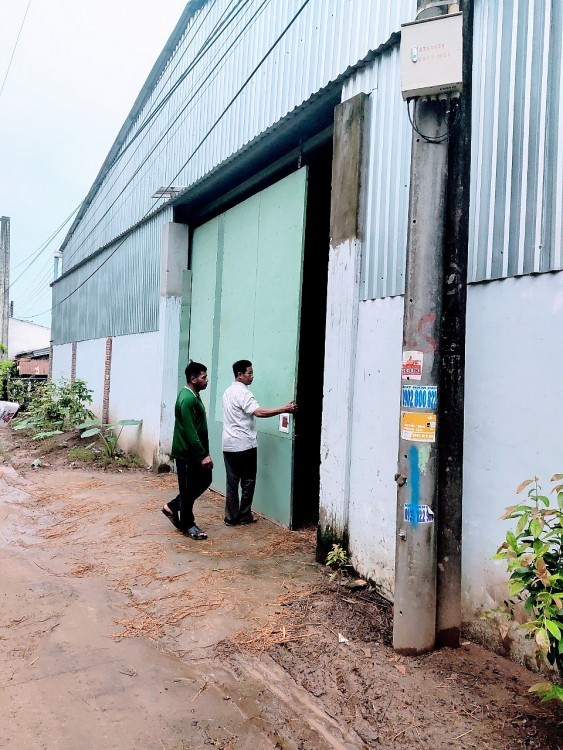 Lam Se's large warehouse about 800m2
This business soon gained high profit and quick capital recovery, so in 2019, Lam Se brought 3 more straw rolling machines to the Soc Trang market. By 2022, his family has a total of 6 machines worth nearly VND 2 billion. At the same time, he built 4 warehouses with over 2,000 meters square to store straws until the rainy season so they can be sold at a high price. With these 6 machines, every day he can collect about 3.000 straw rolls throughout Soc Trang province. With the current selling price of about VND 25,000-28,000/roll, he makes a profit of up to 50% per roll. In addition, he also created jobs for 12 local people with stable incomes.
"Thanks to Lam Se, I have more jobs. My daily income is up to VND 500.000. Every month I get around VND 10 million," said local farmer San Loi (Khmer).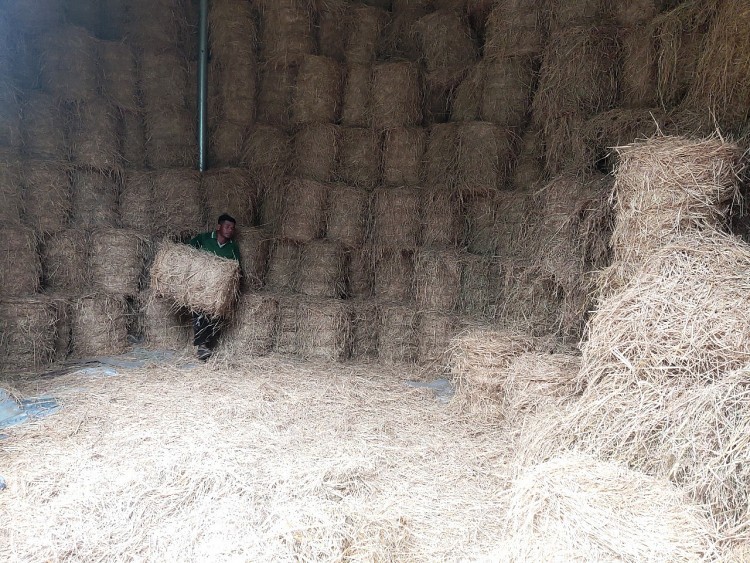 (Photo: TD).
A good model of agriculture business
Lam Se said that currently, his family's three main sources of income were from farming, a combine harvester service rental, and trading in a straw roll. With 8 hectares of rice fields, he has 2 to 3 rice crops/year.
"Every year, I collect over VND 300 million if I do 3 rice crops, over VND 200 million if I do 2 rice crops. With 2 combined harvesters services, my family earns VND 400-500 million. Each straw rolling machine does 1,000. In the coming time, I plan to invest more in the field of car rental services," said Lam Se.
In addition to being a good businessman, Lam Se and his family often participates in local movements and actively contribute to the local funds, enthusiastically share business experiences, and give others plants, seeds, and fertilizers. During the pandemic, Lam Se supported the villagers with 20-30 kg of rice/household and gave funeral support to the elders of families who are in difficult circumstances.
For many continuous years, Lam Se has been recognized as a good farmer in production and business at the provincial level, and was awarded the Certificate of Merit by the Prime Minister for typical and excellent farmers in the national movement of "Good agriculture production and business to help each other to become rich and reduce poverty sustainably".