Kingdoms of Street Food: Discover Greatest Cities For Street Food in The World
When you come to a new city, the first thing you want to try is street food, and in some places, it is one of the most significant cultural staple. Here is 10 best cities for street food in the world.
Sidewalk vendors, push carts, holes in a wall -- even in cities with rich reputations for fine dining, some of the best meals are on the streets.
Places like Hong Kong have blurred the line between haute cuisine and quick comfort food, as humble dim sum diners win Michelin stars.
That's still the exception, but most chefs on the street aren't looking for that kind of recognition. They're cooking for crowds who pack around their stands day after day.
Here are some best cities for food and some of the most delicious meals that you can have.
1. Bangkok, Thailand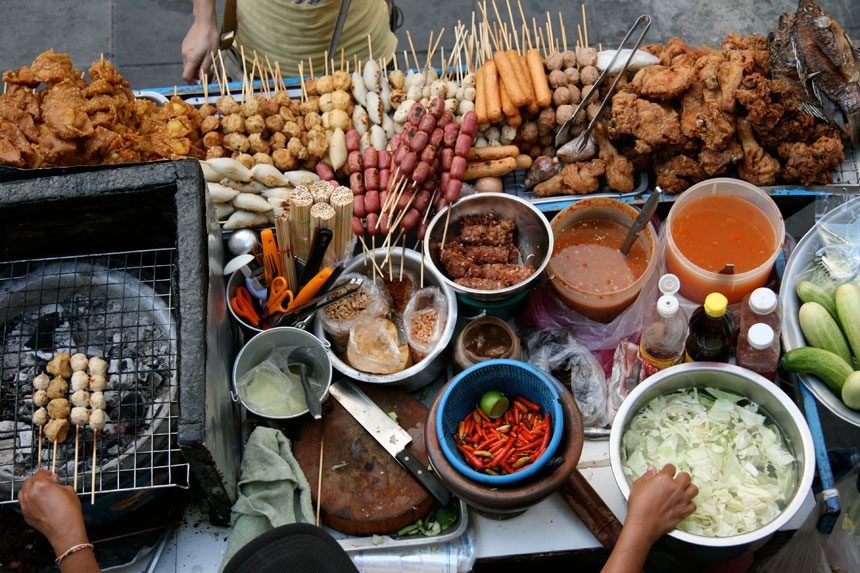 Photo: Travelvui
Street food in Thailand brings together various offerings of ready-to-eat meals, snacks, fruits and drinks sold by hawkers or vendors at food stalls or food carts on the street side in Thailand. Sampling Thai street food is a popular activity for visitors, as it offers a taste of Thai cooking traditions. Bangkok is often mentioned as one of the best places for street food. In 2012, VirtualTourist named Bangkok as the number one spot for street food—the city is notable for both its variety of offerings and the abundance of street hawkers.
There are many areas in Bangkok that are famous for as a street food center such as Yaowarat and nearby area (Talat Noi, Wat Traimit and Chaloem Buri), Nang Loeng, Sam Phraeng, Pratu Phi, Bang Lamphu, Kasat Suek, Sam Yan, Tha Din Daeng, Wongwian Yai, Wang Lang, Talat Phlu.
here is scarcely a Thai dish that is not sold by a street vendor or at a market somewhere in Thailand. Some specialize in only one or two dishes, others offer a complete menu that rivals that of restaurants. Some sell only pre-cooked foods, others make food to order. The foods that are made to order, tend to be dishes that can be quickly prepared: quick stir fries with rice, such as kaphrao mu (spicy basil-fried minced pork) or phat khana (stir fried gailan), and quick curries such as pladuk phat phet (catfish fried with red curry paste).
The dishes sold at wet markets in Thailand tend to be offered pre-cooked. Many people go there, and also to street vendors, to buy food to eat at work, or to take back home. It is a common sight to see Thais carrying whole communal meals consisting of several dishes, cooked rice, sweets, and fruit, all neatly packaged in plastic bags and foam food containers, to be shared with colleagues at work or at home. Due to the fact that many dishes are similar to those that people would cook at home, it is a good place to find regional, and seasonal, foods.
2. Tokyo, Japan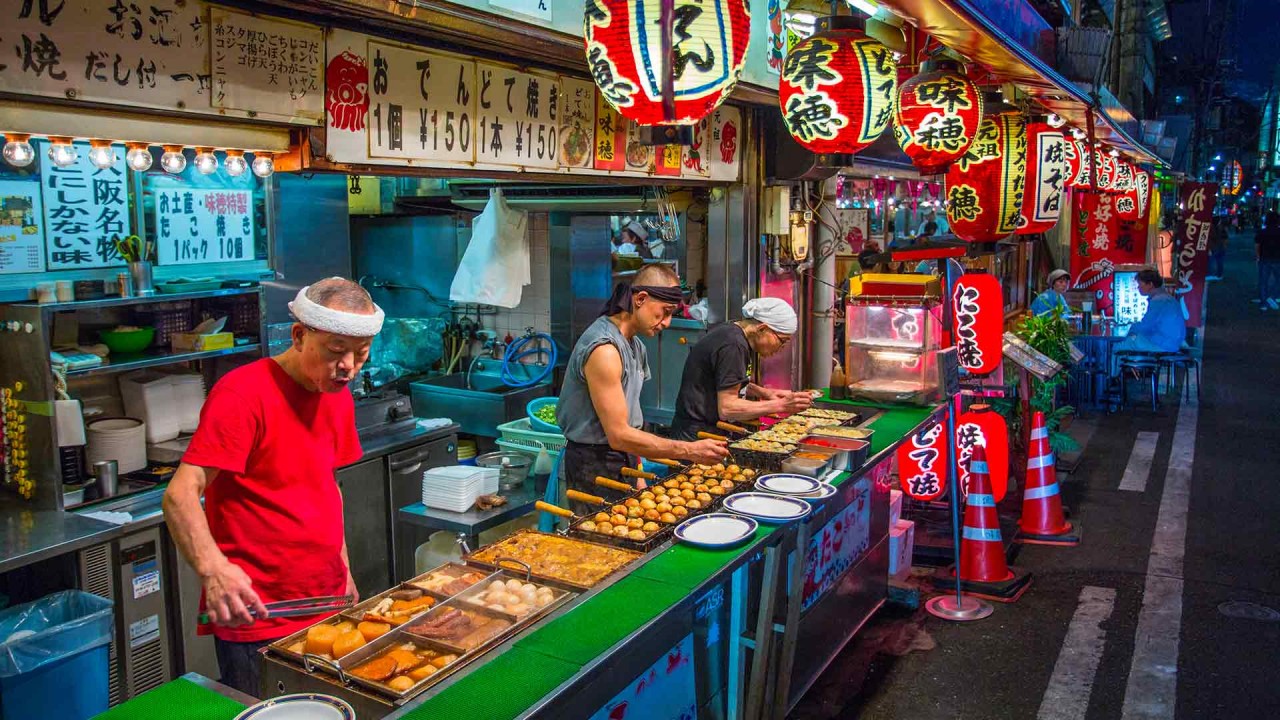 Photo: byFood
There are endless places to eat in Tokyo, and although the city boasts a handful of Michelin Stars and high-end restaurants, we're here for the cheap eats in Tokyo! Think of this heaving metropolis and you'll envision bright neon lights, colourful flashing signs, weird and wonderful anime, and the juxtaposition of futuristic skyscrapers with stunning historic temples. Think of things to eat in Tokyo and you might envision trays of sushi and, well, not much else. But the there is a whole world of Tokyo street food to uncover. You just need to know where to look!
Tokyo food lover Taro Namekawa likes to bring guests somewhere different, Teppen: Nakameguro, for grilled food.
"They are very famous for grilling extremely fresh ingredients in front of you, with special kinds of charcoal that can grill fresh ingredients with high heat quickly to trap all the goodness of them inside."
They serve sushi too, but the grilled meats and vegetables draw in young and old Japanese diners, especially workers on their way home.
"I like this place because it gives a surprise element to my foreign guests when they visit town."
It also has the benefit of being near the Meguro River, one of Tokyo's most beautiful spots for flower watching.
3. Durban, South Africa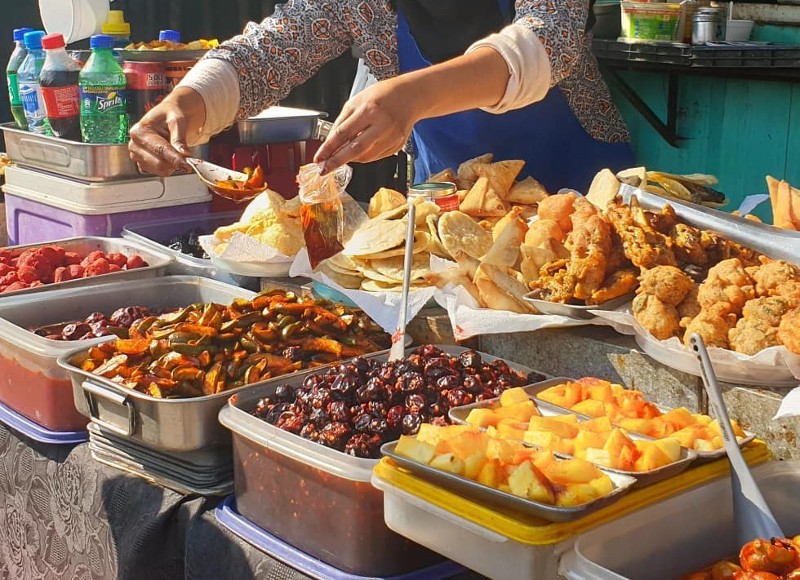 Image credit: @may_be.hungry via Instagram
Perhaps it's because of Durban's lovely year-round weather, or maybe it's the Indian influence, but the city is southern Africa's reigning street food champ.
Local culture and cuisine is a blend sourced from Zulu, Indian and white South Africans, who each bring a little something to the mix. The city is known for its curries, which over the generations have adapted to South African ingredients and tastes.
Little Gujarat, on Prince Edward Street downtown, is a humble but revered institution that remains true to the classic Tea Room takeaway, says Louis Fourie, a Durbanite and tireless advocate for the city.
It's vegetarian-only, and offers the distinctly Durban bunny chow -- a hollowed out half-loaf of bread filled with curry, like an edible takeaway container.
Sunrise Chip & Ranch, better known as Johnny's Rotis, is open 24 hours a day for comforting rotis.
"It's great to soak up the munchies, said Foerie. "The ultimate Durban street food experience supported by generations."
Afro's Chicken, which sits by the beach, grills up its poulet to order and offers shaded seating with an ocean breeze.
4. Louisiana, New Orleans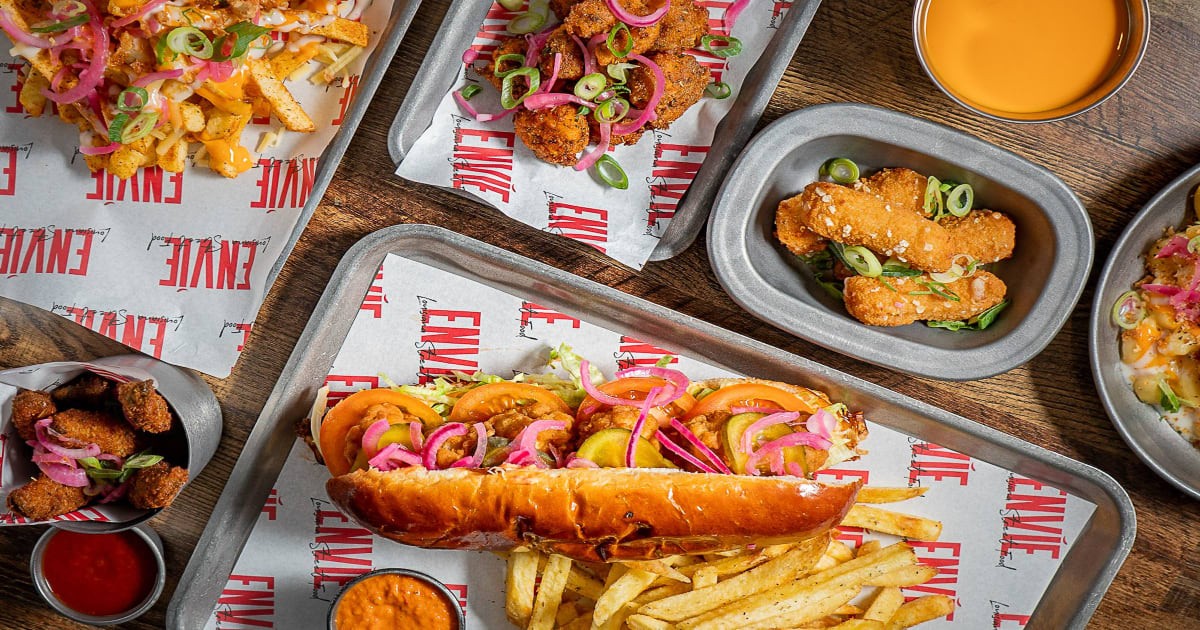 Photo: Just Eat
Louisiana's New Orleans, called "Big Easy" by the locals, is a city close to the Gulf of Mexico on the Mississippi River. It's notorious for its 24-hour club scene, live entertainment, and its extraordinary cuisine which reflects the fusion of American, African, and French cultures. Though there are over 1,400 restaurants that serves a variety of international cuisines in New Orleans, a person will only have a true taste of the local culture once they have tried their street food. Aside from the Mardi Gras, Creole and Cajun cooking embodies the true spirit of Louisiana. New Orleans cuisine which introduced delicious dishes like the muffuletta, beignets, Etouffee, and po'boys to the American palette has made a great contribution to the improvement of American cuisine.
Without a doubt, the many flavors of New Orleans cuisine bring excitement to the palette. These savory dishes and desserts that started out as working-class food is now an important part of a tourist's experience when visiting New Orleans. These dishes reflect the centuries-old diversity and complexity of their history and culture and will remind you of Crescent City once you've tasted them. Savor the extraordinary street food in New Orleans so you will have a memorable trip!
5. Hong Kong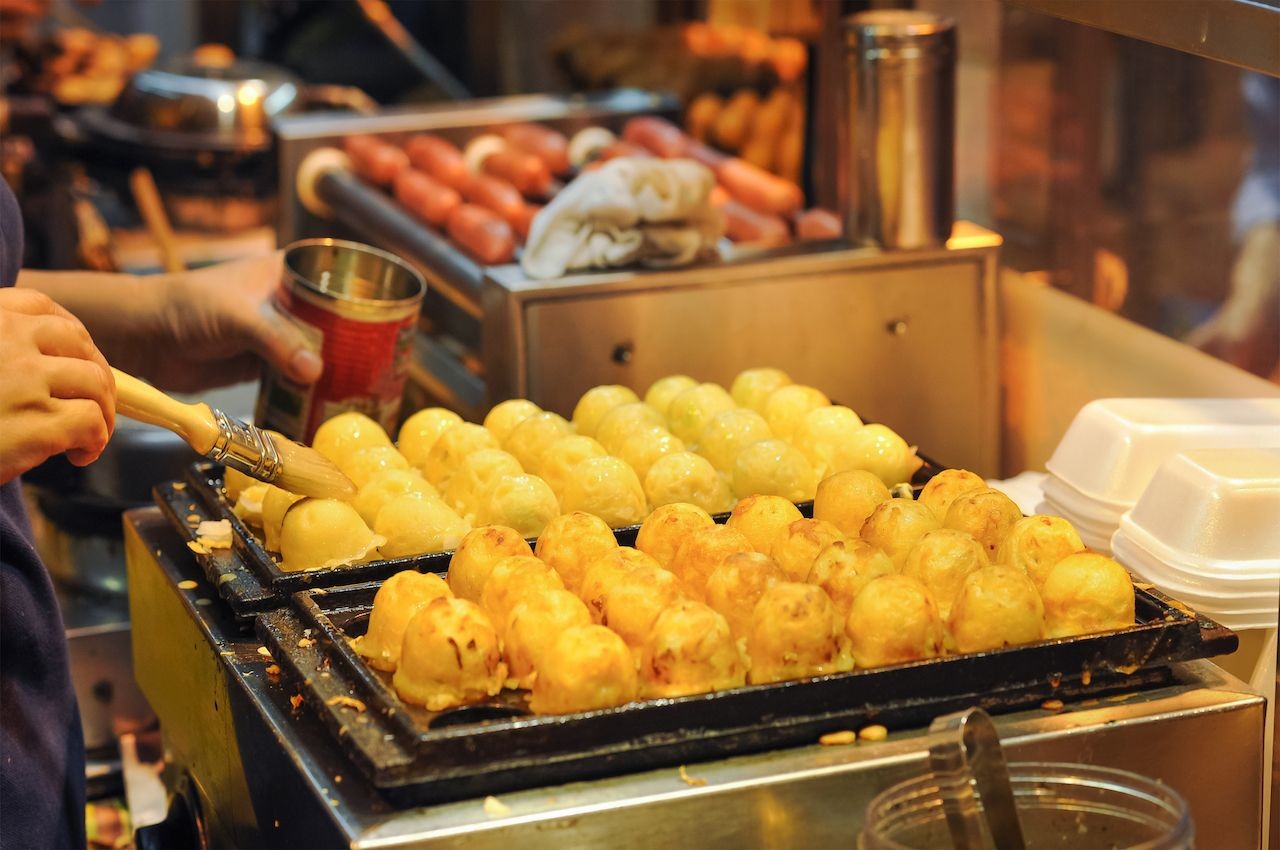 Photo: Shutterstock
Hong Kong street food is characterised as the ready-to-eat snacks and drinks sold by hawkers or vendors at food stalls, including egg tarts, fish balls, egg waffles and stinky tofu, according to the definition provided by the Food and Agriculture Organization. They can be found throughout the city, especially in the areas of Mong Kok, Causeway Bay, Yuen Long, Tsuen Wan, and Kwun Tong.
Street food is ready to be taken away and eaten elsewhere instantly. Generally, the customers are served snacks, which are contained in polystyrene boxes, with disposable bamboo sticks or plastic utensils. Street food needs to be sold along the street, even though nowadays street stalls have transformed into shops without providing seats. Food can easily be taken away via small plastic bags, paper bags or bowls. The food is prepared quite quickly.
Nutritionists contend that, compared to other food, street food is often cooked in greater quantities of oil such and hawkers usually add large amounts of sugar or salt for seasoning.
According to travel websites- Timeout.com and About.com in 2013, food prices averaged between $1 to $25 and were found to be most acceptable to Hongkongers.
Cultural research suggests that food stalls supply a variety of snacks, including both local and international, ranging from red-bean pudding from Guangdong to Thai prawn cutlets.
6. Paris, France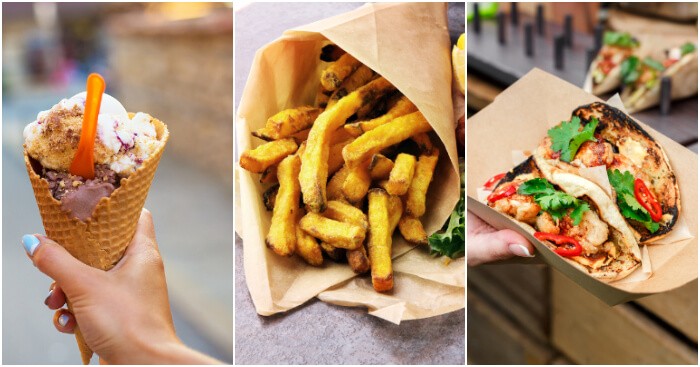 Photo: TravelTriangle
In Paris, life has long revolved around cafe culture.
Lunchtime in Paris evokes the idea of relaxing with a three course meal and a glass of wine on a sunny terrace, not a sandwich quickly gulped down between meetings.
But indeed as Paris has changed, with a new entrepreneurial environment drawing international crowds, waves of immigration from the Middle East and North Africa diversifying the population, and the reluctant acceptance by the French of a slightly faster pace in life, so too has the way we dine.
In recent years, Paris has undergone a street food revolution, of sorts. People line up down the streets to get a taste of a burger sold out of a truck. In the rapidly-gentrifying Belleville, the monthly Le Food Market (held on the third Thursday of every month) showcases the increasing array of street food options.
7. Mexico City, Mexico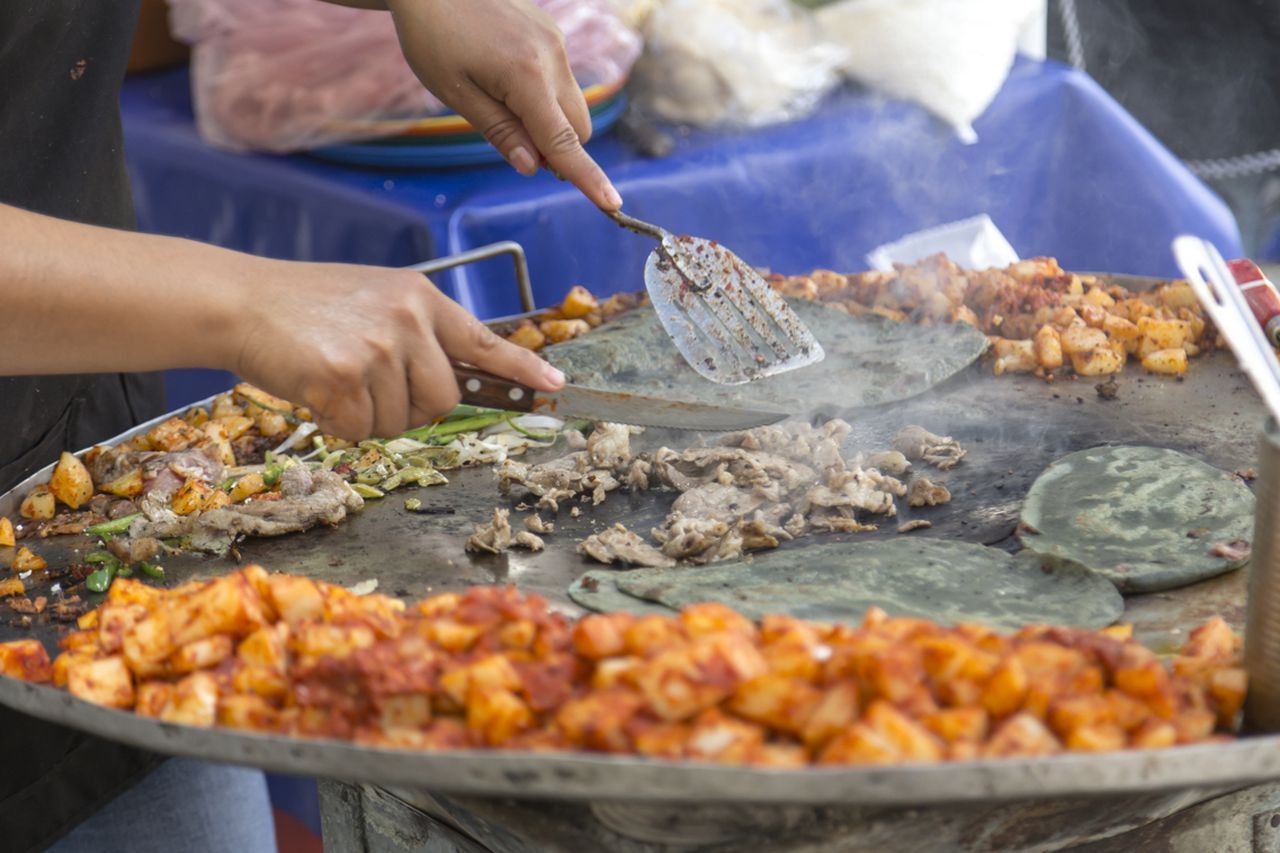 Photo: Eater
The culinary scene in Mexico City is explosive and truly offers something for everyone. From the wide variety of very affordable street food vendors to fresh produce markets to urban, international restaurants, you'll never run out of places to eat in Mexico City.
The favourite thing about street food in Mexico City is how it has evolved from food traditionally cooked in poorer communities to the diverse culture it accommodates nowadays, and how you can find anything ranging from simple, traditional Mexican dishes to gourmet cuisine.
Tamales are one of the most popular choices for a street food breakfast in Mexico City. Tamal is made from corn masa that is then wrapped in a corn husk and filled with anything your heart desires. Meat, cheese, fruit, vegetables – the filling possibilities are endless. Tamales are my favourite street food breakfast at one of the city's food markets. Depending on the local traditions and seasonal ingredients, almost every state in Mexico has unique versions of tamales. The most common fillings in Mexico City are chicken and pork in a red or green mole.
8. Cairo, Egypt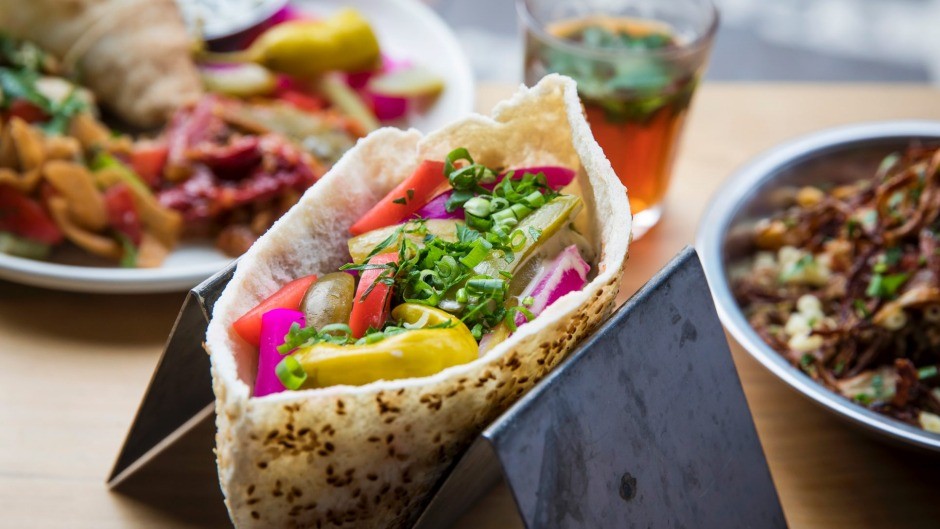 Photo: Good Food
Cairo is famous for many things, but bland food isn't one of them. Like its bustling and boisterous streets, its crazy traffic and maddening noise, Cairo's food is just as lively, bold and intense. Forget subtle flavors, Cairo's street food will hit you like an explosion of herbs, spices and textures that are no less colorful than the city that inspired these culinary creations.
Some Egyptian street food has become takeaway fare internationally, with falafel, shawarma and kofta evolving into part of the global urban snack experience.
In Cairo there's still a world of other dishes to sample that haven't yet made their way overseas.
Koshary mixes rice, pasta, lentils and chickpeas, topped with a vinegary-tomato sauce.
Throw some fried onions on top for good measure and it's the tasty essence of street food: warm, flavorful, cheap and filling. For dessert, hot tea helps wash down the kunafa, crystallized honey that's better than any of Willy Wonka's confections.
9. Marrakech, Morocco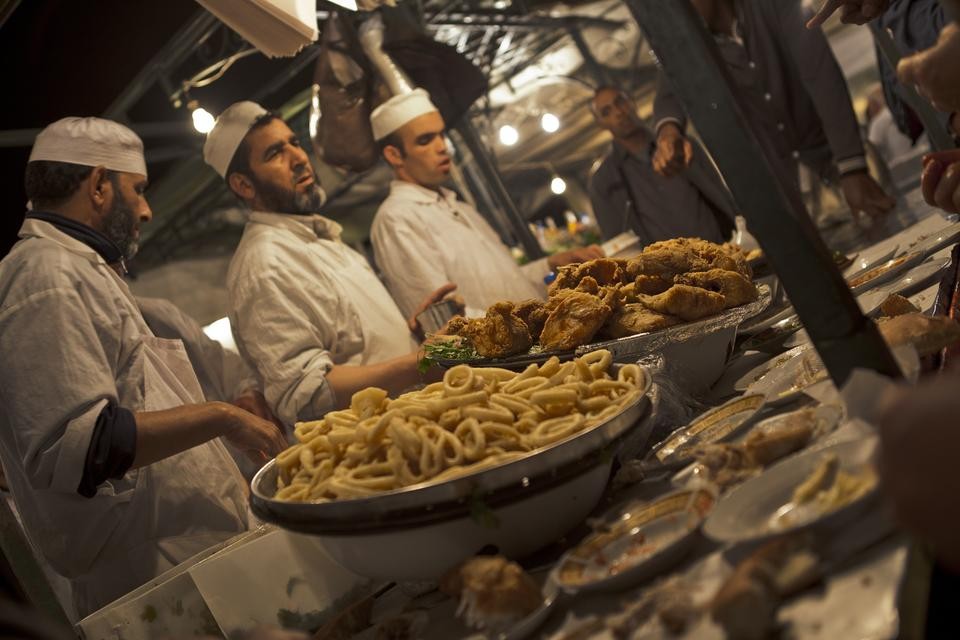 Photo: G Adventures
Smells of food fill the streets of Moroccan cities, and nowhere is the quality or diversity greater than in Marrakech.
"Marrakech is all about street food," says Anna Koblanck, who writes a blog on African food travel.
"In the evenings, the city gathers among snake charmers and musicians at the Jemaa el-Fnaa square to taste the incredible spread of Moroccan delicacies that are on offer from the street stalls.
"You'll find everything from freshly squeezed fruit juices to snail soup and sheep heads. It's a full-on feast for all the senses, and not particularly pricey."
"My favorite Moroccan street snack is the Meloui, a kind of pancake made of folded pastry that you buy hot off the stove.
"I had one in the market in Fes that was made with a spicy onion-based filling that was simply divine. It's a very heartwarming bite, a sort of comfort street food. You see these sold everywhere in Morocco, often in the food markets.
"Moroccans have a serious sweet tooth, and you find a lot of cookies and pastries sold in the stalls in the souks. It's a pretty, colorful and very tempting spread of sugar and calories -- mountains of delicately shaped and beautifully decorated creations."
10. Ho Chi Minh, Vietnam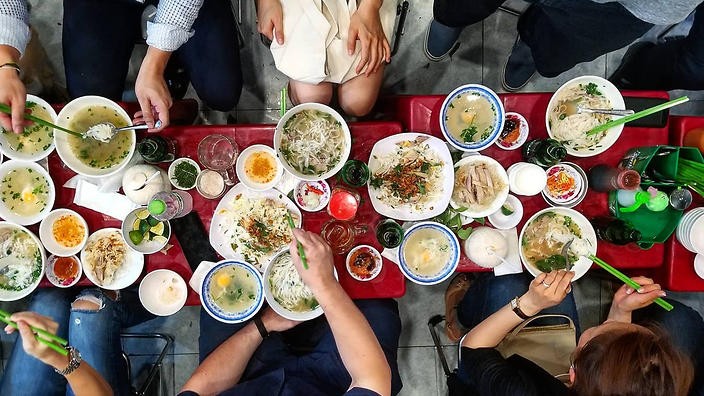 Photo: ForeverVacation
With vendors selling specialty dishes daily on every street corner, you don't stay hungry for long in Vietnam's Ho Chi Minh City.
Street food is well and truly at the heart of this bustling city, but with so much on offer it's difficult to know what to choose. So here are 10 HCMC street food gems you have to try on your next trip.
The local food shows influences from French colonial times - bakeries have fresh and excellent baguettes, which they will fill with cheese (typically of the "la vache qui rit" or "laughing cow" brand), potted meat, ham, and onions, or any combination thereof, cheaply. Beef is used in various dishes - whether in any of the many variations of pho, or in a regional specialty such as "bun bo hue" or Hue beef soup. Be sure to try, aside from pho, dishes such as the above-mentioned Hue beef soup, or "banh xeo" aka. Vietnamese omelettes, consisting of a delicious filling of your choice (various options included bamboo shoots and enoki mushrooms, along with meat, prawns, or both) in a crispy outer crepe-like casing.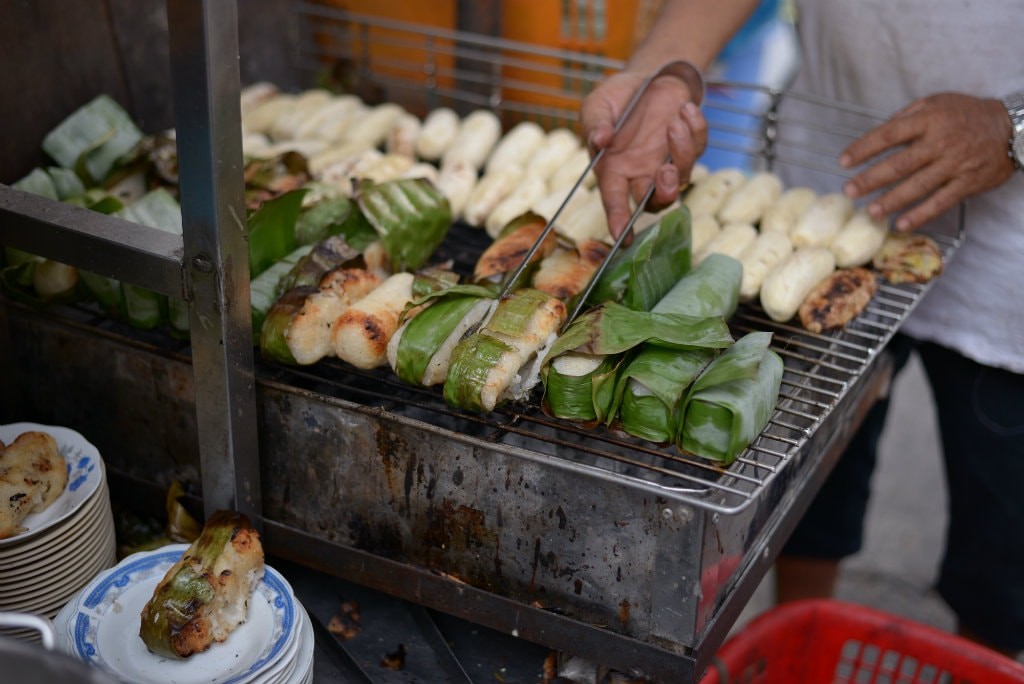 A street vendor in Ho Chi Minh City. Photo: Culture Trip
However, some good bargains can still be found. Banh Mi Thit (pork sandwiches) can be had for 13,000-15,000 dong. Com tam, a plate of rice with grilled pork (customizable with different types of meat) and a bit of vegetables is 18,000 dong. (May 2011). If you want a wide variety of street food you need to try another district than Sài Gòn, district 5 is good or district 3 and up will get better and cheaper. As Hanoi, street food in Saigon becomes a culture cuisine of this city, you can go around by motos, see the local life and enjoy great street food.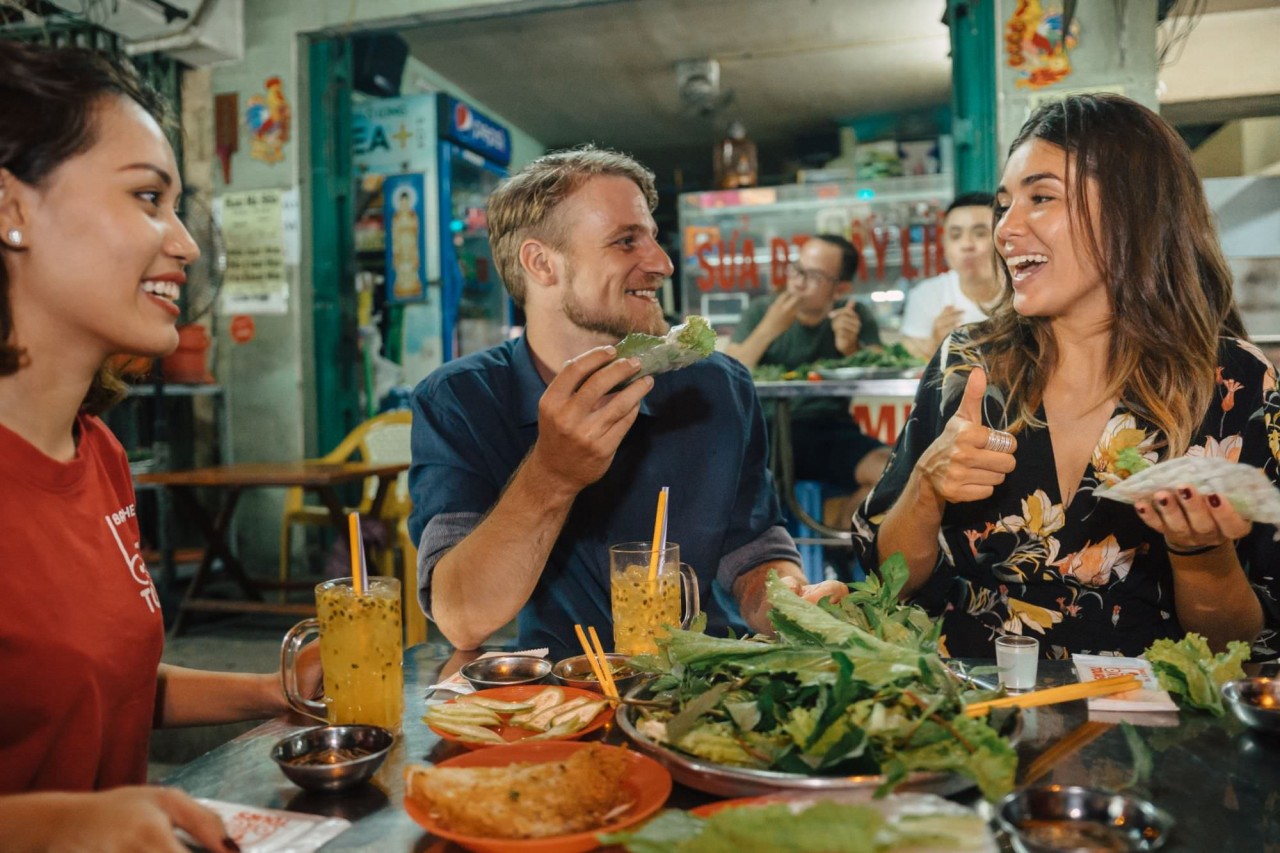 Ho Chi Minh City is one of the most famous destinations for street food in Vietnam .Photo: Back of The Bikes Tours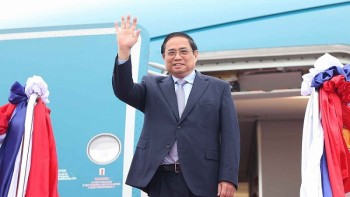 National
Vietnam News Today (Feb. 6): PM Chinh to pay official visits to Singapore, Brunei; Vietnam attends ASEAN+3 Tourism Ministers Meeting; Exports in 2023 and high demands from new generation FTAs; Digital technology to spearhead Vietnam's drive for Industry 4.0.