6 Tasty Wrap Dishes To Eat In a Cool Autumn Day in Ho Chi Minh City
Autumn has arrived, and it is also a perfect time to taste these wraps that are staple of cuisine in Ho Chi Minh city, or try to make it yourself at home.
Sharing the only similarity in the large amount of green ingredients, the dishes below are preferred snacks of many Saigonese, thanks to their delicious and healthy take. Let's dive in for a lovely autumn treat.
1. Grilled snakehead fish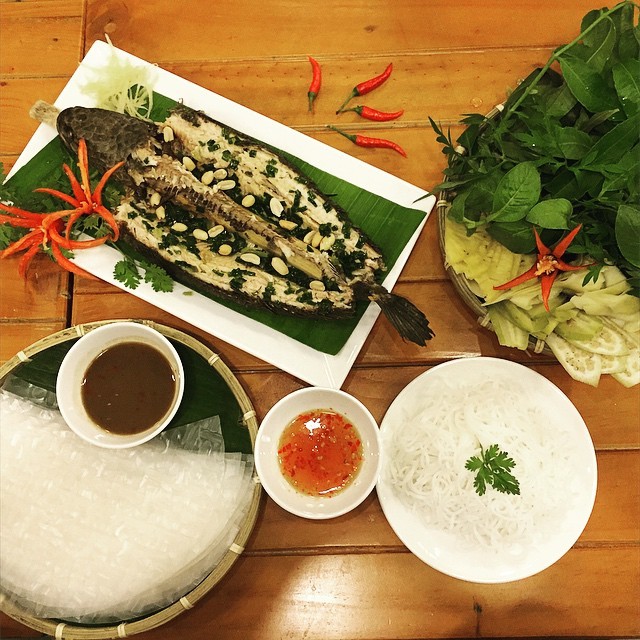 Photo: @loveoffoods
Snakehead fish also known as betel fish, banana fish. Snakehead fish in the Southern has thick skin and chewy meat. Snakehead fish in the central, typically Khanh Hoa province is famous for soft meat, thin skin. The larger fish, the meat is more delicious and skin is still thin. If you find Ophiocephalus micropeltes fish in Vo Canh, Khanh Hoa, nothing is ever match, its meat is so sweet and fragrant. Snakehead fish chosen has to be alive. The whole fish is grilled. We can grill it by string along the body from the mouth or plaster mud around the fish and grill. You also can enjoy this fish like the poet Tan Da by cleaning fish, spices, wrapped in fresh banana leaves, and buried in piles of smoldering husk. Grilled fish is usually served with girdle - cake, kinds of vegetables, lemon pepper salt or seasoning sauce squeezed lemons, sliced peppers.
2. Vegetables and Sausage Wrap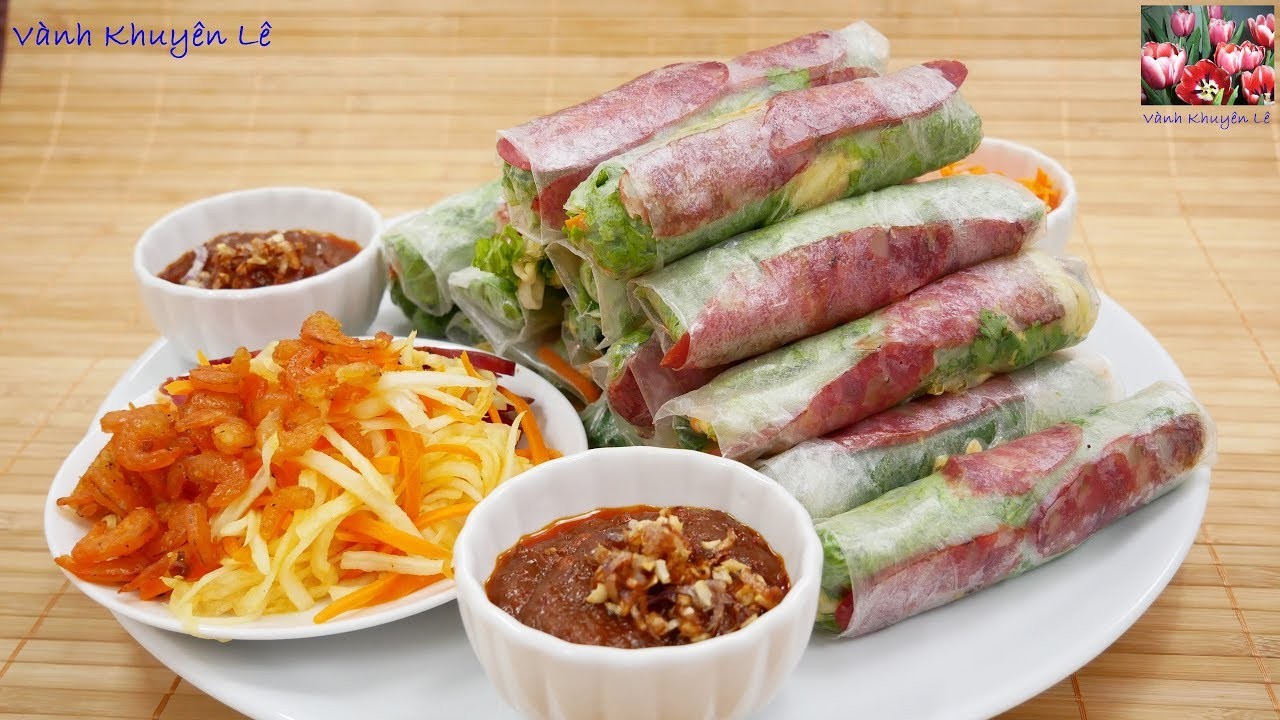 Photo: Vanh Khuyen - Youtube
The name "bo bia" is likely a Vietnamese adaptation of the Chinese roll "popiah." These two foods are quite different though. It's plausible to think "bo bia" was adapted by the Vietnamese and ingredients were substituted with what was available.
The first noticeable change is the Vietnamese use a rice paper wrapper instead of a wheat-based one. Other changes include the sauce and removal of ingredients like yams, green beans, and bean sprouts. Popiah also has fried variations.
A typical "bo bia" cart is rather simple, since the ingredients are modest to say the least: string-cut jicama, varieties of herb, Chinese sausage and dried shredded pork. Vendors often push their carts out and about in most every corner of Ho Chi Minh city. People can dine on the street, or buy couple rolls for the midday snack. With its seemingly nutrition-scant filling, one may take quite a number before realizing too late that he has just spoiled his dinner. Perhaps the dipping sauce has something to do with that mindlessness: it is a golden mix of the trademark sauce with nose-tempting fried shallot and crunchy finely roasted peanuts.
The snack is common and can be found most everywhere, but students do have quite an appetite for it, so seek them out for the best chance of satisfying a sudden crave.
Note that "bo bia" means a totally different snack in the north, which has nothing in common with the southern type.
3. Goi Cuon – Fresh spring rolls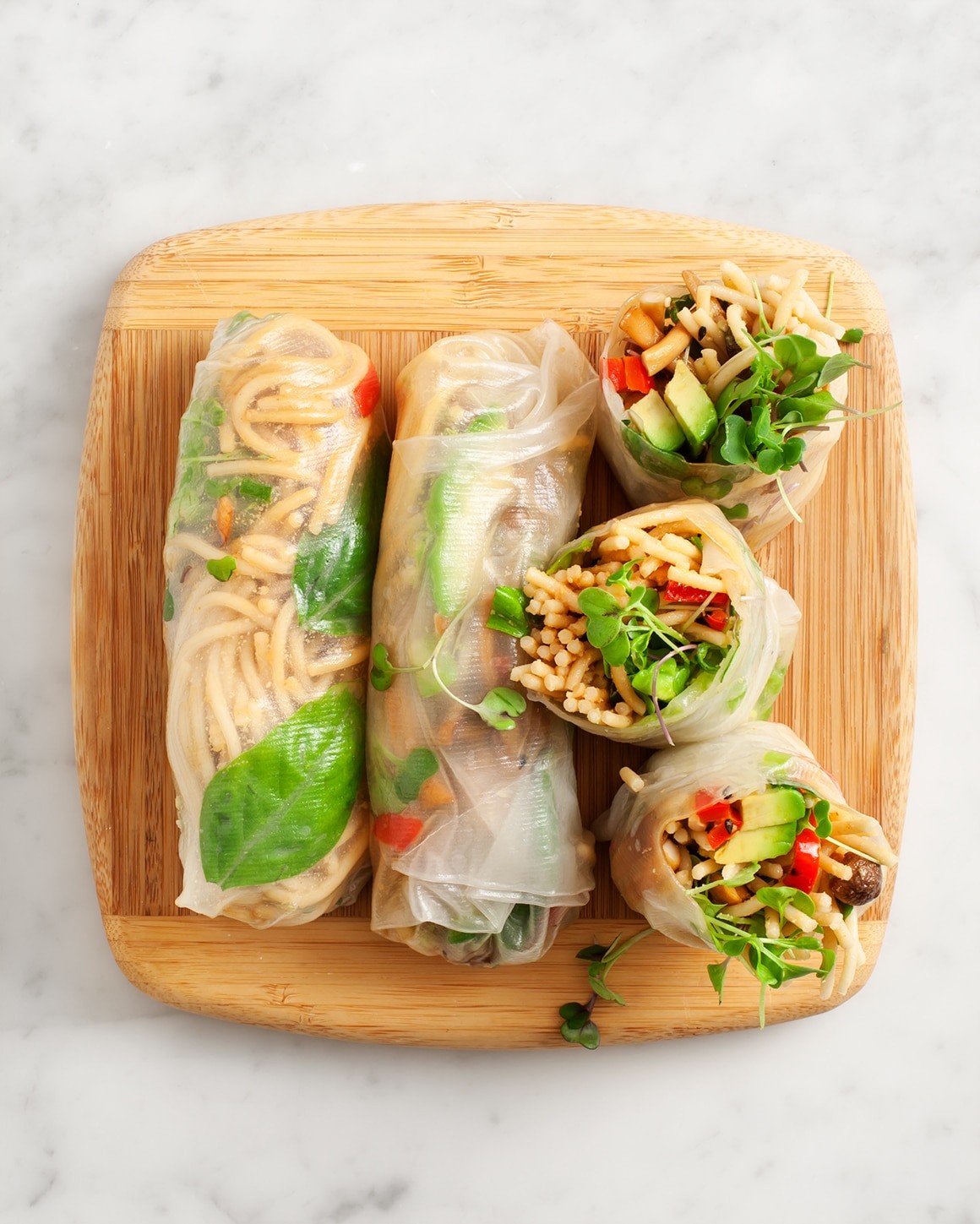 Photo: Love and Lemons
Goi Cuon, Vietnamese spring roll, summer roll, fresh spring roll, spring roll, or rice paper roll, is a Vietnamese dish traditionally consisting of pork, prawn, vegetables, Bun (rice vermicelli), and other ingredients wrapped in Vietnamese bánh tráng (commonly known as rice paper or cold roll). Unlike other spring roll dishes which are believed to be originated from China, Vietnamese gỏi cuốn is the country's creation using rice paper .
Goi Cuon are served fresh while others are served fried, like the Vietnamese Cha Gio. They are served at room temperature (or cooled) and are not deep-fried or cooked on the outside. These rolls are considered to be a very popular appetizer with customers in Vietnamese restaurants.
The rice paper is dipped in water, then laid flat on a plate with the desired amount of ingredients placed on top. The fresh Goi Cuon is then rolled up and ready to be eaten. Goi Cuon can be served with hoisin sauce, which consists of ground black soybean and mixed coconut water (or broth), before being stir-fried with garlic and some sugar and then sprinkled with chili powder and ground peanuts. Alternatively, Goi Cuon can be served with peanut sauce or other Vietnamese dipping sauces, such as nước chấm, a condiment based on fish sauce.
In Vietnam and in various parts of Southeast Asia, Vietnamese can be seen hand-making rice paper and placing them on the rectangular bamboo trays around their houses. Traditionally, Goi Cuon are eaten with a large group of people at a home setting.
4. Vietnamese Crepes – Banh Xeo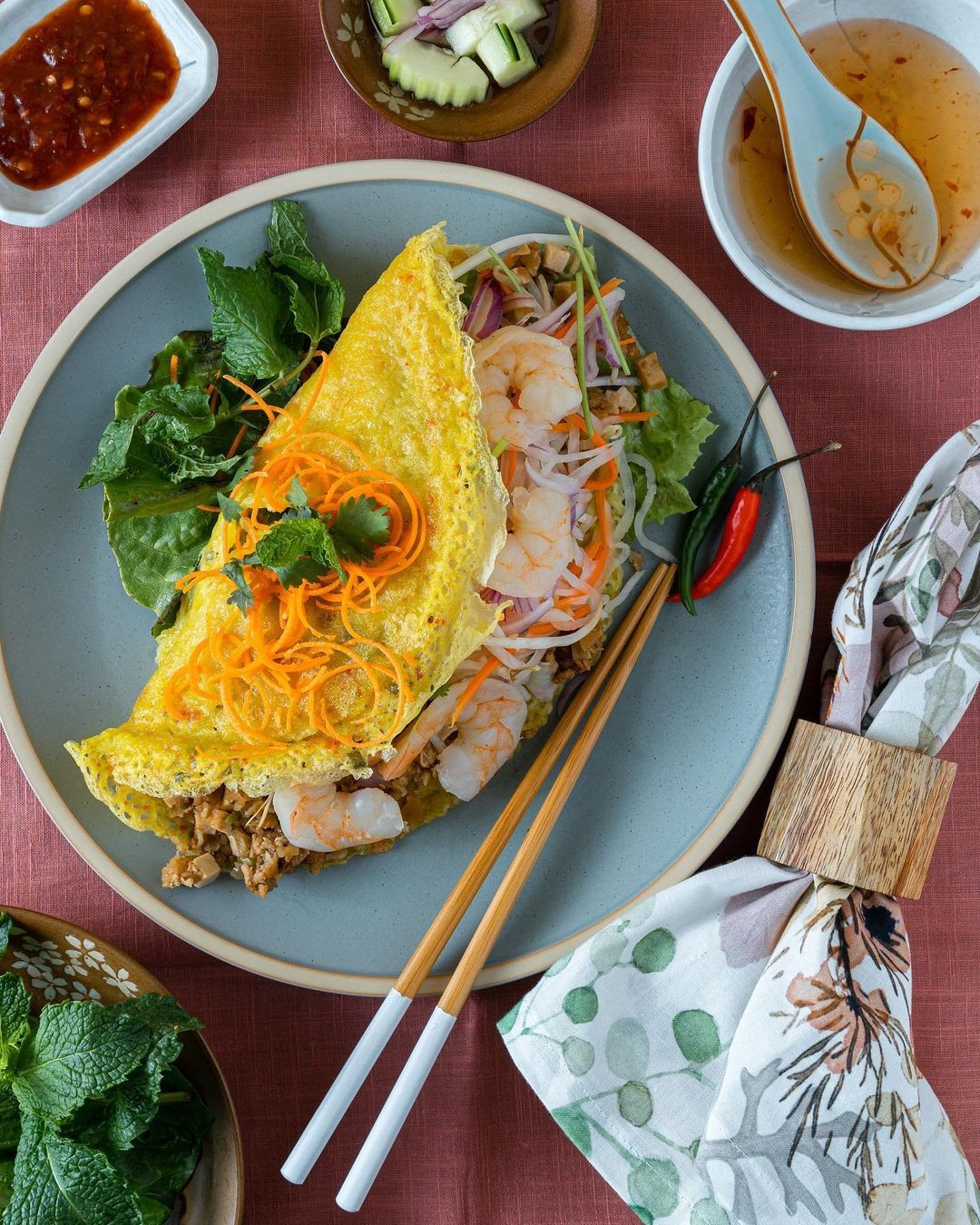 Photo: @wanderingchopstix
Banh Xeo is a crispy, stuffed rice popular in Vietnam. Banh means cake while Xeo means sizzle. The name refers to the loud sound the rice batter makes when it is poured into the hot skillet. It is a savoury fried pancake made of rice flour, water, and turmeric powder. It can also be called a Vietnamese crêpe. Some common stuffings include pork, prawns, diced green onion, mung bean, and bean sprouts. Banh Xeo is also served with lettuce, mint, Thai basil, and fish mint.
One wraps Banh Xeo in rice paper with a good number of other fresh uncooked herbs, including the all too familiar lettuce. That will definitely cool down all the cholesterol just right.
For locals, the dipping sauce sometimes may just be what either makes or breaks a Banh Xeo. Each vendor has her own secret of the trade, and probably will not tell a stranger anytime soon. Generally speaking, it is a "right" combination of fish sauce, coconut milk, vinegar, sugar, chilly pepper, garlic and lemon… give or take a few? First timers will probably just "wow".
5. Nem nuong – Southern grilled pork rolls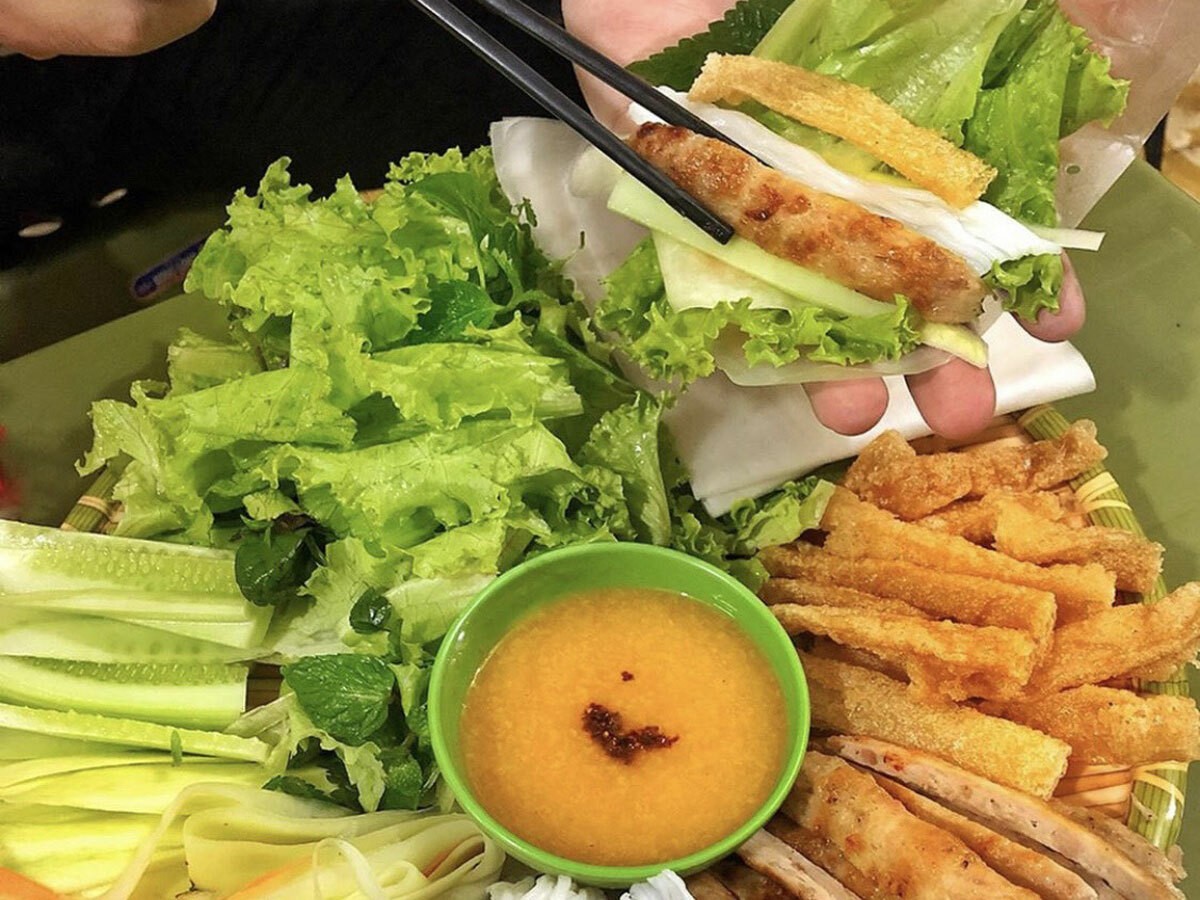 Photo: Duongvux
Nem nuong usually includes grilled pork, tiny fried spring rolls, pho noodles, green mango slices, cucumber, pickles, fresh herbs, all wrapped in rice paper, prior to being dunked in a tangy dip.
There are also many types of BBQ nem in Ho Chi Minh City, ones that originate from Long An, Nha Trang, Ninh Hoa and so on... each with its own uniqueness. The core nem from competing brands can taste slightly different here and there, but not entirely off, since it is the soul of the wrap. Herb varieties mostly stay the same, and make up the majority of the filling indeed. It is another "mostly cool" snack, but note that nem is also the most processed on the list.
6. Trang Bang Rolls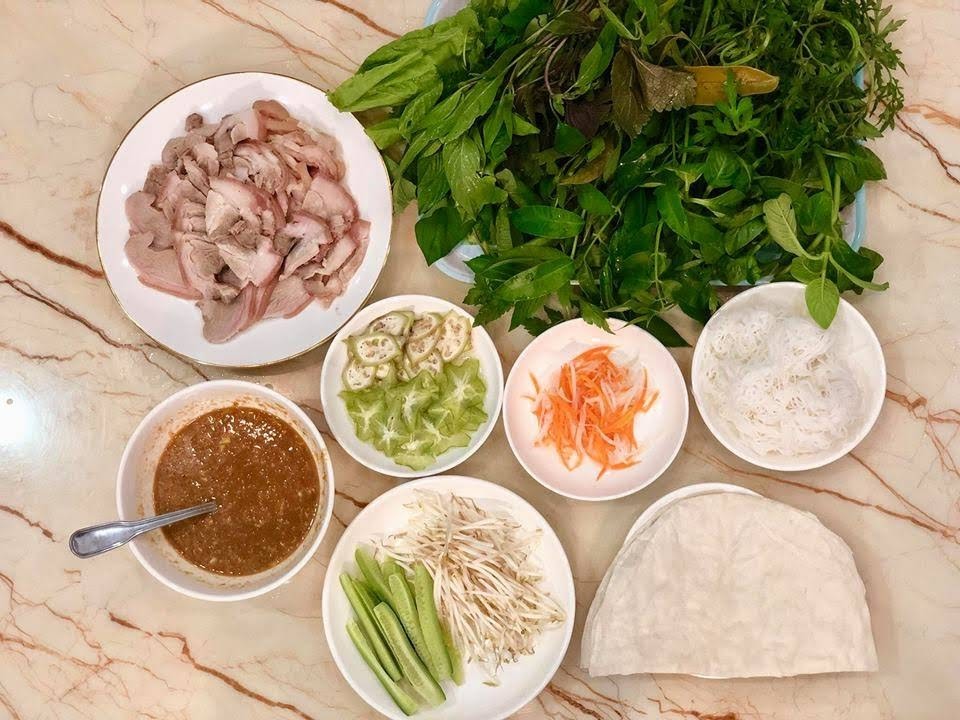 Photo: Viretnam Online
Trang Bang is one of the lands on which people have been residing for the longest time in Tay Ninh. Nowadays, even though the old village has turned into a busy urban area, the local inhabitants are still able to preserve the traditional cuisines, one of which is the tasty Trang Bang Rice Paper dish.
The most important ingredient of this dish is rice powder. However, in order to make the right rice papers, the rice powder must be made from a special type of rice that can only be found in Trang Bang, Tay Ninh. The cook must then follow a complicated procedure consisting of many phrases.
First, he must wash the rice thoroughly before grinding it to make the powder. Then, an adequate amount of salt and water must be added. These elements are then blended well together to create the desired liquid. The cook uses a spoon to put the liquid into the steaming pan to make the rice paper. When each slice of rice paper is cooked, it is dried under the sunlight for about a day. The next phrase is to grill the rice papers with peanuts until they swell into the desirable size. When the grilling phrase is done, the cook puts the rice papers outside in early morning so that the dew can instill in each sheet of rice paper. The last phrase is to wrap the rice papers with banana leaves to keep them soft and tasty.
The Trang Bang Rice Paper taste best when we eat them with boiled pork meat, bean sprouts, and carrots. Besides, fresh herbs are also another important companion of the dish. When eating, we put the ingredients mentioned above onto a sheet of Trang Bang Rice paper, wrap them, and then dip the roll into the special fish sauce of Tay Ninh to fully savor the taste of this delicious dish.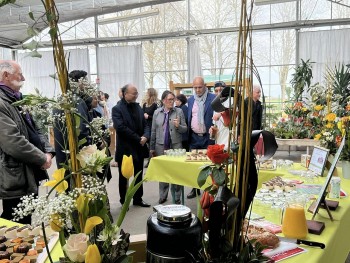 Overseas Vietnamese
Vietnamese Ambassador to France Dinh Toan Thang recently paid a working visit to Saintes, a city in southwestern France, to promote cooperation between the city and Vietnamese localities and attended the Vietnamese Culture Day, VNA reported.