The Best Vegetarian Street Food Dishes in Vietnam
Vietnam is famous for its street food, and there is also vegetarian options for vegan tourists to taste the rich cuisine of this country.
Whether it's a substantial Com Tam pork plate for breakfast, a steaming bowl of beef Pho for lunch, or a crispy pork belly and fish "Bun Mam" soup for dinner, meat can be found in nearly every dish.
Understandably, this can put off many vegetarians from visiting Vietnam, but they shouldn't be deterred. There's an abundance of delicious vegetarian — or "chay" — meals in restaurants and on street corners all across the country, from Hanoi to Hoi An to Saigon. Just look for signs that have chay written on them, which means "vegetarian." Here are some of the country's favorites.
1. Nom Du Du (Green Papaya Salad Vietnamese style)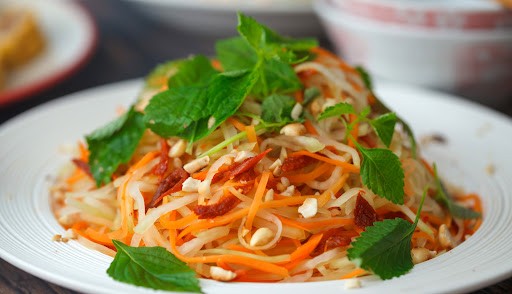 Photo: Savoury Days
More delicate than the Thai version, this fresh, tangy salad is packed with herbs and is easy to make. It's crunchy with lots of texture and is great with grilled beef and barbecued chicken.
In Vietnamese cuisine, papaya is more than just a fruit. Unripened green papaya is treated as a vegetable, and used in various ways: picked, added to soup, or shredded and featured in salads. Nom du du, or "green papaya salad" is a favorite among Vietnamese locals who love to eat it either at the beginning or the end of a big meal, as it is thought to aid with digestion. This makes sense, as papaya extract pills are often taken as a remedy for digestive problems.
Method
To make the dressing, whisk together all the ingredients in a bowl until sugar is dissolved. Set aside.
Using a Japanese mandoline or a food processor fitted with a shredder blade, shred the papaya into fine matchsticks. In a bowl, add shredded papaya and dressing to taste (about five tablespoons). Toss with sliced prawns and herbs. Check seasoning.
Transfer to a serving plate and top with peanuts, fried shallots and sliced chilli.
Tip: Always buy a firm green papaya without any spots or blotches. It can also be used as a pickle and is a great meat tenderiser.
2. Banh Cuon (Steamed Rice Paper Rolls)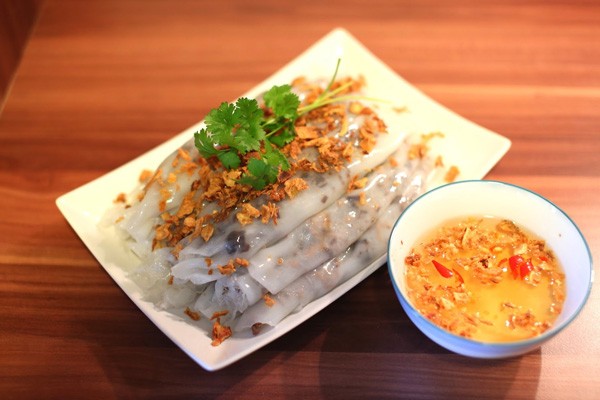 Photo: beptruong.edu.vn
Banh Cuon is a popular Vietnamese street food item consisting of steamed rice rolls stuffed with pork (banh cuon nhan thit), mushrooms (banh cuon than tri), or both (banh cuon Ha Noi). The dish is usually served with a fried shallot dip, sweet and sour fish sauce (nuoc mam chua ngot), a variety of fresh herbs, and lime-based sauce on the side.
It takes a special kind of skill to prepare these steamed rolls which should always be extremely thin and translucent. Banh Cuon is usually consumed for breakfast in Vietnam, while a similar version of the dish is also present in Thai cuisine, where it is known as khao phan.
The pastry is completed by the accompanying sauce- a mixture of fragrant fish sauce blended with a light sour of lime, Cha lua- Vietnamese Pork sausage, and fried onions. Vegetarians can avoid the meat component by requesting for a plain Banh Cuon (Banh Cuon Chay), which does not change the taste dramatically.
Banh Cuon can be found on many local eateries in local markets or every few blocks. Look for a steaming pot and a bright yellow sign ¨Banh cuon¨ and you will be served this delicious delicacy for just a dollar.
3. Banh Mi Chay (Vegetarian Baguette Sandwich)
Photo: Mon Chay Viet
The baguette was initially introduced by the French, but the Vietnamese have made it their own by adding whatever they could think of into it: meats, pickled veggies, herbs, pate, mayonnaise, eggs, cheese, sausages—you name it. While in the south, banh mis are often quite stuffed; in the north, the sandwich is more of a modest snack instead of a meal with just a few ingredients. If you want an "egg banh mi," all you have to do is look for a banh mi trung sign, or just say this to the vendor, and they will understand that you are not looking for meat.
Banh Mi is also extremely cheap, and you can have a fully stuffed sandwich for about a dollar. Locals usually enjoy a quick banh mi and "ca phe sua da" (Vietnamese iced coffee) before work.
4. Vietnamese Sticky Rice (Xoi)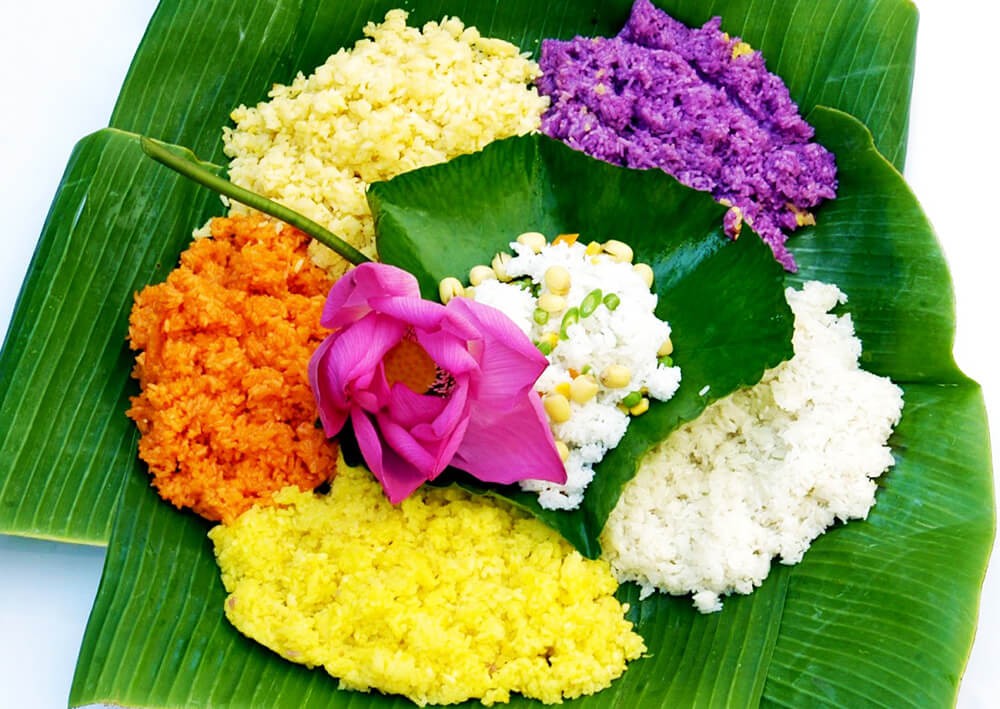 Photo: i Tour Vietnam
It will be a big miss if you come to Vietnam without trying "xoi". Made from sticky rice, xoi has as many variants as you can imagine. "Xoi" is a very common food in Vietnam, and one can find it anywhere from the roadside vendors to luxuriously traditional restaurants. However, "xoi" is not "xoi" anymore when eating in an air-conditioned room with professional services. After all, "xoi" is still street food, which means that people should buy and enjoy it on the street!
Vegan options: Sticky red rice dish, which is often eaten during the Lunar New Year, Tet. It gets its uniquely red and sweet flavour from gac, which is a type of fruit grown primarily in Asia — known also as baby jackfruit.
The rice is mixed together with the fruit — which has been pulsed — and, after sitting for a while, is eventually steamed and eaten with either fake meat (savoury option) or desiccated coconut (sweet option).
You can choose your toppings by pointing through their glass box displays, so you can also opt for an all vegetarian take on xoi. Toppings you can choose include chickpeas, sugar, roasted peanuts, and shredded coconut, and some vendors even have their own secret sauce.
5. Banh Tam Bi – Thick Noodles and Creamy Coconut Milk
Photo: JustFly
Banh tam bi is a southern Vietnamese dish of thick rice and tapioca noodles, tossed with herbs and pork, and drenched in thick coconut cream dressing. It is made of thick tapioca noodles, similar to the size of Japanese Udon noodles, tossed with herbs and pork and then drenched over with thick coconut cream, making it a rather sweet affair.
The first sign of a restaurant that serves banh tam bi in Vietnam is usually the food display cabinet showcasing a pile of the squiggly looking white noodles.
You might also see some fresh herbs and vegetables, and notice a pan of coconut milk sauce sitting somewhere around.
6. Bot Chien – Fried Rice Flour Cakes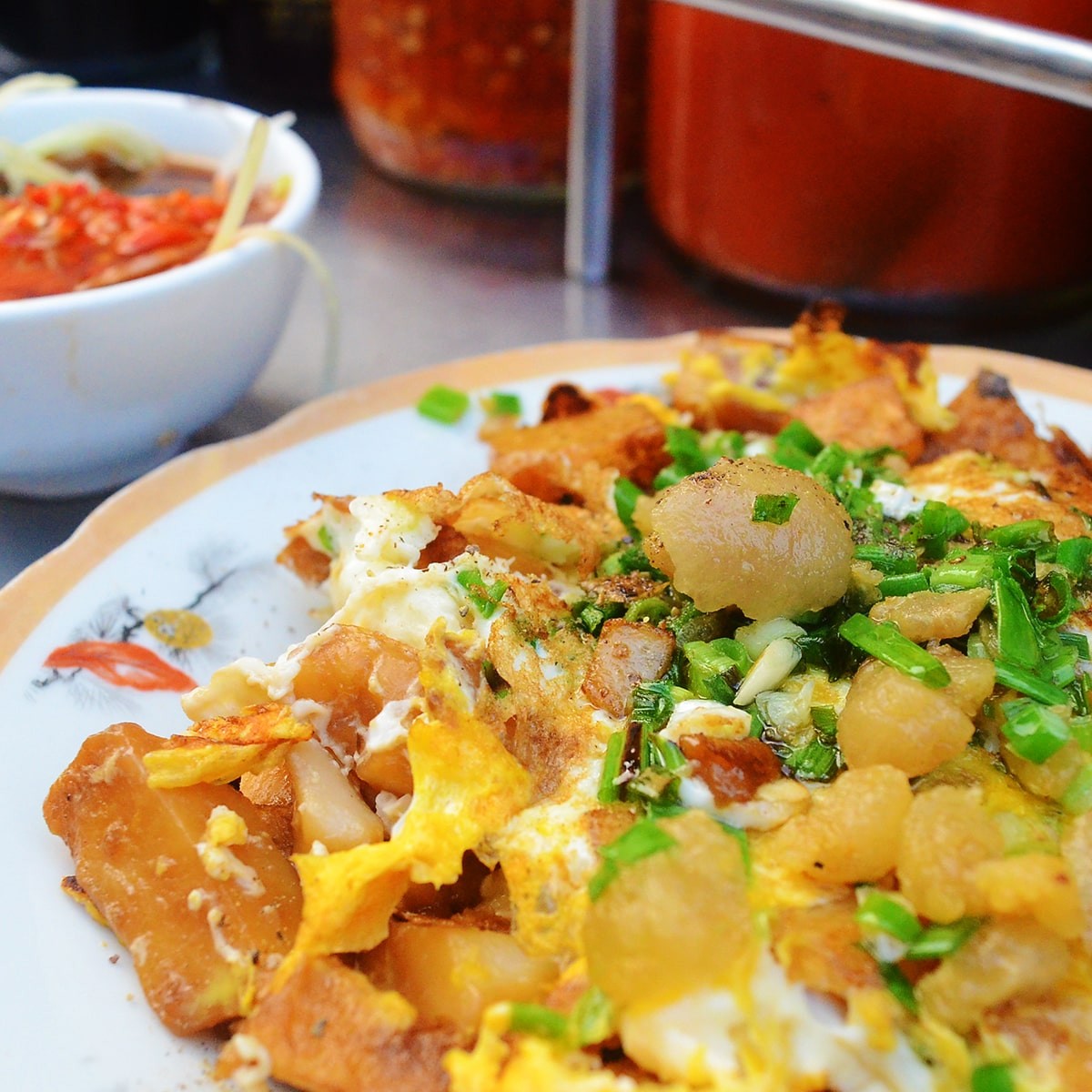 Photo: VnExpress
One of the best places to eat delicious food in Vietnam is down alleys or deep into markets. Bot chien is the Vietnamese version of fried rice flour cakes.
It is similar to Chinese style chai tow kway, or the Singapore / Malaysian carrot cake, but rather than including daikon radish, in Vietnam the little rice cakes are often made of just rice flour and some tapioca starch.
The cakes are then sliced into little cubes or rectangles, fried in quite a generous amount of lard until crispy and golden brown on the outside, then topped with an egg to make things even better.
This is a popular vegetarian street food. Vendors will fry little cubes of rice cake on a fiery hotplate until golden brown. Whisked egg is then added and everything is tossed together until the egg is cooked through. This is usually topped with chopped-up spring onions, a few peanuts and a little soy sauce.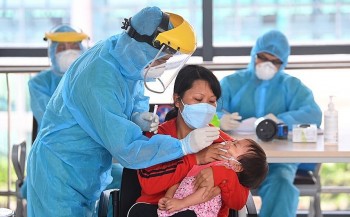 National
Nearly 72 million vaccine doses have been administered nationwide, with 20.7 million people getting their second shot.