Kuwait's NO.1 Travel Blogger to promote Vietnam tourism
Kuwait's NO.1 travel blogger Hani Al Mousawi will visit Vietnam this November, in a 12-day trip to promote Vietnam's tourism.
Kuwait's NO.1 travel blogger Hani Al Mousawi will visit Vietnam this November, in a 12-day trip to explore and promote Vietnam's tourism.
Mousawi in Nha Trang (Source: Hani Al Mousawi Instagram)
Hani Al Mousawi is a well-known Instagram user in Kuwait with over 103,000 followers. He has so far uploaded 1660 photos on his page, capturing his travel to various famous sights of interest in various countries, including Pakistan, Bangladesh, Japan, Poland, Spain, etc.
The travel blogger visited Vietnam in March 2016 and February 2018, and has explored multiple must-see destinations, like Mount Fansipang, Ha Long Bay, Hanoi Old Quarter, Nha Trang beach, Ben Thanh market, etc.
Mousawi's trip to Vietnam in November is expected to help broadcast widely the beauty of Vietnam to potential tourists in Kuwait and other countries in Middle East.
Recently, the Vietnamese Embassy in Kuwait has been paying vast attention to promote Vietnam's tourism.
In mid October, The Times Kuwait published an article themed "Vietnam: Splendorous nature, perse culture", introducing Vietnam's symbolic sights of interests including Hue Old Citadel, Hoi An Ancient Town, My Son Sanctuary, Nha Trang beach, Ha Long Bay.
Vietnam's famous sights featured on The Times Kuwait.
In November 2017, Ambassador Trinh Minh Manh participated in a live interview on Kuwait TV on Vietnam, Kuwait in general and Vietnam tourism in particular. On this occasion, Kuwait TV also aired a 5-minute video featuring the beauty of Vietnam.
According to the Embassy, in the coming time, more tourism promotion programmes will be launched to fully tap into the potential of the tourism market worth USD 13 billion of Kuwait./.
*More pictures of Vietnam from Mousawi's Instagram:
Enjoying a cup of coffee in the Old Quarter of Hanoi
Relaxing time in a resort in Binh Duong province
Watching sunset in Nha Trang
Ha Long Bay. Caption: "Ha Long Bay is one of the most beautiful places in Vietnam."
( Translated by Phi Yen )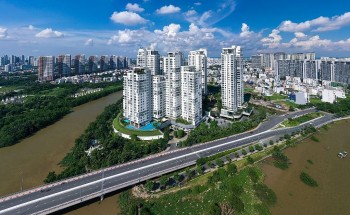 Economy
Vietnam Business & Weather Briefing (Sep 29): Vietnam among world's best performers in digital banking, Vietnam's new overseas investments surge 2.31-fold in nine months.