Last Stop! Hanoi's Beloved Train Cafe Street is Ordered to Close
The leader of Hoan Kiem District People's Committee said that the district would temporarily close "the train street cafés," and revoke the licenses of business households that violate the railway safety laws.
On the afternoon of September 14, Nguyen Anh Quan, The Vice Chairman of the Hoan Kiem District People's Committee said that all households operating their business near the railway area have violated the rail corridor safety.
According to Mr. Quan, Hoan Kiem District will revoke all business registration permits granted to households in the railway area in the near future.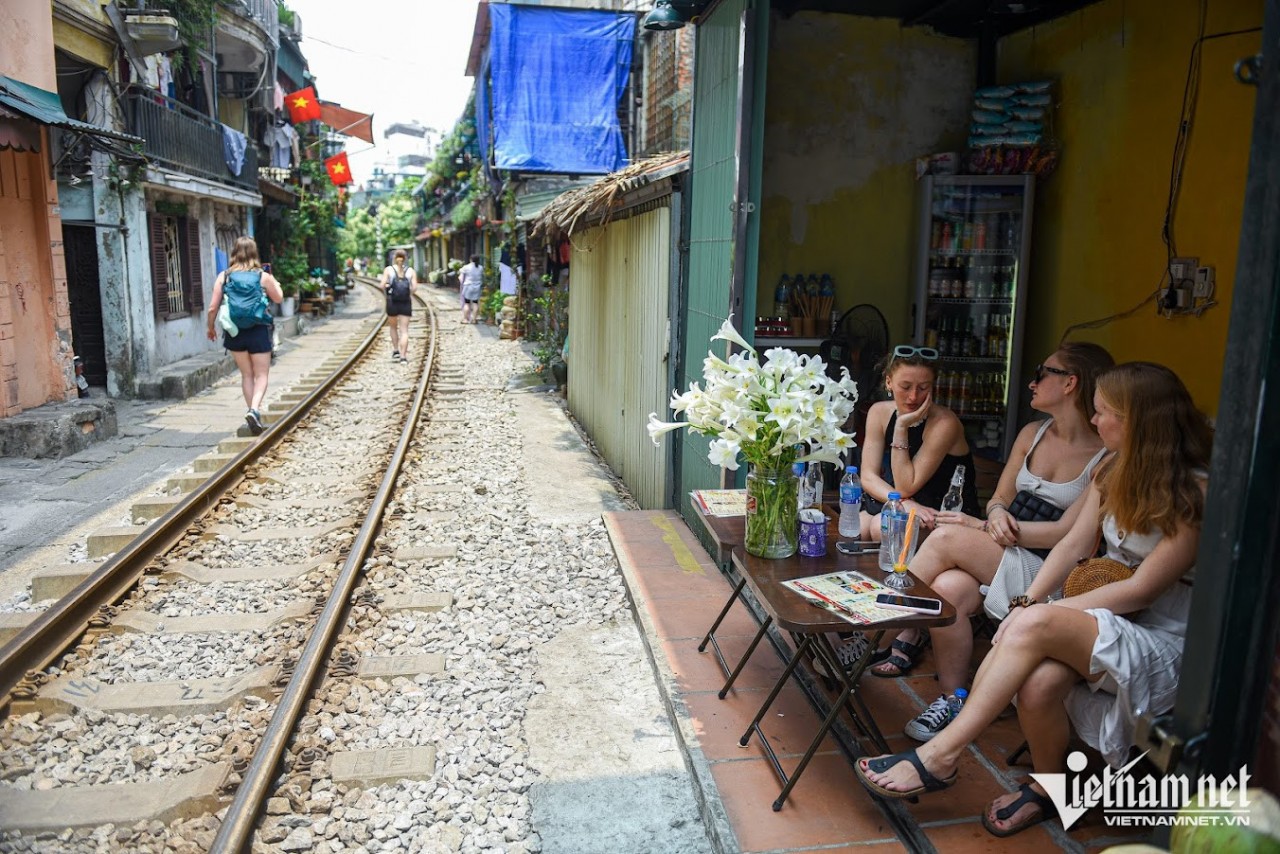 Photo: Quang Minh/ Vietnamnet
Although there has been official pushback in the past, the Hanoi regional government is now putting pressure by revoking all the licenses for coffee shops and other businesses along the street. All of them have until September 17 to close.
Hoan Kiem District has already barricaded the railway area to stop tourists and local people from coming to take pictures and causing chaos on the streets.
Previously, the Vietnam Railways Corporation had sent a request to the Hanoi City People's Committee and Vietnam Railways Administration to handle the situation of people drinking coffee at train cafes and taking pictures along the railway that are causing dangers to others and affecting railway traffic safety.
The street, where trains travel along a track just inches away from homes and businesses in the Vietnam capital, has been one of the most popular tourist sites in Hanoi.
The danger of tourists posing for risky photographs on the tracks
According to CNN, "the train track is still operational, and there have been security issues with tourists who like to sit, lie down and pose on the tracks."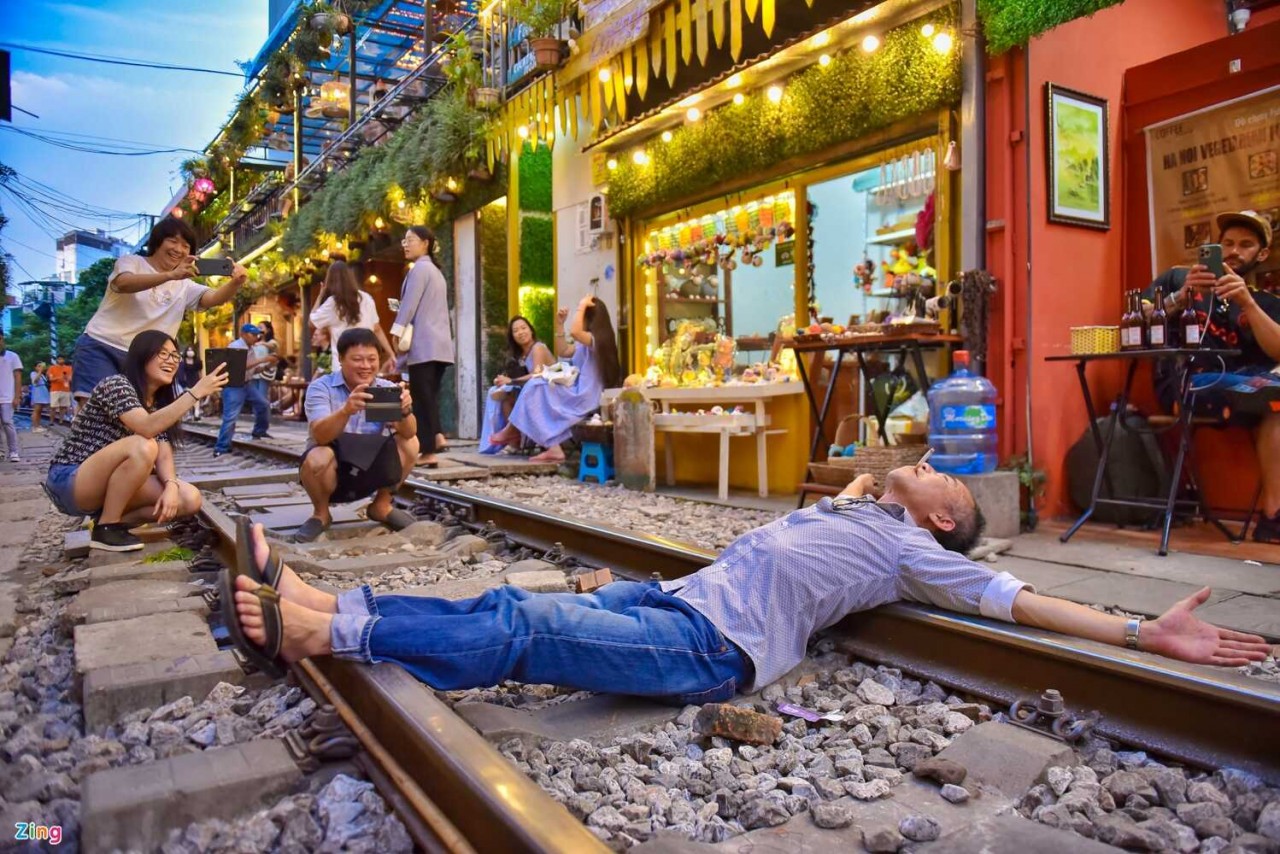 Tourists dangerously pose on the track for check-in pictures. Photo: Zing news
A lot of tourists show their interest when they come to the "train street" and have a hot cup of coffee while experiencing the strong sensory feelings when the train passes through.
In current months, the train street in Hanoi is always busy every weekend when hundreds of tourists from all over the world visit after a long time of temporary closure due to the Covid-19 pandemic.
The train street is a 2 km long road connecting Le Duan - Tran Phu - Cua Dong and Phung Hung streets (Hoan Kiem district, Hanoi). This is a place that attracts many foreigners and young people coming to have the most unique experience of their lives.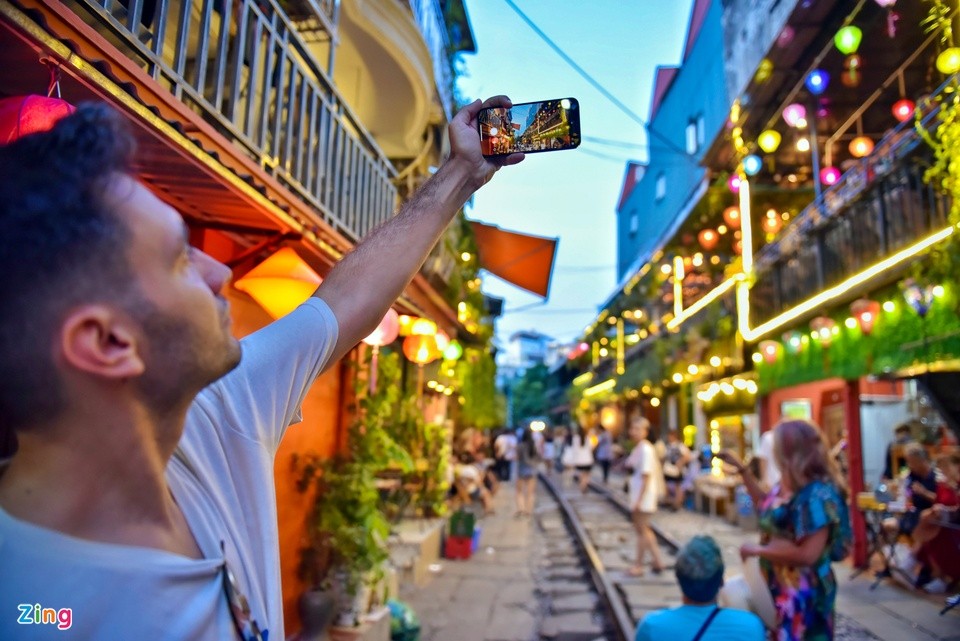 Photo: Zing news
Erik, a Turkish tourist, said: "I knew about this place through social media. when I came to visit, I was shocked and delighted by the beautiful scenery. It brings a thrilling yet dangerous feeling when the train passes," according to Zing news.
On October 6, 2019, The train had just left Hanoi station to Hai Phong and had to make an emergency stop at the section of Phung Hung Street as an Asian female tourist was standing at the track to take Instagram check-in pictures.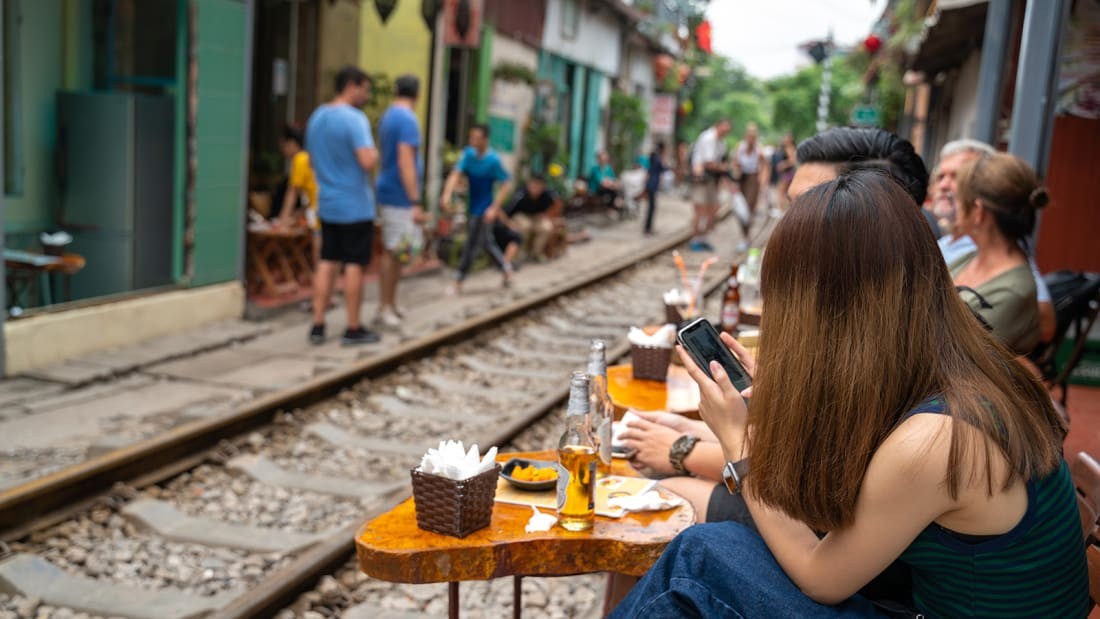 Photo: CNN
In 2019, many train drivers had to make an emergency stop for a short time so that tourists could find a safe place to stand alongside the track.
Hanoi police officers have erected barriers to bar tourists from visiting coffee shops along the famous Train Street that will be closed this weekend over safety concerns. A lot of people stated their opinions that tourists sitting near the railway to enjoy coffee and posing for fancy pictures are acts potentially dangering their lives and others.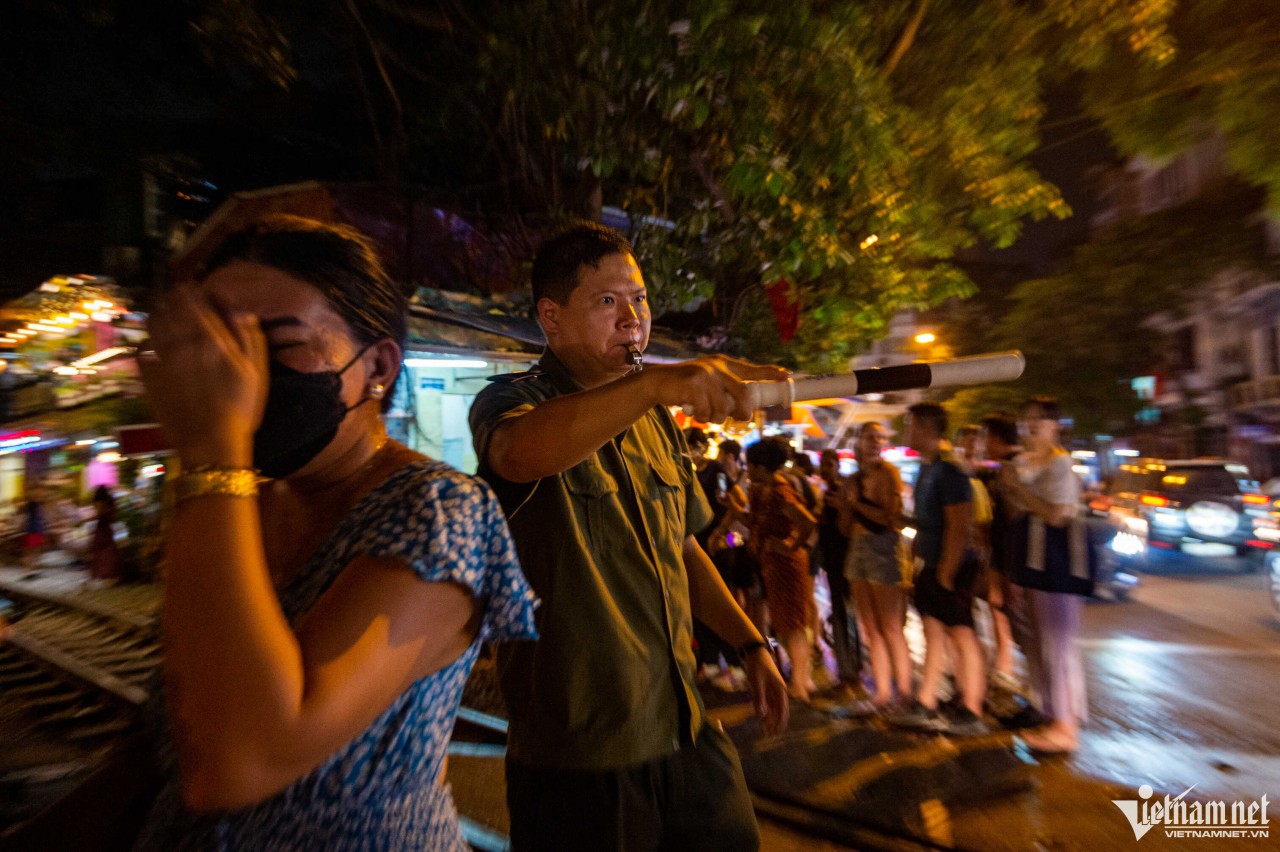 At 7 pm, at the entrances, the police officers set up barricades to prevent visitors from entering the train street. Photo: Vietnamnet
From Thursday morning, entrances to Train street encompassing Tran Phu, Phung Hung, and Dien Bien Phu streets in Hoan Kiem District in the heart of Hanoi's Old Quarter were barricaded with police guarding the place to prevent tourists and local people from entering.
A lot of domestic and foreign tourists expressed their regrets when they could not enter the railway track and the familiar coffee shops.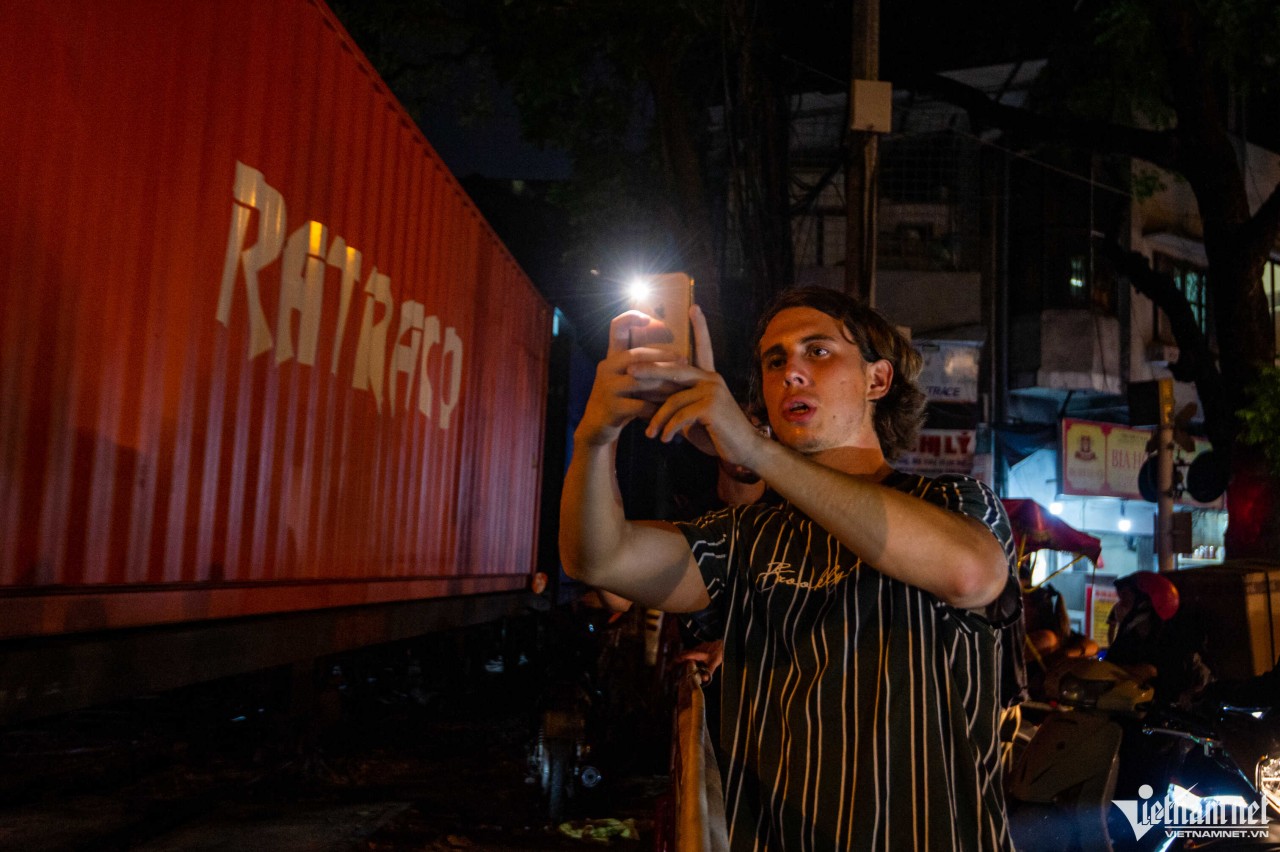 Photo: Vietnamnet
After three days of touring Ho Chi Minh City, Jose (from London) and his friends visited Hanoi. The "Train street" was the first place he ever went to. "From the outside, the colorful street is really impressive, especially when a train passes by. Although I have traveled to many places, this is the first time I have seen such an interesting scene. This will probably be the last time I will ever witness something like this again," he said, according to Vietnamnet.
Standing outside, Manh Cuong felt regret as he had never come to see the train street even though he lives in Hanoi. "I think it is very dangerous for tourists to pose and take pictures right on the track, but it is also sad now that this place will be shut off. It has long been a favorite spot that attracts many foreigners coming here," he said with Vietnamnet.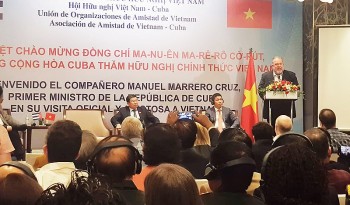 Friendship
Cuban Prime Minister Manuel Marrero Cruz met representatives from the Vietnam-Cuba Friendship Association in Hanoi on September 30, as part of his visit to Vietnam from September 28 to October 2.