Photograph Your Way through Gorgeous Can Gio
Can Gio is considered the "green lungs" of Saigon because of its fresh air and diverse ecosystem. Planning your trip to Can Gio? Here are some of the best places to visit in Can Gio that will give you a once-in-a-lifetime experience.
If you are looking for a relaxing shelter not too far from Saigon, Can Gio is perfect for a weekend getaway for residents of Saigon and surrounding areas.
What exactly does Can Gio offer, you might ask, then check out our list of must-visit destinations below!
30/4 Beach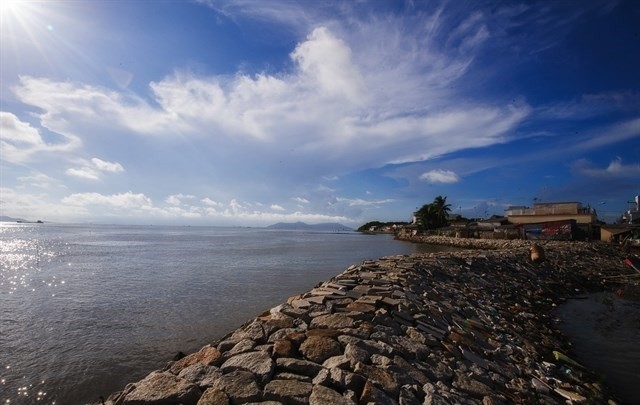 Photo: Dulichviet
If the crowded and hustling city life stressed you out, a relaxing trip to 30/4 beach, also known as Can Gio beach, will be your best therapy.
30/4 is the only beach on the outskirts of Ho Chi Minh City, therefore, it offers urban citizens a green oasis after a long week in the bustling city. While tourists may be surprised to see the black sand, it should be noted that the color is formed not because of pollution but the beach's geographical condition.
You can enjoy the cool, fresh air here and feel the salty flavors of the sea. The crystal clear water shines like thousands of crystals during the sunrise and sunset.
A seafood market, named Hang Duong, lies just 50 meters from the beach, offering tourists a fresh and savory retreat after hours of swimming in the relaxing sea.
Phuong Nam marine eco-system area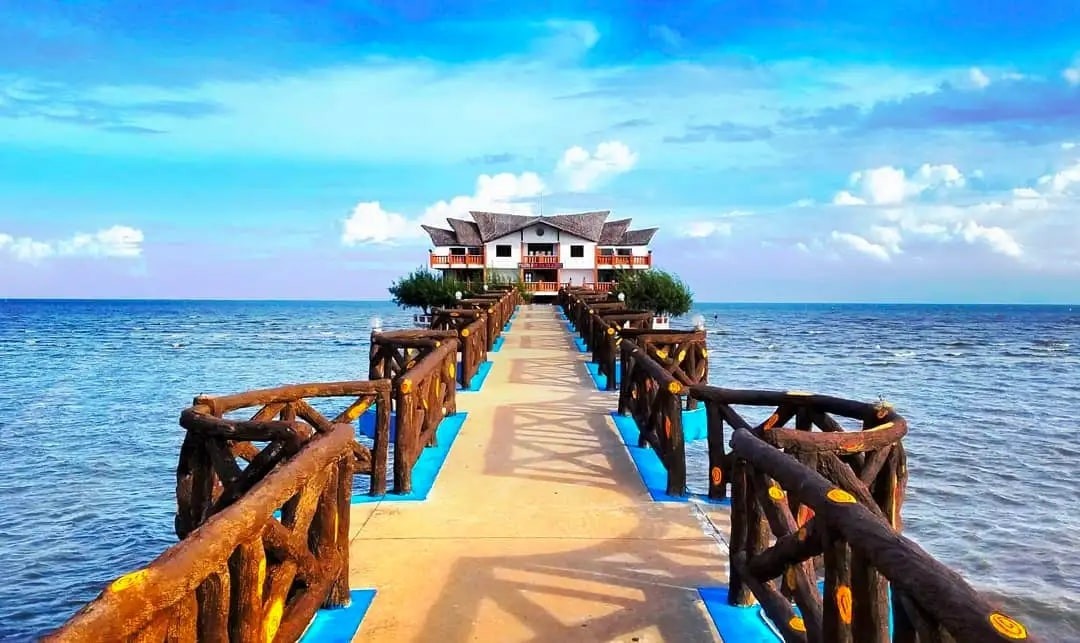 Photo: Traveloka
Phuong Nam marine eco-tourism area is located at 1227/65 Duyen Hai Street, Long Hoa Commune, Can Gio District, Ho Chi Minh City. The moment you step foot into this eco-system area, you will feel relaxed by the cool, fresh air blowing from the sea and the salty taste that ease all your tiredness and anxiety.
The most interesting thing when coming to Phuong Nam Resort is the fresh and unspoiled natural space. Around the tourist area, there are many mangrove forests - a natural and stunning background for Instagram-friendly photos.
In the Phuong Nam marine eco-tourism area you not only enjoy the resort, but also enjoy a buffet with all kinds of fresh seafood. Seafood vendors offer freshly cooked dishes right on the resort. For a better variety, you can check out Hang Duong seafood market, located about 5km from the resort.
Monkey Island
Photo: VietYouth
If you are googling tourist destinations in Can Gio, Monkey Island is among the top searches. Most monkeys on the island are friendly with tourists. While swiftly moving from trees to trees, they seem to be cooperative when tourists try to take photos.
Tourists are allowed to feed the monkeys and play with them within the area. Even though the animals are quite docile, some can be aggressive, therefore, do not touch or get too close to them.
Thanh An Island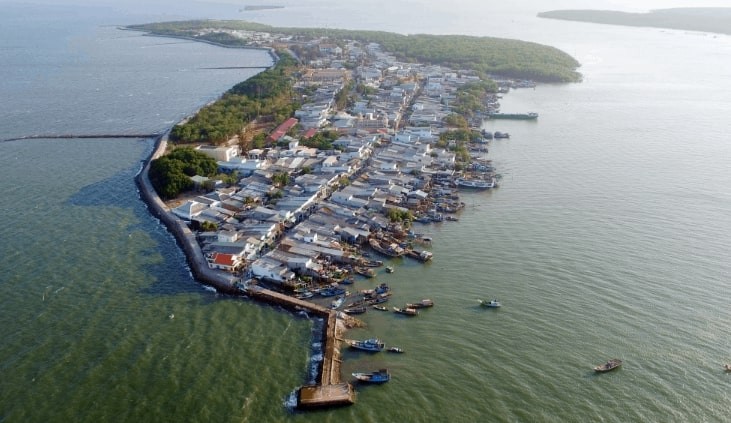 Photo: Vntrip
This is another beautiful and well-known check-in place that tourists are recommended to visit in Can Gio. Forget all your stress and work, and immerse yourself in the daily life of people living on Thanh An Island, participating in activities such as fishing, boating, seafood farming, etc.
Aside from having the best check-in photos, tourists can also explore the wild, unspoiled nature, and taste the most delicious seafood dishes.
Vam Sat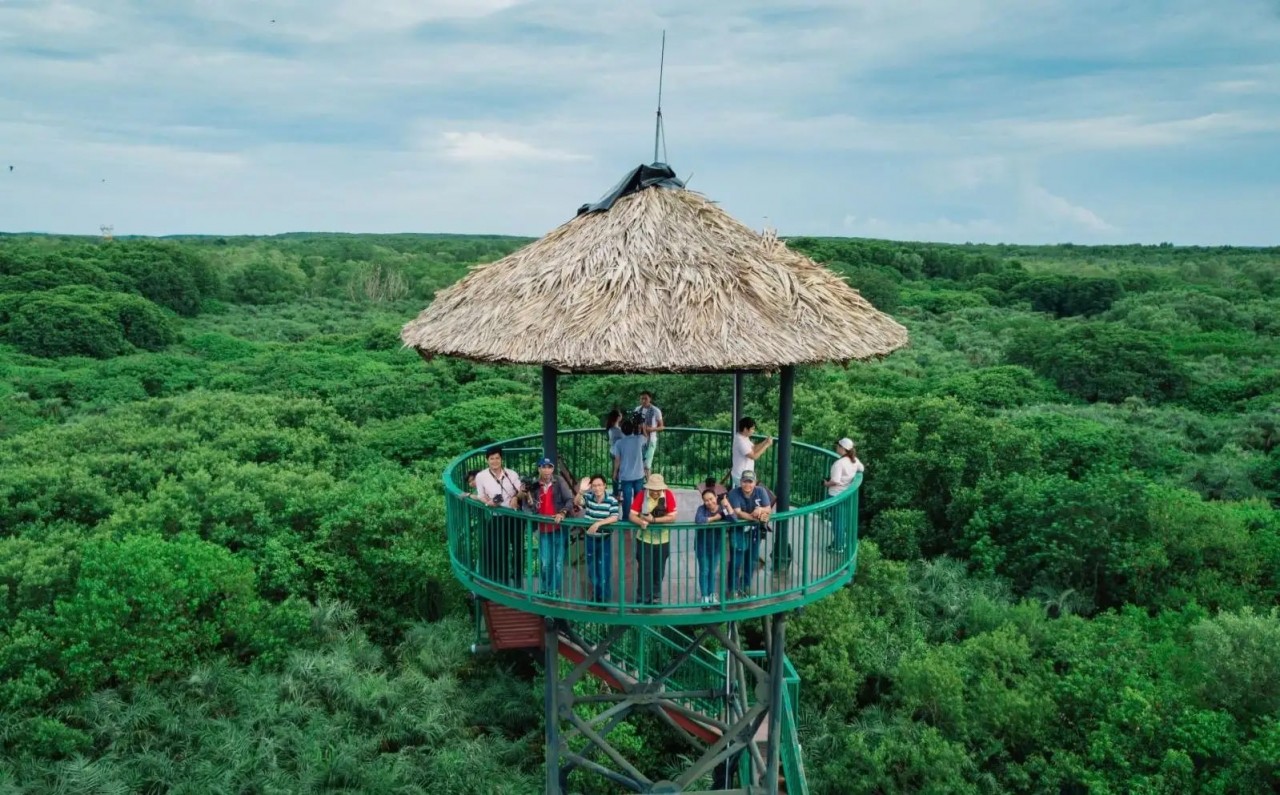 Photo: Traveloka
Located 12 kilometers to the North of Money Island, Vam Sat mangrove forest is worth a visit even though it can only be approached by boat or canoe. This place is known for crab and crocodile fishing, as well as Dam Doi (Bat Swamp), the habitat of many kinds of storks and fruit bats.
There are a lot of things that tourists can do in the forest, making it fantastic for a day trip from Ho Chi Minh city.
Hai Duong Market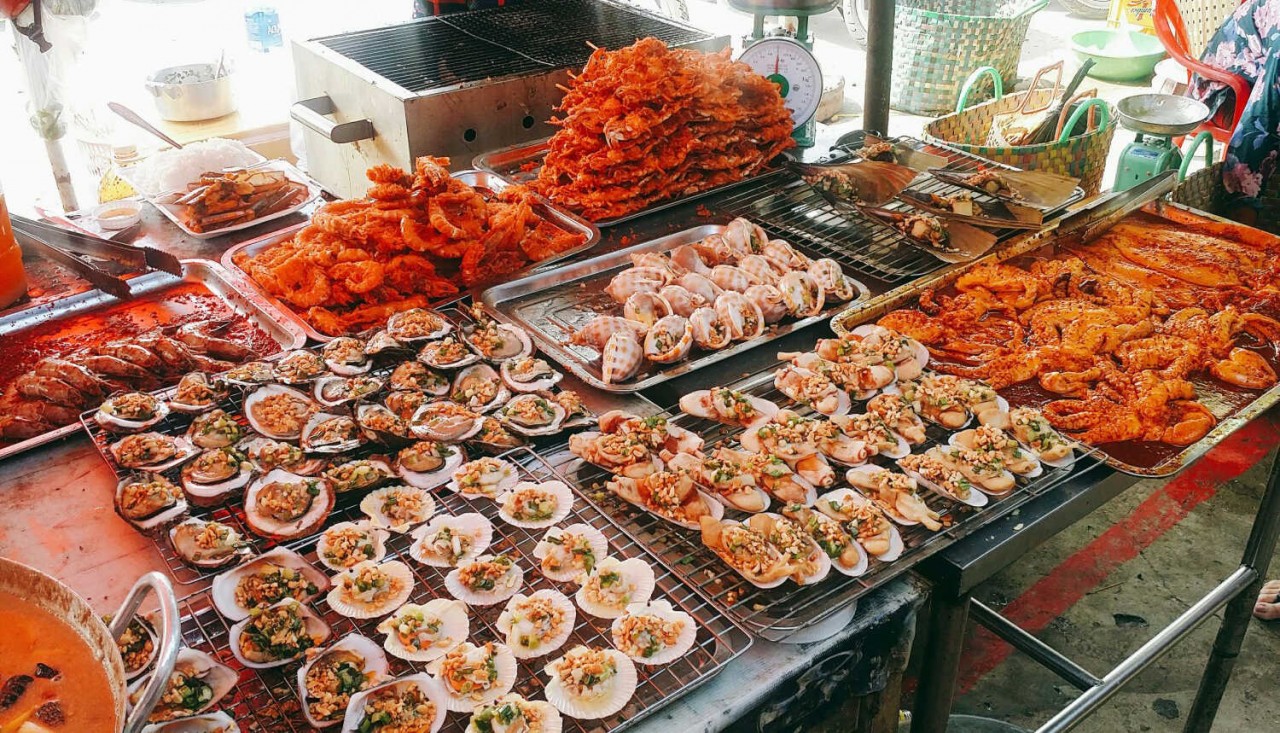 Photo: Foody
Hai Duong is a big market where locals gather to sell their fresh catch and dried seafood. Walking around the place, tourists can see all kinds of ingredients: fish, shrimp, vegetables, and herbs. Tourists can even choose a sea animal that is swimming in the vendors' pool, then ask the cook to process it into delicious dishes within just a few minutes.
Nam Hai Bridge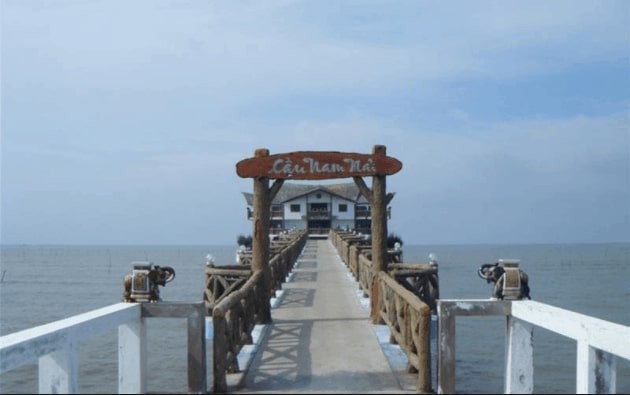 Photo: Vntrip
Hai Nam Bridge was built to bring visitors to a restaurant by the sea. However, the bridge itself gradually becomes famous when young couples come to take romantic photos. The rustic bridge standing out on a blue background of the sea, therefore, is called the "bridge of love."
Thieng Lieng Island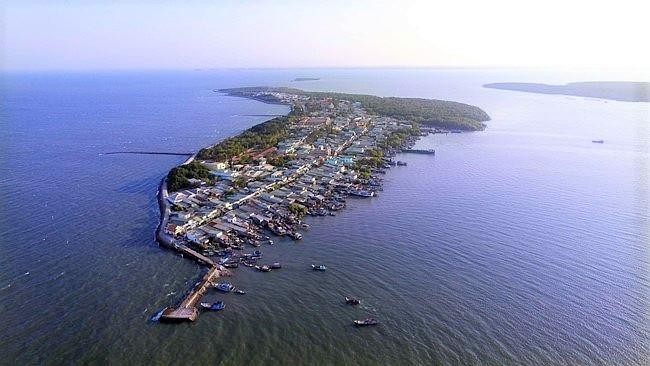 Photo: Thanh Nien
Although it is also one of the island communes under Can Gio, Thieng Lieng island is less known. That's because the road to the island is difficult. From Can Thanh town, you take a boat to Thanh An island. Like Thanh An Island, Thieng Lieng Island does not have any travel services.
Can Thanh Town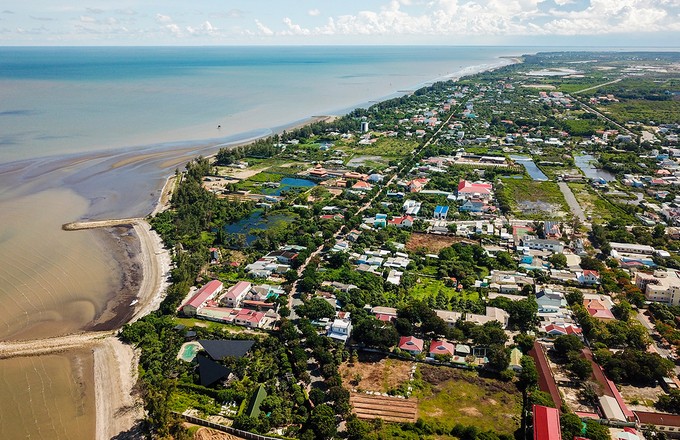 Photo: the gioi moi truong
Can Thanh is a seaside town, which is a place of peace and dreamy scenery. When you first visit the place, you can immediately feel the fresh air, and take pictures of the small, petit houses.
There is a park facing the sea, which is very suitable for those who like to relax and rest, the natural scenery will make you forget all the troubles in life.
Whale temple (Lang Ong Thuy Tuong/ Ca Ong mausoleum)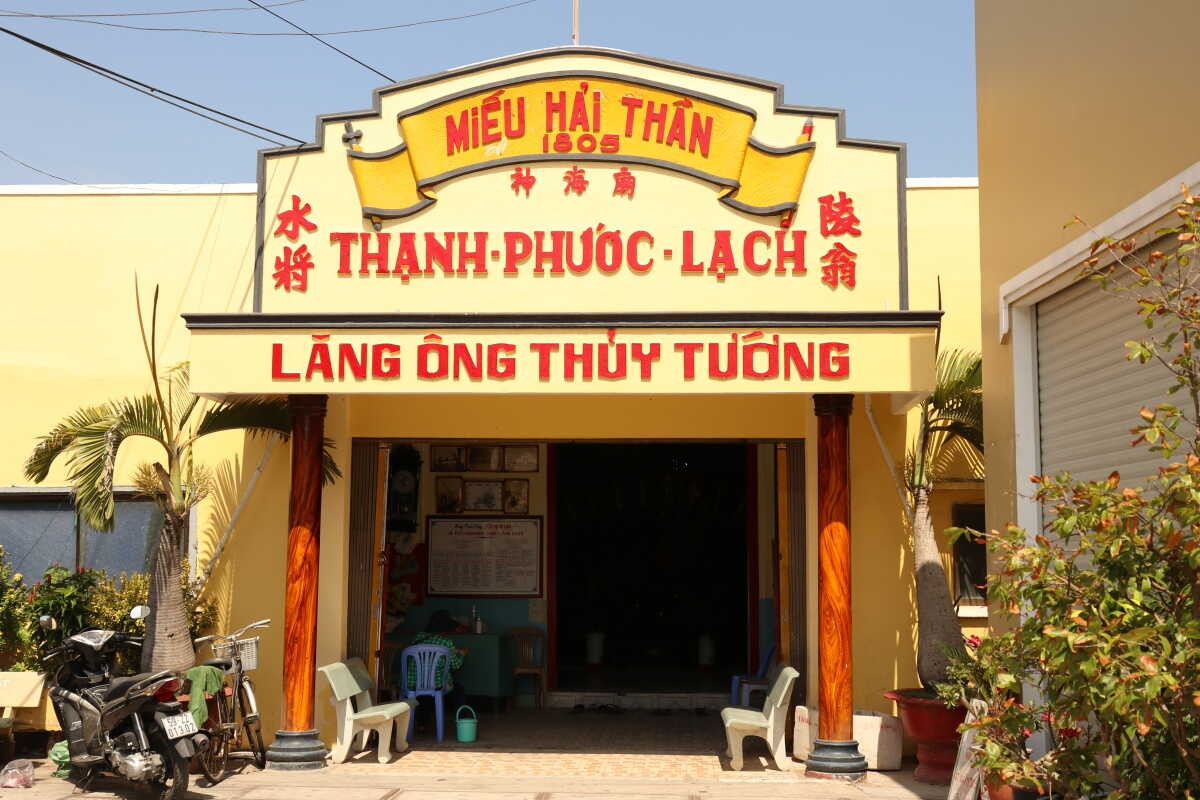 Photo: Yen Nhi
Ca Ong is a mutual Vietnamese name for all kinds of huge fish like sharks and whales. In Vietnam, fishermen worship these kinds of fish for the belief that they are very powerful and can affect their trip to the ocean (which, they indeed can). So when a body of these fish appears at the shore, they will build a temple to worship and pray for safety and prosperity before and after every trip.
The famous whale temple is the place to display a 17 meters long whale skeleton.
Every year on the 1st and 15th of the August on Lunar calendar, the locals will organize a "Nghinh Ong Thuy Tuong" – a festival to pray for safety and luck for fishing trips as well as the protection of the Whale God while they are on the ocean. You can have the chance to witness many traditional customs, dances and even games on occasions like this.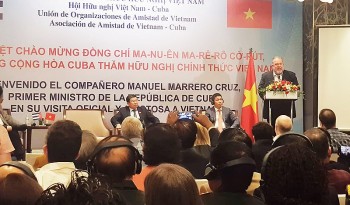 Friendship
Cuban Prime Minister Manuel Marrero Cruz met representatives from the Vietnam-Cuba Friendship Association in Hanoi on September 30, as part of his visit to Vietnam from September 28 to October 2.