The two countries have long been at odds due to territorial issues
According to Euro News, fighting between Armenia and Azerbaijan broke out on Sunday over the separatist region of Nagorno-Karabakh.
Armenian authorities said that at least 16 people had been killed and some 100 wounded and Azerbaijan's president said there had been civilian casualties.
Nagorno-Karabakh is an ethnically Armenian region within Azerbaijan that has been out of Azerbaijan's control since a 1994 Russian-brokered ceasefire between the countries.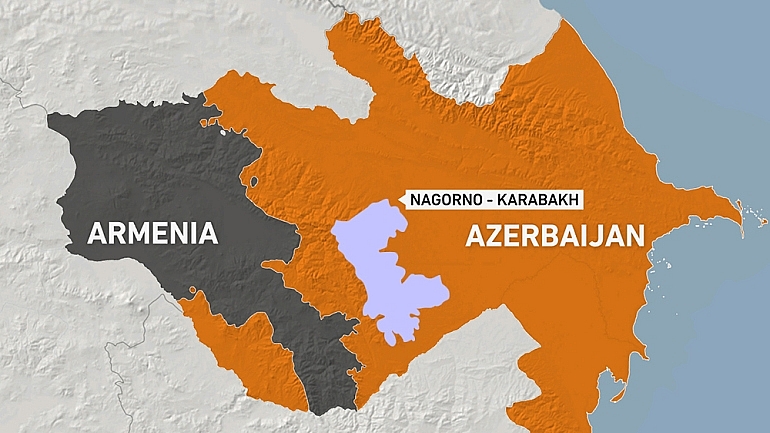 Photo: Al Jazeera
The region, while internationally recognized as part of predominantly Muslim Azerbaijan, is controlled by Christian Armenian separatists. Impoverished Armenia relies on Russia's backing, while oil-rich Azerbaijan is supported by Turkey.
Both sides have had a heavy military presence along a demilitarised zone separating the region from the rest of Azerbaijan.
Both countries have declared martial law in some areas amid the escalation in fighting, meaning the military takes over the civilian government.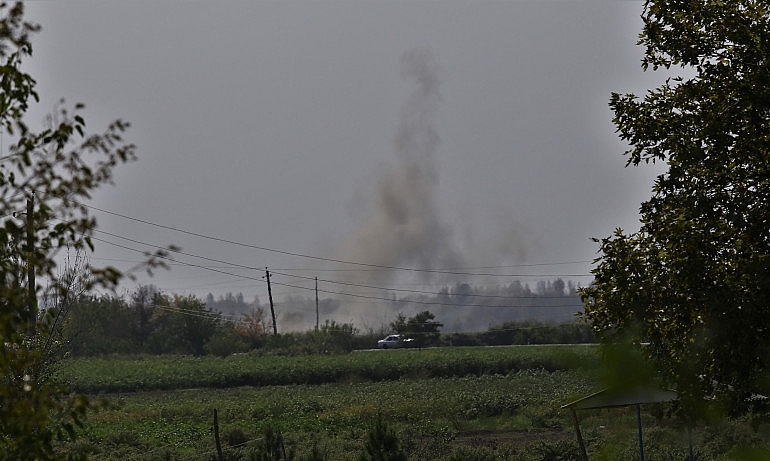 Smoke rises after Armenian attacks on the border in Azerbaijan [Resul Rehimov/Anadolu Agency]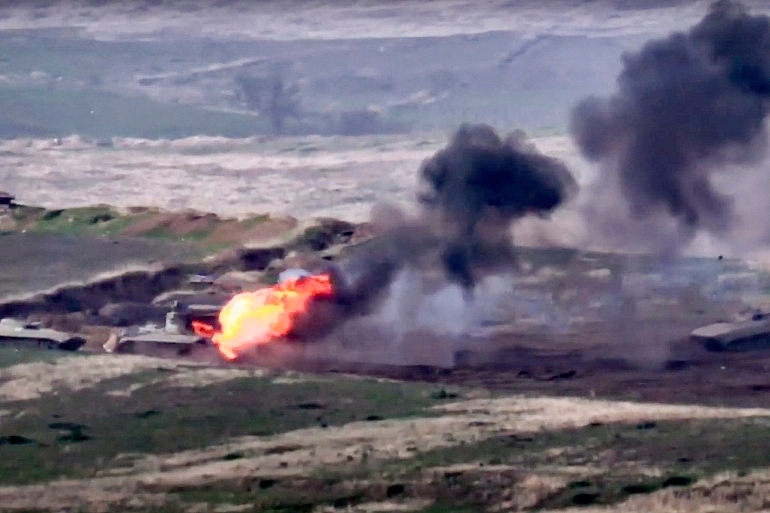 The escalation is the heaviest between the two archfoes in recent years [Armenian Defense Ministry via AP]
The voice from each side?
While Armenia said it was responding to missile attacks launched by its neighbor Sunday, Azerbaijan blamed Armenia for the clashes, CNN reported.
In response to the alleged firing of projectiles by Azerbaijan, Armenian Prime Minister Nikol Pashinyan tweeted that his country had "shot down 2 helicopters & 3 UAVs, destroyed 3 tanks."
Arayik Harutyunyan, leader of the self-proclaimed Republic of Artsakh, a de facto independent Armenian state not recognized internationally which controls Nagorno-Karabakh, said the region had lost positions to Azerbaijan.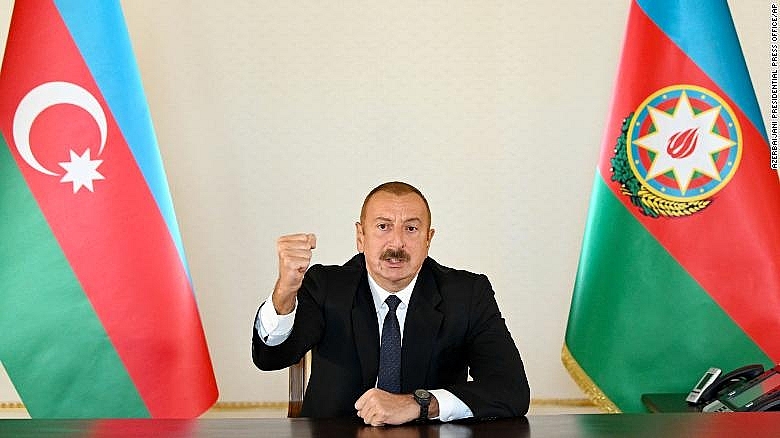 Azerbaijani President Ilham Aliyev speaks to the nation from the nation's capital of Baku. Photo: CNN.
"We have lost some positions. Mostly in the direction of Talysh and in the southern parts," Harutyunyan said during a press conference Sunday.
However, Azerbaijan suggested Armenia was accountable for the latest flare-up between the two countries.
Hikmet Hajiyev, assistant of the President of the Republic of Azerbaijan and head of the Foreign Policy Affairs Department of the presidential administration, tweeted Sunday: "There are reports of dead and wounded among civilians and military servicemen. Extensive damage has been inflicted on many homes and civilian infrastructure."
Accusing Armenia of "an act of aggression and use of force," Hajiyev added that the "political-military leadership of Armenia bears full responsibility."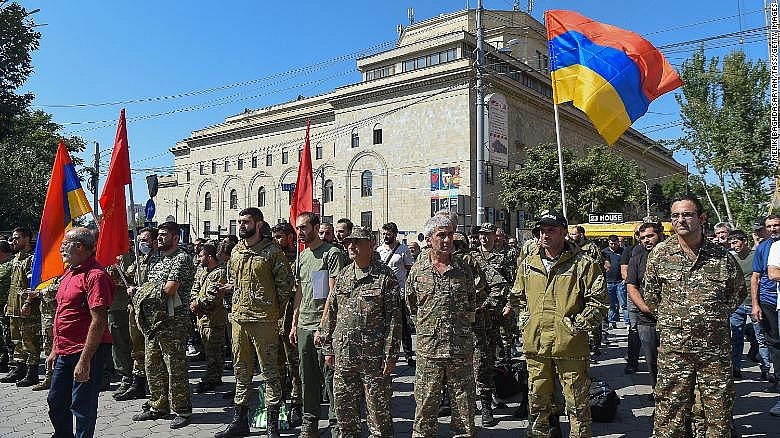 Servicemen and volunteers gather in Yerevan, Armenia, on Sunday after the Armenian government imposed martial law and ordered a general military mobilization due to clashes with Azerbaijan. Photo: CNN.
"Currently, the Azerbaijan Army is taking retaliatory actions and our troops fully control the operational situation," Azerbaijan's Ministry of Defense said in a statement Sunday.
But Armenia's Ministry of Foreign Affairs said in a statement: "We strongly condemn the aggression of the military-political leadership of Azerbaijan."
"The military political leadership of Azerbaijan bears full responsibility for the consequences of their aggression," the statement added.
International calling to halt the clash escalating
According to Al Jazeera, the US State Department said it was "alarmed" by the reports of large scale military action and condemned "in the strongest terms this escalation of violence."
In a statement, it urged both sides to "cease hostilities immediately" and "to avoid unhelpful rhetoric and actions that further raise tensions on the ground."
UN Secretary General Antonio Guterres meanwhile said he was "extremely concerned" by the situation and that he would speak to the countries' leaders, according to a statement from his spokesman Stephane Dujarric, dpa reported.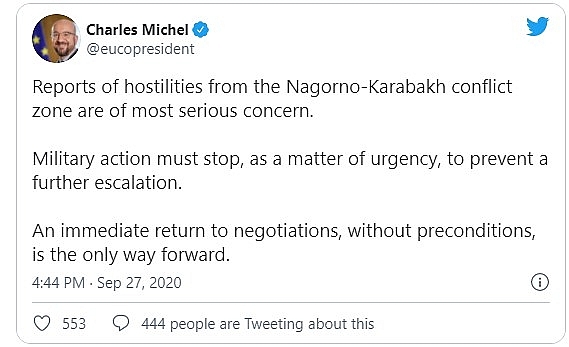 European Council President Charles Michel tweeted that the fighting was a "serious concern." Photo: Euro News.
The clashes prompted calls from world leaders for an end to the fighting, with the exception of Turkish President Recep Tayyip Erdogan, who reassured Azerbaijan of Turkey's support.
Russian President Vladimir Putin spoke with Armenia's premier in an attempt to prevent further escalation, the Kremlin said. Foreign Minister Sergei Lavrov meanwhile was in intensive talks with his Turkish counterpart to reach a return to negotiations.
Iran also offered to mediate, as it has done in the past.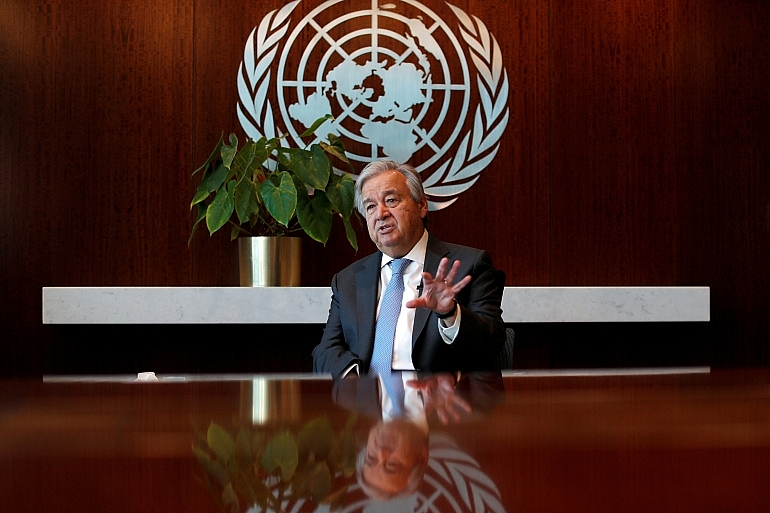 United Nations Secretary-General Antonio Guterres said he is 'extremely concerned over the fresh resumption of hostilities' [Mike Segar/Reuters]
European Union and Council of Europe leaders were among the first to call on Armenia and Azerbaijan to immediately halt military action. German Foreign Minister Heiko Maas urged both parties to "immediately cease all fighting and especially the shelling of villages and towns", a call which was mirrored by France.
Ruby Lee