Leicester City FC owner Vichai Srivaddhanaprabha confirmed dead in helicopter crash
Leicester City has confirmed that its Thai billionaire owner, Vichai Srivaddhanaprabha, was killed along with four others after his helicopter crashed and then burst into flames after a Premier League match on Saturday (Oct 27).
Leicester City has confirmed that its Thai billionaire owner, Vichai Srivaddhanaprabha, was killed along with four others after his helicopter crashed and then burst into flames after a Premier League match on Saturday (Oct 27).
File photo of Leicester City Football Club owner Vichai Srivaddhanaprabha. (Photo: AFP/CHRISTOPHE ARCHAMBAULT)
"It is with the deepest regret and a collective broken heart that we confirm our chairman, Vichai Srivaddhanaprabha, was among those to have tragically lost their lives on Saturday evening when a helicopter carrying him and four other people crashed outside King Power Stadium," the statement said.
The aircraft came down in a car park near the stadium shortly after 8.30pm (3.30am Sunday, Singapore time), about an hour after the end of Leicester City's game against West Ham United.
Smoke rises from the wreckage of a helicopter that crashed in a car park outside Leicester City Football Club's King Power Stadium on Saturday AFP/Ben STANSALL
The other victims were believed to be two members of his staff, Nursara Suknamai and Kaveporn Punpare, pilot Eric Swaffer and passenger Izabela Roza Lechowicz, Leicestershire Police said.
No one on the ground was believed to have been injured, they said.
According to witnesses, the helicopter had barely cleared the top of the stadium before it started to spin. It then plummeted to the ground and burst into flames.
John Butcher, who was near the stadium at the time of the crash, told the BBC his nephew saw the helicopter spiral out of control apparently because of a faulty rear propeller.
"Within a second, it dropped like a stone to the floor. ... Luckily it did spiral for a little while and everybody sort of ran, sort of scattered."
A REGULAR AT MATCHES
Srivaddhanaprabha, 60, the owner of Thailand's King Power duty-free empire, was a regular at matches who used to fly to and from home games.
He and the four other victims boarded the blue craft, which took off from the middle of the pitch once the stadium had emptied after Saturday's 1-1 draw with West Ham.
Vichai Srivaddhanaprabha often flew in to watch matches at Leicester's King Power stadium in his helicopter. (AFP/Oli SCARFF)
A stream of fans laid out flowers, football scarves and Buddhist prayers outside the grounds after Saturday's accident in tribute to Srivaddhanaprabha - the man they credit for an against-all-odds Premiership victory in 2016.
"The world has lost a great man," the club said in its statement.
"Leicester City was a family under his leadership. It is as a family that we will grieve his passing and maintain the pursuit of a vision for the club that is now his legacy," it said.
A book of condolence will be opened at the stadium from Tuesday and the team postponed its fixture against Southampton.
"Everyone at the Club has been truly touched by the remarkable response of the football family, whose thoughtful messages of support and solidarity have been deeply appreciated at this difficult time," the statement said.
TRIBUTES POUR IN
Leicester striker Jamie Vardy posted on Instagram: "Struggling to find the right words .... but to me you are legend, an incredible man who had the biggest heart, the soul of Leicester City Football Club.
"Thank you for everything you did for me, my family and our club. I will truly miss you .... may you rest in peace ... #theboss."
A minute's silence was observed before the whistle of Sunday's Premier League matches.
"It is a family business and they have instilled this sense of family not just throughout the club but into the city as well," Andrew Hulley, the team's chaplain for the past seven years, told AFP.
England legend Gary Lineker, a former Leicester player who was hosting the BBC's Match of the Day when the accident happened, tweeted: "That was the most difficult @BBCMOTD I've ever hosted ... A terrible tragedy. Heartbreaking."
Football fans in Bangkok said Srivaddhanaprabha had helped develop the sport in Thailand as well, bringing the Southeast Asian country greater recognition in the sporting world.
"He is an important person who has raised the bar of Thai football further," Apichart Jitratkavee, a Leicester fan in the Thai capital, told AFP.
Srivaddhanaprabha bought Leicester City in 2010 and moved to chairman the following February, pouring millions into the team and becoming a beloved figure in the club and the city - a feat rarely achieved by the Premier League's foreign owners./.
VNF/AFP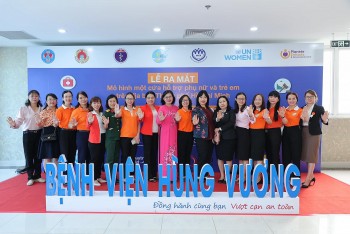 Viet's Home
What is the one-stop centre for women and children experiencing violence?